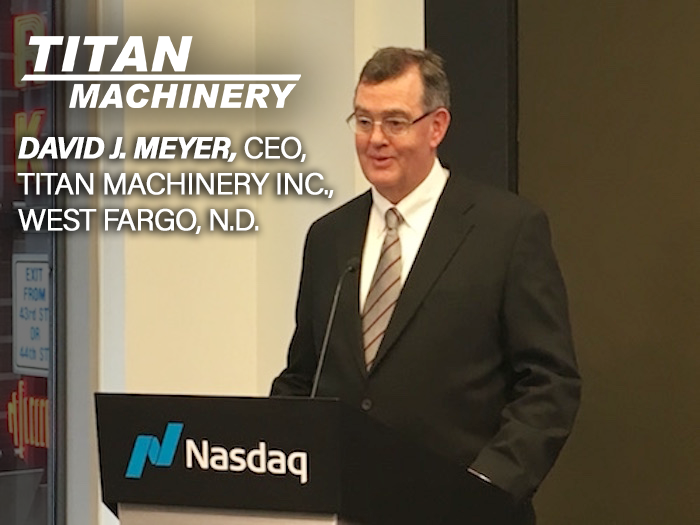 Changes from 55 Years Ago
Our parts and service businesses are now running as profit centers rather than a dealership expense. In 1975, our shop rate was $17.50/hour with a real reluctance to raise. Now most shop rates are north of $140/hour. Many of the dealers that discounted their parts 50 years ago went out of business.

Service vehicles have gone from half-ton pickups to trucks with cranes, generators, welders, air compressors, fluid storage, and tool storage.

We are now building climate-controlled service departments with air conditioning. This was unheard of 50 years ago.

Dealer business systems were not real prevalent until the mid-80's. Parts inventories were managed manually with visi-record cards or an equivalent. Parts managers worked late every night posting parts sales and stock order receipts on the manual cards.

50 years ago, many dealerships paid salespeople on a percentage of revenue. We rolled out a margin based commission plan in the mid 90's which has become popular with our salespeople and better aligns the interests of the sales people with those of the dealership.

Very few semi/trailer rigs were in dealerships 20 years ago. Single axle and twin screw trucks with tilt bed trailers and winches were popular.

Moldboard plows were the method of primary tillage 50 years ago; very little no till or minimum. There were not any large self-propelled sprayers and GMO seed varieties were not existent. Corn was cultivated with row crop cultivators.

50 years ago 4WD tractors were a new concept and 160 hp row crop tractors were considered large. Invoice on a new 160 HP tractor was just over $20K. Planters and combines were much smaller and an 8 row corn head was considered large.

Facility costs have really skyrocketed in the last 50 years. 50 years ago, state of the art facilities could be built for $250,000-$300,000. Today the same amount of square feet would be $2,500,000-$3,000,000. Ten times as much. Today, facilities with a cost of $6,000,000 - $8,000,000 are not out of the ordinary.

Dealership capital needs today are much more challenging today than they were 50 years ago. This has created barriers to entry into the Dealership Business. 50 years ago, one could get into the farm equipment dealership business with minimum capital. That is not possible today.

Focus on work/life balance with both employees and customers is very important today. I do not know of any dealers that were conducting annual performance reviews/discussions with employees 50 years ago.

E-commerce now allows our customers to purchase parts around the clock.

50 years ago, our technicians did not have cell phones. They now have cell phones, computer pads and operate in "connected" vehicles.

50 years ago, customers typically had multiple tractors and combines, so if one broke down, they could switch to another and keep going. With the large horsepower tractors, planters and seeding systems today, if a unit goes down, it could shut down the operation losing many acres of lost productivity. This requires a huge investment by dealers in customer support capabilities making Dealerships a huge and important resource to the farmers and ranchers.

50 years ago, I remember having blank counter checks from all the local banks on the parts counter in which farmers would use for paying for equipment and parts purchases. They would fill in their account number on the blank checks. I have not seen this for many years now.

One thing that hasn't changed in the last 50 years is the importance of customer relationships driven by trust and reliable parts and service support.
Defining moments for the business
The 1980s were really difficult. Interest rates approaching 20%, $1.50 corn, $2.60 wheat and $4.80 beans, and some serious drought weather and extreme temperatures across the corn belt. We lost 30%-40% of the farmers and over 60% of the farm equipment dealerships which were never replaced. Many large banks significantly reduced their exposure to agriculture and agri-business during this period.

OEM consolidation. IH, Case, Ford, New Holland, CaseIH, Steiger, Versatile, Concord, Flexicoil, DMI, AGCO, Allis Chalmers, Massey Ferguson, Valtra, Fendt, WilRich, Wishek, Sunflower are some of the farm equipment manufacturers that have been involved in consolidation.

The adoption of industry consultants and dealer 20 groups has given dealers a better understanding of the dealership financials, financial benchmarks, and operating best practices. Likewise, farm management week long seminars at major ag universities have been attended to by progressive farmers.

Technology from not only dealer business systems, with their many capabilities and efficiencies including BI and AI to the equipment we are selling with GPS, RTK, auto guidance, telematics, precision, connectivity, automation and electrification.
Congrats on 55 Years to Farm Equipment
Over the years there have been some excellent articles from Farm Equipment magazine staff writers which are always beneficial to read. Also, feature articles on successful dealers on a variety of topics highlight good ideas and best practices. Being named a Farm Equipment Dealership of the Year was a nice acknowledgement and recognition for our stores and teams that work extremely hard day in and day out. 
For more on David Meyer, click here.
Check out other "A Look Back in Farm Equipment History" blogs
Industry commentary on "55 Years of Farm Equipment"