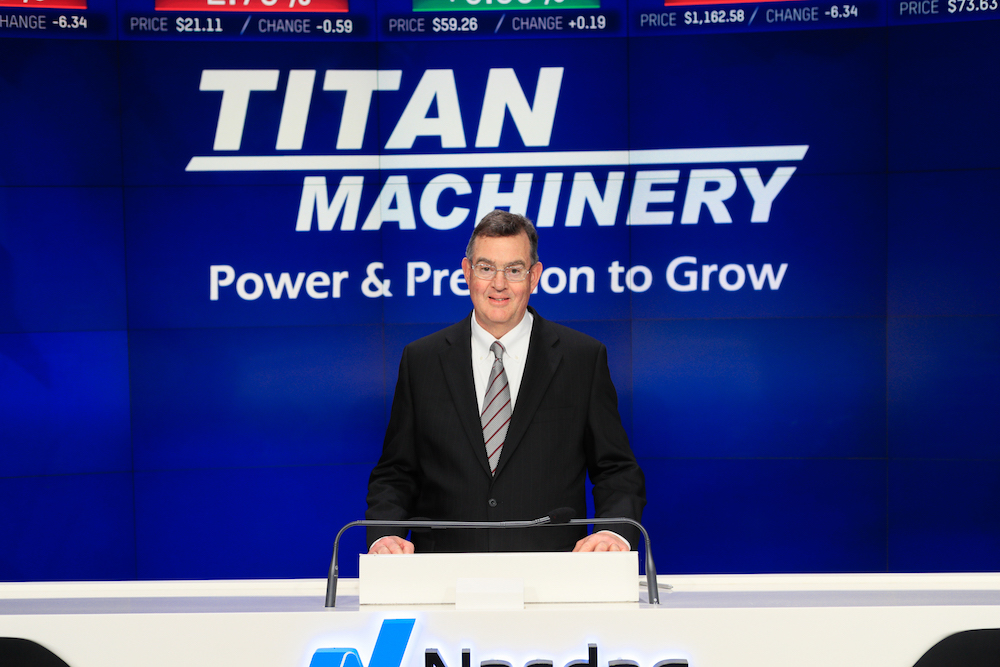 David Meyer, Titan Machinery's CEO
---
David Meyer, Titan Machinery's CEO, walked attendees at Titan Machinery Investor Day in New York's NASDAQ building on December 12, 2017, through personal history and founding of the company, up through 2007 when the firm went public.
"I started the business right out of college in 1975 with a job with Case company, where I actually took 4-wheel tractors, which were pretty new back in 1975, around the upper Midwest. I put on tractor demonstrations, put on meetings at dinners, breakfast s and luncheons.
"What it gave me was a really good understanding of that 4-wheel drive product, but at the same time it gave an opportunity to meet dealers and Case dealers all over the upper Midwest to build relationships, build a relationship within the Case company itself. Later on that year 1975, really liking the retail business, I said, 'If I'm going to be in this industry I want to be out there with the customers, with the farmers in the field.'
"Along with a fellow Case employee that I had traveled with, we left Case company and found a smaller dealership and in Wahpeton, N.D. We left Case company and went in and bought a minority interest with a dealer ready to retire — that's how he got started. In 1977, I moved 70 miles west with a greenfield opening and started the dealership. I hired one parts man, one mechanic and really started to build and grow the business in that town of Lisbon N.D.
"The nice thing about that was it gave me an opportunity to touch all those areas of the business. I sold machines in the daytime, I was a chief accountant, did the warranty claims, helped out in parts, helped out in service, and I actually even delivered some of the tractors in the evening. My wife, Candy, in the back here, she reminds us of the many dates we had in the delivery truck, semitruck, hauling tractors in the evening. Those are some of the most rewarding times, where we delivered a tractor, took the trade in and on the way back we pulled into another farm and sold it. We could just drop it off right there and we would actually sell that used one. That's pretty good turns right there.
"In 1980, we purchased the assets from that retiring dealer, to re-form the corporation and the C Corp that's Titan machinery today. I was an early pioneer of consolidation starting back in the 1980s, and the 1980s were interesting times. When Case and International merged in 1985, there were a lot of rooftops. If I had acquired a dealership, probably 2-3 other neighboring dealerships went dark and did not reopen again. There was a lot of dealer consolidation during the 1980s in addition to the OEM consolidation at that time. In 1985, Case Company and International Harvester merged. Right after that in 1986, they acquired Steiger's 4-wheel drives, probably the most highly respected 4-wheel drive.
"At the same time in 1986, Ford purchased New Holland and its harvesting equipment, balers, cattle equipment, mower conditioners and hay brands -- it was quite the merged runway and then they acquired the other big 4-wheel drive tractor, Versatile, made out of Winnipeg. Then some of the niche shortline companies like DMI, Concord, Tyler Sprayers were all acquired by Case IH. The new Ford Holland acquired Flexicoil air seeder.
"The 1990s were building years of solid growth profitability and becoming recognized as an industry's leader. I was on the Case IH Dealer Advisory board which is a group of dealers to help Case IH create and understand what products do we need, what are some of the challenges on the distribution side. I've been involved in industry association of past present of North Dakota Implement Dealerships Association and task force of American Equipment Dealer Associations, the Case Construction Dealer advisory board. During that period of time, the type of machinery dealerships under my control were recognized as some of the top performing dealerships and becoming known as some of the largest volume Case IH dealers in the country.
"The 2002-2003 timeframe was very pivotal because I started to recognize the limitations of how far you could take this business as a privately held company. There are considerable growth opportunities out there both in ag and construction dealerships, and I had great conviction that the foundation that we created could really achieve some greater scale.
"It was a fairly fragmented industry, a long runway of acquisition and I knew it was going to take additional capital to expand the management team. I'd met my partner Peter Christianson, here today, who was our CFO and retired now. We partnered up with Tony Christianson, not only Peter's brother and investment banker, but we raised private equity capital and acquired the dealerships and construction dealerships and Fargo and Bismarck, and  acquired the New Holland construction dealership in Fargo. In 2003, at 13 stores, we went down this road to becoming a serious company. During the next few years, we continued to raise capital and execute on some very strategic acquisitions. Not only in North and South Dakota, Western Minnesota but actually during that time expanded into Iowa. Strategically if you're going to be in the farm equipment business and supplying corn and soybeans, what a great state.
"In 2006 we were recognized by Farm Equipment Magazine as the Dealer of the Year. That brings us up 10 years to where we decided to go public."
Read more:
Titan Machinery: 10 Years After the IPO
Titan CEO on the Public Advantage: 'Permanent Capital to Survive the Generations'