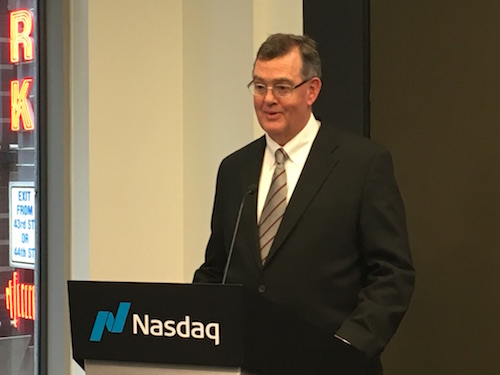 David Meyer
David Meyer, Titan Machinery's CEO, covered a 10 years recap from the IPO at Titan Machinery Investor Day in New York's NASDAQ building on December 12, 2017.
"We were 34 locations, about $300 million in revenue and we took our company public in December 2007. We had some early success, we were one of the number one pick by Investor's Business Daily for a couple of months. We were a national finalist with Ernst & Young in the Entrepreneur of the Year and also received their Venture Capital award for being one of the top performing IPOs during that period of time. We'd executed on two follow-on offerings and also a public debt offering.
"From 2007 to 2013, we achieved both top line and bottom line growth. We hit $2.2 billion revenue in 2013.
"Some of that is attributed to the fact that in 2011, we had actually made our first expansion into Europe. That's really is a spring board for a diversified long-term growth platform in developing countries, some which are the European Union. It's nice water, highly productive farmland and the farming practices are similar to what we're seeing not only in the Red River valley and in the Dakotas and southern Minnesota and Iowa.
"With the cyclical downturn in the last four years, we've been focused on expense and controls, and structural operation improvements.
"We currently operate out of 95 ag and construction dealerships in the U.S. and Eastern Europe, again with some of the world's best farmland and some of the commodity rich construction equipment markets.
"Since starting the business 40 years ago, as we've seen unprecedented advancements in ag and CE equipment through innovations, which was welcomed by producers.
"For the future, this is just the beginning and the future is extremely bright for us due to our large part to our people. Some aspects of the business are critical to our success today as they were when I started in 1975.
"I can remember going to get customers' parts on Sundays. Working with technicians late in the evenings so we can get that combine or tractor up and going the next day. Today, our people have the same level of focus, teamwork and commitment through our customers to keep them up and running and make their operations more profitable.
"The DNA is ingrained in this type of machinery culture. This commitment to customers and the strength our team has focused for growth today and well into the future."
Read more:
Titan CEO Reflects on Company History Through the IPO
Titan CEO on the Public Advantage: 'Permanent Capital to Survive the Generations'