The following article is based on Jon Carlo and Shawn Skaggs' presentation at the 2017 Dealership Minds Summit. To watch the presentation, click here.
Gross Margin:
Calculated by subtracting the cost of sales from the actual sales dollars. Gross margin percent is calculated by dividing the gross margin dollars by sales dollars.
Used equipment experts agree that there's no silver bullet when it comes to a compensation plan. There are numerous variables, personalities and ways of doing business and no single program is a panacea. But like most things, as a manager, you get to choose which behaviors you most want to drive, and also the set of challenges that go along with them.
"Comp plans are never going to make a bad salesman into a good salesman or a good salesman into a great salesman," says Shawn Skaggs, president/COO of Livingston Machinery, Chikasha, Okla. "But you can influence what they sell and how they sell. You can influence their behavior. You want to build your compensation plan around the things that you can influence and around the goals for your dealership. And for those things you can't influence with that comp plan, you've got to find other ways to deal with it."
"We've also got some employees who we're still trying to figure out how to motivate," says Jon Carlo, AgriVision. "And sometimes a program can make a goal seem a little bit out of reach. But as a whole, we feel that ours is driving some company results and rewarding our team financially."
Another dealer noted that many salespeople would rather hear that their spouse was having an affair than to hear their commission structure was being changed. But when the right system is developed and fully communicated, dealers agree that change can be very positive for high performers, who after even a short amount of time, would resist returning to the "old way."
In this article recapping a Dealership Minds Summit panel, AgriVision (John Deere) and Livingston Machinery (AGCO) explain their experience with various models, and the systems they've arrived at for motivating and moving their sales crews at their businesses.
AgriVision's Leverage of Deere's Volume Bonus
AgriVision, Pacific Junction, Iowa, is a $200 million, 10 store John Deere dealer group in the southwest corner of the state.
According to Jon Carlo, director of sales, AgriVision has a 10-year history with its current pay plan, which he says is unique in that it accounts for what Carlo calls "the sacred cow," or manufacturer volume bonus. "As John Deere continues to ramp up market share and pay for performance, we want to be aligned with them as well. So we've embraced that fact and we use that to drive company goals and results. We're very transparent about it."
---
"It's not often that we get out among our peers in this type of group where we can let our guards down. I'll be taking back industry benchmarks and absorbing what others' experiences have to give us. The roundtables gave tactical specifics and how-to's; those are invaluable..."
– Mike Flatt, Director of Dealer Operations, Ohio Valley Ag, Owensboro, Ky.
---
He adds that the biggest impact the dealership can have on salespeople is through coaching. He and his team use comp plans to leverage what is most important to the dealership's success.
In explaining the finer points of AgriVision's pay plan, Carlo explains the concept of "available income" (taught by Spader Business Management), which he defines as a combination of gross margin and volume. While the bones of the dealership's comp plan are a decade in the making, AgriVision made an adjustment 3 years ago to better drive the actions needed at the store location level, where 4 points of a 16% total opportunity arises.
If all the goals are met at the end of the year, Carlo explains, the margin incentive is calculated at 16%. First, a total of 12% is paid directly off the salesperson's margin performance each quarter. The other 4% comes into play on the location goals their store managers are seeking are met. The example that Carlo shares (see Fig. 1) includes: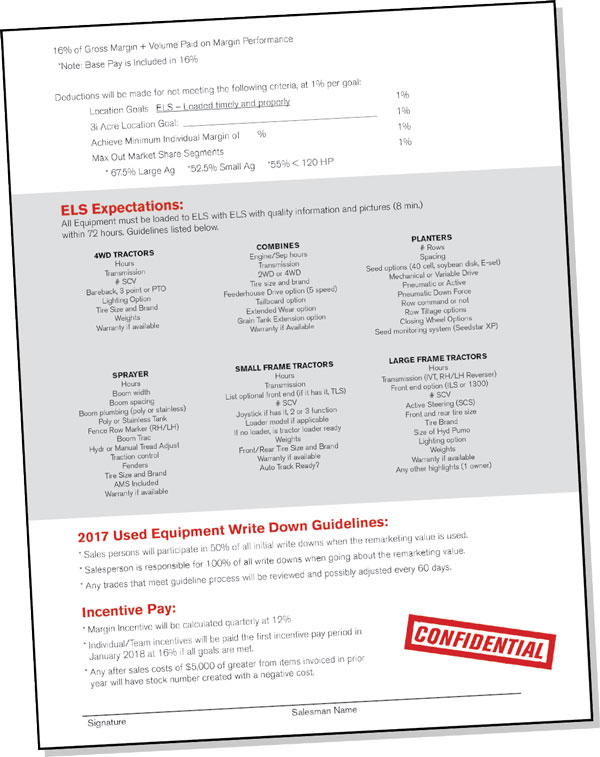 Fig. 1. AgriVision documents its pay plan — with location-specific goals — and reviews results with each salesman at least 4 times per year.
1% comes by getting all the equipment loaded quickly (within 72 hours) accurately and with full detail into the Equipment Locator System (ELS) where AgriVision advertises all equipment. The system monitors that activity, he says.
1% comes from the 3i Acre program, an agronomic design support package that the store manager instructed sales to promote.
1% from individual margin percentages. "When we went from high volume sellers back and up to 2013, we found that we weren't asking for the margin we needed," Carlo says. "So when we look at the individual margin goal, we look at their past year's performance, and then we set a minimum of a 1 point increase to challenge that salesperson to achieve."
1% from the max market share (67.5% for large ag; 52.5% for small ag and 55% for <120 HP).
Sales Pay Plan Tracking Tool
Since salespeople are driven by financial opportunities and incentives, Carlo also has a tracking tool that is shared quarterly (see Fig. 2). This document reinforces the location goals and includes their salary information. "At least quarterly, we go through this pay plan with the salespeople to let them know where they stand," he says, noting that spiffs are also tracked. "We wanted a single snapshot so salespeople know where they're at throughout the year. The 12% gross margin bonus is shared quarterly, and about 10-12% of the staff has been receiving it, so we feel good about that."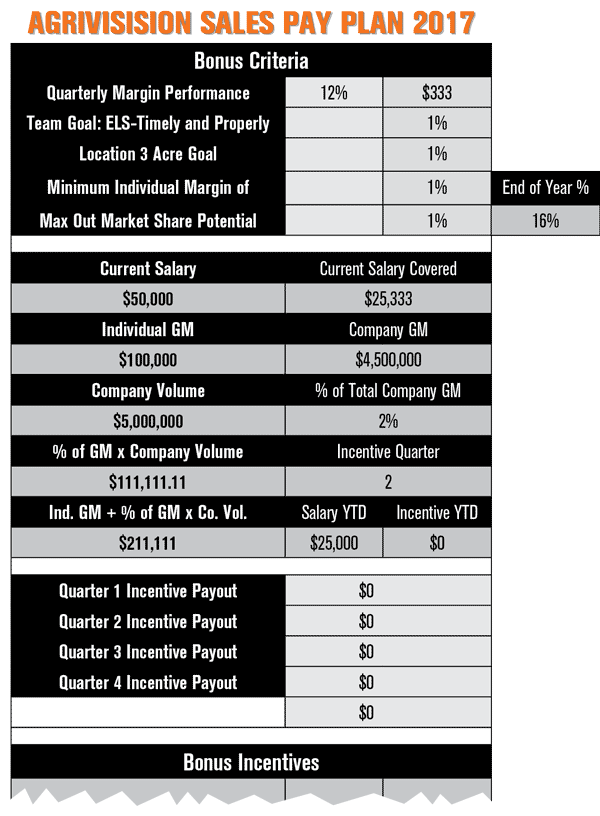 Fig. 2. AgriVision's pay plan quarterly spreadsheets show the salesmen how they can earn greater compensation.
---
"We want to max out our market share performance from John Deere's standpoint," says AgriVision's Jon Carlo, whose comp plan is based on available income. "So in order to get to that 16%, 12% of that again is based on their gross margin. And then to be eligible for the additional 4%, they have to achieve the goals established by the location manager."
---
The pay for performance piece from John Deere hits in November. Carlo says that timeline requires calculation to monitor as it is a large piece of the plan. But he adds that it also keeps salesmen hitched to the dealership until it arrives.
"To drive our goal of maximizing pay for performance and market share with our manufacturer, we wanted to be transparent to our sales team to row the boat in the same direction that we're taking the company."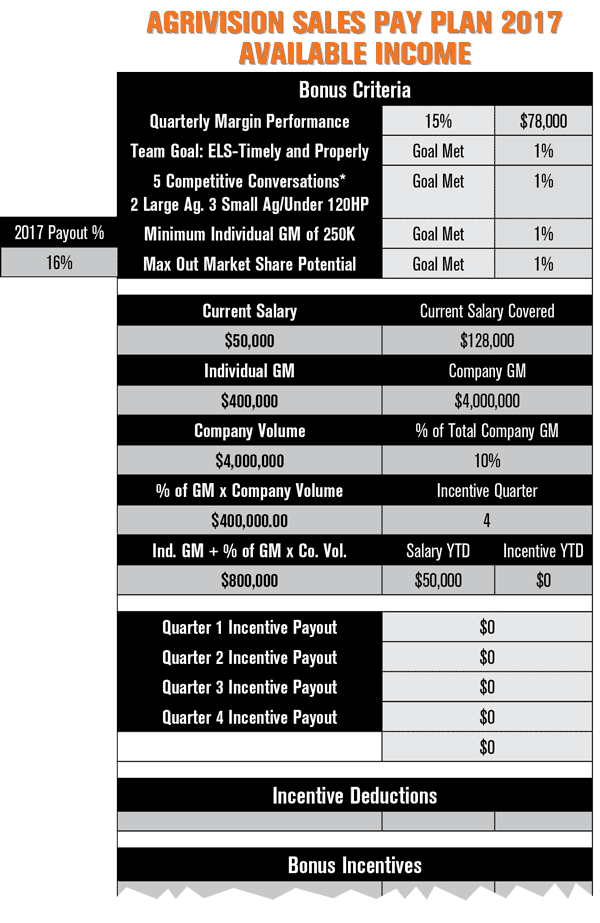 Fig. 3. This spreadsheet shows how the available income is modeled, and how the salesman can receive 28% more than a conventional comp program.
Modeling Available Income
Quick-Listen Podcast on Used Equipment Compensation Programs
Want to hear more about dealers' compensation programs? In a quick-listen 18 minutes, Farm Equipment's first-ever podcast delved into 3 different comp programs, in the managers' own words, and their interactions as they weigh the pros/cons of systems used in each others' organizations. Listen for free here at … http://bit.ly/2eKNZA8
To illustrate how the system measures up vs. a conventional program, Carlo shares an example in Fig. 3 on a salesman who generates $400,000 in gross margin. If the company were to pay strictly off of gross margin at 25%, that's $100,000 in total pay. But if you look at a 16% available income in the program as AgriVision has, the salesperson has the potential to earn $128,000.
"When we look at this example in simple math, we'll use a salesman who is currently at a $50,000 wage, base-draw salary. And then we look at their individual gross margin, and then the total company gross margin. That is 10% of the total company margin. And then we look at the company volume. Again, we use 10% of that $4 million. So the percentage of company volume we share is $400,000.
"So you have a combined available income, a combined gross margin and volume of $800,000. When this salesman hits all their goals that the location laid out, he receives 16%, which equates to $128,000."
Carlo says in the last several years, AgriVision has shown the team that they can earn more money and the dealership can actually drive its pay for performance levels to where it's profitable to push market share. "We have guys who are making as much or more money than they did 3-4 years ago," he says.
Write-Down Policies & Plan Documentation
Used equipment writedowns are not an easy conversation with salesmen. So AgriVision documented it and made sure sales staff knew the guidelines that would influence the pay plan. Jon Carlo explains the salesperson will participate in 50% of all initial writedowns when the remarketing value is used. "When our remarketing manager puts a number on a piece of equipment and we miss it, any portion of that writedown is split with that salesperson. So both company and salesman have skin in the game."
To highlight this, he explains an example with a $150,000 combine booked at $150,000 as the remarketing number. "A few months later, we might discover that market shifted. We need to adjust that $10,000. So we're going to take it from $150,000 to $140,000. Because the salesman used that number, our remarketing number, he would take a $5,000 gross margin hit as a negative on his report or we would go back to the transaction above and reduce that margin by $5,000."
Carlo notes that the document in Fig. 1 is a signed by the employee. "Many of you have challenges where guys say, 'Well, I didn't know that. I didn't know that's how we were paid.' Or 'I didn't know that's how we were handling write downs.' We make sure we have signatures on all of these. It holds them accountable and also makes sure that they understand how they're being paid — and it gives them the opportunity to ask questions."
Gross margin performance is also shared with the entire sales organization. "Each month, we send a report that ranks everyone from 1 to 31 on where they stack up. We drive some of that competition that's healthy for a sales team."
Livingston Machinery: Salary Structures Winning
"We actually have a wide variety of sales compensation plans out there. We've got salespeople who are on straight salary, we've got some on a large base and small commission, we've got some who are on a small base and a large commission, and we've got some on straight commission," says Shawn Skaggs, the president/COO of Livingston Machinery a 4-store AGCO dealer in western Oklahoma and the panhandle of Texas.
This myriad of programs was inherited over the years, as the company's founder had started all salespeople on a straight salary. "One thing having a little mix of everything is good for is being able to see what works and what doesn't," says Skaggs.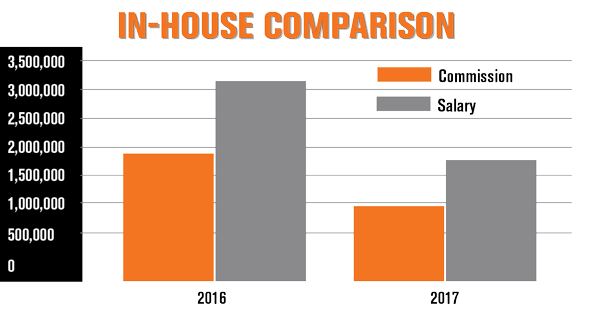 Fig. 1. Despite what might be expected, the average revenues for sales people at Livingston Machinery who are salaried are nearly double that of commissioned ones.
He shared how the revenue performance between commission and salaried salespeople varies, with average revenues for salaried employees nearly double the levels of commissioned ones (see Fig. 1). "That's in opposition to what almost every expert would to tell you."
---
"We interact a lot with John Deere dealers, but it's nice to hear from and talk to dealers with other brands, particularly in the used market. We take trades from other manufacturers and it's nice to have a network built up with those folks as well..."
– Rob Rosztoczy, Director of Sales, Stotz Equipment, Avondale, Ariz.
---
He says the result is less about structure than it is the people. "Our high performers are competitive people who are overachievers and they're going to be high performers no matter how you pay them. It's the same way with the low performers. People who are good salespeople are good regardless of how you pay them, they're still going to perform well if that's the way they're driven."
Livingston Machinery gives the salespeople the choice of switching to a commission plan. "So far, every one of them has chosen to stay on salary because they like the consistency. They have the opportunity to make more money if they were on commission, but the less risk they take, the less reward they're going to get."
Competition & Contests
Like AgriVision, Livingston has a monthly equipment sales scoreboard that is distributed to the entire company along with a ranking of salespeople performance by gross margin dollars (see Fig. 2). "Everybody in the company gets to see the number of units, dollars sold and gross margin dollars sold." He adds that the firm does the same by entire teams and departments to generate competition among stores. Sales teams by store, for instance, are ranked by cost of goods sold, inventory and turns and expense percentages. "It keeps it fresh in everybody's head that gross margin dollars are the only dollars we have to pay the bills with."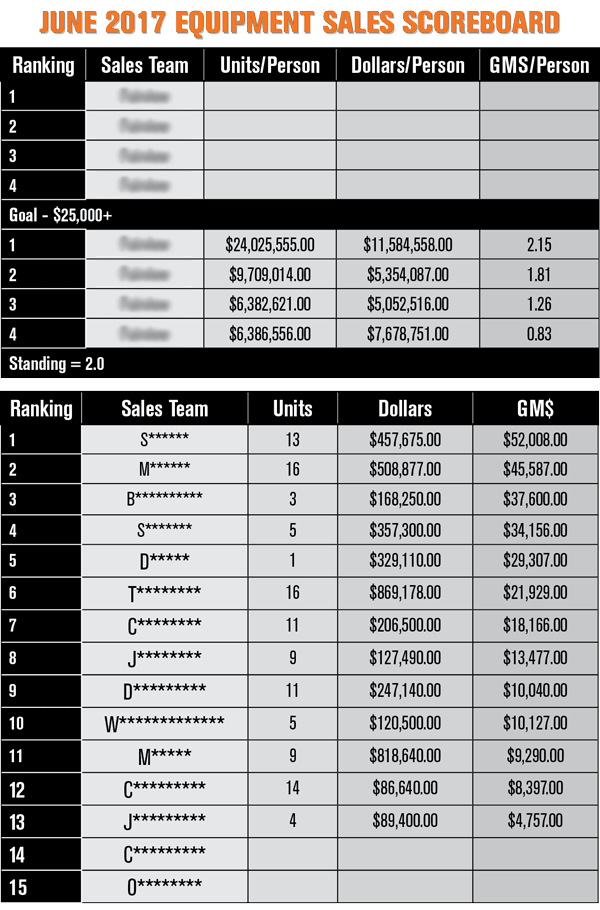 Fig. 2. Livingston Machinery circulates a monthly equipment sales scoreboard that ranks the salespeople's performance by gross margin dollars. Similar scoreboards are circulated with rankings broken out by entire teams or departments.
For the same reason that manufacturers' contests work in the equipment business, Skaggs also employs a number of in-house competitions at his dealerships. "Our good salespeople want to win, they want the recognition and they want other people to see that they won," he says.
A lesson learned is to make competitions short, in the 4-6 week range, because those at the bottom can otherwise get discouraged. "The guys at the bottom start to think, 'I'm never going to get around those top guys because they've got a 20 year head start with their customer base,'" Skaggs says. "But if you make it short term and make it focused on specific products, then they can see an opportunity to go out there and win and get that recognition."
Livingston Machinery's Program
for Getting Aged Equipment Moved
Last year, Livingston Machinery, Chickasha, Okla., moved to a standard used equipment bonus system (below) that factors in the ticket price and how quickly it's moved off the lot (see the diminishing value of the salesperson's commission after 120 and 240 days above). "The bonus continues to get smaller as the equipment sits on the lot longer," says Shawn Skaggs, president/COO. "What that's done is to help us train our salespeople to know that whenever they trade for that piece of equipment, they've got to get it out of there fast if they want the maximum bonus. It's changed behaviors. Instead of units sitting on the lot and only getting attention when someone walks up who wants to buy, he says, the good salespeople are trying to presell those trade-in units vs. trading for them.

October/November 2017 Issue Contents