---
"There is nothing more catastrophic to a farm equipment dealership than a poorly run used equipment department."
— Casey Seymour, Remarketing Manager
21st Century Equipment
---
Managing used equipment inventories and remarketing equipment is a big — if not the biggest — challenge for farm equipment dealers today. And while the used equipment problem is improving, dealers still have a lot of cash tied up in the used equipment inventory sitting on their lots. The September 2017 Ag Equipment Intelligence Dealer Sentiments & Business Conditions Update reveals a net 15% of dealers classify their used equipment inventory as "too high" — the best reading in over 4 years.
The Farm Equipment staff picked the brains of some of the farm equipment industry's best minds in used equipment remarketing — representing different brands and different regions — to find out what dealers can do to reduce their used equipment inventories and improve their cashflow. There's no easy or perfect solution, but all dealers agree they need to find a better way to ensure their used equipment inventory doesn't see a birthday. And that starts with buying it right. From there, it's essential that you have a plan in place — a plan that the entire dealership knows inside and out — to move that used unit back out the door to a customer. And then you need to have a code-red plan for those units that are still sitting after 90 days.
Ben Bair, regional manager for Pape Machinery, describes used equipment as a ticking time bomb. While you want to defuse the bomb as fast as you can, carelessness will result in it blowing up in your face. You need to turn it quickly, but with diligence and process if you want any hope of keeping your margins up.
The pages — and 8 in-depth articles — that follow highlight the best of the advice and insights from industry experts during the 2017 Dealership Minds Summit — Roadmap to Mastering Equipment Remarketing — held in Omaha Aug. 1-2. The event drew a record crowd of 212 attendees from 100 different dealerships across 31 U.S. states and 3 Canadian provinces.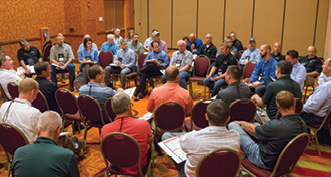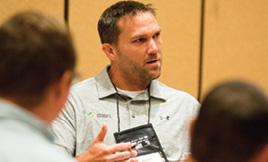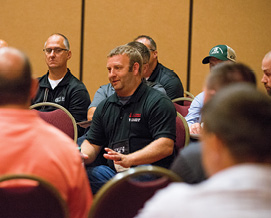 Roundtables Foster Sharing of Ideas
A big draw of the 2017 Dealership Minds Summit were roundtable discussions. Over the course of the 2-day event, dealers broke out into roundtables for 15 different discussions.
For additional coverage of the roundtable discussions:
The following individuals helped facilitate the conversations:
Ron Ritchie, Ritchie Implement
Terry Hlavinka, Hlavinka Equipment
Scott Grundstad, Plains Ag
Anne Salemo, Charter Software
Jim Frazee, Cazenovia Equipment
Dennis Smydra, Greenline Equipment
Jordan Kite, Agri Service
Bryant Roberson, East Coast Equipment

Michael Schmidt, Central Illinois Ag
Kyle Kennedy, Livingston Machinery
Greg Roberg, AgDirect
Olga Hall, RDO Equipment
Matthew Fleet, James River Equipment
Steve Connelly, RDO Equipment
Todd Kunau, Kunau Implement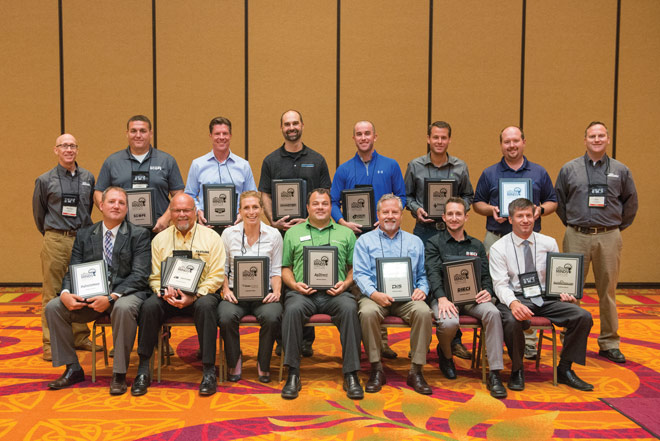 The 2017 Dealership Minds Summit was made possible with the support of the following sponsors: (Front) Scott Lubischer, TractorHouse; Bill Howard, Fastline; Manda Patrick, Iron Solutions; Scott Welden, AgDirect; Bruce Nelson, DIS; Brian DePaul, Dieci; Nate Meiergerd, AuctionTime; (Back) Michael Ellis, Farm Equipment; Joe Bryce Machinery Scope; Brad Long, Machinery Pete; Jeff Widick, Charter Software; A.J. Neifert, Iron Connect; Brandon Block, Dawson Tire & Wheel; Anthony Montag, Montag Mfg.; Alan Stenum, Farm Equipment. Not pictured: HBS Systems.
October/November 2017 Issue Contents