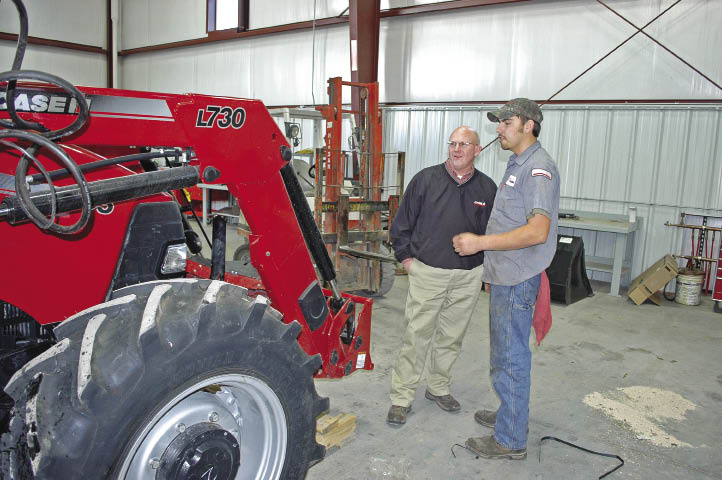 Craig Greenwood, Store Service Manager
Years with Birkey's: 10
Role: Greenwood balances a role of customer service representative with that of shop foreman. "My primary responsibility is to ensure the profitability of the service department, but by supporting the sales and parts staff I can help increase customer satisfaction in three dimensions to add profitability to the bottom line.
---
To be a successful service manager today requires more skill than yesteryear, when dealerships elevated their best wrench-turners or resident gearheads. Mechanical inclination helps, but a top service manager today must possess other skills as well. Like an air traffic controller, they must direct the technicians to the customers who truly deserve the priority. And as a psychologist, the service manager must listen and respond to what the customers and technicians alike are — and are not — saying.
Craig Greenwood's ability to wear the many hats required of the position is a big reason why his service department is a key contributor to Birkey's Hoopeston, Ill., store profits. To reach that mark, he must keep the satisfaction of the company, customers and technicians in harmony. During the day we spent in his service shop, Greenwood revealed how he pulls off the balancing act.
Takes One to Know One
Prior to coming to Birkey's as a service manager 10 years ago, his resume included 25 years of farming experience.
"Our customers get fired up when it is time to plant corn," says Greenwood. "And if something breaks, they call and unload on me. I did the same thing when I farmed, so I know what that frustration does to you when you're down and watching your neighbor work the fields. I'm able to get that irate farmer calmed down to where we can figure out the problem and get it fixed."
The telephone is this service manager's most important tool. Not only does can he pacify angry customers in need of service, but he also can also diagnose and sometimes fix service issue over the phone, freeing his techs in the shop for larger projects. "The phone doesn't directly generate revenue, but it can build customer confidence," he reasons.
The phone can resolve some issues, but he prefers the face-to-face in the shop because it better develops relationships that bring longtime customers.
"As a service manager, you must communicate to the farmer what the repair will cost and make sure that they understand," advises Greenwood. "If you call the customer and inform him that he needs a belt, he's trying to figure out which belt you're talking about. But if you've shown him the belt in place with a big crack in it, he's more understanding when that bill arrives. When customers see what you're talking about, they're more apt to buy the repairs."
Read Between the Lines
Demands are high on service techs, especially during planting and harvest, and Greenwood says he needs to be alert to his techs' state-of-mind. There needs to be a balance between the need to get the work done and seeing that techs make time for themselves.
"At times," says Greenwood, "you're tempted to have a tech work the weekend and think, 'He's only missing some fishing.' But to that tech, it isn't just fishing. And if you don't give them a chance to do it, the next week he's thinking about that instead of the job. There can be resentment."
Greenwood keeps his 7 techs and 2 student interns on part-time Saturday rotations that maintain the department at 75% strength. If there's a Sunday emergency, he'll usually field the call on his cell phone and will call in a tech only if necessary. But generally, he says, customers understand if the service needs to wait until Monday.
Greenwood says you can't expect techs to be direct about their needs, either. An example is a tech who complains that his wife wants him to leave work early to see their child's school play. "He'll play the tough guy, but you need to recognize that he's really saying he wants to go. As the manager, you need to know what's really going on and make sure he takes the time off."
Greenwood says that every service manager is constantly looking for ways to maintain techs' morale. "You need to be able to tell if a guy is getting down. Maybe he's been standing beside a tractor for 3 days. Find a chance to send him on a service call and get him working on something different to avoid frustration."
This kind of attention to techs' needs may explain why Birkey's doesn't have trouble retaining service help. Another big key, says Greenwood, is that the company has prospered and shared the success by fairly compensating its workers through base pay and bonuses.
"We monitor recoveries and try to reward techs as they reach different levels," says Greenwood. "The base level before they'd receive anything starts out at about 75%, so we don't reward mediocrity. But as they push over 90% recoveries, it kicks in on their paycheck and that ultimately makes them feel better about what they're doing."
The corporate goal is 90% modified recovery for a tech that works in the shop and 85% for a tech that makes service calls. The company estimates that a graduate from a technical program should achieve these levels within 3-5 years.
Birkey's built an addition on the Hoopeston shop that provides the techs with more room to work. The company also invests in their work through high-quality service vehicles and mobile phones. "If they've got good equipment, they feel better about their job," says Greenwood. "You need to want to come to work or it's not going to happen."
Nuts & Bolts
Unlike a part, which retains its value while on the shelf, an idle technician means lost time that Birkey's pays for but can never recover. Greenwood's day begins by scheduling the tech's work for the entire day to prevent lost hours. He manages assignments by documenting calls, checking service orders and utilizing his board.
A color-coded board helps Greenwood manage the variety of work, ranging from immediate service to winter repairs to reconditioning used machinery for sales. Below the board, technicians find a listing of their next work assignment once they complete their current task.
As much as he'd like to, there are few predictions Greenwood can make about service trends, other than down A/C calls when the weather turns. Different seasons bring different problems, and trends tend to sneak up. But when they do, it's easy for him to identify and get into action.
"I've become a clearing house for that type of information because I'll talk to 4-5 guys on the same day with the same problem and they're all out there trying to figure the answer," says Greenwood. "If we can figure out the answer for one, then we can probably help all of them."
When going out for a service call, Greenwood doesn't simply send the first available tech to the farm. He matches the customer and technician for the personalities. Also, if it's a job that takes 2 techs, he makes sure to pick the two that work best together.
"Some guys are better at repetitious work, while other techs are better at troubleshooting and want to finish the job in an hour," says Greenwood. "If you put somebody on the wrong job, it'll bite you."
Besides service calls and repairs, internal reconditioning and setup of new machines account for about 33% of the Hoopeston shop's work.
His department also plays a critical role in estimating the value of trade-ins and how used equipment is priced for resale. Greenwood says the store is particularly aggressive in moving aged equipment.
While reconditioning work is important for the bottom line, the Hoopeston service department's bread and butter remains in customer repairs. It directly competes with 3 other area shops, and despite higher service rates, the Birkey's store continues to see more traffic.
"The customer isn't coming to us because we're cheap, and that's not what we're trying to be," says Greenwood. "If you cut your rates, then you can't pay the techs as much, you won't keep quality techs and the work won't be done correctly."
And he adds, "We travel a long way into other dealers' territories for service work," Greenwood says with a smile. "We've got a lot of customers who buy their wholegoods from other places, but come to us for service."
Read more from the Dealership Minds Special Report:
Get inside access to Birkey's Farm Stores in our 15-part video series.