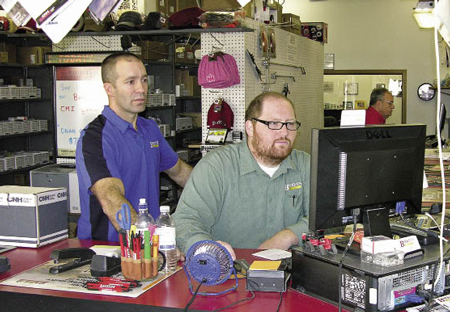 Todd Lippens, Store Parts Manager
Years with Birkey's: 15 (also worked in a parts capacity at both a John Deere dealership and an automotive dealership).
Role: "We oversee our daily parts inventory — what we sold and shipped to other stores — and what we must replace. We work closely with customers to identify the part they need, even when they don't know themselves. The parts department's interpersonal role is huge — both to keep the service department going and with the customer, who often comes to us first." Lippens manages 
a 6-man parts department that does $3 million of parts sales annually.
---
After several hours with Todd Lippens, parts manager of the Polo, Ill., store, I recalled a speech from a Big 10 football coach from several years ago. He declared that his truly great offensive lines all shared one common denominator — they performed the mundane tasks with great enthusiasm.
In its role of balancing part inventories, the parts department may not have the shine and glamour of the wholegoods salesman or the savior status of the trusted service tech, but it's hard to argue that the parts department is the true "front line" of the dealership. Fumble the ball at the parts counter, and there may not be another sale or repair. Generally the first to hear of a farmer's complaint, the parts counter is key to developing — and salvaging — a customer relationship.
Lippens' principles of store parts department management will spur memories of your former coaches, too. Things like communication, trust, sacrifice and doing whatever it takes to get the job done in the most demanding of conditions.
Proficient Problem-Solving
An effective parts department, says Lippens, can pinpoint a customer's needs even when they're too hurried to provide good information. "With cell phones today, farmers pick up and call immediately, even before thinking," he says. At the Polo store, more than half of his store's part transactions are handled by phone.
Success, he says, hinges on asking the right questions, until you get the right answer — a challenge when a farmer is too flustered to even explain his situation, yet still wants it remedied immediately. "You probe with the general questions first and then get more technical until you get the final answer."
So, the parts department must serve as a Rosetta stone, so to speak. "Because farmers don't know how to describe the parts, we speak different languages. The parts books have their own language, too. Deciphering the problem is a key part of our jobs."
Even Lippens, who's been solving parts mysteries for 20 years, admits farmers can stump him with how they present a situation over the phone. But by taking the time to asking the right questions, and using deductive reasoning to eliminate options along the way, a good parts counter person can unearth a solution within a few minutes, he says.
Becoming proficient at problem solving comes with experience, but it's a skill that can be taught over time, says Lippens. While mechanical knowledge helps, communication skills are far more important.
As a result, not everyone on his team is a farm boy. "We've developed good people off the street," says Lippens, noting it will take a couple of years. He currently employs a former Wal-Mart manager who had neither mechanical nor farming experience, but became a solid contributor by working closely with the team.
Drop Boxes Deliver Sales
The shared parts shuttle between all of the Birkey's stores is a huge competitive advantage, says Lippens, as it's made the Polo store's inventory 10-times larger. In addition, the Polo store also has its own daily delivery service that brings parts directly to farmers at 13 different dropbox locations.
With dropboxes at various ag-type businesses (fertilizer supply, propane suppliers, etc.), two Polo-store drivers deliver parts daily basis to 13 communities that span a 45-mile-distance from the store.
He estimates that the delivery service has increased parts sales by 20%. But equally important, he says, is that it's kept some farmers from going to the competition. "If we can serve them daily, essentially at their door or in their town, they don't need to drive the other direction to another store."
Supporting the Biggest Customer
It's well known around Birkey's that the service tech is the parts department's biggest customer. "We know the importance of keeping them productive as revenue-producers — we can't keep them waiting for parts. If the techs need something right away, we'll do whatever we need to — including driving to another dealer if we missed the inter-store parts shuttle."
Birkey's has a designated parts department employee (who also serves as the service writer) that assists the techs and pulls the parts for them. Dedicating a parts person to the techs allows the rest of the parts team to operate without interruption and give full priority to the farmer waiting at the counter and the phone. "This way, we don't have to decide whether to take care of the tech or the farmer waiting at the counter or own the phone. In our arrangement, everybody's a priority."
Measuring Margin
Individual store parts departments are measured by parts contribution margin, of which the Polo location comes in at nearly 20%. The Polo store's numbers are a lower because of the additional services such as its parts shuttle service to the 13 locations, but the ratios are offset by the greater sales volume.
Lippens adds that his sales-oriented team rarely misses an opportunity to increase parts counter sales. "If somebody mentions something they may need soon, our guys will work to find it and help the guy out. They're also good at getting the farmer to think about the next season before it gets here."
When asked of the single-best program for parts sales, Lippens refers to its Discount Days that runs each February and March, which offers discounts of 10-12% on most parts and 25% off on select ones.
"It took a couple years to get customers to realize that it's their chance to purchase items ahead of season for a big savings. It's good for us so we can take care of the maintenance issues during our slower times. When the farmers are out in the field, we want to concentrate on breakdowns and emergencies."
Parts Dept. Prerequisites
In addition to deductive reasoning, Lippens cites 2 other traits necessary for an effective parts team.
First is an open mind, necessary to deal with a wide array of personalities and buying behaviors. "To work at the counter, you need an open mind and also be a good listener."
Second is the ability to handle stress, particularly during peak times. "We have 4 months of the year when we could use twice as many parts people as we have," he says.
That means some long, hectic days for a small staff during the heat of planting and harvest. During those peak times, the number of farmers walking up to the parts counter might triple to 100, and total transactions in a given day might reach 200. That's a lot to handle for a 6-man department.
Teamwork and the ability to back each other up are key at all times of year. "If somebody's out sick or gone for 2 days of training or whatever it may be, we all know how to do each other's job so we won't have a void in performance."
He adds that it's not uncommon to put a guy on the road to go find a part in a hurry. "We've had guys drive down to the parts distribution center in Rantoul at night or to another dealership so they're back with the part the same night." And while they don't like to do it, the store has even sent someone to the Case IH Parts Depot in Indianapolis in a jam.
"All of us here at the counter are routinely called in after hours, particularly if weather causes farmers to work late. We're there for our customers, and everybody puts in the extra time for that common goal of getting that farmer going again. We know they're the reason we have jobs."
Read more from the Dealership Minds Special Report:
Get inside access to Birkey's Farm Stores in our 15-part video series.