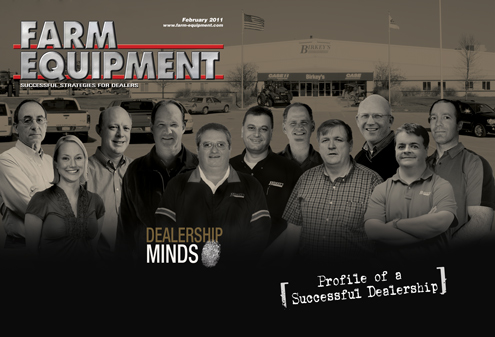 Birkey's Headquartered in Rantoul, Ill.
Founded: 1954. Four partners with one store in Fisher, Ill., and an International Harvester franchise, join to form Birkey's Farm Store.
Current Partners: Ron Birkey, Mike Hedge, Jeff Hedge, 
Mark Foster, Mike Carley, Phil Fayhee
Locations: 11. Sites include Urbana, Bloomington, Gibson City, Oakland, Hoopeston, Macomb, Galesburg, Annawan, Prophetstown and Polo, Ill., and Williamsport, Ind. Birkey's also operates 4 Case construction contracts and 1 as a Case Construction parts and service center.
Lines Carried: Case IH, New Holland, Kinze, Brent, Unverferth, Woods, Bush Hog, J&M, Killbros, Westfield, Brandt, Kubota, ExMark, Cub Cadet, Grasshopper, H&S
2010 Annual Sales: $245 million (estimated).
Employees: 362.
---
A day-in-the-life exploration of Birkey's Farm Stores detailing the inner workings of one of America's best-managed farm equipment dealership groups.
It's impossible to drive through central Illinois without a full realization of the role agriculture plays in the area's economy and lifestyle.
Tilled fields stretch out as far as the eye can see, the horizon broken by barns, silos and power-generating windmills. Grain elevators are still the tallest structures in many of the small towns that dot the landscape. Tractors and combines are seen at work in the fields long after the sun has gone down. The roots of agriculture obviously run deep in the area. As do those of Birkey's Farm Stores.
The company has 11 farm equipment locations spread out across the area — 10 in Illinois and one across the Indiana state line. It's a company that's been growing in a highly competitive market, steadily adding market share and expanding its footprint by bringing additional farm equipment dealerships under the Birkey's umbrella.
Birkey's isn't the biggest player in the business, but it's a force to be reckoned with in America's most fertile and productive farmland. Is there a "secret" behind Birkey's success? Farm Equipment wanted to find out.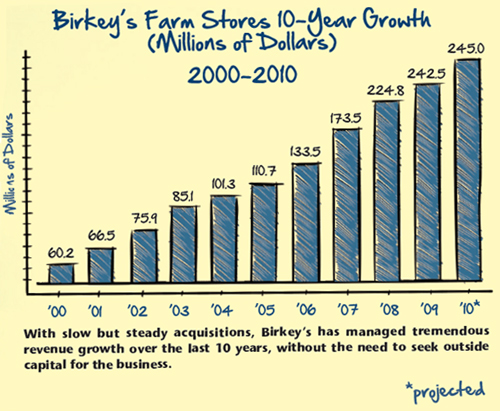 After more than a year of planning, Farm Equipment pulled the trigger on a full issue dedicated to profiling every cog in this successful farm equipment dealership "machine." Emptying out our editorial offices in early November, 9 reporters — with recorders, flip-cams and photo equipment in tow — hit the road to bring you an in-depth report we hadn't seen attempted before. Meeting first at the company's new flagship dealership in Bloomington, Ill., we spread out across the locations and administrative office in Rantoul, Ill., visiting stores, shadowing team members as they work and interact with one another and — most importantly — delving deep into interviews with personnel in a wide array of job functions to unearth what really makes this dynamic dealership tick.
We found a culture of openness — amazingly open, in fact. Birkey's management shared not only the philosophy behind how they do business, but also their bottom-line numbers, even allowing two Farm Equipment reporters to sit in on lively budget deliberations. The constant sharing of vital information is routinely extended to more than 120 employees in the leadership group, and to suppliers and lenders. They are "master communicators."
We found a real spirit of teamwork among the wholegoods, parts and service departments, as well as an understanding of how the performance of each is intertwined with the others.
Sales personnel clearly understand that the service department plays the major role in building brand loyalty and repeat customers. Parts employees know they're responsible for making sure service technicians have the parts to keep them running and that they make the first impression with many customers. Service technicians understand that their vital but demanding work will often require them to crawl under the combine during a harvest moon. All functions work together with one goal — making sure their farm customer succeeds.
We found a company where people seem to enjoy being at work, where they go the extra mile to help customers, where good ideas are shared and where employees are encouraged to take ownership of their jobs. As one manager noted, "We have a high level of trust in one another."
These observations are not unique; in fact they're preached daily from the lips of too-many-to-count business gurus. But Birkey's bottom line performance proves those concepts are deeply rooted in the culture, rather than fuzzy concepts followed only when convenient.
We'll stop here to let the people of Birkey's Farm Stores explain all of this in their own words. That's the purpose for this special edition of Farm Equipment. And we hope you enjoy reading it as much as we did in putting it together. We're confident you'll find some ideas here to apply in your operation as well.
Read more from the Dealership Minds Special Report:
Get inside access to Birkey's Farm Stores in our 15-part video series.