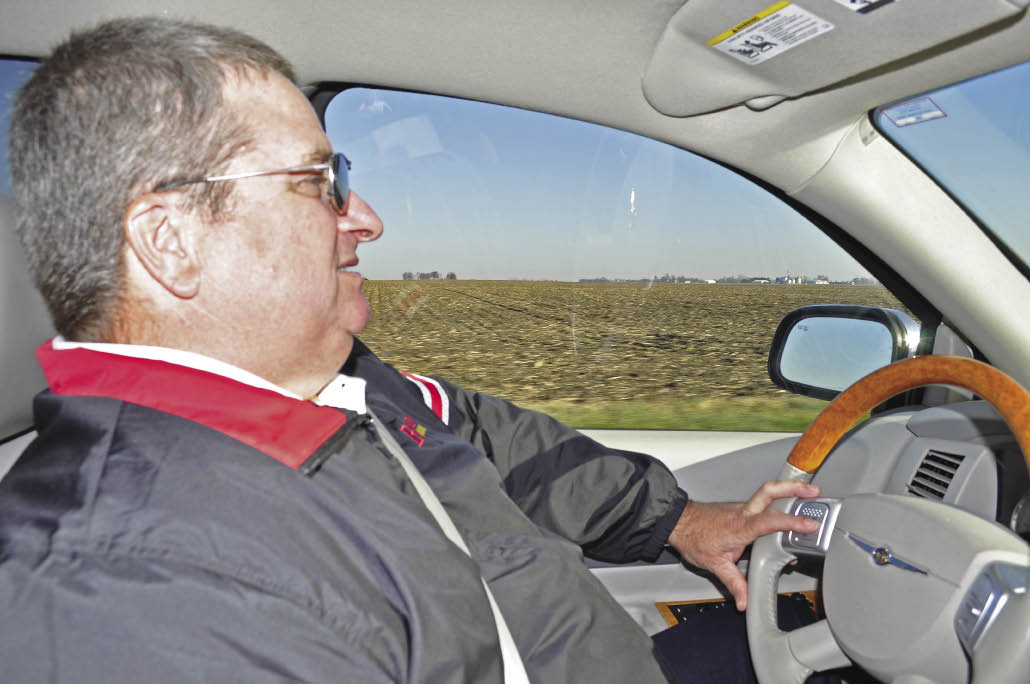 Mark Foster, Ag Division Manager
Years with Birkey's: 27 (including managing the Williamsport, Ind., location and the Attica, Ind., auto dealership). Became Ag Division manager in 2003.
Role: "My job is to keep everybody on point and to grow our ag business profitably. That's the bottom line. That's what we want to do. We have no plans to shrink or to downsize. When it comes to our ag business, the buck stops here."
---
For all but 3 or 4 days a month, Mark Foster is on the road tending to the business of the 11 ag dealership operations. Each of the managers report directly to him.
"The sun is at my back when I leave for work in the morning and it's at my back when I'm heading home at night," he says. That's because he lives in Indiana, just outside of Williamsport, the only Birkey's store not in Illinois.
It was the opportunity with the Williamsport store that attracted Foster in 1983, when he left his International Harvester gig in Champaign, Ill. He returned to his hometown and became store manager and a partner of Birkey's, which had 3 stores at the time.
In 2002, Birkey's went into its expansion mode and Foster became Ag Division Manager the following year.
Always Moving
Six of Birkey's stores are "within driving distance," meaning he can get back and forth from these locations in one day. The other 5 stores are "overnighters," and Foster will hit as many as 4 of them during a week's time.
On this morning, we're meeting at the new Bloomington store at 7 a.m. After checking in with Ron Birkey, his agenda includes a visit to Gibson City, Ill., store for a meeting with store manager and partner Mike Carley. Then it's back to Birkey's administrative office in Rantoul, and then on to the next store. Clearly, the prerequisites for Foster's job are organizational skills and a sense of urgency.
Once we arrive in Gibson City, a meeting is underway in short order as Foster, Carley and department managers review the year-to-date financial statements to see where the store is vs. budget for wholegoods, parts and service. At the moment, things are looking pretty good.
The last portion of this morning's meeting is devoted to 2011 orders for combines, four-wheel drive tractors and self-propelled sprayers.
After outstanding years for combine sales, there's dialog on whether 2011 might be a tougher year to move harvesting equipment. Others chime in with their thoughts on the numbers of various models that should be ordered. Line-by-line, they study and discuss the spreadsheets projected on the wall that show past sales history for each model.
The group comes to a general agreement on combine orders and the process is repeated for four-wheel drive tractors and sprayers. During discussions, Foster asks the other staffers present, "Do you think Case will buy it?"
As one of Case IH's larger dealers in a critical region of the country, it's evident their supplier's goals has some influence on Birkey's final equipment orders — especially with the big machines.
Ultimately, Foster decides what's best for all 11 of the company's ag stores. "As Ag Division manager, that's my job," he says.
Organized & In Touch
During the drive to Rantoul, Foster explains that this day is "somewhat" typical. The biggest part of his job is communicating with store managers, which he prefers to do face-to-face. Scheduling and organization is imperative.
He plans his schedule out weekly and keeps it in his iPhone, his day planner and on Outlook. "I send it out to every store and every salesman. They know where I'm going and where I'll be. They can call me anytime and this gives them an idea of the best times to talk."
He also makes a "cheat sheet" for what he wants to accomplish at each visit. "If it's down in black and white, I know what to do. When I haven't planned well is when I don't get as much done," he says.
During his store visits, he and the store manager always review their equipment inventory, its age and what shape it's in. About half the time, he physically walks the lot and "eyeballs" the used machines. He always makes time to meet with the sales staff to review their deals in the works, their hottest prospects and the new programs that Case IH is offering.
"Most of time, I'll also meet with the parts and service managers to review their budgets and talk about action plans if they're underperforming. Or, if they're on or exceeding budget expectations, what they're doing right."
There's also a "little folder" in each store where salespeople can leave him notes on specific issues. Those always take priority, he says, stressing he won't leave a store without making time for those issues.
Hitting for Average
Mike Hedge, CFO and Treasurer, says that a message that all employees hear is that Birkey's wants base hits, not home runs. "We'll hit a home run once in a while, but we want attention on the simple and small things that can make a difference." The types of things they look for are:
Can we find a way to sell $10 more per day of parts?
Can we find a way to get 15 minutes more productivity out of each tech per day through planning and scheduling?
"If you take that extra $10 a day in sales or an extra 15 minutes of billable time and apply it across the 350 people in the organization, they add up to a lot. Then, you're creating a culture that looks for those little things on an ongoing basis."
It's evident that Foster is a salesman, probably always has been. While a dearth of service technicians often ranks among dealers' top concerns, he believes that good salespeople are just as difficult to find.
Sales is His Shtick
"When you lose a good one, they're tough to replace. So we go out and actively recruit them. Several of our salesmen have college degrees. Years ago, this would have never been the case. "We like to look at people who are competitive by nature," Foster explains. As a former basketball coach himself, Foster believes athletes are a good start when looking for high-performing salespeople. He involves himself in recruiting and interviewing candidates for wholegoods sales.
The Metrics of Performance
When all is said and done, profitability is the one measure that quantifies a dealership's success. All others measure the actions it takes to be profitable, he says.
Foster knows his performance is measured by the execution of Birkey's 11 ag stores. As he ticks off three "critical" measures that underlie profits, he says he pushes hardest for used equipment turnover.
The company's used turns during a rolling 12-month period have run as high as 5, but is more typically 3 or 4, which is "pretty normal" for our business, says Foster. "We're down in that 3 range now, and I don't like it. It needs to be better. Used equipment doesn't appreciate in value. It loses value the longer it sits."
Another critical measure he keeps a sharp eye on is absorption rate. Birkey's Ag Division typically "hovers in the high 80s and low 90s," Foster says. "Parts and service is much more predictable than wholegoods," Foster says. "Consequently, the better you do there, the less pressure you put on your wholegoods area."
The third metric he pays close attention to is market share, which he calls a "double-edged sword."
While many are critical of how the majors "pound" market share and even challenge its validity, Foster believes it's a legitimate measure of how a dealer is faring in its sales territory. But, he says, dealers must be careful. Along with high market shares come high volumes of used equipment that must be moved.
More important, market share plays a big role in a dealership's profitability. "In a year's time, our volume bonus is a big part of our net income. If you don't achieve certain market share levels, you suffer in your volume bonus rewards." While the arrangement can be difficult for dealers to swallow, it's a fact of life in the farm equipment business, he says.
While Case IH measures most products, it's the market share with 100 horsepower and larger tractors and combines that count toward volume bonus incentives. Birkey's percent of market share varies anywhere from the high-teens to more than 50%, depending on store location.
Generally, Foster's pleased that the Birkey's stores have grown their market share in the past 3-4 years. "We knew at some point it was going to level off or come back a little bit, and it appears that it's going to be the case this year."
Heading in the Same Direction
Foster leaves little doubt that he's a hard charger. "I've been told I can be a little harsh on my store managers at times," he says, "but I think we get along pretty well. I don't want them to fear me, but I need them to respect me."
He earns that respect by helping them solve their problems. "I talk to every store manager a few times a week. I ask all the questions I need know about the business, but I also ask them, 'Do you have any headaches? Is there anything I can do to help you?'
"I've got the best group of store managers that I've ever had. I like them. They do what is asked of them. We're on the same page and heading in the same direction. That's what's important."
Read more from the Dealership Minds Special Report:
Get inside access to Birkey's Farm Stores in our 15-part video series.