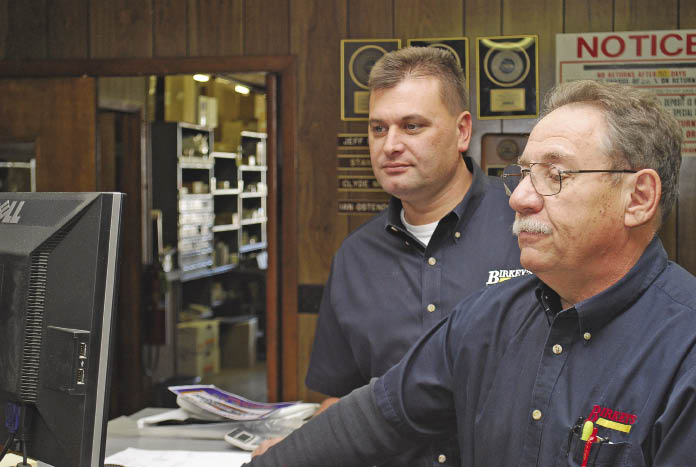 Mike Carley, General Store Manager
Years with Birkey's: 17 (he started working for the company part-time while in high school and college. He's been in his current role for 14 years).
Role: "It's basically driving the employees to maximize profitability for Birkey's. My daily involvement in each department ensures that I bring maximum profitability to those departments. It's my responsibility to arm them with the numbers and give them everything they need to do their jobs very, very well."
A Dream Job: Carley grew up in Gibson City and in the dealership his father (a retired Birkey's owner) owned. "This business is in my blood. It's what I've always wanted to do; I've always wanted to sit in this chair."
---
Success for any store in the Birkey's organization is defined in hard numbers; unforgiving black-and-white figures that march in ordered rows across spreadsheets, spelling out the unvarnished truth about a store's bottom line
At the Gibson City, Ill., store, the bottom line is very strong. The store has the best net profit numbers of all 11 Birkey's locations, despite facing strong local competition.
Getting the right numbers in those spreadsheet cells is not the result of applying mathematical or statistical formulas. There's a bit of alchemy required.
That's where Mike Carley comes in.
As general manager of the Gibson City store, Carley (who is also an owner) is responsible for coming up with the right blend of product, salesmanship, market knowledge, customer service and leadership that will produce profitability for the dealership. When he arrives early each morning, in the unlikely event that the bottom line isn't already on his mind, he'll quickly be reminded of it.
He gazes at the equipment sitting in the dealership lot and considers how long it's been there. When he arrives at his desk and logs on to his computer, the numbers leap to the monitor, telling him exactly how his store is doing.
Numbers, Always the Numbers
"The first thing I see when I log in is the budget," he says. "That's what comes up on our home page; where we are for the month and where we were last year. I'll know what we did yesterday and what we've done year-to-date and in all areas of this business — parts, service, wholegoods sales. Achieving our numbers is very important to us."
Carley takes a very personal view of the figures that glow on his screen.
"You need to look at every dollar you spend as your own," he explains. "I look at how I would spend it if it were my money. Am I spending it in the right way to maximize profitability for the store?"
Selling Product, Not Price
"I manage the sales end of it. We focus on margins and bringing more business in the front door," he says. "We keep that business with the service we provide out back."
The parts department is responsible for over-the-counter sales and for ensuring that the service techs have the parts they need to do repairs and maintenance quickly. That keeps customers happy, particularly when the repairs are needed to keep a tractor or combine in the field during planting or harvest.
When customers think of Birkey's, Carley wants them to think of wholegoods sales, parts and service — not just the deal they got on a new tractor or a combine.
"You want to sell the product, not price," he explains. "We push the message that we have a better product, the best service. We want the customer to believe we're the best choice around."
Relying On the 'Right' People
Carley says the only way he can keep everything running smoothly — particularly since he's a partner and oversees two other stores — is by having department managers who share the same philosophy.
"Each manager is running his own business. They do a very good job of it," he says. "Without the staff to run the day-to-day operations, I wouldn't be able to travel to the two other locations assigned to me (Bloomington and Annawan). I've got the right people in the right positions. They come to me with the serious issues that could create future problems, but they can make their own day-to-day decisions."
A key factor in enabling those managers is sharing numbers with them, numbers that were once kept very close to the vest.
"Ten years ago, we didn't share any financial information with employees," Carley recalls. "Now we open the books to key employees and say, 'What do you think we deserve as a return on our investment? How much should we make?' Opening up that door and focusing on these numbers and how we get to them has benefited everyone."
Just as he reviews the store's total numbers, he reviews them with each department manager as well.
"I hit them with those numbers probably 6 times a month," he says. "And it's not the numbers, as much as it is where we get them. We know what the number is, but just thinking we're going to get there is not going to get us there. We've got to equip the parts and service managers and salesmen with a plan to get us to those numbers."
Part of equipping the managers is giving them a say during the budgeting process.
"Our employees have a lot of input," says Carley. "We're not just going to put a number in for the parts or service department. That doesn't put any teeth into it. We want some teeth in this budget and we get that if our managers have a number they think they can get to."
Turning Used Equipment
Knowing that each piece of used equipment sitting on the lot works against the bottom line, Mike Carley, general manager of the Gibson City store, isn't above playing hardball with his sales staff to turn the equipment.
"I've shut my salesmen off before," he admits. "I've told them 'you guys won't sell any more new combines until you get rid of these used ones.' It's amazing how fast we'll get rid of inventory. It's all about keeping focused and pushing them in the right direction."
Financial Snapshots
While Carley sees the budget figures daily, he generally considers them in a broader context.
"On wholegoods, you can have a good vs. a bad bay, but with the parts and the service departments, I look at a snapshot over a week. In reality, if I've got a full shop, it doesn't reflect on my numbers for a while. I focus on seeing that the schedule is filled on the service side. And I look at the open repair orders and what we have to bill."
If the numbers are off, though, Carley addresses things immediately.
"It's one thing if we know what caused the drop in numbers," he says, noting that the figures had been off recently in customer labor sales. "I had two men out getting surgery recently. As long as I know why those numbers are off, I'm not as concerned as when I don't know why."
In situations like that, he'll sit down with the department head and discuss what can be done to bring the figures back in line.
"We'll throw ideas back and forth about what we need to do to better focus the employees," he explains. "Maybe we're not paying enough attention to our recoveries. Maybe we're lackadaisical because we just came off the harvest. We'll bring people in, figure out the problem and get them refocused."
Carley also interacts with the administrative office in Rantoul daily, with regular contact with other store managers.
"That's one of the best parts of having 11 locations," he says. "There's always another store manager who's been through any challenge and whom you can bounce ideas off. I can e-mail one of 11 other guys and say, 'I'm trying to trade this. What do you estimate its value at?'"
Read more from the Dealership Minds Special Report:
Get inside access to Birkey's Farm Stores in our 15-part video series.
---
Related Content