Leo Johnson, president of Johnson Tractor, a 5-store Case IH dealer with locations in Wisconsin and Illinois, speaks honestly about the dealership's previous location in Rochelle, Ill.: it was old.
"That store had been there for many years when we moved in in 2006," he says. "It had actually been an International Harvester dealership since the early 50s. There'd been a number of renovations, but the oldest parts were 70 plus years old.
"The shop was only 20 years old when we bought the original building, so it was in relatively good condition. But 16 years later, it just didn't have the right functionality that we now need."
Johnson says they originally planned to mimic what the company had done with its Janesville, Wis., location: bulldoze the building and rebuild. However, they soon found the cost and time wouldn't make it a worthwhile investment, so they decided to start from scratch with a new plot of land.
Johnson Tractor, Rochelle, Ill., New Store Fast Facts
Land purchased in 2019, construction began in August 2020
30 employees, including 12 technicians
"Our goal was to build somewhere along the interstate," he says. "That's one great thing about Rochelle, it intersects 2 four-lane highways, which is rare in Illinois. It's relatively easy for farmers to get here, which is great because our customers down here have larger farms and typically buy more tractors and combines than our customers in Wisconsin."
Building at the Perfect Time
Johnson Tractor, Farm Equipment's 2012 Dealership of the Year, located its new plot of land along the interstate in 2019, purchased it and immediately went to work on a building plan.
"We had a pretty good idea of how big we were going to build and knew what square footage we could afford. We got the building ordered nearly 2 years ago, before steel prices became what they are today. I'm told that steel for a similar building today would cost twice as much. The first piece of steel went up Aug. 1 of last year, and we moved in on July 1 of this year."
Johnson decided not to hire a general contractor for the Rochelle construction, as his experience overseeing the same process at the Janesville location meant he could more-or-less fill the role himself.
"We'd built without a general contractor before, so I was pretty comfortable," he says. "And even if you do hire a general contractor, you still have to be involved in every decision, even little things like the color of doorknobs. I paid a construction manager by the hour to make sure things went smoothly, but it was my job to get bids and pay the subs. So I was actively involved in everything."
Comfortable Techs, Organized Parts
Johnson says part of the motivation to build a new location for the Rochelle store was the benefits that followed when Johnson Tractor similarly updated its Janesville location 8 years ago.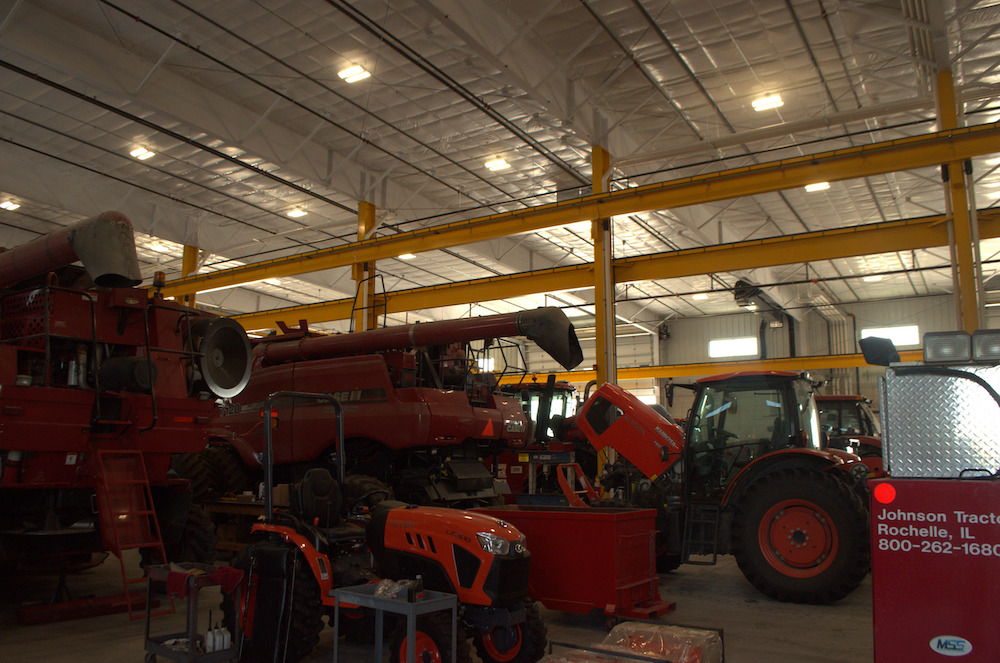 Johnson Tractor's new Rochelle, Ill., shop includes heated floors, air-conditioning and raised ceilings for overhead cranes. 
"It comes down to some pretty simple things," he says. "Creating a good environment for your technicians, the driving force of your dealership, is really important. This meant things like heated floors and overhead cranes.
"We also didn't have air conditioning at our old shop, and now we can close the doors and cool down on these 90 degree days. It's a big space to air condition, but the productivity of our technicians improves dramatically."
Cranes were a particularly important part of the construction according to Johnson, as the previous Rochelle location had lacked the height to install them.
"We have some techs that are getting older, and the cranes can make things easier for them," he says. "Sometimes it even allows one person do a two-man job. Our last building didn't have the right ceiling height to install cranes, like most dealerships built more than 20 years ago."
The last piece of the puzzle for the technicians was giving them a comfortable place to eat and take breaks. "With this new lunchroom, you don't have to climb any steps, and it has comfortable tables and chairs. We also have a lot of Cubs fans at our Rochelle store, so we decided to not turn it into a farm memorabilia museum and opted for a Cubs theme instead," he says.
Having a tidy appearance was also top of mind when the new store was built, as Johnson explains he wanted to avoid having equipment worked on in the lot.
"We don't like pulling cabs off tractors outside. You see an awful lot of that at dealers around the Midwest," he says.
Another benefit of the new location is an optimized parts department, something Johnson says was lacking at the old store. Organizing parts by season and machine helps not only parts staff but any employee find what they need more quickly.
"Our parts were scattered all over at the old store," he says. "We had parts hidden away in different places and then other parts in a warehouse across the street. When you have a 70-year-old location, you're dealing with multiple previous owners adding space and reorganizing parts over the years.
Leo Johnson's Tips for Building a New Dealership Location
Plan ahead on how much space a storm water retention basin will need, as requirements have gone up over the last 20 years.
Determine if you will need to work with a union when hiring contractors.
Check your local building codes before construction, such as air quality requirements for exhaust systems.
Install automatic front doors for customers carrying parts in and out.
Install signs in the lobby immediately directing customers to the parts and service counters.
"We wanted to centralize the process, so we reorganized our whole department. For example, now we have all our harvest parts and all our planting parts in their own areas. I've never worked parts a day in my life, but if I need to, I can walk back there and know exactly where to look for something, whereas I didn't have a clue in the old store."
New Expo Room, Wash Bay
Johnson takes particular pride in the Rochelle location's expo room, something he says drives sales in wholegoods.
"We love our expo room in the Janesville location, we use it every day," he says. "Our sales team never had a room like that before, a place you can take a customer on rainy or snowy days. Normally you'd have to run the equipment they want to see into the shop or the wash bay, which gets in the way of other employees and can be distracting for the customer.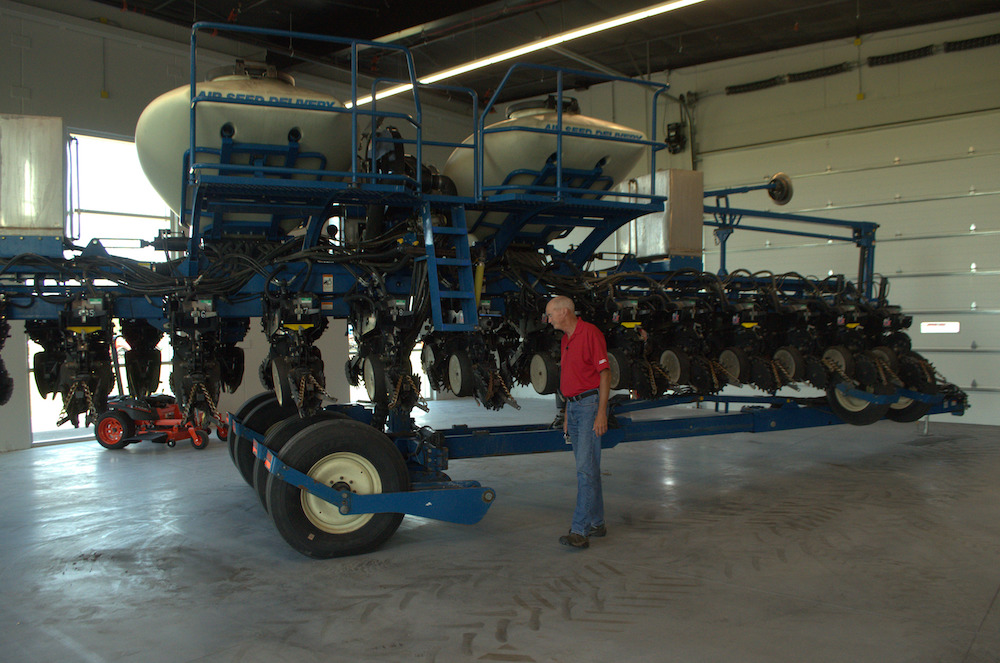 Johnson Tractor President Leo Johnson examines a Kinze 3660 planter in the Rochelle, Ill., store's new expo room.
"Creating a selling environment where the sales team can work with the customer one-on-one is ideal. It can be a $500 lawnmower or a $500,000 combine, both get run into the expo room for the customer to look at."
Little things like air conditioning and a visually clean environment make a big impact on the selling experience according to Johnson. "If I'm sweating and squinting outside trying to look at a machine that's sitting in the weeds, that's going to bring my whole mood down," he says.
He adds that the expo room doubles as a comfortable and convenient place for combine clinics or company parties, saying the 3,600 square foot room fits 120 people easily.
A second building was also added at the new location, where Johnson says the dealership will continue its ambitious combine storage and inspection program, capable of storing up to 40 combines at the Rochelle store.
"We added a wash bay to the second building, which was constructed with metal, big doors and insulation," he says. "We started thinking it would just be a pole shed, but then we added steel, then a concrete floor and overhead doors. What started as a $100,000 building became a $800,000 building."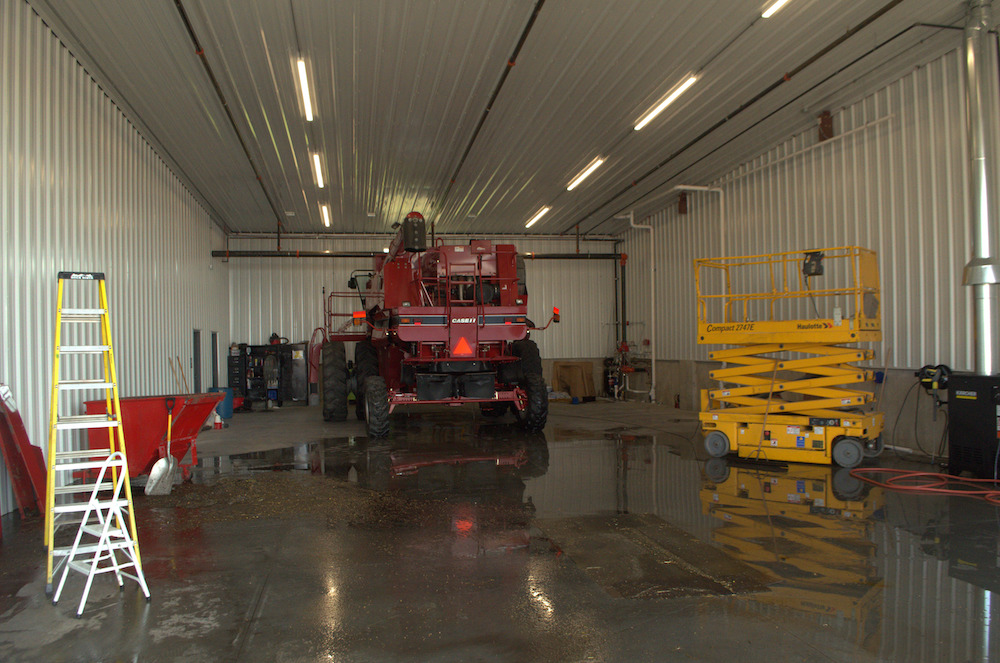 The new Rochelle, Ill., location includes a second building in the back complete with combine storage and a wash bay.
How Old Dealer Practices Can Hurt Your Business' Value
Johnson Tractor President Leo Johnson was worried when they moved to sell their old Rochelle, Ill., store building that they'd run into environmental problems along the way, specifically with how previous owners had handled oil and other chemicals while running the dealership.
"In the old days, when you'd change oil on a tractor, it usually got pitched out on the driveway to keep the dust down on the gravel," he says. "What was common practice 40-50 years ago would make you cringe today. So I wasn't sure what we'd find when we got a phase one environmental inspection done. But they didn't find anything, and neither did the buyer's phase two inspection.
"There were also buried fuels tanks in our yard for years, well before we owned it. But it turned out that everything was cleaned up correctly when they took the tanks out. Protecting your dealership's environment is critical to not only the Earth but also your pocket book when it's time for resale."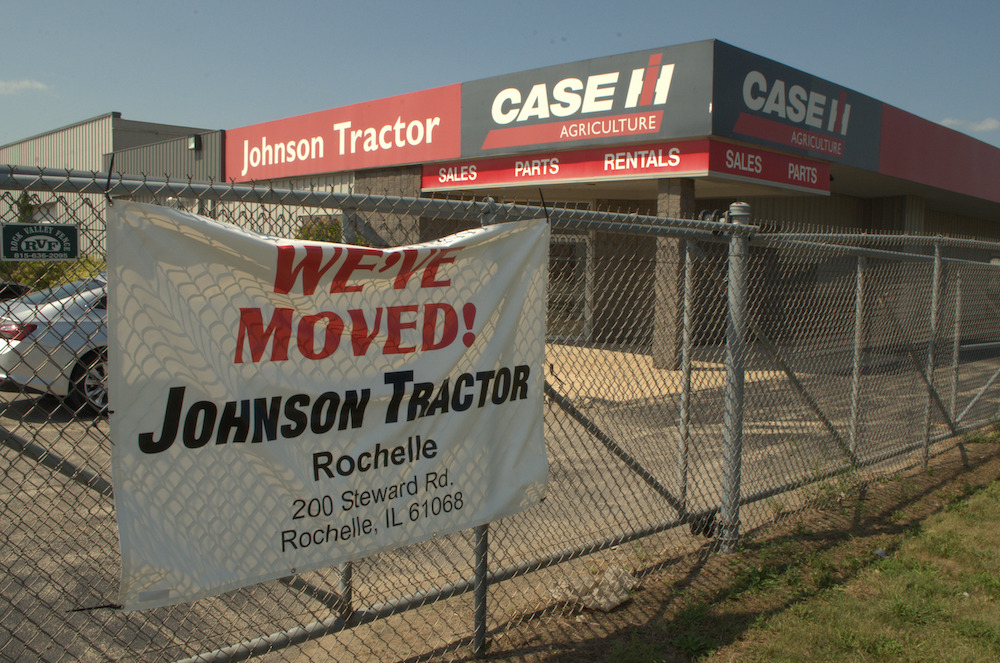 A banner at the old Johnson Tractor Rochelle, Ill., store directs customers across the interstate to the new building.
Johnson recommends dealers looking to build a new store visit other dealerships to gather ideas. For example, the idea to raise the ceilings at Johnson Tractor's Janesville shop came from a conversation Johnson had with some technicians on their break at a Case IH training facility.
"I asked them how high they'd want their own ceiling to be, so one technician taped the end of his tape measurer to their crane hook and raised it to the top," says Johnson. "We found it was 16 feet tall, and they said they'd like it 2 feet higher. The first thing I did when I got back was raise the walls on our Janesville building plan to accommodate an 18 foot hook height.
Johnson also added a smaller shop door just for lawnmowers based on his talk with those technicians, who were frustrated at having to open the 30 foot overhead doors every time a lawnmower needed to come through; this let out the shop's cool air in the summer and let in cold air during the winter.
Related content:
[Podcast] Our Dealer Story: Johnson Tractor & Mid-State Equipment
Johnson Tractor Acquires A.A. Anderson
Succession Planning at Johnson Tractor
Case IH Dealer Leo Johnson Verbalizes Industry Observations on Coronavirus Pandemic, 3-20-20