Editor's Note: A couple of days after an interview with Leo Johnson provided a dealer's perspective on the Coronavirus and how equipment dealers will be impacted, he was presented with another assignment — what a typical day looked like for him in these changing times. "Journaling my workday would almost make me accountable for my time," he joked. On his 1-hour return to Wisconsin from the Rochelle, Ill., store on March 30, he phoned in his day's activities.
6:15 a.m. — Alarm sounded. 
8:00 a.m. — After breakfast and reading of the paper, Johnson arrives at the Janesville, Wis., headquarters store. "During busier times, I'd arrive at 7 a.m. But the store traffic being what it is, 8 is fine." Since the coronavirus, he's adjusted his normal circuit of Illinois stores (Rochelle in the morning, Amboy in the afternoon) to reduce potential exposures. After a 15-minute check-in with his brother and partner Eric Johnson, and Operations Manager Eric Reuterskiold, he'll head to Rochelle, Ill., an hour's drive, a routine he repeats daily.
8:15 a.m. — Of the 1-hour drive to Rochelle today, Johnson spends 40 minutes with a farmer/neighbor/friend who also advises him on agronomic matters that Johnson puts to use on his own 600-acre farm. "I collect his views of farming ('he's a breath of fresh air,') and review the actions we're going to do on each of the farms I operate. He also does my sidedressing and spraying. He likes to be involved in my cropping decisions, so we regularly have conversations that range from 5-30 minutes." Asked what Johnson is going to do different in 2020, he shared three things. "First, I'm running another 100 acres (600 total) so that's new. Plus moving to food-grade soybeans this year for the first time. It'll go to Asia primarily for a soy-based sauce that is like our ketchup here.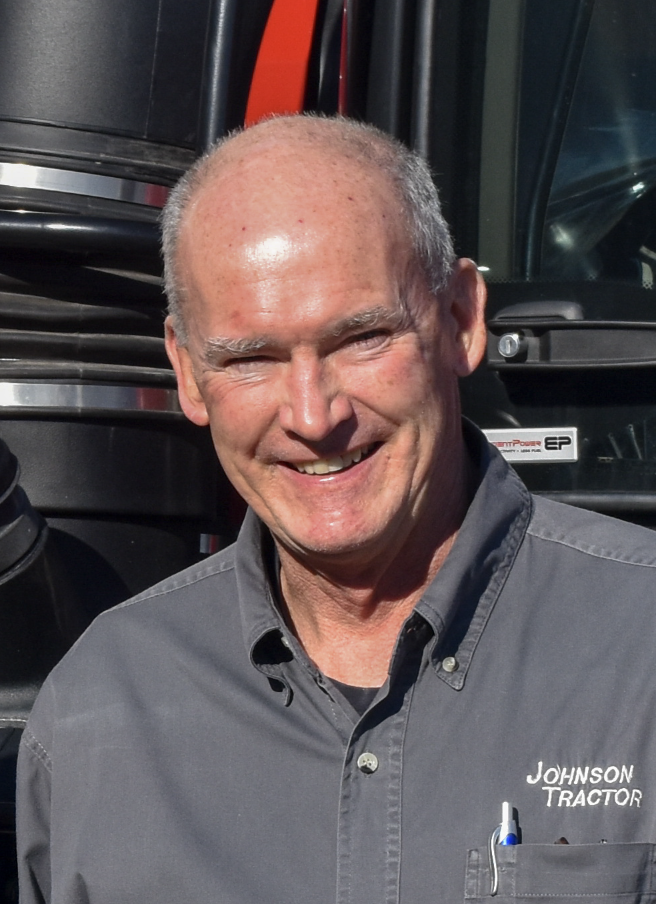 Leo Johnson
"The food-grade soy gets an extra premium at harvest, but we don't pay the basis, so can be $1.50 swing. The downside are the greater input costs, more management requirements and loss of yield vs. Roundup Ready beans. But I'm told we'll make more money with food-grade beans. Third, I've been doing more no-till. It seems counter to being in farm equipment business, where you can want everyone to plow everything and then sell them a finishing tool. But we realize with the economies today that what works for some doesn't work for all."
For his farming operation, Johnson owns his planter, harvesting equipment and a few tractors, but when it comes to tillage, he's at the mercy to what's on his dealership's lot. Rather than tying up his own inventory on his farm, he's been gradually moving to more no-till.
9:15 a.m. — Johnson arrives at Rochelle, Ill., store. "I've been making it my habit to see as many employees as possible every morning — to talk about what's happening with Coronavirus and their impression of the impact on customers, how we're handling customers and how well we're satisfying their needs. Second, I'm making sure they're feeling well themselves and taking precautions. Then, calming the storm if they have any concerns. We have had some concerns, but nothing that communication can't take care of. I'm just walking around, doing more listening than talking."
9:45 a.m. — Johnson is back at his desk. This morning, he prints off the financial statements, which will include closed deals, parts sold and reports on the service tickets that have closed and how many remain open. "It doesn't matter what the state of the economy is; our people know by now that we want those tickets closed." He will call his accounting department to find out about the retail deals still sitting on their desk, and what they can do to push those in limbo through.
"What I discovered today in all of this is that we aren't going to make our parts goal for March. But we were strong enough in January and February to make our quarterly goal. We'll be running in the black as of March, which in the current state of the economy is a win. Normally in this business, if you can't be profitable in March, you should be doing something else."
10:30 a.m. — Johnson moves on to reviewing the new building project, which includes a 52,000 square foot main building and another 20,000 square foot building that will serve as a warehouse (80% use) and detail shop (20% use) on a 12-acre site nearby that offers exposure to Interstate 88. "We hope to break ground in the next 2-4 weeks and be operational within 10 months," he says.  
The new building will be a significant increase in footprint from his 2 buildings in Rochelle, occupying 47,000 square feet combined. Equally important to the size and location of the new dealership will be the upgrade in the facilities themselves. The current store will eventually be put on the market, says Johnson, but not even posted until after everything is fully moved into the new site. "We don't want to any pressure nor have any hurry."
So, Johnson's work today included making decisions on the electrical plans so that the contractors can submit accurate bids. He calls upon his service manager and couple of techs about the department's electrical needs, he says "to go over outlet placement, where to put welding outlets and things like that." After that meeting, he walks back through the shop to see a few techs he hadn't seen on his first set of rounds.
 11:15 a.m. — He is back to his desk with a cup of coffee to review the emails received since 9 a.m. "I was also brave enough to check the stock and commodity prices. I also look at my 401k every day, not because I'm ready to retire but because I want to get a pulse from how others may be feeling." At the lowest point since Covid-19 changed the world, his plan was down about 25%. But this morning it had rallied to being down only 14%. "It made me feel better as well as for our suppliers, co-workers, etc."
During this time, he also confirmed this week's sales meeting via Zoom (video conferencing). "Our first experience with Zoom was just a week ago and now we're hooked. Social distancing forced that technology on us, but I'm sure it's technology that we'll continue to use in the future."
He also discovered an online auction on Thursday. "I've been cautious about online auctions; not knowing what the market is doing. There were some recent online auctions that went well. Things sold well. I took 15 minutes to make a list of about 10 items that I was interested in." He would come back later in the afternoon to do put the time in on market values. NOTE: Leo and Eric Johnson will be presenting at the Dealership Minds Summit in August about the annual auction they operate out of their Juda, Wis., location.
12:00 p.m. — Johnson sits down to eat at his desk. For the first 38 years of his career, he ate out every day, but he started making a lunch for his then high school-age daughter's lunch one day and continued the habit since. Prior to Covid-19, he'd eat with the crew in the break room, but now, with Covid-19 worries, spends a half-hour eating at his desk and reading.
12:45 p.m. — Johnson starts his analysis of the 10 pieces he saw listed for the online auction. "We stay with what we're best at, which is large row-crop equipment — combines, planters, Magnum and Steiger tractors. We participate in auctions for 2 reasons. One, we're fairly good at selling used equipment and two, it helps us get smarter about appraising pieces in general." He will be on the phone with his brother, Eric, for about 50 minutes before coming up with a game plan for this week's auction.
2 p.m. — He receives the notice from associations and Chamber of Commerce about the new "Paycheck Protection Program" that emerged out of the CARES $2 trillion package. "I wanted to understand if we qualify or may qualify at some point. We haven't been negatively impacted like a restaurant, but we don't know what April and May will bring." He spent an hour reading the language in the notices and speaking to HR and accounting. No conclusions were drawn, but he says that they all know a little more about it.
3 p.m. — Johnson returns to his building project again, plugging in more numbers into the budget and cashflow schedules to plan when payments will be needed at the various stages over the next 9 months. The project puts him back on the phone with brother, Eric, who is his partner on the real estate business, too. Soon, however, they gravitate back to the auction. "You're probably thinking we're spending a lot of time on those 10 pieces. If we buy them at the right place, it'll be great. If we get 1-2, it'll be good. And if we get none, that's also good news because it means the market will be doing better than we thought."
4:30 p.m. — Johnson circulates around the store one last time, which he says is "one last crack" for anybody to ask or tell him something. He gets out a little earlier today at 4:45 and heads north. He expects to land at home about 5:45 p.m. and will then change and go for run.
"I hope I'm not the only one you're putting through this drill," he says at 5:40, as we concluded the call with 5 minutes to his driveway, noting that he also wanted to gauge what other dealers were spending their time on. I assured him that there'd be more, but that he helped with the "proof of concept."
Who else is game for this exercise?