Category: More Than $50 Million in Annual Revenue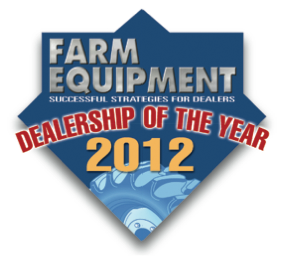 Spend some time at either of Johnson Tractor's two Case IH dealerships (Janesville, Wis., or Rochelle, Ill.), and you'll quickly surmise that the 2012 Dealership of the Year is indeed a "dealer's dealer." Leo and Eric Johnson are as "blue-collar" in approach as any dealer-principals you'll find these days, yet they still approach their three-site operation from a very high "thought level.
Brothers Leo (56) and Eric Johnson (52) could be described as focused, deliberate, outcome-based and possessing a personal passion that seems to be vanishing as the industry becomes more "corporate." You could say they're cut from a different cloth, from loudly dispelling what they view as "counterfeit truths" (absorption rate, for one) to Buddhist maxims ("The big boat and little boat" theory, you can look it up.)
At any rate, as was seen by the this year's judging panel, this is a lean but high-performing dealership that's doing more with a couple of stores than other dealers hope for with twice as many locations.
Operating Truths
The Johnsons are not "numbers-freaks." In fact, they don't manage by metrics. "We look at total revenue, net income, cash availability and that's about it," says Leo. "We don't get concerned if one department is losing a little if the others are OK, as long as there's adequate return."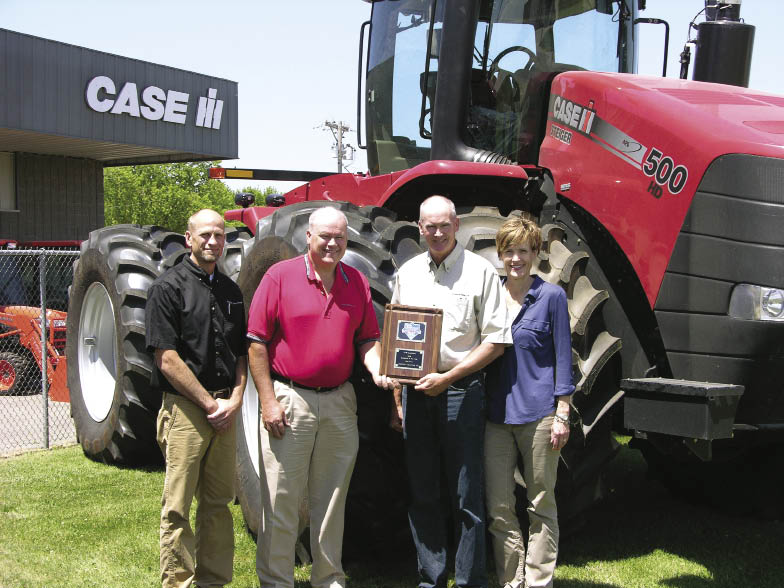 While no burning secrets of success appear to exist at Johnson Tractor, here are some things the Johnsons believe in.
Market Share — They believe in market share, but not for the same reasons other dealerships pay attention. "We don't watch it because of the volume bonus tied to it, but because we want to be the ones getting the deals done," says Leo. "We never say that a farmer who has John Deere or AGCO is never going to buy red. We're open to selling every farmer something."
Johnson Tractor, Inc.
Founded: 1980. Leo Johnson buys out the partner of his dad (Raymond) and the pair form Johnson Tractor, with a new International Harvester store in Darien, Wis.).
Employees: 68.
Major Line: Case IH.
Other Lines: Kinze, Kubota, Geringhoff, Kuhn Krause, Grasshopper, Exmark, Simplicity.
Locations: 3 (Janesville, Wis., Rochelle, Ill., and used equipment/repair shop facility in Juda, Wis.).
2011 Revenue: $85.4 million ($73.5 million wholegoods; $7.7 million parts; $4.2 million in service).
2011 Market Share: 50%.
2011 Return on Assets: 27%.
2011 Parts/Service Absorption Rate: 77%.
Customer Profile: Primarily corn/soybean growers in 1,500-2,000-acre range (up to 15,000 acres). 
The big problem with a preoccupation on market share, he says, is when dealers count on the volume bonus solely for their profitability.
Cash Counts — The Johnsons know well that cash flow, not margin, is what rules the day. "We manage the business for cash," says Eric, adding that a cash-focus curbs the appetite to load up on inventory. Leo credits Eric's track record of new wholegoods forecasting, effectively matching early-orders (and the right orders) to demand over the last 4 years. "While we watch cash closely, we aren't afraid to go and buy inventory," Leo says, "because too much cash doesn't do the business any good either." In late May, the Rochelle lot had new and used inventories of $10 million and $7 million, respectively.
They also carry minimal accounts receivable for their size, something that they've focused on since becoming one of the earliest users of FarmPlan back in 1981.
Run Lean — While the firm's high sales per employee (in excess of $1.2 million) indicate that the dealership may be understaffed, the Johnsons say the only thing that matters is whether the customer feel they're receiving adequate personal attention. "We're close enough to get a sense of the deals and rarely are surprised," says Leo. "Only when customers aren't hearing from us often enough will we need to add to our staff. But we're never going to be overstaffed; our goal is to never lay people off. We'd rather all go 110% when we need to."
Sharing Information — Keeping employees in the dark is "180-degrees wrong," says Leo. "The more everyone is knowledgeable and empowered, the better off everyone is — the company, employees and customers." Eric adds that each salesman has access to the book values and deals of all other salesmen in an open environment. Parts and service personnel also have access to information they need to operate at the highest level.
Bigger Ain't Better — The Johnson are convinced that two high-performing stores are better than more "so-so" locations. "It's so much easier to get incremental business from existing locations because the fixed costs are covered. The real driver of growth is not from more stores, but strong personnel — that's 99% of the story. Turning well-trained, good people loose to do their job will do more for you."
Adapt to Changing Market — Dealers need to realize that the market is fluid and always changing. As it relates to making deals, Leo says a common mistake is the dealer who replicates the same deal as the year before without accounting for all the new variables. "If the value of our inventory fell 25% today, it would hurt a lot but not kill us, because our decisions move with the market. That wouldn't be true of every dealer," he says.
As change relates to technology, dealers must stay up to date. The Johnsons describe themselves as early-adopters, not pioneers. "But once we embrace something," says Leo, "we want to be the best at it."
Johnson Tractor Chronology
1978 — Leo Johnson joins Clinton Implement & Hatchery (International Harvester store, Clinton, Wis.) as a salesman. Dealership is co-owned by father, Raymond, and his partner, Bruce Lucas.
1980 — Leo purchases Lucas' shares to form Johnson Tractor with Raymond, becoming a dealer-principal at age 26. Closed up the Clinton dealership and built a new IH store in Darien, Wis. Company did $200,000 in revenue.
1982 — Eric Johnson joins company in sales.
1985 — It was clear after the Case-IH merger that the market didn't exist for all the stores in the region. "Survival keyed on moving to a better market," says Leo. Johnson Tractor sold the Darien facility to a trucking firm, and took advantage of the opportunity to purchase the Case IH company store in Janesville, Wis. "1985 is the only year in our history that the company lost money," says Leo. "We were borrowing a relatively high amount of money, interest rates were super high and it was hard to tell whether we had a positive or negative worth from month to month, depending on how the used equipment was valued."
1986 — Former Case IH company store in Janesville re-opens as Johnson Tractor.
1992 — Eric, who began buying stock as his father retires, assumes a 50% equity position to make him an equal partner with Leo.
1995 — Invests $1 million to remodel the Janesville location.
2006 — Trickle-down fallout of the Walterman Implement incident in Iowa opened up opportunity for new ownership of the Rochelle, Ill., store and Johnson Tractor bought the facility, doubling the company's employment to 60. "That transformed us from a one-store operation we could easily look after to one that needed a new management structure," says Leo. Janesville parts manager Eric Reuterskiold assumes corporate responsibilities for parts and service (everything not wholegoods-related) and Sue Johnson (Leo's wife) joins company as a dedicated human resource and office manager.
2007 — Invests $1 million to upgrade newly acquired Rochelle store.
2011 — Acquires third location (Juda, Wis.) for used equipment outlet store. Sales reach $85.4 million. Earns Farm Equipment Best-in-Class Dealership honor.
2012 — Completes plans for a $2 million investment to modernize the Janesville facility. Earns 2012 Farm Equipment Dealership of the Year honor.
Focus — "We determined in the mid-1990s, when a lot of competing dealers were selling everything under the sun, that our real strength would be in combines and big tractors," says Leo. "So we concentrated on fewer, but higher-ticket, items." Booming soybean and corn prices validated that decision, he says.
Golden Rule — "When dealing with employees, customers and vendors, we should act like a servant instead of a master," says Leo. "And be brutally honest. An old farmer once told me that if you tell the truth, you never have to remember what you said. We try and live by that."
Not So Fast ...
The Johnsons aren't a pair to embrace whatever buzzwords are passed their way without careful discernment. While the brothers don't have a problem with the majors' emphasis on market share, they take issue with two other things being preached at dealer meetings: absorption rate and succession planning.
Absorption Rate — "Absorption rate is based on the premise that your parts and service department will carry the burden when the ag economy goes into a tailspin. Over the years, I've studied it, reviewed it and calculated it. And I've decided it's not for me," says Leo.
"Having lived through the major downturn in the 1980s, my experience is that when that time comes, parts and service purchases go down proportionately with the wholegoods. The idea that the parts and service business can support you when there's a downturn is wrong. Farmers don't only put off equipment purchases; they'll run on bald tires and cut their parts and service expenses, too.
"I believe in monitoring and making the aftermarket as profitable as we can, but if you're building a model for survival during a recession, you're looking at it wrong."
Succession Planning — The majors spend a great deal of time emphasizing succession planning, an element so important that its absence has been known to thwart majors' approvals of M&A contracts. The Johnsons don't sweat over writing a plan that must pass someone else's test.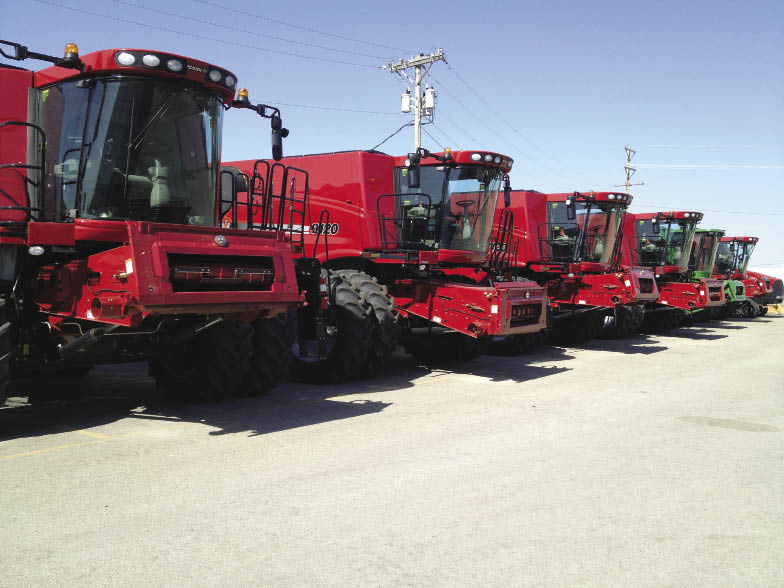 An expansive, fenced-in outdoor lot is well organized by equipment category to attract buyers. The dealership turns its used assets seven times per year, which makes it easier to stomach taking on additional trades.
"We work at our succession plan every day by selling all the combines, tractors, planters and tillage tools to every farmer we can, and by training our people, having the best parts inventory and fill rates, and a nice facility to do business in. We've hired very good managers and a great group of employees that make the job easy and will run well when we're not here," Leo says.
"Making the company marketable, whether for our children, employees or another dealer — that's our succession plan. We're making the company someone would see value in owning."
If you want to know if your dealership is marketable, find out if your customers would truly miss you if you were to go away, says Leo. "I don't worry about formal succession plans, because the work we're doing every day will take care of itself."
Students of Used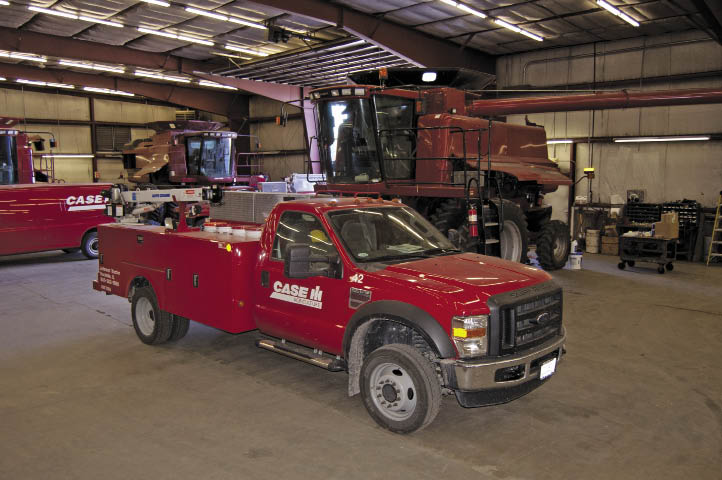 Each service tech has his own service truck, which he parks next to the unit he's working on (with full "toolbox access") when in the shop. The time savings in loading/unloading helped justify the $90,000 truck investment, which Johnson Tractor found financing for through Case IH's Equity Program.
Tired of losing customers to wholesale auctions and farm sales during the lean years of 1982-86, Leo found survival in a "If you can't beat 'em, join 'em" approach. He was soon an active participant in anywhere used iron was being sold. "Buying and selling used equipment got us through," he says.
The need to truly understand used equipment dynamics is a lesson learned he carries with him today. "Farmers are only going to pay so much on the retail side, so you have to be smart buyers," says Eric.
"We learned that everything has a price," says Leo. "While there's no ceiling on the value of a nice piece, there's also no floor on a poor item."
What the Judges Say ...
"This dealership achieved one of the highest dollars generated per employee ($1,257,020) that we've seen in the history of the Dealership of the Year program"
"Return on assets was highest of all nominees"
"Market share exceeded 50% for 3 years running"
"Highest absorption rate of all nominees"
"Very strong in employee training, to the extent that they even developed a tracking program for all employees."
Leo says much of his job is trying to identify the trade scenarios that allow the dealership to maximize value upon resale. Then, it's working with the salesmen so they'll see the value, or lack of value, in the equipment so we aren't too conservative (losing sales) or too aggressive (overpaying). "If we do our job right of educating our salespeople, we don't end up with salesmen trying to sell us on taking in the unit."
Eric notes that over the years, everyone — salesman, customers, other dealers — have tried to promote matrices and formulas that state, for example, what, a Class 7 combine with 500 hours, should trade at every year. "But we've never embraced formulas," says Eric, noting variety of customer uses, types of operation and terrains influence the condition of a unit.
Leo adds that "As you grow, that type of formula is desired even more. But we say let's forget about formulas and dial down with each salesman and each deal. That's another thing that's tougher to do when you grow. Here we have 8 salesmen in 2.5 stores. Think about doing it with 40 guys and 10 stores — that's a real challenge."
In addition to paying attention to auction sales results (through AuctionTime and others), another important tool is the dealership's own appraisal worksheet that is available via every terminal in the DIS computer system. It memorializes all trades the company attempts to establish a book value for, including the many lost deals. It allows staff to sort by model number and compare pricing of units over a period of time. While used equipment pricing is anything but a science, Leo believes the dealership does as good a job as any in placing quotes on used equipment.
Burnin' & Turnin'
While most dealers are successfully turning their used, the 7X turn rate at Johnson Tractor is not unusual. "We've been turning fast for 30 years. We had to do it in the early years because of cash demand," says Leo. "Fast turns are the best method of driving new sales — as long as we're turning units, we feel OK about taking in more trades."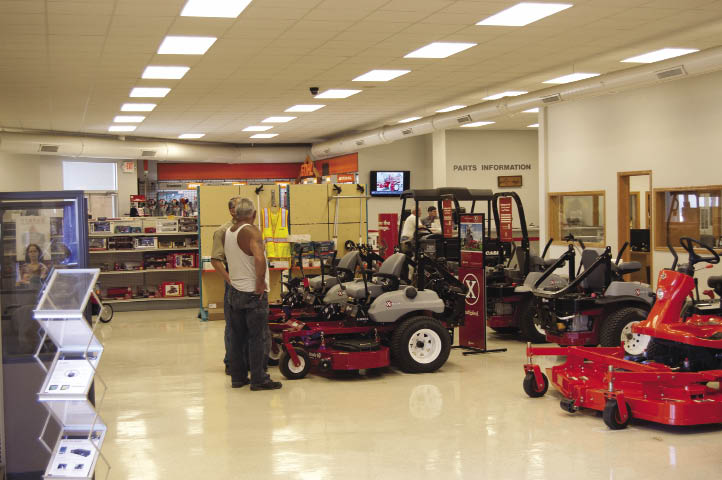 The Rochelle dealership was remodeled in 2007, including the showroom, parts counter and offices. An array of mowers, utility vehicles and small tractors and loaders are neatly positioned to attract customers' attention upon entering one of two store entrances. Windowed sales offices are also located adjacent to the expansive showroom floor.
The $90,000 Ford F450 trucks are equipped with a crane, air compressor, air jacks, torches, service manuals, hydraulics and laptop — everything they might need to get a combine and tractor running. When they're working in the shop, each tech's truck is parked next to the unit they're working on.
"It might seem like a big investment when parked inside 9 months of the year, but it's paying off for us," says Leo. "Sales can ebb and flow as a result of manufacturer programs, but if everything is the same, the only way to gain business is through service and technology. These are things we can control, and we'll invest to do it properly."
Johnson Tractor's Used Equipment Outlet Store
In 2011, Johnson Tractor remodeled a 10-year-old trucking terminal and repair shop to launch a used equipment outlet store in Juda, Wis.
Staffed by a salesman and three full-time technicians, Leo Johnson says it's a great outlet to push used equipment in another region that has strong used-equipment buyers. "It allows our other sales staff
to fully concentrate on the new wholegoods sales."
Sitting on a 5-acre site that's well positioned along a high-traffic state highway, it's also the site of Johnson Tractor's used equipment auctions. "It's a nice venue for the auction, and by hosting it there, it doesn't interrupt our other locations."
Johnson Tractor extended its customer reach by launching a used equipment outlet store in 2011. The site is 30 miles west of the Janesville, Wis., store and 75 miles north of their Rochelle, Ill., location.
The store is an official sales/service dealership for Kubota and Stihl. "We think there's growth opportunity and could some day be a Case IH dealership as well," says Leo.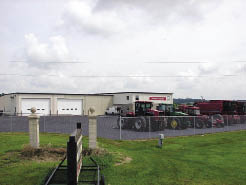 Johnson Tractor extended its customer reach by launching a used equipment outlet store in 2011. The site is 30 miles west of the Janesville, Wis., store and 75 miles north of their Rochelle, Ill., location.
Several of the trucks were financed through Case IH's Equity Program, in which the loan is forgiven if qualifying expenses result in increased wholesale part sales. "It's a great program for expanding dealers who can increase sales by investing in the right assets. It's a win-win situation," says Leo.
Another investment made to increase service sales was the acquisition of a 10,000 square-foot building across from the Rochelle dealership that is now used for combine storage. This past winter, Johnson secured nearly 50 winter-service inspections by offering free storage. Without the free storage spiff, the Johnsons say they would've only secured a dozen combines.
The storage provides benefits beyond the $299 inspection and average work order of $9,000. First, it reduces the risk of the farmer changing his mind on getting winter service done. Second, if the farmer later decides to trade up, it's unlikely he would pull it out of Johnson's storage to make a deal with another dealership.
It's just one more way that the dealership can draw a circle around customers and provide additional service that also keeps them grounded in the dealership.
Customer Interventions
Something the Johnsons don't take lightly is an unhappy customer, and they'll err on the side of "generating criticism" vs. pretending problems don't exist.
"We're very proactive with customer complaints," says Eric. "All hands are on deck when there's a problem, whether we hear directly from the customer, one of his neighbors or even suspect there's an issue." Adds Leo: "Anytime a customer is mad, whether we're aware or not, we're at risk with that customer."
A couple of things help them to minimize these types of problems. First, customers easily find the dealership staff when a problem arises (in fact, mobile numbers, including Leo's and Eric's, are listed on their website). Second, everyone on the team, not just one individual, is empowered to step in and get the farmer up and running again — with whatever it takes. Second-guessing isn't allowed.
What Others Say About Johnson Tractor ...
Farm Equipment interviewed Rick Rank, Case IH regional sales director and John Spader, Spader Management Group, about their personal observations on the 2012 Dealership of the Year Johnson Tractor, headquartered in Janesville, Wis.
Reinvesting in Their Dealership. "They're on the forefront of reinvesting in their dealerships," says Rank, who works with hundreds of Case IH dealers in Illinois, Iowa, Wisconsin and Missouri. "A lot of dealers just put the money in the bank, but Eric and Leo are modernizing their facilities to make sure they're keeping pace with the changing needs of the customer."
Prone to Action. "When they learn of an opportunity to improve their operation, whether it's expanding or improving their numbers relative to other dealers, they ask the right questions, study and absorb things, and then go back and do it," says Spader, who has worked with Johnson Tractor for several years in their dealer peer group. "Because they're serious about being the best, they're focused and passionate about executing."
Customer Focused. "They make the customer feel special; not taking the customer for granted is very important to them," says Rank. "They're in constant contact with the customer after the sale, looking for feedback and won't allow problems to fester. Employees are empowered to do what it takes to make things right, without running to the owners for permission. Their whole customer experience and the coffee-shop talk about how good they are — from everything from parts to wholegoods sales — promotes repeat-customers."
Numbers. "Their numbers are outstanding — in the top 10% of deal- ers," says Spader. "At their specific stores, employee and sales-volume plateau, their numbers are among the best I've seen." Adds Rank: "They do well on parts/service, absorption and they're market share is out of this world — they're getting the business."
Win-Win. "They're very well respected by their fellow dealers as well as Racine," says Rank, noting that Leo is on the Case IH Dealer Advisory Board. "Leo is methodical in his thinking, and sees the future well and where it's going." Adds Spader: "As good and as profitable a business as they run, they're also humble. They want a healthy industry and will stand up and challenge conventional wisdom like absorption rates. Dealers find them to be fierce competitors in the market, but the right kind of competitor. Dealers like Johnson Tractor are good for this industry."
"When we hear that a combine is down, you might call it an intervention. There's a parts angle, a service angle and sales angle, and we go to work on finding a replacement machine ASAP. We've got to ask all the right questions, because the last thing we want is miscommunication or a misdiagnosis."
In addition to a swift reactionary plan, the firm also recently began taking steps to pro-actively connect with customers via a formal telemarketing survey program managed by Eric's daughter, Kathryn. A sample of the script can be viewed here.
"Some farmers won't say anything unless they're asked, and we can't afford to let a problem fester," says Eric. "Through our phone calling, we've uncovered some problems we may never have otherwise heard about."
At first, some in the dealership cringed at what they heard from the survey. "Some thought we were just asking for problems," Leo says. "And I guess they were right — but if there's an unhappy customer, we all need to know about it."
The program is a good customer touchpoint and a good administrative check as well. "In today's early-order age, it's possible that a farmer could order a corn planter in the fall, have it delivered by the service department over the winter and go a while without hearing from the salesman."
One of the byproducts of the formal program is that it "spurs the salesman to be on their game," says Eric. "They don't want us to hear from the survey that they haven't been looking after their customer. So, the follow-up adds another dimension of sales accountability."
The Next Chapter
As for what's ahead on the map for Johnson Tractor, Leo sees the possibility of adding 1-2 stores and the expansion of the Juda, Wis., repair facility. But he's quite clear about where they are not going.
While the company's capital position would allow the discussion to be entertained, Leo is quick to put an end to it. "We're never going to be a 10-store operation," he says. "It's just not in our DNA. We are operating in our sweet spot right now. We could integrate another few stores and make things work, but that's as far as our interest lies."
The next big thing on the agenda is a full remodeling of the Janesville location. The upgrade will add 10,000 more square feet of service, a remodel of 12,000 square feet in the showroom, a 4,000 square-foot addition for an "expo center," and 1,500 square feet of office. Since the store sells combines 12 months of the year, the expo center will provide a nice and quiet environment for buyers, as well as better facilities for customer clinics. "We'll make use of it several times a week," says Leo.
Noting that Rochelle, which was remodeled in 2007, will be due for more facility work again before long, it's clear that the Johnsons are believers in facilities, for their employees, customers and communities.
"I always get a charge out of the dealers who complain about finding help and keeping their techs and salespeople," says Leo. "Most of those who complain don't pay well and have the poorest facilities in the industry.
Farm Equipment's Cole Vandermause and Alan Stenum also contributed to editorial and video content.