We were just a couple of days into Hurricane Harvey's devastation last week as our Farm Equipment crew was heading to the Farm Progress Show in Decatur, Ill. The video footage and the numbers we were seeing on social media were staggering as the Category 4 hurricane and thousand-year storm claimed 50 lives, dropped enough rainfall to cover Alaska, California and Texas and displaced 17,000 citizens. And what may end up as the costliest disaster in history.
Our prayers go out to the families, businesses and the heroes from every corner who are pitching in to help. All will need support for a long time to come. As bad as the recent events, we know the emotional toll — and ongoing health concerns— is just beginning for a lot of Texans.
While our understanding of the situation is just 10 days in, the windshield time coming back from Decatur jogged memories of Hurricane Katrina almost 12 years ago to the day. (Katrina was the conversation of the 2005 Farm Progress Show back then, too.) While a decade can test one's memory, I'd recalled some dealers, including those outside of the Deep South, participating in a demand for equipment for cleanup, and then for its replacement and rebuilding efforts.
In discussing Hurricane Harvey's impact on our business and how to run it through the lens of Hurricane Katrina 12 years earlier, I recalled the trip with Executive Editor Dave Kanicki to New Orleans in 2007 -- just 2 years after Katrina -- to do a feature article on New Holland dealership Chauvin Brothers. We dug into our archives to repost a portion of that 2008 article online. You can read the personal stories of this equipment dealer's challenges following the aftermath here.
While Harvey and Katrina are different disasters, we're looking into what last week's storm may mean for replacement of destroyed equipment and the tractors and loaders that will be needed for cleanup activities. Charlie Glass of Glass Management Group is studying tractor sales data now for us to gauge the sales impact of Katrina in the months after, and we're trying to connect with some jockeys outside of Gulf States to see what they'd remembered about changes in the used markets. You'll see additional reporting in Ag Equipment Intelligence and its "On the Record" webcast this Friday.
As part of this effort, I'm hoping some of you will take a moment to share what you recall about business at your dealership (regardless of location) in the months after Katrina. Please email me at mlessiter@lessitermedia.com or by using the commenting field below. Stepping back into 2005-2006, what are your recollections on the following?
Did you take calls from used equipment buyers from the Gulf States looking for tractors and skid-steer loaders for cleanup tasks? How soon did that activity commence after the storm?
Did your volume of calls from jockeys searching for used units increase during that same time?
Did field equipment from the flooded regions arrive in your area due to little demand for it following the floods? Specific equipment?
Whatever the demands and needs are, social media will have a role in lining up buyer and seller this time around. I'm sure they'll be opportunities amidst this tragedy.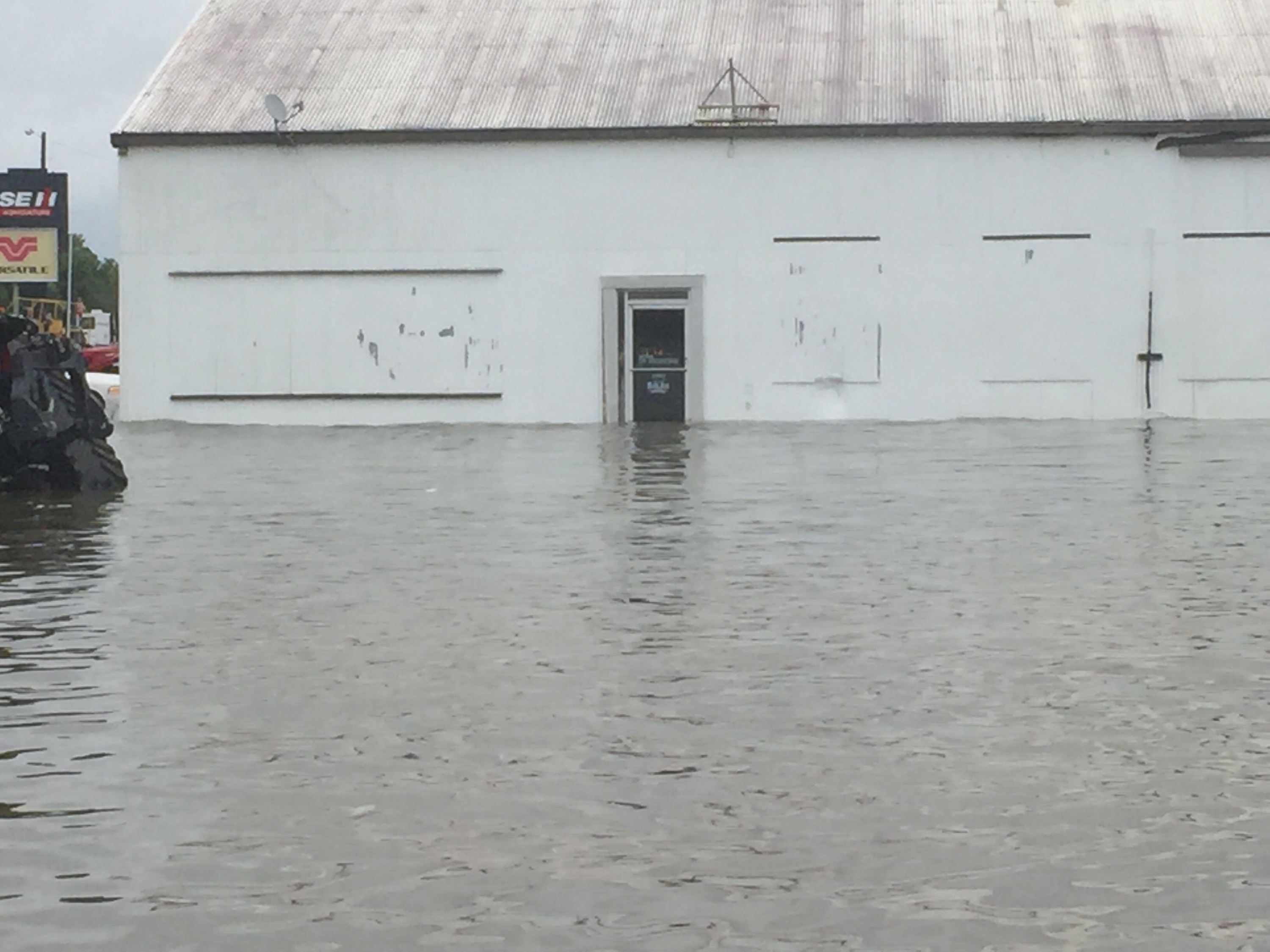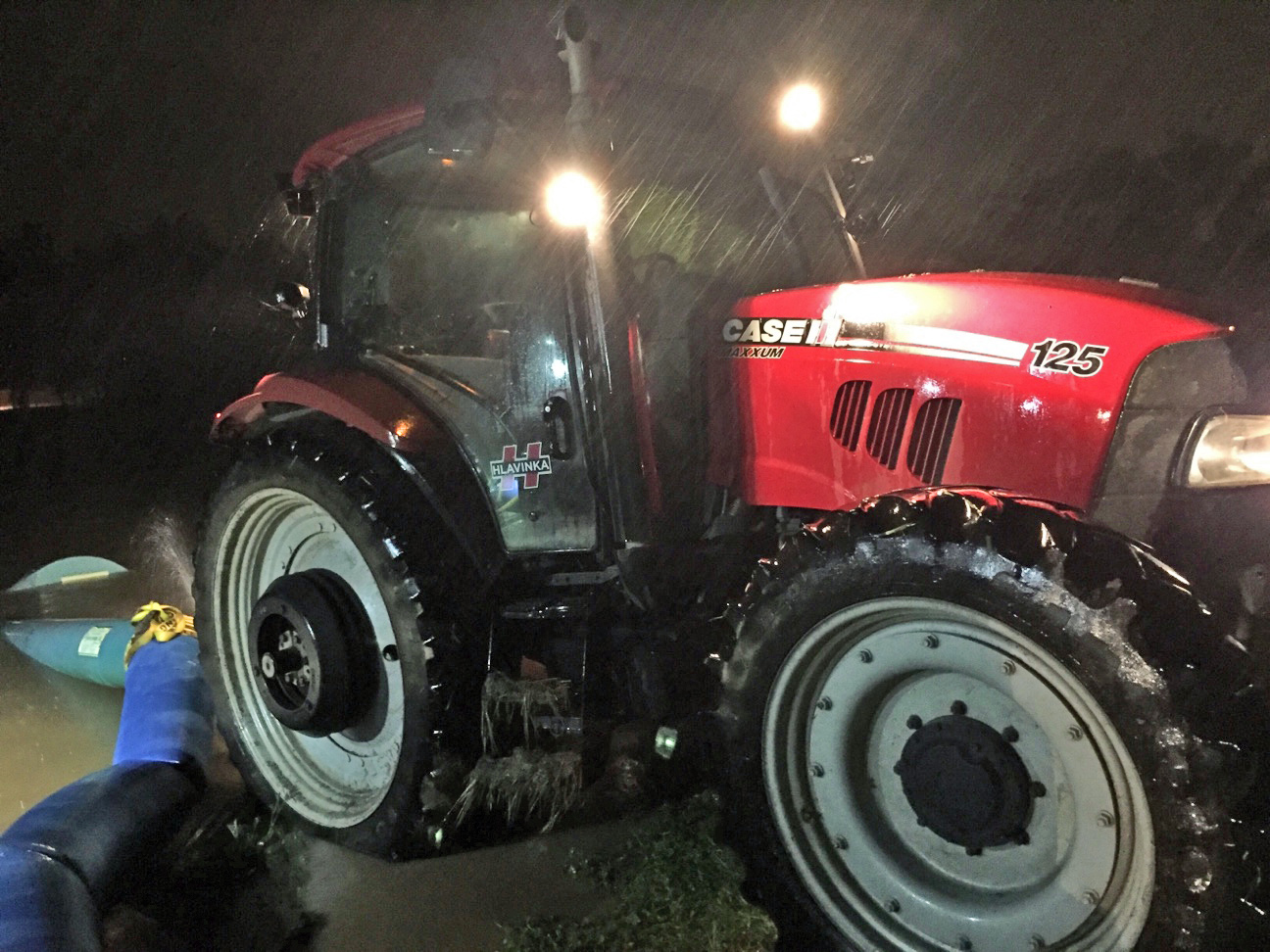 I wanted to also share two photos from Terry Hlavinka, general manager, Hlavinka Equipment, which operates 7 stores in the Texas Coastal Bend. He and his staff spent a night on a flood control levee with emergency pumps powered by his stores' tractors. A week after the storm, he says water is still flooding employees' homes, and entirely flooded out its Nome store (pictured). In fact, store manager Byron Hlavinka had to be rescued by boat after the flood control levee was breached.
In one way or another, your businesses will have a role in the replacing, rebuilding and restocking for years to come, and also carrying away the wreckage so Texans can move forward with their lives, both figuratively and emotionally. We'll be down in Houston to see the situation first-hand as we attend the Farm Equipment Manufacturers Association - Equipment Marketing & Distribution Convention in November.
P.S. If you read the article about Chauvin Brothers, you can anticipate how your dealer brethren in Texas are going to be affected, not just by the devastation of their customer base and labor, but also in getting their feet underneath them again after an already challenging ag economy. Labor will be a major factor too, not only in the way of increased competition for it, but also for those who leave the area never to return. I'd encourage you to take a look at contributing to the Equipment Dealers Foundation, established by the Equipment Dealers Association to help dealers and their employees for losses from the disaster. For more information, click here.
In addition, here are links to several other organizations for you and your companies to consider: