Stacy Anthony, CEO of AGCO dealership AgRevolution, which has 7 locations in Kentucky and Indiana, believes there are 3 factors currently impacting dealers' journey to (or maintaining) 100% absorption. In his 3 decades working in the ag equipment industry, Anthony spent a little over 27 years working for John Deere, half of which he describes as "spent in rebuilding underperforming, financially distressed, low market share dealerships." The other half saw Anthony working in the export business for a 30+ store Deere dealership.
Parts & Service 'Harmony'
The first factor is culture — and more importantly, creating harmony between your parts and service departments.
"We've spent years seeing this internal friction between parts and service in some locations, where they operate as silos," he says. "I worked hard at selecting the right people for AgRevolution for our leadership team and making sure we had harmony between parts and service. It's paid and served us well. 
"It's easy to get stuck thinking that the service manager closes work orders, the parts manager takes care of stock orders. We're really trying to make sure they have time allocated to investing in, growing and developing their people and spending time on customer solving solutions."
Much of the success Anthony has seen at AgRevolution has come from service techs engaged with the parts counter, and parts staff knowing what happens in the field and on the shop floor.
---
"I dream about someday parts and service being one department managed by one person…"
---
"We have service techs who hear about a customer needing parts for another project while they're out working on his combine or tractor, and they report it back to the parts guys," Anthony says. "That customer gets a follow-up call immediately, and we close a deal.
"It happens the same way at the parts counter. They keep their ears open. If someone comes in just to buy filters and talks about a combine or planter or a sprayer that needs to be reconditioned, that gets communicated to service. They call him and get it scheduled. It's about forging that connection, thinking about parts and service as one. I dream about someday parts and service being one department managed by one person, because so much of it fits together."
Dealer-principals keeping a close connection with their aftermarket business plays a big role in growing absorption as well. For example, in the same way dealer-principals need to be connected to their sales departments, Anthony says the same level of connection is needed with parts and service when approaching absorption improvements. Being accountable is key, says Anthony.
How Shortline Dealers Can Boost Absorption Without a Full Equipment Line
There are two ways dealerships can improve their absorption according to Stacy Anthony, CEO of 7-store AGCO dealership AgRevolution. Dealers carrying a majorline equipment lineup with small and large ag will have the machine population to achieve 100% absorption the "natural" way. For those without a full lineup of equipment from one OEM, however, Anthony shares another way to boost absorption: look at other markets with machine population and no dealer representation.
"I was speaking to a neighbor of ours not too long ago," he says. "I needed permission to cross his property to access some utilities. He said, 'I know you've got a shop over there. I know you've got parts and service. Would you be interested in maintaining my fleet?' I thought to myself, 'The fleet you have is outside of our core, and I'm not in a position to make that commitment right now today. But someday I will be, and I will be ready to come back and allocate more absorption lift to outside of my core. But I need to take care of my core part of the business first.'
"And someday we're going to go back, and we'll acquire his business opportunity there. And that's a way I think a lot of us who don't have a major line can look around us. There's lots of opportunity to add to absorption and to add to lift. It's just maybe in a market where there's machine population and no dealer representation. And we will take this particular opportunity later down the road."
"What does your sales management model look like?" he says. "When was the last time you were involved in creating the art of the deal? When was the last time you were out in a farmer's field with your salesperson? Have you become distracted with the business side of wholegoods, the managing of vendor relationships, the order bank management and the delayed shipments?"
The influence a dealer-principal has over their sales department is crucial, says Anthony, and needs to be examined first before jumping to a restructuring of your sales team when results are less than ideal. The same is true when attempting to improve absorption through parts and service synergy.
Lingering COVID-19 Disruption
Anthony also points out how much the spread of COVID-19 changed the standards for merging with or acquiring other dealerships and made strong absorption even more important.
"Did any of us think this virus would interrupt our business for half a decade?" he says. "When you start to think about it, this thing started in late 2019 and a lot of people are forecasting it's going to spill over into 2024. So we're right at 5 years."
Anthony says having strong absorption makes the dealership less risky as a prospective acquisition because the pandemic has made dealerships more cautious to jump into M&A activity.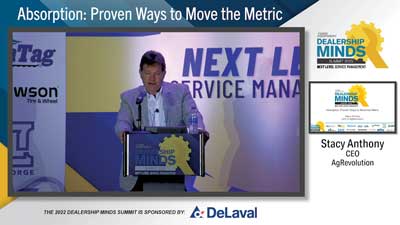 Click here

to watch the full general session "Absorption: Proven Ways to Move the Metric" from the 2022 Dealership Minds Summit. This and all the Summit session videos are brought to you courtesy of DeLaval. 
"How is that going to affect the changing hands, the consolidation effort in some channels? When we start to think about buying another dealership or selling your dealership, are you going to factor in the risk of what it could be to experience another half decade of disruption?"
Anthony forecasts a dealership being 100% absorbed can engage "a different level of conversation" between buyer and seller, as it mitigates risk.
More Competition in the Market
The growth of both Kubota and AGCO's dealer networks over the last few years is, according to Anthony, another reason why focusing on absorption has become more important.
"We saw a Kubota dealer was recognized as Farm Equipment's Dealership of the Year," says Anthony. "I can remember 10 years ago when we were looking at Kubota and wondering what they were going to do. Now they've showed us — they've disrupted market share. 
"Take a look at AGCO, too. They just went through a major reorganization. They're investing in strengthening their dealer channel, reorganizing and streamlining their brands. They have a very aggressive market share growth initiative."
Web Exclusive
Read about

how AgRevolution uses marketing and e-commerce to boost their absorption.
Anthony believes some dealers develop "fat cat syndrome." They get comfortable with their absorption and market position and leaving room for competitors — like Kubota and AGCO — to enter their territories.
"Throughout the times we were running 70% market share and over 100% absorption, did we ever get 'fat cat syndrome?' Did we get comfortable?" he says. 
"What happens if we have to give up 5-10 points of share to a competitor who's hungry and has earned the right to be in the business? We once did a study to see what would happen if we dialed our business back from around 72% share to around 65%. Quite honestly, we'd be more profitable. I'm not saying compromising share is the right way to go. I'm just asking if it's possible to survive in a 60-65% market share. It is, and you can."    
Take Your Service Management to the Next Level
3 Factors Impacting Your Absorption
Winning Comp Plans that Align with Process, Deliver Results
19 Proven Service Processes to Enact Today
Young's Equipment Measures Hours, Not Dollars
Prioritize Process, Performance & Communication for Service Department Success
Connections with Younger Students Contribute to RDO's Successful Recruitment Efforts