Brent Bazin, corporate service manager for Young's Equipment, a Case IH dealer in Saskatchewan, broke into the parts and service industry as a technician for Allis-Chalmers over 40 years ago. Some 10 years into his career, while working as a partner for a John Deere dealership before his employment with Young's, he created a report that measures the efficiency of a technician's performance.
"The report removes faces and personal feelings and strictly assesses performance," Bazin says. "This report is going to give you some really good data."
Bazin recalls having to manually enter data for his first report some 30 years ago. The labor-intensive process evolved over the years and now utilizes TARGIT, a business intelligence and analytics software program, to capture and organize data. 
"With TARGIT, you can configure the report any way you want," Bazin says. "But we chose to look at technician efficiency and total revenue hours, which includes all the time we're paying them. It allows us to measure hours, not dollars."
Young's Equipment uses TARGIT software to build performance reports, measuring technician efficiency and total revenue hours.
Bazin entertained several companies before TARGIT separated from the pack as the only one that could fully execute his vision. 
"TARGIT came with a price tag but has ultimately paid for itself," Bazin says. "Our managers totally understand now what they're looking at when we say to them, 'what's the reason for that low performance in your shop?'" 
Numbers Never Lie 
Reports are uploaded to the manager's dashboard upon completion and automatically emailed to technicians every month for performance review. Bazin prefers a 3-year comparative to identify trends.
"Two years isn't enough," he says. "Our industry has too many ups and downs, so we go with 3. It's a snapshot of an efficiency trend. Sometimes you see a technician that's faltering, and that's your opportunity to speak with them and find out if there's something going on you need to know about."
---
"The report removes faces and personal feelings and strictly assesses performance…"
---
It's also an opportunity to pat someone on the back if their efficiency rating is high, Bazin says. On the other side of the coin, the report can help managers follow through on tough personnel decisions.
"You can dig out the guy who's hiding in the crowd and not performing," Bazin says. "It allows us to create a plan to deal with low performers, whether it's coaching or maybe understanding a life circumstance that's caused them to fall into that group.
"The other day a manager told me he thought he was going to have to let somebody go for low performance. Before I could finish asking him, I already had that technician's report on my screen. I knew what his performance level was, which basically mirrored his attitude, and it made for an easy decision." 
Technicians' "revenue hours" are broken down by 4 revenue streams in the report: customer, warranty, internal and non-revenue. Technicians are also organized by certification levels, like "journeyman" or "beginner" for example, providing more context for their performance. 
"We do have some stores that might only have 4 journeymen," Bazin says. "You might question their performance and realize that all 4 journeymen are cut from the same cloth, so they're performing at the same level.
"Until the data is actually in front of us, we often don't realize that we might have an 'A' technician who is doing primarily internal work. Yet when you look at his journeyman status, he's got 10 years of experience, and it's easy to get lost in the crowd in these big organizations. So, we can question the manager as to what jobs he's being assigned and why he's not doing more warranty or customer work." 
More Online: Top Applications & Tools
Craig Murray, aftermarket director for Heritage Tractor, knew the Baldwin City, Kan., based John Deere dealer needed a way to keep up with customers when they expanded from 9 to 24 stores in 2019. They found a solution in the form of service estimate texting, using MODERN's text messaging platform as the source.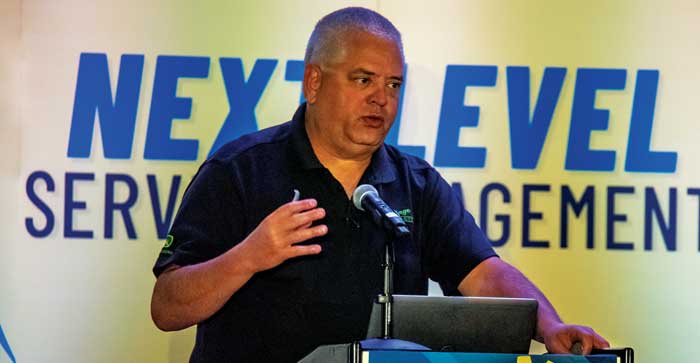 Craig Murray, Heritage Tractor aftermarket director
"Our highest performing, most profitable and well-managed service department locations are using MODERN. And they're using it extensively," Murray says.
Heritage Tractor is also staying open 24/7 thanks to its virtual parts counter, a customer portal built by Sedona.
"The portal gives customers the ability to look up parts and place orders," Murray says. "All of their invoices are available to them. They can look at our used equipment and schedule service as well."
Meanwhile at New Holland Rochester, the Indiana-based  dealer is using a customer service platform called Gorgias to ensure nothing slips through the cracks.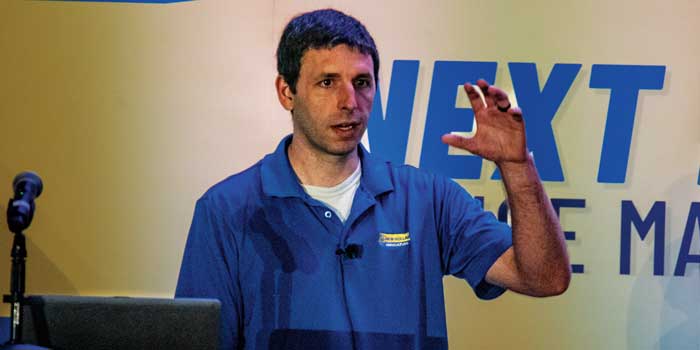 Jesse Straeter, New Holland Rochester CEO
"It's a centralized ticket management system," CEO Jesse Straeter says. "Every time someone calls into the dealership, texts or e-mails us, a ticket gets created. Overall, the Gorgias system is a great way for our teams to stay on the same page and sync with customers as they start to communicate with us on more of these different platforms." 
Read more about these top applications and tools:
With the help of TARGIT, Bazin has been able to enhance the concept he brought to life 30 years ago, cutting down on valuable time previously spent manually building reports. The partnership has also been a game changer for managers, he says.
"The biggest takeaway is our managers have instant information and are now using it" Bazin says. 
"Before, when it was on paper and you had to pile it up, they didn't use it. Now, I've got managers using it daily just to evaluate the previous day's performance. They've really bought into it."    
Click here

to watch the full dealer-to-dealer panel "Best Tools & Apps for More Efficient Service Management" from the 2022 Dealership Minds Summit. This and all the Summit session videos are brought to you courtesy of DeLaval.  
Take Your Service Management to the Next Level
3 Factors Impacting Your Absorption
Winning Comp Plans that Align with Process, Deliver Results
19 Proven Service Processes to Enact Today
Young's Equipment Measures Hours, Not Dollars
Prioritize Process, Performance & Communication for Service Department Success
Connections with Younger Students Contribute to RDO's Successful Recruitment Efforts