Upon graduating from the Univ. Tennessee at Martin in 2009, Ron Parks got a job working for Danny Montgomery, who owned a Kubota dealership in Union City, Tenn. Starting off in the parts department, Ron quickly worked his way up into a sales and management role.  
Just 3 years later Ron reached out to his brother Don, who was working as a financial advisor, with the news that there was an opportunity to purchase the dealership. At just 25 years old, the brothers didn't have access to much capital and started searching for partners to help finance the deal. "Roger and David Williams helped us with that, and the rest is history. We took over Jan. 1, 2013, with the Union City store and some remnants of a store in Dyersburg," Ron says. 
Don recalls, "Any number to us looked big — just going through everything that was involved, the floor plans and the inventory on the parts. Now in hindsight, maybe it wasn't such a big deal for the equipment industry as far as a dealership goes. But at the time, when you're looking at $1 million dollars of tractors and construction equipment, you're thinking, 'Oh my gosh, we've got to sell this stuff and get it turned quickly.' And it was just one of those deals where we thought, 'What have we gotten ourselves into?'"
Now 10 years later, the dealership has grown to 6 stores — with the latest set to open in July 2022 in Jonesboro, Ark. The brothers have not only grown the business, they have also proven to be industry leaders. Ron previously served as president of Kubota's dealer advisory board and now has been named Farm Equipment's 2022 Dealership of the Year. 

Founded: 2013
Employees: 120
Ownership Group: Ron Parks, Don Parks, Roger Williams, David Williams
Locations: 6
2021 Revenue: $88 million
2021 Market Share: 34%
Return on Assets: 14%
2021 Parts & Service Absorption Rate: 69.97%
Major Line: Kubota
Shortlines: Hyundai, Versatile, Land Pride, Woods, Bush Hog, Merlo, Exmark, Hustler and Bad Boy
The Parks say their biggest competition is John Deere and Case IH dealers. There is minimal, if any, inline Kubota competition in their AOR. For tractors under 170 horsepower, they say their market share is around 40%.
Diversified Business 
Ron says the largest segment in the area is row-crop customers, which they tap into with the Versatile line and Kubota to some extent now that they are introducing a 200 horsepower tractor. However, First Choice's "bread and butter" is the cattle and hay business, he says. In addition to ag, the dealership has a significant construction and lawn and garden customer base.
"The construction side has been huge for us with Kubota, and now also with the addition of Hyundai about a year ago," Don says. "As soon as that product line hit the ground, it was off and running. We blew through inventory."
First Choice Farm & Lawn was Hyundai's New Dealer of the Year in 2021. 
With business split relatively equally among the three segments, Don says it helps to balance the business. In these segments — ag, lawn and turf, and construction — the sales team each falls into specific areas of specialty and responsibility. 
"That's been a big deal for us," Don says. "We have a certain group who focuses on construction, a certain group for hay and the large tractors, and it all flows pretty seamlessly." 
First Choice Farm & Lawn's 2021 revenue grew 39.5% over 2020, and Ron attributes a lot of that to product diversification as they've gotten into larger ag equipment and increased their construction offerings, along with the addition of the Memphis store. 
Employee Empowerment & Team Culture Leads to Low Turnover for First Choice Farm & Lawn
Ron and Don Parks, co-owners of First Choice Farm & Lawn, say their low employee turnover is one aspect of the business that sets them apart from the competition. And while the dealership's pay is very competitive, Don says it is the work environment that keeps their employees around. 
"Everybody comes to work to get a job done, but we try to make it fun. We're not trying to kill anyone, and everyone is there to pitch in when help is needed," Don says. "If a guy in the shop needs some help, the store manager's going to help. At the end of the day, everyone is here to make it work, and that's the type of environment we want to keep. I think it makes a difference. If I'm willing to go back to the shop and get dirty with the guys doing anything they would do, that says something, and I think that's one of the main reasons that we hold on to folks the way we do. It's all a team."
Ron says they stay away from an oppressive management style. "The over your shoulder type management isn't our way. You go to a lot of places, and that's how it is," he says. 
"Even though we're selling farm equipment, it's a people business. We treat the customers as people. Sure, we're selling a product, but we're leading the people, and it goes the same with employees. If you hold everyone to the same playing field, they just have a different job to do, including management. That breeds a better workplace," Ron says.
Ron and Don are always there to help with bigger issues or decisions, but they say the culture has empowered the employees to feel comfortable making decisions. "At the end of the day, if an employee's not comfortable, if somebody's upset or if we need to call and thank a customer, those phone calls get to us every day. I don't want any employee to feel they're left on an island by themselves, and I think that's been a big deal to have that help," Don says.
When the brothers first took over the business they were concerned about how to keep things going from a revenue standpoint in the winter months. The Parks decided to open a sporting goods store alongside the Dyersburg, Tenn., location. "We're big duck hunters. It's always been a fun, passionate deal. We started that, and it kind of morphed into a life of its own," says Don. 
The sporting goods store — Cypress Creek Outdoors — employs 35 people and has done more than just help keep the lights on at the dealership. Don says they've been surprised by how much the store drives business toward the dealership. People who would otherwise never have walked into the farm equipment dealership come into Cypress Creek, and a relationship is formed.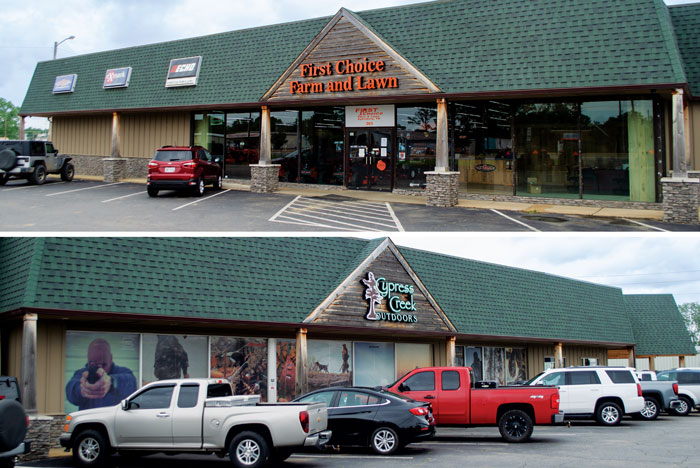 When Ron and Don Parks first took over the dealership, they decided to open a sporting goods store — Cyprus Creek Outdoors — next to the Dyersburg, Tenn., store to help supplement the dealership business in the winter. Today, the sporting goods store helps bring in customers to the dealership who may not have considering buying a Kubota tractor.
"A guy comes in and buys shotgun shells and strikes up a conversation, and then connection's made. Then 2 years later, you sell him half a million dollars' worth of equipment," Don says. "It's been a lot of fun. I love that side of the business, and at the end of the day, I think that has helped propel growth, especially in the Dyersburg, and Union City area."
Attached to the Dyersburg dealership and sporting goods store is also a gunsmith shop with 8 full-time gunsmiths on staff. The shop recently picked up contracts for new production for Beretta Firearms and Browning. The company will soon run about 3,000 firearms a month through its facility that hydro dips them and gives them a camo pattern.
New Builds & Renovations
In their 10 years owning the dealership, the Parks have either renovated or built new stores at all 6 locations. With the exception of the two oldest stores — Union City and Dyersburg — the stores have a similar look that drives home First Choice Farm & Lawn's brand identity. 
"If you go into a certain bank, they all have that feel, and we kind of wanted that same feel with First Choice — the wood on the inside, the rustic feel. If somebody comes into one of our dealerships, it's recognizable to another one," Don explains.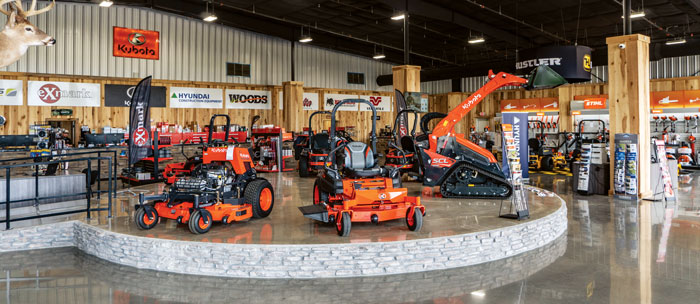 First Choice Farm & Lawn opened its Memphis, Tenn., store in 2021. It is the dealership's 5th location and is 30,000 square feet and sits on 60 acres. The dealership has either built new or renovated all of its locations, and all have a similar design. The Jonesboro, Ark., store is the 6th location and opened in June 2022.
The Memphis store, which opened in 2021, was built from the ground up and is 30,000 square feet on 60 acres. The recently opened Jonesboro, Ark., store was also new construction modeled after the Memphis location. Memphis and Jonesboro are the two largest facilities and saw the most infrastructure investment, Ron says, because they serve the largest markets. 
---
"You're not going to compete in the ag market against John Deere or Case IH unless you bring to the table a superior level of service and reaction time at a more efficient price…" – Ron Parks
---
While the Memphis and Jonesboro facilities were nearly identical projects, Ron says Memphis took nearly twice as long because of city and county regulations they had not run into with other projects.  
Monitoring the Business 
When it comes to measuring the growth and health of the business, the biggest thing Ron looks for is whether or not the dealership's net profit is outpacing by percentage of gross revenue. It's a metric he's monitoring every day. "As we grow, we need to know, are we making less, are we sacrificing profit to grow, or is profit growing at the same pace or at a higher pace than what gross revenue is? That's how I measure health," he says. 
The last few years, First Choice has been putting the most focus on improving service. Ron says they are watching their customer satisfaction performance. "How do we improve efficiencies, turn times, our response times? How do we stay at the top of the mark? That's how we grow," Ron says. "You're not going to compete in the ag market against John Deere or Case IH unless you bring to the table a superior level of service and reaction time at a more efficient price."
Kubota's Alex Woods Shares Praise of First Choice Farm and Lawn
Alex Wood, senior vice president, sales operations, supply chain & parts for Kubota USA, shared these comments on First Choice Farm and Lawn's success. 
"First Choice has expanded pretty rapidly. They have shown a very strong support of the customer. They're building facilities that I think show they want to be the local dealer choice. They're building shops that can take care of the customer demands.
"They're adding service trucks to their fleets as they add these new stores. They're building stores in the right locations to get high visibility and that are very pleasing to look at. 
"I think they have shown from day one a strong commitment to support the customer and it has allowed them to grow their business significantly. They do an excellent job of understanding what the full opportunity is in the market, as far as the products they can sell into that market. They aggressively pursue that and take great care of the customer along the way and have built a model that has allowed them to do that profitably which has proven very successful so far."
In the service department, First Choice is closely measuring technician efficiency and benchmarking billable hours vs. time. "If they're not turning wrenches on a specific job, what are they doing?" Ron says. "We have certain metrics we use or a general ledger where if they're out unloading trucks, that goes to a certain expense. 
"Everything here is treated like 3 separate business. You have the sales department, the parts department and the service department. One doesn't sacrifice in spite of the other. They're all designed to make money, even if they're selling to our own inventory or to our own sales guys. It's all booked out in accordance so that each department shows the correct profitability or loss."
Don notes that at the end of the day, the customer and warranty work is what pays the bills. "We put a big focus on making sure we have a good spread of that customer and warranty work to help cover the costs," he says. 
Like most dealerships, First Choice is focused on improving its absorption rate and reaching that 100% goal and achieving it within an adequate margin. "It's not about how you sell the part, it's how you buy it and how much of it you buy and when you buy it. We focus on bulk buying, promo buying, advanced buying and the way we ship," Ron says. 
---
"We're trying to leave margins fair and reasonable and drive our costs down…" – Don Parks
---
"If you can get a discount on bulk order and get free shipping with as high as prices are now, that puts you at a price advantage that still enables you to make a good profit but also have a good deal for the customer that saves them money."
Don adds, "We're trying to leave margins fair and reasonable and drive our costs down." He says that has resulted in a shift from daily orders to weekly stock orders and monthly stock orders. 
Managing Sales with Limited Inventory 
With so little stock for any one segment (ag, lawn, construction), First Choice's sales team sells across the segments. However, with that approach, it is hard for them to become experts on all the product lines. To help with that, the dealership has specialists for different products who will go along with the salesperson to do product demos. "The specialists work directly with the salespeople to help them better inform the customer and do product training," explains Ron. 
Demonstrations were particularly key when Kubota introduced its hay equipment line and the M7 and M8 tractors. "Back when we started with the M7s and M8s, I'd be on my way home and see somebody on the field. I'd pull over, go out and talk, and say, 'Let me bring you this equipment. Let's try it for a week.' And now it's gone the other way. The phone calls are coming in, and we're not having to go out," Don says. "With any new segment product like that, we're going to do everything we can to get it in the customer's hands. And that seems to make a difference."
First Choice Farm & Lawn has been on a growth trajectory since Don and Ron Parks took over the business in 2013. The dealership is a Kubota Elite Dealer. Its Memphis store opened in 2021 and was followed by the new Jonesboro, Ark., store in June 2022.
Ron says they tell the customers to use the equipment in the way they need it to see how it performs. 
"If we have to tweak something, use a different configuration or change product, we look at it and get their input. That helps guide us to what the person needs to see if that specific product is going to work," he explains. 
With the very limited inventory the dealership has had across brands and product segments this year, sales has had to take a new approach. The team created an Excel program that creates a waiting list for customers. Right now, everything is on order, so when a customer comes in looking for a specific unit, the salesperson submits a form to the program and populates a list which updates at the end of every night, Don explains. 
Dealership of the Year Video Series
Visit www.FarmDealerOfTheYear.com to watch exclusive video interviews with First Choice Farm & Lawn owners Ron and Don Parks. Filmed on location by Farm Equipment editors, topics include:
Balanced Business with Diversified Product Segments 
Growing Through Expansion  
Measuring the Business — Profit vs. Gross Revenue
All the invoices go directly to Don, so as soon as a piece of equipment arrives at any of the 6 locations, the next customer on the list — regardless of where they ordered from — is the first one to get a call. 
"If it comes into Mayfield and John's been on the list in Memphis and he's first up, John gets a phone call. 'Do you still want this equipment? It's available.' If he does, it gets sent on a truck straight to him," Don says. 
No one is being charged a deposit to be on the list. That way if they no longer want the unit, First Choice doesn't have to deal with refunding money or upsetting a customer. 
For the construction equipment, the fill rate has been about 90%, and Don says he is currently filling units that went on the list in December and January. For tractors, he says the fill rate is closer to 50-60% because it is often more of an impulse purchase. 
"If somebody's ready for something right now, they're either going to go find another Kubota dealer, or they're going to go buy another brand," he says. 
"Our fill rate's a little less on those, but still pretty good overall. We try to reach out to those customers and communicate regularly. We'll tell them, 'Hey, you've moved from number 90 to number 80 on the list. Just letting you know.'"
While the Parks don't plan to continue using the wait list system forever, Don says he doesn't see it going away in the next couple years because of the supply chain issues the industry has been dealing with. 
"I think we're going to be operating off this little Excel sheet for a long time," he says.

First Choice Farm & Lawn Employees Rally to Help Community Following Tornado
The tornados that swept through Tennessee and Kentucky in December 2021 thankfully missed First Choice Farm & Lawns' Mayfield, Ky., store. Sadly one employee and his parents lost their home, and a few other employees' homes were damaged.
Because the store itself didn't suffer any damage, the team was able to help the community clean up from the storm. "It was a real blessing to be there for the community, and our suppliers were fantastic. The night of the tornado, we had people calling and offering to help," Ron says. 
The tornado hit at night Friday, Dec. 10, and by Monday morning, Ron says, there was a truck leaving the Land Pride facility with a full semi-load of grapples heading straight for the Mayfield store. Kubota donated about $30,000 worth of generators and also provided some financial assistance for the dealership to give the community. 
The dealership helped to organize over 250 volunteers made up of employees and customers from all over the state, and 30 pieces of equipment and dump trucks to help clean up. The group helped the community of Samburg, Tenn., recover from the damage. "We helped to get it all put together and cleaned up half the town in a day and a half," Don says. "It was one of the most incredible things I've been a part of."
Ron adds, "It was one of the coolest things to be a part of. Between us, customers and a good crop of country boys from around home, we did 564 dump truck loads of debris in 2 days."