Dealer's Choice Awards
Full Line Manufacturer: John Deere.
Tractor Manufacturer: LS Tractor.
Gold Level: Branson Tractor, Kubota Tractor, Kioti Tractor.
Shortline Manufacturer: Vermeer. Gold Level: Bourgault Industries, Claas, Degelman, Great Plains, H&S Manufacturing, Kuhn NA, Land Pride, Landoll, MacDon Industries, Meyer Manufacturing, Unverferth Manufacturing, Woods.
In June, the Equipment Dealers Assn. (EDA) released the results of its annual Dealer-Manufacturer Relations Survey. Through this study, equipment dealers rated the companies whose products they represent on 12 key categories of dealership operations and support.
"Dealers have used the results to evaluate potential new product lines, for competitive comparisons with the brands they have and to communicate areas of strength and needs for improvement of their represented manufacturers," says Joe Dykes, EDA vice president of Industry Relations. "Many manufacturers have also used the survey results to promote their performance to their dealer network and end-users, and as a means to support change and improvement within their organizations."
EDA's survey results represent dealer attitudes on the lines carried during the period of Feb. 1-26, 2016. In total the survey was distributed to 12,769 dealers and data was collected anonymously by a third-party. A total of 2,321 individual dealers participated in the survey for a total response rate of 18%, an increase from 15% last year. A total of 55 manufacturers met the minimum threshold of dealer responses in order to be included in the report.
Compared to 2015, all but 3 manufacturers experienced an increase in their dealer ratings. On a scale of 1 (extremely dissatisfied) to 7 (extremely satisfied), the average for all manufacturers was 5.39, vs. 5.33 in 2015. Of the ag-oriented manufacturers, the shortline equipment suppliers scored best at 5.41, followed by tractor manufacturers at 5.10 and then full-line manufacturers at 4.67.
You May Also Be Interested In...
There's no time like the present to maximize your selling potential with the premier techniques for on-farm demos. Our "Winning Equipment Demo Programs" report shares how you can take your sales efforts to the next level by effectively executing a hands-on demonstration with potential customers, and it's FREE!
Get this eGuide for Free with a Free Account!
New members, click "Sign Up" for free account. Or, regular members click "Go In".
According to Jared Nobbe, Wm. Nobbe & Co., Waterloo, Ill., the Dealer-Manufacturer Relations Survey provides a good sense of what other dealers are feeling about their manufacturer partners. "It's good to know whether our peers face the same issues or trends. It provides a pulse of things to help see whether something is unique to our situation or just a sign of the times and trends."
What Vermeer Is Doing to Be a Manufacturer of Choice
Farm Equipment asked hay and forage equipment manufacturer Vermeer, Pella, Iowa, to expand on some of the things they've been working on in recent years to achieve best-in-class ratings from its global dealer network of 500. Among the ag segments in the Equipment Dealers Assn. 2016 Dealer-Manufacturer Relations Survey (full-line, tractor and shortline manufacturers), Vermeer was the highest rated manufacturer in 6 of the 12 categories.
For other comments from other recipients of Dealer's Choice and Gold Level recipients, visit www.Farm-Equipment.com/EDAcomments
Nobbe also believes the EDA survey helps some dealers express their feelings in a way they might not otherwise be comfortable saying in person. "The survey is a good, anonymous way for dealers to voice concerns about the direction a manufacturer is heading, or to support the way things are heading."
Tom Rosztoczy, Stotz Equipment, Avondale, Ariz., agrees with something Dykes noted — that the rankings are a snapshot of a point in time. Rosztoczy adds that how a dealer rates a manufacturer has much to do with the level of service they're accustomed to. "If you're not used to good service, anything good that happens you'll think is awesome. If you're used to awesome and it slips a little bit, you'll think that's terrible."
Shortline Manufacturers Earn Best Scores
As seen in the top of the table on p. 50, the shortline manufacturers as a whole outperformed the full-line and tractor manufacturers in every category. Similarly, the tractor manufacturers also outperformed the full-line manufacturers in all categories. In comparison to the full-line manufacturers, the greatest variance was seen in manufacturer response to dealer needs/concerns, product technical support, product availability, product quality, communications with management and overall satisfaction.
How Dealers Use the Survey Results
Tom Rosztoczy, Stotz Equipment, Avondale, Ariz., says that the usefulness of the survey is as a marker of a relationship. "Relationships are critical in the business and it gives you a sense for how strong/weak the relationships are — it's very important."
Regarding its use, he says the first thing he looks at it is how his major manufacturer performed. "I was glad to see that they've stepped up their game. He also looks at the survey results when contemplating a shortline. "I'd want to see how they do in their current dealers' eyes. If they scored poorly, that might be cause for pause."
He's occasionally surprised by the extremes seen in the survey results — both by the companies that do well and those that do poorly.
Rosztoczy says he brings up the results with local John Deere reps. "It's nice to see them move ahead. But what really matters is my direct relationship with them, not the collective relationships. If I have a great relationship with my major line, but others' experience was very poor, that might make me nervous. At the same time, if a dealer had a lousy relationship and others reported that it was great, I'd probably think I was just unfortunate, had poor resources and hope that it might improve."
Jared Nobbe, Wm. Nobbe & Co., Waterloo, Ill., adds, "The survey does get manufacturers' attention, and hopefully they take it to heart." He says manufacturers should pay attention to it and look for ways to improve, just as he and his dealership review its own customer satisfaction surveys.

Dedicated Coverage of the Outdoor Power Equipment Manufacturers
The Summer print edition of Rural Lifestyle Dealer will recap the Outdoor Power Equipment survey results, which included ratings of 22 different manufacturers. Incidentally, the greatest satisfaction among equipment dealers is with the OPE category, led by Grasshopper, the 2016 Dealer's Choice recipient.
The fact that major-lines score worse than the other segments is not surprising, says Rosztoczy. "The relationships tends to be more complicated and we interact with the major a lot more than any shortline. Because we have so much riding on them, we hold the majors to a higher standard than we would the shortlines. Our expectations of John Deere aren't even in same room as any expectations we have with a shortline."
Rosztoczy also says that another big factor is the major-line's consolidating directives and varying impact on the dealers. "Take John Deere and its strategy for consolidation. There can be a haves and have-not perspectives on surveys. Some like and benefit from the direction the major-line is going and others aren't happy, particularly the smaller ones. That dynamic isn't at play in dealers' rankings of shortline manufacturers."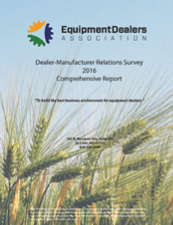 A 73-page comprehensive report — including historical charts and data — is available to all EDA dealer members as a benefit of membership, and to the manufacturers participating in the study. Manufacturers also have the opportunity to obtain additional survey data that includes company breakouts by region, detailed statistical data and additional information. For additional information on obtaining the survey data or membership, contact Joe Dykes at JDykes@EquipmentDealer.org.