We're not out of the woods when it comes to used equipment inventories, but it's getting better.
Whether we wanted the lessons or not, every trying time delivers us the gift of "experience" by the time we've gotten through to the other side. The arrival of when that "other side" will occur is up for debate, but we're getting closer with each passing month. And by the time an extended bull run shows shiny new equipment being snatched up by buyers who were previously "used-only," we might recognize some problems that'll be lurking around the corner.
No need to worry about that quite yet. But one of the byproducts of times like these is the active seeking out of insights and intel, something that can naturally fade into the background during order-filling days like we enjoyed some years back.
And for used equipment remarketers — a job title still in relative infancy in the farm equipment business — that renewed search for answers is a good thing. Because, as the industry has been finding out, few roles are as important to the health of the dealership.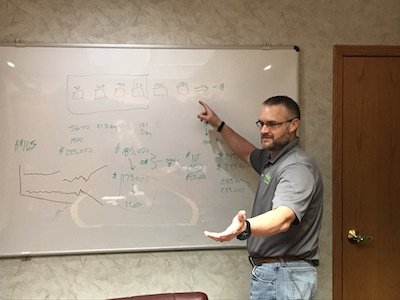 Casey Seymour, remarketing manager, Prairieland Partners
A call last week with Casey Seymour, remarketing manager, Prairieland Partners, Hutchinson, Kan., put it into perspective. "There is nothing more catastrophic to a farm equipment dealership," he says, "than a poorly run used equipment department."
While the last couple of years revealed the farm equipment world's soft underbelly, the good news is that 2017 has brought more places for you to find answers. Here's a few worth mentioning, and for you to make time for.
The once every 2 years Dealership Minds Summit in Omaha this August, with a singular theme of Equipment Remarketing. With active involvement of our Advisory Board and Dealership of the Year Alumni Group, the August event — the first to bring dealers of all colors together on this topic — is on track to exceed all expectations. Even 3 months out, our Event Team is showing record pre-registrations, and seats will surely sell out. We hope you'll be able to carve out 2 days to interact with your peers.
The "Monthly Used Equipment: Market Values & Trends" blog from Greg Peterson, is a department we've been making space for since our acquisition of Implement & Tractor, correlating auction data to "Machinery Pete's" own experience with farm equipment dealerships. And he's been open to fielding your specific questions as he travels the countryside.
There have been multiple webinars, from various sources, on used equipment including valuations, marketing and other topics. Click here for a sampling.
And last, is the new "Moving Iron podcast" that Seymour launched 2 weeks ago. Just 2 episodes in, I can already tell you Seymour's conversational Q&A format with remarketing managers, to which he adds his own perspective, is a winner. The first 2 episodes featured candid "chats" with 21st Century Equipment's Ben Bair and Martin Sullivan's John Hawkins). You can find the podcast at any of the places you listen to your favorite podcasts. (By the way, if you haven't test-driven a podcast yet, it's an excellent way to extend your day in the truck, on a walk, and even during a kid's ballgame ... A wealth of access to focused content is available to you everywhere you can go with a phone.)
I've got to give props to Seymour, who is championing the knowledge of remarketing for those placed in that critical role (or as may be the case, assuming the remarketing function in addition to other duties.) His idea for hosting an annual meeting of John Deere remarketing managers (now in its 5th year) was borne from a steep learning curve, and few peer contacts, he faced when he was starting out.
In addition to his podcasts, he has been guiding us (Prarieland Partners is a Dealership of the Year Alum) in the upcoming Dealership Minds Summit. In fact, he is kicking off the Summit with a thought-provoking explanation of washout cycles. He is personally raising the smarts of the entire industry with a dedication and action I've haven't seen before, particularly since his days are full overseeing remarketing for a 9-store dealer group.
Sure, his efforts are boosting he and Prairieland's intellectual capital, and I'm sure he's making some valuable trading partners along the way. But organizing dealer peer events, recording and producing podcasts, and answering virtually every question a fellow dealer (or editor) asks are things you don't do without committing yourself to a broader mission.
That openness and willingness to share (and learn) is what we like best about this great industry. And that always deserves a tip of the cap.
P.S. Seymour is also doing a FREE Farm Equipment webinar this afternoon.