John Deere and Case IH are dominant players in farm equipment, but it's a big wide world out there, with every color of the rainbow equipment selling daily all across North America. Over my 27-plus years of tracking the used equipment market I've always found it highly interesting to see what all brands of equipment sell for at auction. Even more so than with Deere or Case IH, I've found these two questions play a key role when other brand used equipment sells at auction, particularly tractors and combines:
Where did it sell?
What type of auction did it sell on?
Just recently I've seen two very strong auction sale prices on Challenger tractors. At a December 29, 2016, farm auction in west central Illinois, a Challenger MT865C tractor with 1,761 hours and 36 inch tracks (pictured below) sold for $208,000.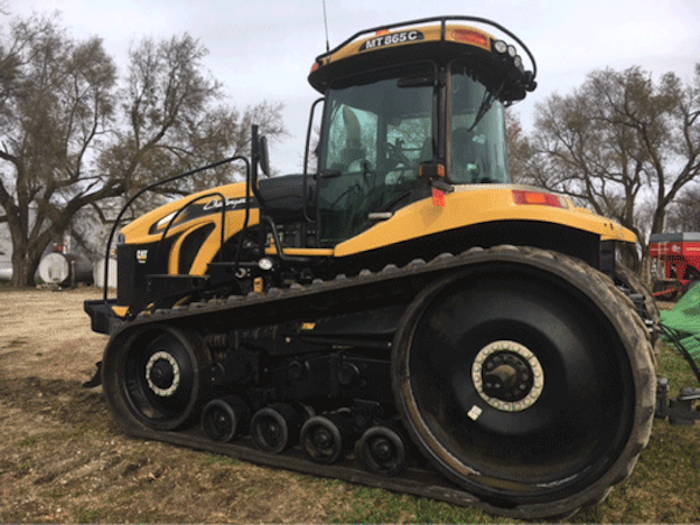 $208,000 is a strong sale price, but note what type of auction it sold at … a "farm" auction. From Nov. 1, 2016, through the end of the year, I saw very strong auction sale prices on farm auctions across the country, on all types of equipment, Deere, Case IH and all other brands in good condition.
Note in the data table below how solid that $208,000 auction sale price is. Compare it to the MT865C with 711 fewer hours sold on an online auction 4 months earlier for $180,100. And compare it to the MT86C with 1,798 hours that sold for $179,000 on a consignment auction 2.5 years ago. (Dealer subscribers, log in here for more auction data)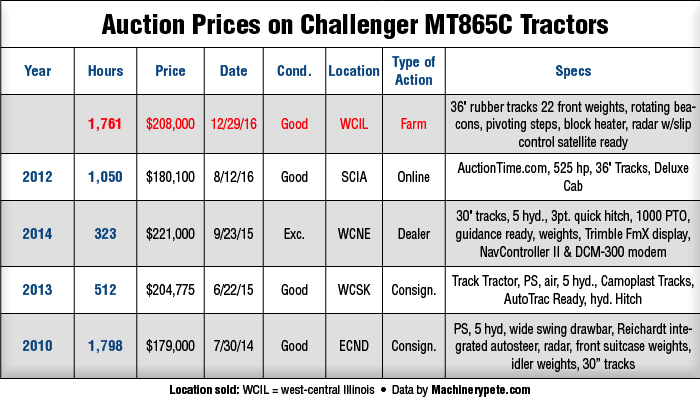 Hard cash auction pricing is part of the puzzle, of course, the other piece being what price other dealers are advertising theirs for sale. Here's some interesting fresh data from our Machinery Pete "Dealer Center" dashboard analytics (table below) on Challenger MT865C Tractors:

I saw another very strong auction sale price on an older Caterpillar Challenger tractor the day before at a December 28, 2016, farm auction in south central Minnesota, a 1996 Caterpillar Challenger 55 (pictured below) with 4,630 hours sold for $42,500. That was the highest auction sale price on a Challenger 55 tractor in 37 months.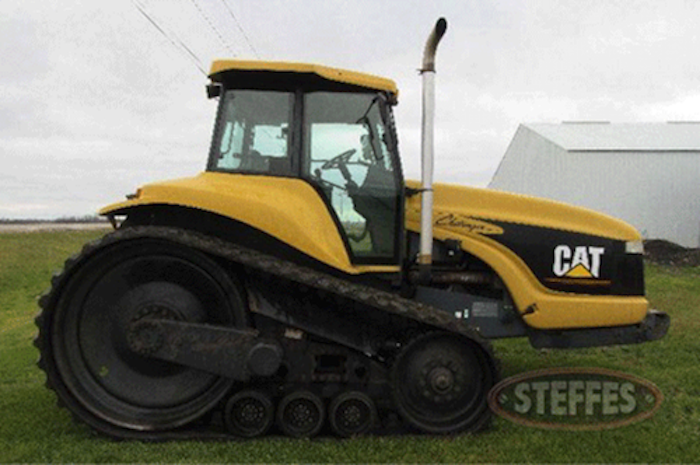 As I mentioned before, "Where" another brand item sells at auction can play a large role in how high, or low, it sells. For example I've noticed in our auction sale price data over the past 2-plus decades that White tractors and Gleaner combines tend to sell for more money in Michigan and Ohio. A lot of it has to do with the dealer network over the years. If there are still strong local dealers in a region, then guess what, those brands of used equipment items tend to sell for more money. (Dealer subscribers can click here for more data on Challenger 55 tractors.)
This point was driven home yesterday when I got a question via our Machinery Pete Facebook page from Daniel S … "Hey Pete, I'm looking at a 1977 White 2-135 tractor, cleanest '77 I have seen. Has axle duals, very nice matching tires, new interior and complete paint 3 years ago, very clean with 4,500 hours. Thoughts on the value? I'm hoping I can buy it for $12,000 or less. Enjoy your show!"
I replied to Daniel that the two highest auction sale prices I've seen in the past couple years on White 2-135 tractors both came from the state of Michigan:
$15,000: 2/17/14 farm auction, northeast Michigan, 4,675 hours, axle duals
$12,750: 3/14/15 farm auction, west central Michigan, 4,508 hours, duals
Note "Where" each one sold … Michigan. Note what "Type" of auction each one sold at … farm auctions.