November is off to quite an interesting start.
I saw some very strong auction prices during the first 10 days of the month. These strong auction sale prices don't surprise me — even in this stubborn down ag economic cycle we're stuck in. Why am I not surprised? Because it's the same thing I've been seeing now for 6 years in a row now going back to 2010.
Good condition used farm equipment sells very well at auction in early November, particularly on farm retirement or estate-type auctions.
To me these early November machinery auctions are getting ahead of the pack; they are the first sales appealing to growers just now thinking about next year. Even though lower commodity prices are still an issue late in 2016, many areas enjoyed bin-busting yields. There were all-time records for bean yields in many regions. Quantity helps the buyer's attitude no doubt.
Let's walk through a couple highlights of some of the very strong auction prices I saw in early November 2016 and dig a little deeper: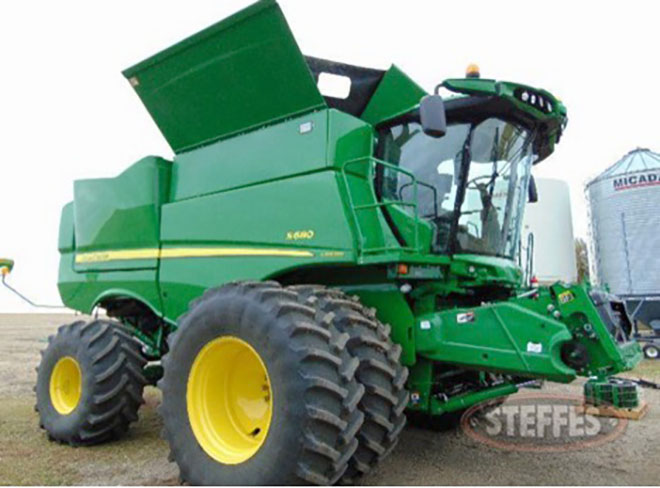 This 2014 John Deere S680 combine with 526 engine hours sold for $286,000 on Nov. 3, 2016, at a farm sale in central North Dakota.
From MachineryPete.com 'Dealer Center' Data Analytics
Avg. Dealer Advertised Price on 2014 John Deere S680 combines last 30 days: $303,666

Avg. Dealer Advertised Price on 2014 John Deere S680 combines 90 days ago: $306,909

Avg. Auction Price on 2014 John Deere S680 combines this year: $233,750

That's a strong sale price there at $286,000 I thought. It kind of confirms what our auction sale price data has been showing on used combines in the past 12-15 months or so. Here's a graphical look in our quarterly Machinery Pete "Used Values Index" report, a big picture look at overall used farm equipment value trends, plus closer looks on an equipment category by category basis: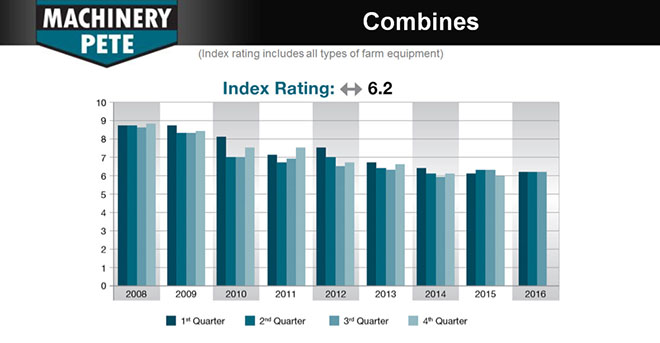 Let's move on to slightly older used tractors in very good condition. Check out this very strong early November auction sale price (new record!) on a 20 year old mid-size horsepower model.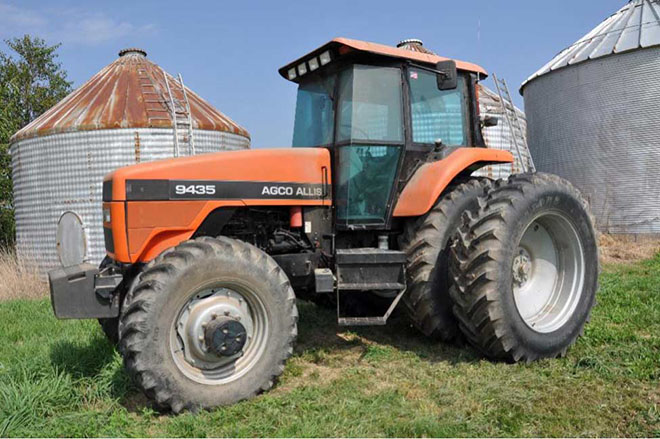 This 1996 AGCO Allis 9435 (150 horsepower) with 570 actual 1 owner hours sold for $41,500 at a Nov. 10, 2016, farm estate auction in west-central Illinois. That's a new record high auction price by $9,250.
Fewer of these good used mid-size horsepower tractors are on dealer lots around the country, and buyer demand has been stronger in this category for a while now. This can also be seen in our Machinery Pete "Used Values Index" report through 3rd quarter 2016: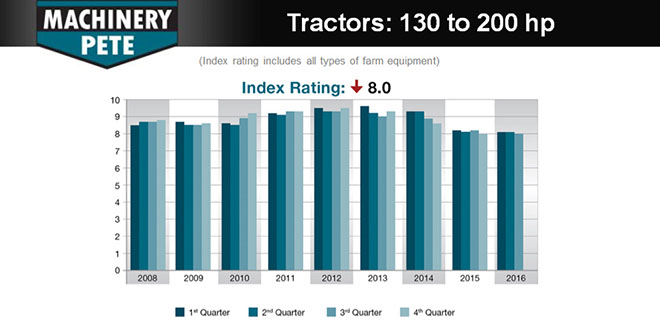 And finally, let's talk tillage. There's another eye opening sale price here on a large used field cultivator over 10 years old. This 2003 John Deere 2200 54 foot field cultivator sold for $24,000 at a Nov. 9, 2016, farm auction in northeast North Dakota. This is the highest auction price in over 2 years.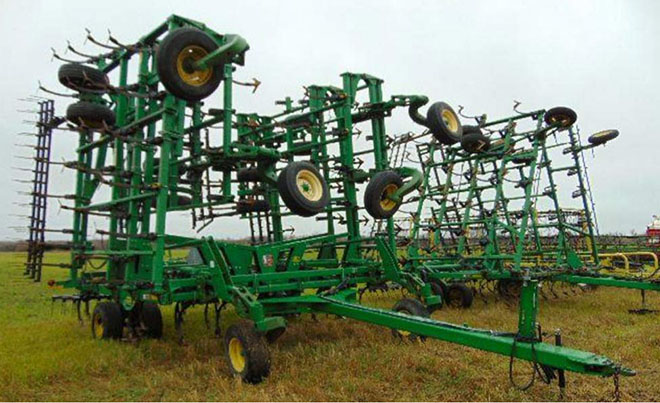 This was one of a handful of very strong auction sale prices I saw on various used tillage items in early November, which was good to see as used tillage values had been sliding lower for some time now: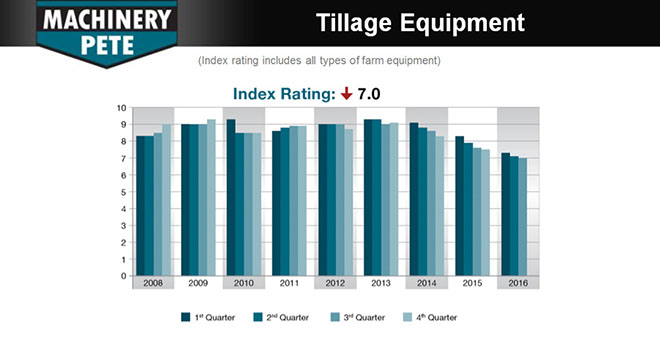 From Machinerypete.com "Dealer Center" Data Analytics
Avg. Dealer Advertised Price 2003 John Deere 2200 last 30 days: $22,861

Avg. Dealer Advertised Price 2003 John Deere 2200 90 days ago: $25,533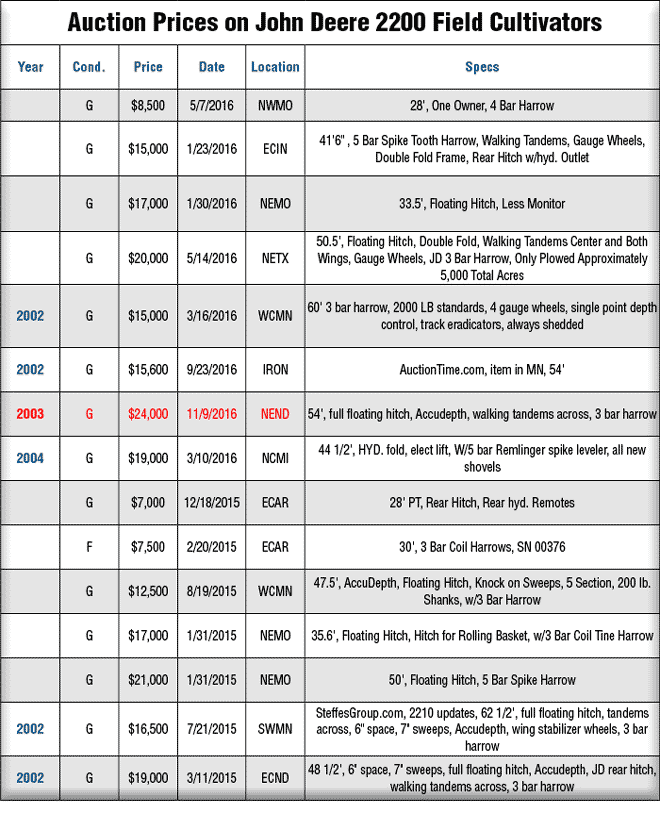 So  once again I'm seeing strong auction sale prices on good condition used farm equipment in early November across a wide swath of farm equipment types. Will these strong sale prices hold through the end of 2016 or will we see softening auction sale prices like we did in mid-December last year?
My guess … I don't think we'll see quite the level of slackening sale prices this time around in December. Last year softer auction pricing in mid-December 2015 was driven by a huge glut of large wholesale auctions featuring tons of large late model used equipment from dealers working very hard to pare down used inventory levels. There were just too many of these large wholesale auctions bunched together at the same time. I don't think we'll see a repeat in 2016. Stay tuned.
Machinery Pete's Takeaway Tip
If you do use the auction route as a tool to pare your used inventory levels, think about November as a good month to move iron. It beats the rush and gets in front of all the others looking to sell.