---
This 2014 Case IH 290 with 80 hours sold for $140,000 at a southeast Michigan farm auction on June 20, 2015.
I'm very excited for this new opportunity to talk to the Farm Equipment dealer audience through this regular blog. This is my first post and already I know this is going to be fun.
Yes, I've been compiling auction sale price data on all types of farm and construction equipment for 26 years now, but dealer roots run even deeper within me. My great-grandfather, George Peterson, left his blacksmith shop in little Tolley, N.D., back in 1920 to buy into the local implement dealership. My grandfather was a farm equipment dealer and my father was a farm equipment dealer.
My hope has always been that our auction price data can help keep dealers on the cutting-edge of the latest trends with used values. As we've all seen here the past 8 years, used valuations can and do fluctuate greatly and quickly. With razor-thin margins in this business of selling and servicing farm equipment, it has become absolutely vital to know, for a fact, one simple thing about every piece on your used lots and every piece your staff is looking to take in on trade. What's it worth — today and right now?
Editor's Note: Feel free to leave a comment below with any questions or feedback you have on this column. We'd also like to hear if there are any topic ideas you'd like us to pursue in  future installments. 
2015 has been a year where I've seen a possible floor settling in with late-model used combine values — finally. That's been a problem area since second quarter 2010. We'll see if the floor holds through year-end into 2016. While slightly stronger auction prices have been seen on the used combine front, not so with a couple of other areas:
Large used planters (24-, 36-, 48-row)
Self-propelled sprayers
250-300+ horsepower tractors
It's no secret which forces and realities have been driving lower used valuations and softer/falling auction prices in these particular equipment categories. It's the law of supply and demand at work. This "Econ 101" rule is brutal in its simplicity. There are way too many large, late-model used units stuck on dealer lots (supply), and large grain farmers have been pulling back (demand) since spring 2013 when commodity prices fell hard.
Check out the accompanying data table showing recent auction prices for various tractors in the 300-horsepower range. Look at these as hard cash sale prices. Put it up for sale, the gavel falls and boom. Now we know what that tractor was worth on that day in that area. Obviously how these used tractors are spec'ed out plays a huge role in what they sell for. We have all that data on our www.MachineryPete.com website. So we can look at ILS, IVT, duals, etc. It's all there even though in this table there's just not room to squeeze it all in.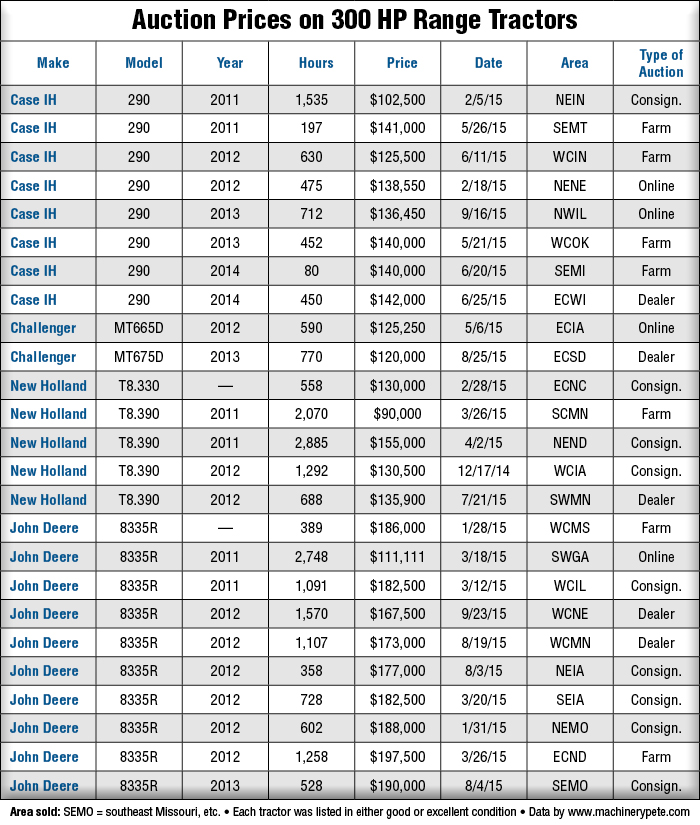 This summer, we launched the new MachineryPete.com with dealer equipment listings for the farm audience. This also allows us to layer on the analysis of the new analytics at my fingertips regarding dealer equipment listings. And at first glance, what jumped out at me was the plain and simple difference in the raw volume of listings based by horsepower. So while only 40 John Deere 6190R (190 horsepower) tractors are listed for sale, there were 246 John Deere 8335Rs (290 horsepower) listed. It's the same with Case IH. Only 30 Magnum 190s were listed for sale (190 horsepower), but 176 Magnum 290s were listed for sale (284 horsepower).
Leave a comment in the field below with your feedback and questions and any topic ideas you'd like us to pursue in future installments.