Steve Hunt, Vice President & Chief Operating Officer
Years with Organization: 19 
Role: "My biggest job is to make sure we don't lose our heritage and forget where we came from. I just like to see things happen. I like to see this dealership be successful. I don't micromanage, but I look at it from a 10,000-foot view, to see what kind of support we can give the company. That's what I do every day and I love it."
Steve Hunt holds a unique position at H&R Agri-Power of Hopkinsville, Ky., a 17-location employee-owned dealership. He's vice president, chief operating officer, owner, son of the founder, father of a salesperson and a farmer. That vantage point helps him to be keeper of H&R's culture and guardian of its profitability.
"It's our job to create a culture where people want to work with us and they come to work with a smile on their face. To be successful with customers, you need the right attitude," says Hunt. The dealership's territory covers 6 states, with its southernmost location about 325 miles from Hopkinsville.
What would he say to other dealers about the secret to success? "It's what Dad (Wayne Hunt) has always done and what I do: You surround yourself with good people who have the same goals, are accountable and are going to carry through your culture. And, one other thing, sometimes we tend to overcomplicate things. Keep it simple," he says.
Hunt's philosophy is based on years of experience and refinement of how H&R Agri-Power sells and services equipment — and helps its customers make more money. The approach is also built off of lessons learned from the fertilizer company they owned from 1975 to 2013.
"Fertilizer and chemicals are commodities. There's only one thing in that business that you sell and that's service. That's where our heritage lies. The day we lose that is the day we go backward. That's one of my biggest jobs is to be sure that we don't lose our heritage and forget where we came from," Hunt says.
Setting a Schedule
Hunt says his role can be described as a firefighter as he interacts daily with manufacturers, executive management, corporate service, parts and service coordinators, regional managers, store managers and regularly visits customers on their farms. 
Setting a weekly schedule that is emailed to the management team helps him navigate through decisions and distractions and lets colleagues know about his availability. 
---
"We are a customer of this business ourselves, so we have high expectations…"
---
His week actually starts on Saturday morning when he receives a packet of reports — about 40 pages worth — from the accounting department that details the dealership's performance related to budget and other key metrics, such as lost sales. "It's an in-depth weekly snapshot and we then use the KPIs (key performance indicators) to drive the business," says Hunt. The reports are shared with the executive, regional and store management teams.
Each morning, Hunt opens up the Hopkinsville location (the company's headquarters) and listens in on the service department's morning meeting, which starts around 7:15 a.m. He's particularly listening for equipment issues or updates that need to be shared with the other locations.
After that, he attends the store meeting. "I'm just a participant at those meetings. We're emphatic about each store manager running their store. It's a business within our company," Hunt says.
As chief operations officer, he has set meetings every month for the different levels of leadership. For instance, he meets quarterly with H&R's board of directors; weekly with corporate management; and quarterly with store managers. He also meets weekly with the executive management team, which includes President Wayne Hunt and CFO Ronnie Barnett. It's this constant monitoring that helps issues be quickly uncovered and resolved.
Developing Graduates into Leaders
Each year, H&R Agri-Power hires as many as 6 college graduates to fill positions that don't exist. The hires are part of a program to develop young people in whom they see potential. 
"We'll have them work in parts, service or wholegoods sales. It's a good evaluation time for them and us. I think our most successful hires have said, 'Let me come and work with you for about a week and see if I like it or not.' I tell them 'Great, come on! We'll try that out,'" says Steve Hunt, vice president and chief operating officer. 
The trial period helps H&R see if they have skills or talents that fit a niche and can help grow the business. Hunt says they know only a few may stay and even those who stay, may not stay long. "We have to keep on hiring. We have a big appetite for great people here. We have employees that retire every year and we have to fuel the engine," he says.
Hunt also meets monthly with the 4 regional managers, a role that has recently been added. The role also takes into account the diverse agriculture production throughout the dealership's territory. "This role allows us to have someone at the management level visit each store weekly to help the store managers do their jobs," Hunt says. He also says it builds in 100% accountability, from the store manager on up to the regional manager, executive managers and to the board.
Staying in Touch
Management meetings are a necessity, but Hunt doesn't let them keep him from the dealership's No. 1 priority. "Customers are number one, they come first. So, if there is a customer need, that's where I go every day," he says. His goal is to spend at least 50% of his time visiting with customers. Hunt says the dealership needs to remain vigilant about keeping customers satisfied. That's where he turns to his role as a farmer — the family farms 11,000 acres. (See "Connecting On-Farm Experience with Customer Engagement" for more on Hunt Farms.)
"We are a customer of this business ourselves, so we have high expectations. If I walk up to the parts counter, I want to get the part I need and not wait 2 weeks for it. The only time our customers come in the door is because they need us. We have to get them out the door with something in hand to get them back working. If we can't do that, they're going to be unhappy. They might say they're OK, but they're really not OK," he says. It's at that point they turn to another dealer.
This attitude, across all of their segments, is part of the culture that Hunt tries to maintain. For instance, about 10 years ago, he was running the Hopkinsville service department and had to tell a customer her mower repair was going to be delayed, but he was sending someone to mow her yard in the meantime. "She remembers that to this day, and by the way, she bought a new mower about 3 years ago. Everybody's business is important to us," he says.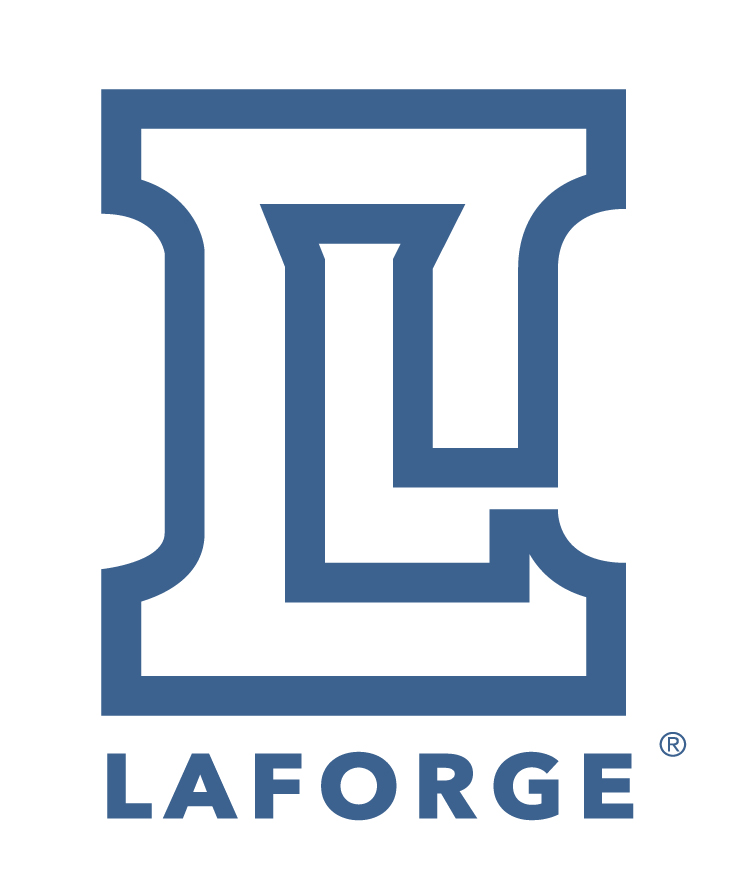 Brought to you by Laforge.
Hunt focuses on resolution when he's meeting with customers. "We work to find a solution right then and there. Don't procrastinate or it will come back and bite you," he says. He also leaves his card with his mobile number.
"My level in the business, as far as the management team goes, is to make those hard calls, somebody has to do that. Some are easy to make and some of them are very difficult. So that's why I have Dad's office to the right and Ronnie Barnett's to the left. We huddle up in an executive session if we need to decide something together. We don't want to have a corporate mentality. We want to get that answer quickly," he says.
He admits that he's not perfect. "I forgot to call a customer back the other day because I was out driving a combine. I just have to drive the business hard every day and stay focused to not let that happen," Hunt says.
Focusing on Growth
Hunt talks about their prospects for growth, "Our focus is not to add new dealerships. In fact, we combined 2 locations in Fayetteville, Tenn., to get the absorption rate up and make sure we're profitable. There could be opportunities for more consolidation within our footprint, but we want to be sure to drive one thing, customer satisfaction. We can't take a dot off the map that is important to customers."
Competition from major dealership groups to the north and south affects their expansion, but Hunt says there is a lot of opportunity in their current market. "What we've acquired is a big geography. We have an opportunity in our footprint to do better, so that's probably where our main growth is going to come from," he says. 
Making Things Happen
Hunt says he didn't expect to have his current role. "I've always wanted to just farm, that's all I ever wanted to do. I couldn't tell you I planned to be sitting in this chair today because I probably did not. But our business grew fast," he says. He knew he needed to support his dad and his knowledge as a farmer was needed to help maintain a high level of customer service. 
Hunt's day is full of details, but it's all part of what he enjoys about his role. "I just like to see things happen. I like to see this store be successful. I don't micromanage, but I look at it from a 10,000-foot view, to see what kind of support we can give the company. That's what I do every day and I love it," he says.
Being Part of a Farmer's Operation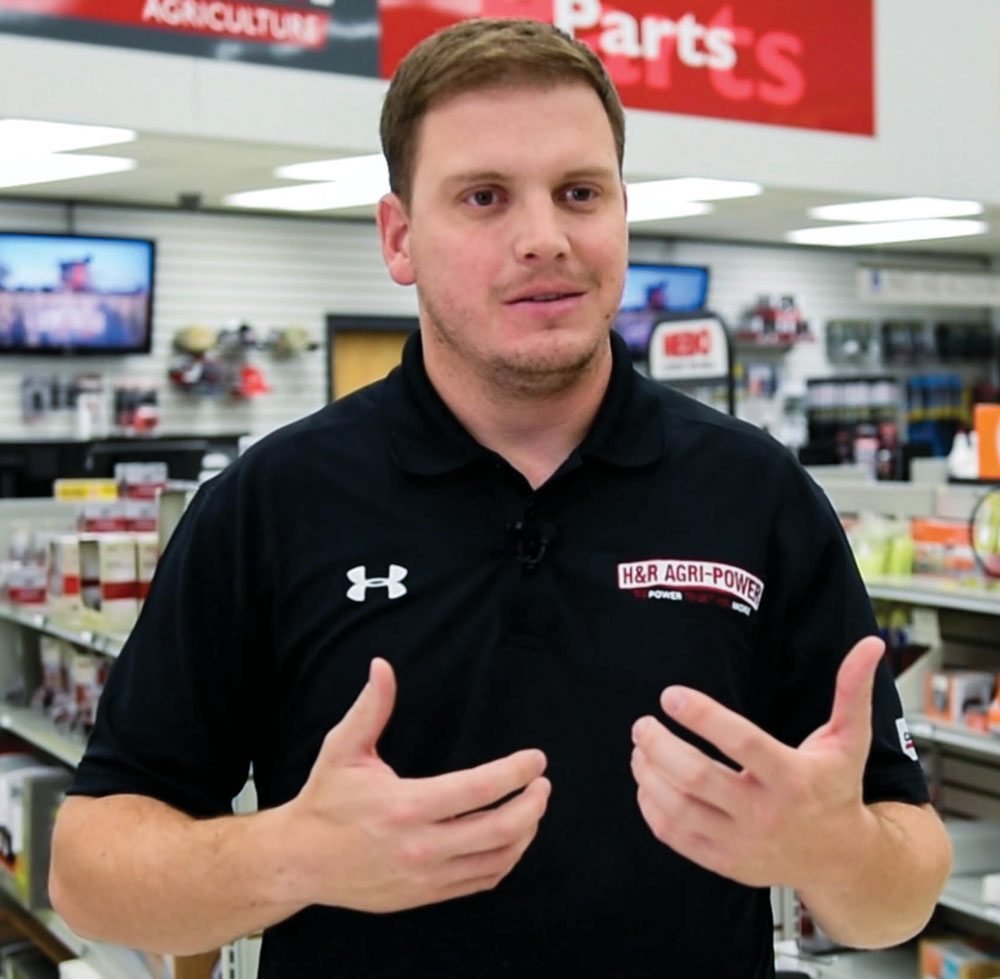 Darrin Hunt
H&R Agri-Power's salespeople are called field marketers, a distinction that places them as a partner in a farmer's operation. Steve Hunt, vice president and chief operations officer, says this approach comes from their previous business of selling ag fertilizer and chemicals, where service was the competitive advantage.
"Our field marketers help our customers manage their balance sheet and have a relationship with them that's different than what a salesperson would have. It's all about making that farmer more money," Hunt says.
Darrin Hunt is Steve's son and part of the third generation working at the dealership. He's been working at the dealership for about 15 years, the last 5 of which have been in sales. Darrin says this new approach to sales evolved as commodity prices dropped and farmers were more cautious about equipment purchases. This provided an opportunity to expand the traditional role of equipment sales.
"A field marketer is somebody who is an integral part of somebody's operation, kind of like an unpaid employee of the farm. It's less about selling and more about the relationship," Darrin says.
For instance, with some of his customers he's involved with developing 5- and 10-year plans for their farms. He watches interest rates and lets customers know when they might be able to upgrade equipment and keep their monthly payment the same. Recently, he and the service manager delivered a new header to a customer after a harvest breakdown. They helped him attach the header and stayed another 30 minutes or so to make sure all was operational. Darrin has even helped run equipment for farmers that were short on help.
Darrin says a field marketer also serves as a buffer between the customer and the service and parts department, answering questions and solving problems. This helps build confidence among his customers and alleviates some of the workload at the dealership.
Darrin credits his success from his working in the dealership's service and parts departments as well as working on the family farm. 
"If you can sell the equipment to yourself, you can sell it to someone else," he says.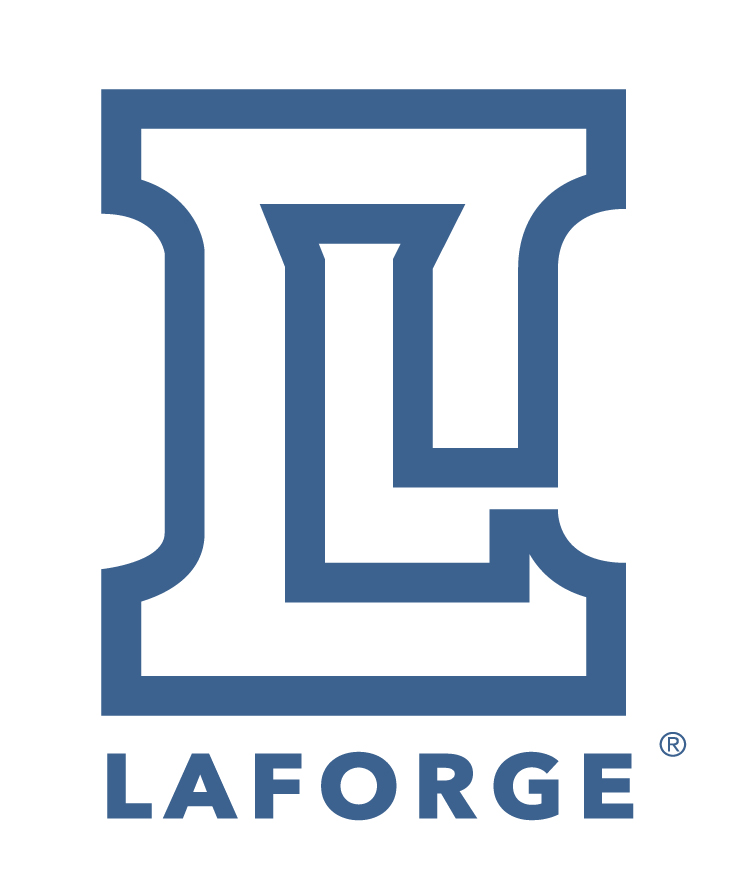 Brought to you by Laforge.
Dealership Minds 2020 Overview: H&R Agri-Power
Dealership Minds: Leading the Charge
Dealership Minds: Sage Wisdom from A Dealership Lifer
Dealership Minds: Building H&R Agri-Power's Culture, Profitability
Dealership Minds: CFO: 'Conducting' the Orchestra
Dealership Minds: Measuring Sales Success Through Customer Satisfaction
Dealership Minds: Creating a Reputation that Sells Equipment
Dealership Minds: Connecting On-Farm Experience with Customer Engagement
Dealership Minds: Managing the Measurables of a Precision Business
Dealership Minds: Financing Solutions to Keep Sales Selling
Dealership Minds: Coaching the Sales Team to Dealership-Wide Success
Dealership Minds: Maintaining High Standards of Service
Dealership Minds: Following the Data & Managing Relationships to Order Equipment Properly
Dealership Minds: Leading by Example in the Parts Department
Dealership Minds: People Do Business with People