Ryan Polete, Territory Manager
Years with Organization: 18
Role: Territory Manager for Lawrenceburg, Tenn., Fayetteville, Tenn., Tanner, Ala., and Columbus, Miss., locations. Overseeing sales territory and training salespeople, developing sales tools and managing company-wide used equipment inventory.
Growth doesn't come easy for a farm equipment dealership. Without strategic planning, interpersonal management and hard work, growth doesn't come at all. There's no secret formula to building a successful dealership, but Ryan Polete knows what's fueled H&R Agri-Power's growth over the past 18 years: support. 
Polete's farming roots go back to his middle school days, where he worked on a tobacco farm. In high school, he co-oped at H&R Agri-Power, setting up equipment and working in the shop. After graduating high school, he traveled for about a year, doing some infrastructure fiber optic cabling. Deciding that wasn't for him, Polete returned to H&R Agri-Power in a sales role in 2002. 
At that time, the company had 3 stores. Polete's first 10 years were primarily focused on territory development. As the customer base grew, more stores were added. From west and middle Tennessee to northern Alabama, H&R Agri-Power was purchasing stores and teaming up with different companies. Polete attributes the success to the service they provided. "At the end of the day, it was just a matter of picking up the phone and we're always there." 
External Support, External Growth
Looking back at the success over the past 18 years, H&R Agri-Power's support was focused both externally and internally. Externally, customer service is an obvious mantra for any company that wants to survive. How that customer service looks on paper, however, isn't always the same as how it's practiced. Polete personifies customer service in his role.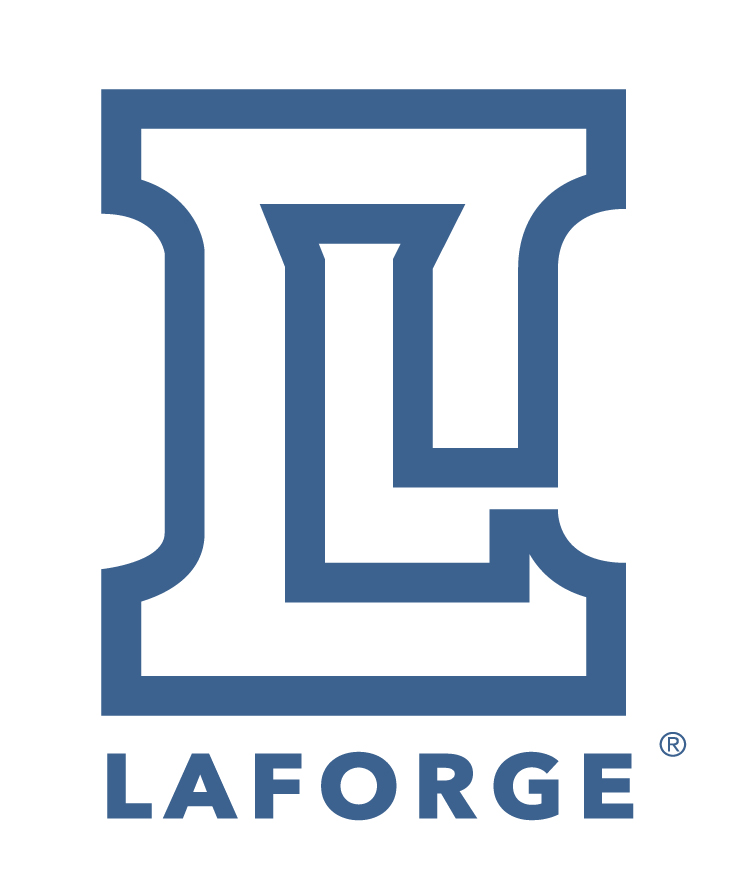 Brought to you by Laforge.
"It's all face-to-face. Farm calls are how we got to where we are. Sitting in the office is not going to get it done," he says. "It was a matter of getting out and seeing the customer. If he's shelling corn until 8:00 at night, you stay in the field and just let him know you're going to stick with him."
In 2012, after store acquisitions in the south, Polete took on his territory manager role. This role includes overseeing the salespeople in his territory, training, developing an in-house quoting tool called Power EQ, and managing the entire company's used equipment inventory. Even with the added responsibilities, Polete is still seeing customers and still taking care of some key accounts. The majority of his day-to-day activity is deal approvals and assisting salespeople with structuring a deal.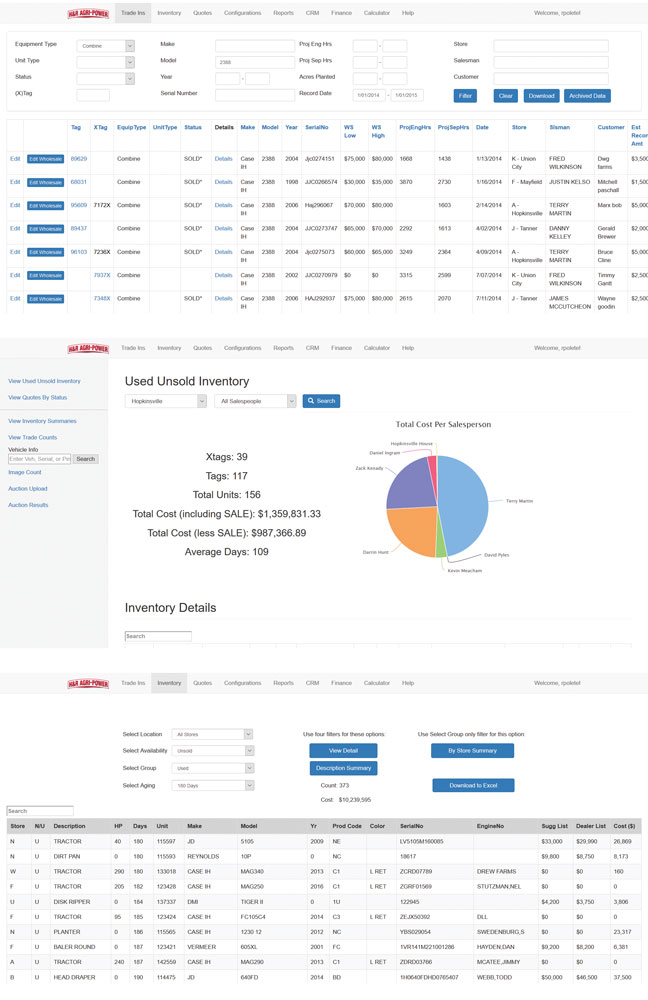 Ryan Polete, territory manager with H&R Agri-Power, helped the dealership develop its in-house quoting tool, Power EQ, which has streamlined the valuation process for used equipment. The tool allows the sales team and management to get a quick look at the dealership's trade ins (top), whether the unit has been sold, the salesperson, customer and estimated reconditioning costs. The team can also get a big picture look at the used inventory (middle), which shows the number of units in inventory, total cost including sale, total cost less sale, and the average days in inventory. This screen also shows a breakdown of the total cost per salesperson. Power EQ can drill down deeper into the details, showing a complete list of the used equipment inventory (bottom), which includes details like what store the unit is at, the make and model, year, serial number, engine details and price and cost details.
"When you're in a regional manager position, you really have to look at the whole ball of wax. It's not just sales. We need sales to keep everything on track, but you have to take care of customer issues," he says. 
Internal Support, Internal Growth
When Polete is training or helping a salesperson, he wants them to feel comfortable and have confidence. "That's my main goal. If they have confidence when they go to a farm, they'll get something accomplished," Polete says. 
Polete will track activity and information collection in their CRM. He has his salesforce go directly to the farm to collect customer information so they can better serve them in the future. "Pick a farm, doesn't matter to me. Collect information. We want to know correct contact information, what they have going on in their operation, and what equipment they are running on the farm," he says.  
According to Polete, building a complete customer profile can take some time as they build that relationship. As rapport is being built, the information gathered can be used to answer a set of questions: "What do we need to try to market to this guy? Does this customer have cashflow issues? What do we need to do and how do we need to change our business to fit his business?" he says. 
In the end, Polete's approach to his sales team is to coach and instill confidence in them. A confident, well-coached team allows each individual to grow in their role and reflect the customer service values that has made H&R Agri-Power what it is today.
All About the Numbers
Much of Polete's role consists of analyzing numbers. It's these numbers that determine the success of certain programs, the growth of individual salespeople or the next best strategic step. In a time of uncertainty, a thorough analysis of financials and indicators can help prevent indecision, he explains.
In 2014, the industry faced a major used equipment issue. Something had to be done. Polete embraced managing the used equipment inventory. Since then, he has strived for an average of a 3.75 turn rate company wide for used equipment. "We want to sell enough new equipment to continue to sell parts and service. But at the same time, we don't want to do it at the detriment of our used inventory levels," Polete says. He adds, H&R Agri-Power has many individual salespeople who have a 3.75 or higher used equipment turn. 
---
"It's all face-to-face. Farm calls are how we got to where we are. Sitting in the office is not going to get it done. It is a matter of going out, seeing the customer. If he's shelling corn until 8:00 at night, you stay in the field and just let him know you're going to stick with him…" 
---
Polete also measures the success of the company's profitability as a whole. Although some stores will be in excess of their goal, Polete likes to see at least 2% profitability across the board. "That sounds very low, and it is. But that would ring success through all our stores, if we could maintain that across the board," he says.  
Although Polete does set budget numbers for his individual salespeople, he doesn't measure an individual's success by a set number in the same way he does for used equipment turn and profitability. The most important factor is growth and Polete realizes that growth is his responsibility. 
"If they're not profitable, even if they're not progressing quickly enough, we have to do something. That's my job. To come in and try to figure out what do we do with this person to get them to develop faster?" he says. 
Polete understands it takes time for a salesperson to get his feet underneath himself, learn the industry and adapt to the demands of the market. "You're putting a salesman against an excellent negotiator who knows this industry very well. You've got to be careful about who you put to that task. It's a major challenge," Polete says. 
Dealership Minds 2020 Overview: H&R Agri-Power
Dealership Minds: Leading the Charge
Dealership Minds: Sage Wisdom from A Dealership Lifer
Dealership Minds: Building H&R Agri-Power's Culture, Profitability
Dealership Minds: CFO: 'Conducting' the Orchestra
Dealership Minds: Measuring Sales Success Through Customer Satisfaction
Dealership Minds: Creating a Reputation that Sells Equipment
Dealership Minds: Connecting On-Farm Experience with Customer Engagement
Dealership Minds: Managing the Measurables of a Precision Business
Dealership Minds: Financing Solutions to Keep Sales Selling
Dealership Minds: Coaching the Sales Team to Dealership-Wide Success
Dealership Minds: Maintaining High Standards of Service
Dealership Minds: Following the Data & Managing Relationships to Order Equipment Properly
Dealership Minds: Leading by Example in the Parts Department
Dealership Minds: People Do Business with People