Dave Gibson, Wholesale Division Manager
Years with Organization: 9 
Role: "Our main goal is to always be the support: talking to people, researching equipment, trying to give sound advice. We go out in the field and evaluate machines. Our management group wants to know, if a trade-in comes in, what's it going to bring if we took it to auction today? What is its wholesale value?"
As the Wholesale Division Manager of H&R Agri-Power, Dave Gibson is the resident expert on used equipment. He divides his time between appraising trade-ins from the sales team, shopping for wholesale buyers and keeping a general eye on the used equipment market, searching for any trends or spikes in interest that could give the dealership an edge.
Whether scanning the machines at equipment auctions or bartering over the phone with his many connections across the industry, especially when H&R salespeople are trying to move a tough piece of used equipment, Gibson is always moving his attention to where it's needed.
---
"I have a reputation where I can say, 'If I ever sell you something and it's not right, call me and I'll make it right…" 
---
"I'll field calls from salespeople who say, 'I just traded for this old combine that I'd rather not have in my inventory,'" says Gibson. "'Can you find me a check-writer?' I have a network of jockeys, used equipment dealers and auction companies. Depending on the situation, I'll know who to call."
Information is the bread and butter of wholesale. Whether it's with potential buyers or competition (e.g., swapping build codes and serial numbers with John Deere dealers outside of H&R's trade area), there's always information Gibson gains from each interaction.
"Today, I've talked to a wholesale buyer in Mexico, a guy in Missouri, a guy in Kentucky and a guy in Kansas. You're constantly talking with people," says Gibson.
Wholesale Metrics: What's Important?
Gibson clearly has a passion for what he does. His face lights up when he discusses his process with wholesale equipment. 
"I love the marketing part," he says. "I love taking pictures. I have my own login through the company at TractorHouse, so they let me advertise. Often times, if I buy something, I won't go to bed until it's advertised."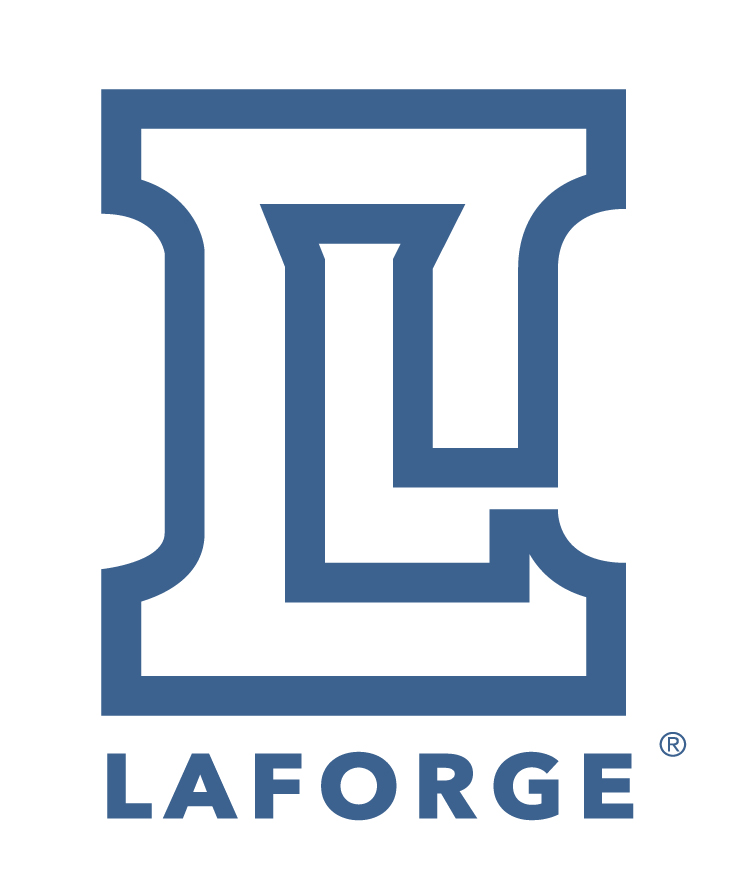 Brought to you by Laforge.
He specifically enjoys the character used equipment has compared to new equipment, where the attributes the equipment acquires over hours of use give every sale unique aspects.
"You can have 10 new tractors, same model, and they're basically a commodity," says Gibson. "There are no distinguishing features. You can have a row of used tractors out here, same model and hour range, and there's no two exactly alike. You move away from the commodity aspect to where you sell on the merits of what it has and what it doesn't have."
When moving old inventory, Gibson and another member of the wholesale division, Zack Rister, store manager at the Vergennes, Ill., location, will treat it like a friendly challenge.
"Sometimes they'll charge us with getting rid of aged inventory that's just going to be a loser. It's kind of a competition for Zack, my counterpart, and I. We know it's going to lose, but we try to lose as little as possible," says Gibson.
When it comes to measuring the risk and reward of a potential trade, Gibson has it down to a science. Years of experience have taught him that condition and appearance are important, but understanding the market can be the best indicator of a machine's potential for profitability.
"I ask, 'Is there a market for this machine? How quickly do I think I could turn it?'" says Gibson. "By going to auctions and talking to wholesale buyers and jockeys, I can see that the 80-100 horsepower tractor market is tightening up, for example. If I can find a 60-150 horsepower tractor at a good price, I'd be crazy not to buy it." 
Inventory turns is an important metric for Gibson. On a monthly basis, he and his team measure their used equipment turnover rates, aiming for 3.75 times per year. Gibson also tracks contribution margins to make sure the division is bringing in net profit.
Power EQ: Tools Make a Difference
A big part of H&R Agri-Power's success in wholesale comes from its web-based sales management and appraisal tool, Power EQ. By allowing the sales team to perform tasks like uploading photos and providing descriptions on this digital platform, Gibson and his team are able to provide fast, accurate appraisals that keep equipment moving through the dealership. When walking through some examples, Gibson is able to see how many hours a piece of equipment has, how many options it has, the type of transmission and more.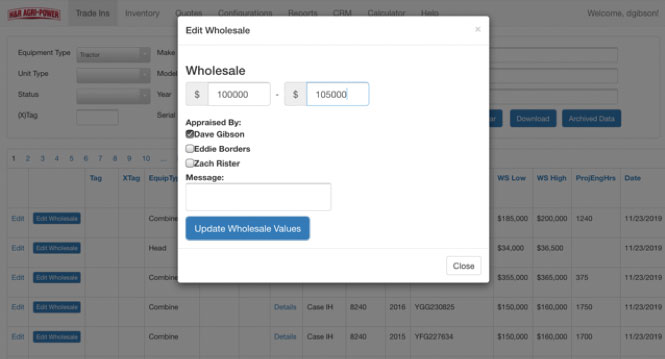 Power EQ allows appraisals from Dave Gibson, wholesale division manager, or his coworkers to be attached to trade-ins, giving the sales team an idea of what margins they should set their prices for.
Once the machine is in the system, Gibson and his team receive an email with details on the trade-in, which goes directly to all their inboxes. From there, they're able to put in their estimated wholesale value. This update to the wholesale value goes to the salesperson who entered the trade-in, that salesperson's store manager and several others higher up in the organization. Gibson mentions that Wayne Hunt (president) and Steve Hunt (vice president) still like to get the email updates on trade-ins.  
When a piece of equipment is less common, Gibson is able to look back through Power EQ records and pull up any sales history the dealership has with that particular machine. Gibson is able to see the model, wholesale prices and margins made on the previous sale, which gives him better context to judge what wholesale values should be on the piece today.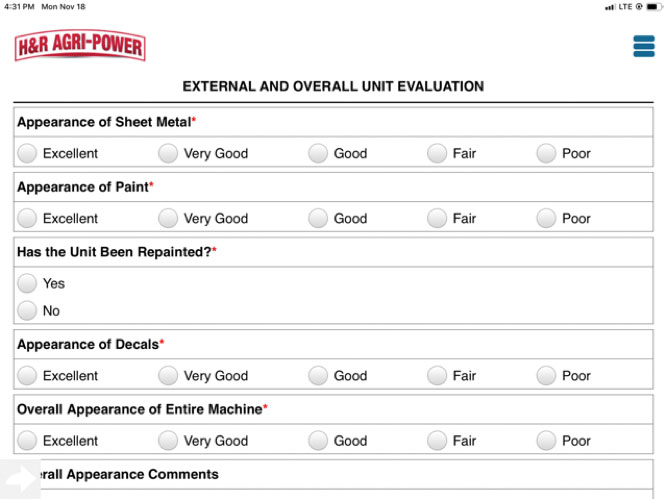 Aside from usual facts like how many hours it has, Power EQ is also interested in a machine's more minute details, including if the unit has been repainted, explains Dave Gibson.
In addition to giving overviews of the entire dealership's inventory, Power EQ can also track the inventories and sales of individual people. Gibson pulls up $869,000 worth of equipment in his shared account with Rister, with $230,000 of it marked as sold.
Gibson mentions that many other dealerships don't have staff dedicated to the wholesale process.
"I don't think many organizations have somebody in their own wholesale division," says Gibson. "We go to auctions a lot, and I do see some franchise dealers, but most of them don't have anybody there. They say, 'Well, I can just get the auction results online.' But I can go to an auction and I can see 15-25 jockeys. I sell them enough and I have a reputation where I can say, 'If I ever sell you something and it's not right, call me and I'll make it right.' We're out gathering information, networking and
making contacts."
Power EQ even helps with Gibson's auction interactions, allowing him to pull up details, photos and appraisals of his inventory for jockeys right on the auction lot.
A Career Built on Transitions 
Early in his career, Gibson worked at a John Deere dealership in Pennsylvania before ending up with a family-owned dealership in Georgia selling Kubota and New Holland light construction equipment. Gibson joined H&R Agri-Power in 2010 and says the transition back to ag was a bit of a culture shock.
"I was away from ag for 16 years, from 1994 to 2010. There was no precision ag that I knew of in 1994. I come back and tractors are talking with satellites. It was a lot to learn," he says.
Gibson's had to do a lot of learning in his career at H&R outside of telematics. While originally applying for a sales position with H&R, Gibson was told he wouldn't be able to sell for the dealership, because he didn't know the equipment. The H&R team pitched him a wholesale role instead, based on his years of experience in used equipment. 
Putting in the Hours Alongside Your Team
Dave Gibson, wholesale division manager, H&R Agri-Power, isn't afraid of staying up late to get the job done right. He values a strong work ethic not only in his employees but displays it himself as a role model. During harvest season, he works some 65 hours a week. Depending on which location he finishes his day at, Gibson might not even make it home.
"A lot of times, I'll end up finishing at 5 or 6 o'clock," says Gibson. "I'll drive to the nearest town, get a hotel and spend the night if I've got more to do … For example, if I finish up at the Brownsville, Tenn. location, and I'm going to head home, that's a 3-hour drive. But if I need to go to the Union City, Tenn. location around the same time, I'll stay out in that area and take care of them both."
Gibson estimates that, depending on the month, he stays at local hotels up to 8 times a month and spends about 40% of his time on the road. He notes that some younger employees don't like putting in the hours. But it's a two-way street between Gibson and his team: anything they have to do, he does with them. He recalls a story of liquidating a specific batch of equipment and the hours he and his team put in.
"We had a group of combines and tractors that we needed to liquidate, so we took it to an auction in Hamilton, Ill.," says Gibson. "They sold our last piece at 3:30, so we went inside and worked through the settlement to make sure everybody agreed. We finally got done around 7:00. We made it back to Zack's place in Illinois around 12:30 in the morning."
"In the first week, Wayne Hunt told me, 'I don't have any expectations of you at all for a year. I need you to learn and observe,'" says Gibson. "Then one day the guy in Russellville who does the appraisals had to have surgery, and I asked who was going to appraise the equipment. This was after about a year of me being at H&R. They said, 'Congratulations. It's you.'"
Relationships Make Sales
Gibson's explanations of how to make wholesales work always comes back to one thing: reputation. Even when defining his ideal employee, trust is the first thing Gibson asks for.
"You have to be able to trust a co-worker," says Gibson. "They have to be honest, and they have to be dependable. You give me that, what else is there?"
Technology in Sales: Then and Now
It can be easy nowadays to get caught up in the whirlwind of available technology in equipment sales. Aside from website management programs, CRMs and pricing tools, modern salespeople have their cellphones added to the mix. In a world where customers can facetime their contacts at a dealership and immediately show them the problems they're having with their purchase, the timeframe that a customer is willing to wait for an answer has shortened dramatically. 
While the pressure of being available 24/7 can be daunting, Dave Gibson, H&R Agri-Power, wholesale division manager, remembers a time when he would have loved modern technology and all the pressure that comes with it.
"When I started as salesman, we would go out with a legal pad when we looked a tractor and take notes," he says. "If it was a big enough trade, we would take an old Polaroid camera with us. You would buy a 20-shot pack of film for $20. Every time you popped a picture, it was $1."
"It would be a cold winter day, and you would take a picture and stuff it inside your jacket where it would develop quicker. If you had a guy interested in a machine on your lot, you'd take pictures, write down the description, stuff all that in an envelope and send them to him. Today, our salespeople have an app on their iPhones. They can go out and do an evaluation that way."
Gibson takes his reputation very seriously. Considering Gibson sometimes sells machines that he's never seen in person (using only online pictures), being known for a solution-based business style can go far in tough situations. Gibson recalls one instance where one of his salespeople misrepresented a machine, and he heard about it from the customer; Gibson's refusal to drop the situation is what helps him and H&R Agri-Power stand out.
"They were sending me pictures and I said, 'What do you want me to do?' They said, 'Nothing, don't worry about it.' I said, 'No, what's it going to take to make this right?'" says Gibson.
The customer estimated they would have to spend about $2,500 on the machine, and that's the amount Gibson wired over to them the next morning. He recalls the story in a matter-of-fact way, as if there wasn't any other sensible way to handle it. Shortly before telling that story, Gibson got a call from that very same customer, to whom Gibson has sold multiple pieces of equipment since their misunderstanding. 
That $2,500 ending up being worth a lot more in the long run, further illustrating the business value of maintaining relationships. Gibson said since this interaction, he's sold about 18 pieces of machinery to this particular buyer. Due to this buyer's interest in older combines that are undesirable in Gibson's region, Gibson can both move tough-to-sell equipment off his lot and take business away from his competitors' trade area.
"They're primarily interested in John Deere machines, so I'm selling machines that the local Deere dealer will never sell parts or service for again," he says.
Over the last 9 years, Gibson has earned considerable credit at the dealership. Besides evaluations and finding check-writers, he functions as a check-writer himself. It provides a more efficient way for the H&R stores to get quality used equipment, but Gibson mentions that it's a lot of pressure.
This wasn't Gibson's first time being trusted to buy for a dealership. It started at his previous dealership position in Atlanta in 2006. There, management noticed Gibson's interest in used equipment sales, handed him a checkbook and told him to bring the best that he could find.
"Today, we go to probably 40 or more used equipment auctions a year to track the market," says Gibson. "If Zack or I are out and we find something we think we can make money on or use to fill a gap in our inventory, we can write a check on the spot." 
"It makes you a better trader, because you suddenly have skin in the game," says Gibson, "If you make a mistake, you go back to the office and tell Wayne Hunt. And he'll say, 'That's OK. I'd rather have you out there trying than sitting on the sidelines.'"
Dealership Minds 2020 Overview: H&R Agri-Power
Dealership Minds: Leading the Charge
Dealership Minds: Sage Wisdom from A Dealership Lifer
Dealership Minds: Building H&R Agri-Power's Culture, Profitability
Dealership Minds: CFO: 'Conducting' the Orchestra
Dealership Minds: Measuring Sales Success Through Customer Satisfaction
Dealership Minds: Creating a Reputation that Sells Equipment
Dealership Minds: Connecting On-Farm Experience with Customer Engagement
Dealership Minds: Managing the Measurables of a Precision Business
Dealership Minds: Financing Solutions to Keep Sales Selling
Dealership Minds: Coaching the Sales Team to Dealership-Wide Success
Dealership Minds: Maintaining High Standards of Service
Dealership Minds: Following the Data & Managing Relationships to Order Equipment Properly
Dealership Minds: Leading by Example in the Parts Department
Dealership Minds: People Do Business with People