Overseas Journal #1. Farm Equipment 'Falls In' on Embedded Tour Assignment to Germany & France
Editor's Note: When our team started first started conceiving of our plans for the "Ag Equipment Entrepreneurs: How We Did It" podcast series that we released to our audience last year, Helmut Claas and Cathrina Claas-Mühlhäuser (the second and third generation owner-operators of German-based harvesting equipment manufacturer Claas) were on the short-list. A few previous efforts to arrange the meeting (including a previous attempted trip to Germany) had not worked out.
But just as we were about to turn the page on that podcast series and move onto our next phase for our collection (nearly 30 interviews and 45 hours of video footage), a creative idea emerged from Claas' North American office in Omaha. Marketing Coordinator John Schofield relayed their suggestion -- to throw me in with a private delegation of 120 during a weeklong visit European manufacturing operations, do the Ag Entrepreneurs interview in Germany and gain some time at the once every 2-years Agritechnica Show in Hanover, Germany.
By the way, Agritechnica is a behemoth of a farm machinery show (world's largest) that I'd attended twice previously but not since 2007. With ample notice to break in the shoe leather, I was eager to get back. The event's size (2,820 exhibitors across a 23-building expo ground) and international influence (attracting 450,000 visitors) only continues to grow.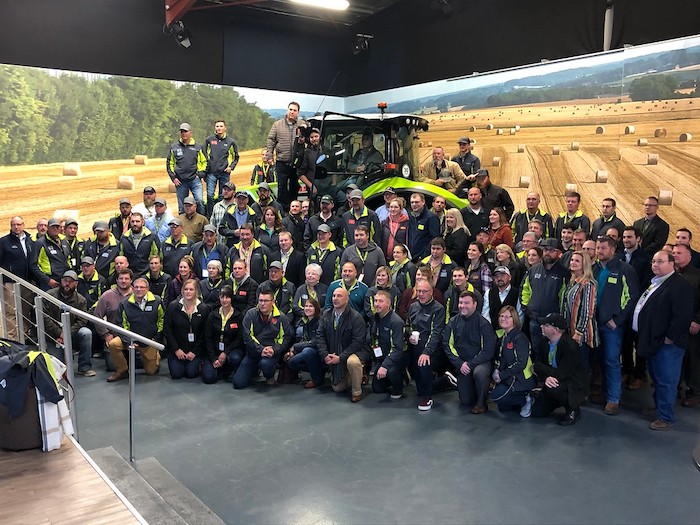 So after much planning, the buses that arrived at the Dusseldorf, Germany airport picked up Claas' 120-person group, which included VIP customers and prospects (farmers and custom harvesters), Claas America employees, a handful of Claas machinery dealers and just one outlier (an ag equipment business journalist).
I jumped at the chance for this embedded assignment as a peacetime "Ernie Pyle" opportunity to better connect with these different corners of farming, especially the huge fleet operations in the custom-cutting world, many of whom were my bus-mates between plant tours. Plus, it was a rare chance to more deeply understand a $5 billion (U.S. dollars) company that appears ready for serious dealer recruitment and development as it adds the long-awaited tractor it purchased from Renault in 2003 to add to its hay, forage and grain harvesting offering.
The Claas North America people like to use the term "long line" (not short or specialty line) but it's clear to me that is merely semantics. Their "long-game" intent is to be seen by their dealer partners as a major-enough supplier in which dealers can sustain themselves on Claas business.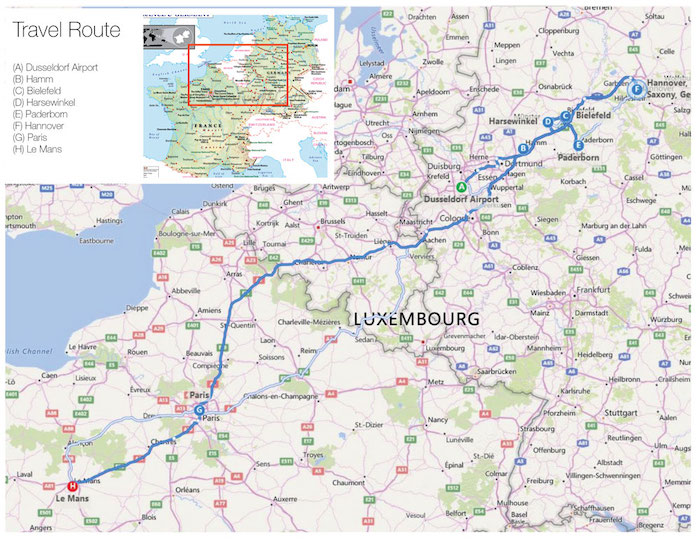 Other than a few minor disruptions, bus switches and an extra flight (and deviation from the group's schedule and an extra flight to interview Cathrina, and tour the Harsewinkel headquarters with a Nebraska trade delegation with Gov. Pete Ricketts), and the interviews and photography while standing in the bathroom stairwell of the coach bus, the group appeared interested in what I was doing, open to share and also wanted to hear our vantage point on the equipment manufacturing, distribution and sales/service back home.
After coming back with multiple notebooks, recorders and cameras, I'm going to share my week with you in this "journal entry" blog series. We'll be releasing another "journal entry" every couple of days chronicling the experience in Germany and France in mid-November 2019.
Continue to page two for "Overseas Journal #2. Dusseldorf to Paderborn, Germany: Claas' Industrial Technologies (CIT) Operations"
---
For More Information ... Other Recent Claas North American content from the editors of Farm Equipment