Overseas Journal #1. Farm Equipment 'Falls In' on Embedded Tour Assignment to Germany & France
Editor's Note: When our team started first started conceiving of our plans for the "Ag Equipment Entrepreneurs: How We Did It" podcast series that we released to our audience last year, Helmut Claas and Cathrina Claas-Mühlhäuser (the second and third generation owner-operators of German-based harvesting equipment manufacturer Claas) were on the short-list. A few previous efforts to arrange the meeting (including a previous attempted trip to Germany) had not worked out.
But just as we were about to turn the page on that podcast series and move onto our next phase for our collection (nearly 30 interviews and 45 hours of video footage), a creative idea emerged from Claas' North American office in Omaha. Marketing Coordinator John Schofield relayed their suggestion -- to throw me in with a private delegation of 120 during a weeklong visit European manufacturing operations, do the Ag Entrepreneurs interview in Germany and gain some time at the once every 2-years Agritechnica Show in Hanover, Germany.
By the way, Agritechnica is a behemoth of a farm machinery show (world's largest) that I'd attended twice previously but not since 2007. With ample notice to break in the shoe leather, I was eager to get back. The event's size (2,820 exhibitors across a 23-building expo ground) and international influence (attracting 450,000 visitors) only continues to grow.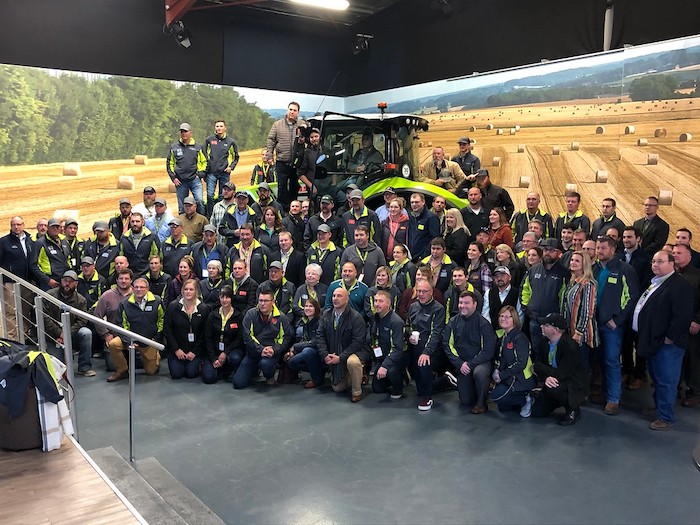 So after much planning, the buses that arrived at the Dusseldorf, Germany airport picked up Claas' 120-person group, which included VIP customers and prospects (farmers and custom harvesters), Claas America employees, a handful of Claas machinery dealers and just one outlier (an ag equipment business journalist).
I jumped at the chance for this embedded assignment as a peacetime "Ernie Pyle" opportunity to better connect with these different corners of farming, especially the huge fleet operations in the custom-cutting world, many of whom were my bus-mates between plant tours. Plus, it was a rare chance to more deeply understand a $5 billion (U.S. dollars) company that appears ready for serious dealer recruitment and development as it adds the long-awaited tractor it purchased from Renault in 2003 to add to its hay, forage and grain harvesting offering.
The Claas North America people like to use the term "long line" (not short or specialty line) but it's clear to me that is merely semantics. Their "long-game" intent is to be seen by their dealer partners as a major-enough supplier in which dealers can sustain themselves on Claas business.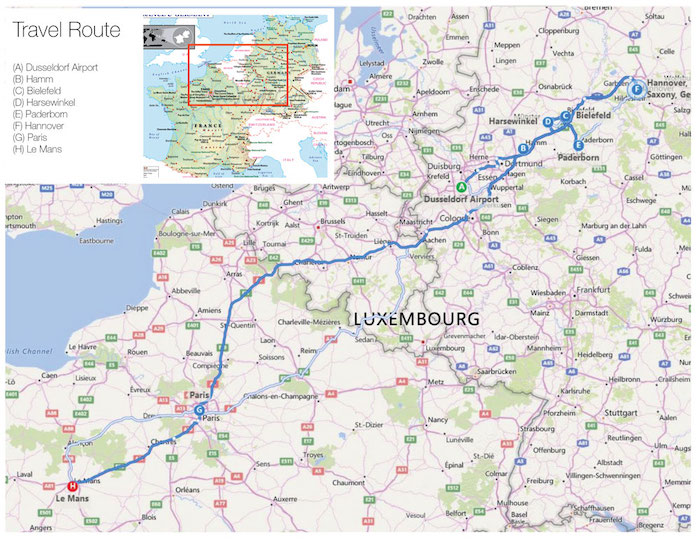 Other than a few minor disruptions, bus switches and an extra flight (and deviation from the group's schedule and an extra flight to interview Cathrina, and tour the Harsewinkel headquarters with a Nebraska trade delegation with Gov. Pete Ricketts), and the interviews and photography while standing in the bathroom stairwell of the coach bus, the group appeared interested in what I was doing, open to share and also wanted to hear our vantage point on the equipment manufacturing, distribution and sales/service back home.
After coming back with multiple notebooks, recorders and cameras, I'm going to share my week with you in this "journal entry" blog series. We'll be releasing another "journal entry" every couple of days chronicling the experience in Germany and France in mid-November 2019.
Overseas Journal #2. Düsseldorf to Paderborn, Germany: Claas' Industrial Technologies (CIT) Operations
Editor's Note: Farm Equipment Editor/Publisher Mike Lessiter was part of a 120-person tour arranged by Claas North America to tour the manufacturer's various European manufacturing operations and visit the Agritechnica 2019 trade fair in Hanover, Germany. This installment is part of an ongoing "Journal Series" of that trip, which spanned 11,653 miles in 7 days from November 10-17, 2019.
I'd mentioned in my last journal entry that I was the sole journalist on the Claas Agritechnica trip. Being in the event business (and knowing what it takes to "herd" dealers, farmers and, of course, staff), I'd made a deal with myself to keep things easy on my Claas contact John Schofield and Erin Atkins, who was in charge of hundreds (thousands?) of details on this trip. You see, I learned my presence and chairperson interview request required a change of schedules from the group, as well as a rental car and extra flight (Düsseldorf to Paris to catch up with the rest of the group) for John and me.
Yet my working to finalize an article and a business proposal in the Delta Sky Club in Atlanta on Sunday night (Nov. 10) prompted a check-in call from Schofield to make sure I'd arrived. By the time I packed up my laptop and got to the gate, Schofield was the only passenger there, and with just one ID badge and itinerary left to hand out. Oops. John's a good sport and I promised him I wouldn't be "that guy" on this trip. You'll have to come back later for the rest of the story.
For the 8-hour flight, I was seated next to Marketing Specialist Alan Osterhaus, who'd joined Claas after graduating last spring in Dairy Science and Ag Business from the Univ. of Wisconsin Platteville. I spent a lot of time throughout the week with Alan, John and Daryl Theis, who joined Claas of America in December 2018 as head of marketing.
Alan and I killed some time talking about his adopted state of Wisconsin (he's from a northern Illinois farm family) and his experience that landed him at Claas' Omaha operations and multiple trips overseas in just a few months on the job. No sleep was in the cards for either of us. I did work my way through inflight movies. My highlights from the trip were Yesterday, The Quiet One (documentary about the Rolling Stones' Bill Wyman), and 30 for 30's Survive & Advance (the remarkable NCAA championship story of Jim Valvano and NC State.)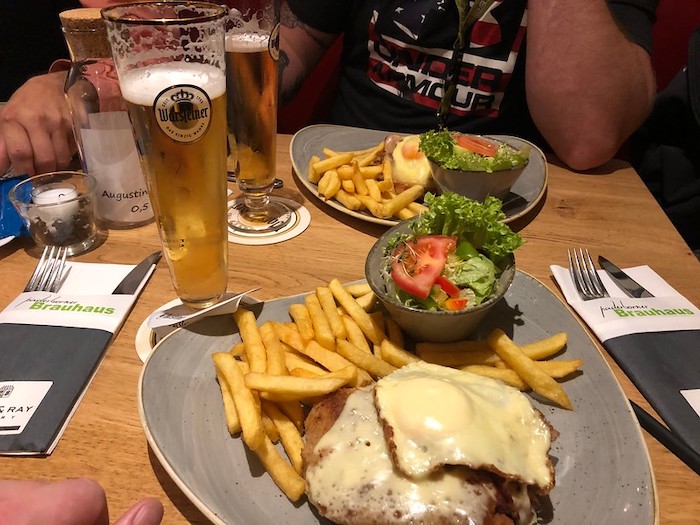 German-style sustenance, the first of many great meals.
We arrived on time at the Düsseldorf Airport at mid-morning on Monday, Nov. 11. Coach buses were waiting to carry us to Claas' Paderborn facility (107 miles northwest of Düsseldorf), passing through some beautiful farm country. We first stopped for schnitzel, pommes frittes (fries), soup and bier at Deutsches Haus in Paderborn city center -- one of my favorite meals of the trip. I sat with Tucker and Tyson Poling, part of the family custom cutting operation (see below) that had numerous employees on the trip. Both helped me raise a glass of Pils to my German mother-in-law, back in the states on her 76th birthday.
After an efficient but energizing meal, we were off for the Paderborn factory, officially known as Claas Industrial Technologies (CIT).
About CLAAS Industrial Technologies (CIT), Paderborn, Germany
Claas' facility in Paderborn is focused on drive technologies and hydraulic systems. The campus' buildings comprise 110,000 square meters, it employs 600 people over 3 shifts and generates the equivalent of $228 million U.S. in revenue. More than once it was mentioned that the Paderborn operation is the "heart of Claas;" that the pre-production of wheels, drive axles and gearboxes was the very basis of the manufacturer's driving technology.
The Paderborn operation was founded in 1956 when Helmut Claas couldn't find enough people for his growing capacity needs in the tiny hamlet of Harsewinkel. The much larger burg of Paderborn offered more labor, so Class put his operating investment into Paderborn, about an hour's drive south from the Harsewinkel headquarters.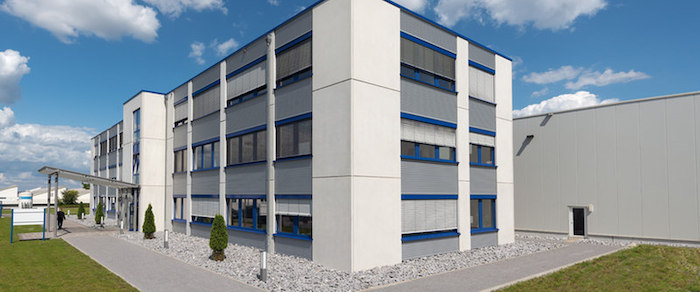 Claas Industrial Technologies (CIT) Offices.
By 1975, Claas had come with a revolutionary automatic steering system for forage harvesters, which the CIT started making available to other manufacturers as well. That industry leadership continues to this day, with Claas supplying the likes of Amazone, CNH, Horsch, John Deere, Lemken, MacDon, Oxbo, Same Deutz Fahr, and Vermeer as well as other manufacturers, including municipalities and automakers. Along the way, the CIT became a full system supplier through independent bench and vehicle tests
Following a detailed presentation on the facility, we broke off into 2 groups for a 90-minute or so tour.
Of high interest to our tour was the Terra Trac undercar­riages produced at the CIT. Regarded by the company (via the new Claas book, Sowing Ideas: Harvesting the Future) as Innovation #16, the Terra Trac (introduced in 1988) represents the intersecting interests of high road speeds and excellent mobility in the field with high load capacity. According to the presentation we heard, CIT is reinvesting 5.6% of sales annually to continually develop its chassis concept and other competencies at the plant. Because my company (Lessiter Media Inc.), also publishes No-Till Farmer, it was noteworthy to see the system promoted for no-till and its soil protection and compaction-reducing benefits.
The CIT had the most variety of the first of many tours on the Claas trip. And while the plants' physical buildings showed their age, they were well-lit, orderly and clearly demonstrated a great deal of modernization for a metals machining business (including Kuka robots), with numerous examples of intricate final-machining and hardened parts, as well as a modern paint system. With the number of custom cutters on the trip, a fair amount of time (even a return-tour) was spent examining the corn cracking and shelling components machined at the facility.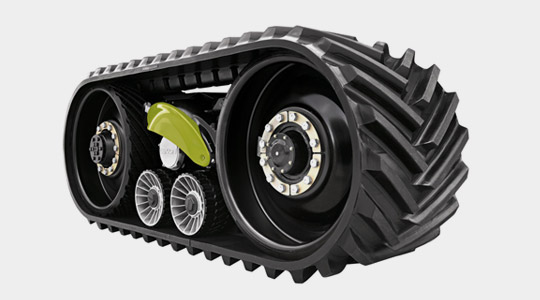 Claas Terra Trac undercarriage system
Back on the bus, I got the chance to meet Todd and his wife Honey Poling, co-owners of PMS & Harvesting in Clayton, N.M., whose holdings include a large-scale custom harvesting business covering the Texas panhandle, New Mexico and Oklahoma. I would learn more about the Polings throughout the bus trip, but I quickly grasped that this was not just a typical custom cutting operation, evidenced by the number of representatives and wives on the bus for a first-hand look at the manufacturing operations and equipment. The number of acres harvested and the company's fleet size (choppers and tractors) remains too big for me to get my head around; I'll need to make a trip to the area to see it first hand.
I learned that the PMS harvesting business took off in large part when the Faria family (based in Arizona and California) moved its new dairy operations into the Texas panhandle, which included a then record-setting 106-cow rotary milking system to support 7,100 cows. Poling who credited his early exposure to Claas as part of his growth, also clearly gained from earning the opportunity to be the Farias family's harvester of choice. The Faria family continued to move more cows into the region and a needed the efficient, reliable source of feed that PMS would cut for them.
We arrived at the Legere Hotel in Bielefeld, Germany (our home base for the next 3 nights) just in time to drop the bags and walk to the Brauhaus Johann Albrecht near the town square. Over a great buffet of German cuisine and free-flowing pitchers of bier, I met two farmers from Colorado and their wives, and a newly engaged farm couple from Iowa who had lots of work ahead of them to harvest upon their return.
I got to back to the room at 9:30 or so that night and found myself nodding off (with multiple file folders on the bed) as I prepared for the "Ag Entrepreneurs" series interview with Cathrina Claas-Mühlhäuser the following morning. For those of us unable to sleep on the plane (and smart enough not to fall asleep on the bus), it was a long day, at 25 hours awake. I had no problems sleeping that night -- a good thing as the giant (almost overwhelming) Agritechnica experience would come fast the following day.
Overseas Journal #3. Interview with Cathrina Claas-Mühlhäuser (Claas Corporate Chair), Eric Raby (North America President and General Manager -- Sales) and Day 1 at Agritechnica
Editor's Note: Farm Equipment Editor/Publisher Mike Lessiter was part of a 120-person tour arranged by German equipment manufacturer Claas to tour various European operations and visit the Agritechnica 2019 trade fair in Hanover, Germany. This is part of an ongoing "Journal Series" of that trip, which spanned 11,653 miles in 7 days from November 10-17, 2019.
Bielefeld, German, Tuesday ... Today would mark the first deviation from the rest of the Claas North American tour on the trip. While the rest of the group would be touring the nearby Claas headquarters and harvester factory in Harsewinkel, Germany, Claas North American Marketing Coordinator John Schofield and I were headed to the Agritechnica show in Hanover. Company Chair Cathrina Claas-Mühlhäuser was available for a 1-on-1 interview only during the show on Tuesday, so Schofield, Erin Atkins and their teams reworked an itinerary to allow that long-awaited interview to happen. We'd catch up later to see each of same operations tours that the rest of the group experienced.
Schofield and I welcomed the extra shuteye that our schedule allowed. We were among the last in the breakfast room the Hotel Legere before making the 67-mile drive in Schofield's rental car to the Hanover Fair Grounds for Agritechnica.
In perhaps some foreshadowing of things to come, leaving the surface parking lot that morning proved challenging. After Schofield had trouble with his credit card on the automated system, I found some Euros in my pocket (hadn't changed currency) to make a cash payment. Schofield, of course, wanted to pay me back for the parking. "No worries, John," I told him. "That's not my money, it's Dave Kanicki's. (Kanicki, Editor/Publisher of our Ag Equipment Intelligence publication, was part of an Enterprise Ireland delegation of dealers that attended the National Ploughing Championships in September).
Once we got out of the lot, we made good time through the rural German countryside and parked in a grass field a half-mile or so away from the South Entrance of Agritechnica's fairgrounds (the entrance nearest to Claas' location in Hall 13). But like everything at Agritechnica, being "on-site" can be deceiving; getting where you're going on a mammoth 23-building venue is what "eats the clock."
We navigated the crowd to get directly to the Claas exhibit and, after checking in, grabbed a coffee upstairs in the Claas mezzanine (built-in bars and even restaurants are common among the large exhibits at European trade fairs). Claas' facility was impressive, with a long bar and wait staff offering coffee, soda and bier, with an array of bar-height tables positioned for meetings with customers, dealers and suppliers -- all with a clear view of the company's latest machines below.
1-on-1 with Cathrina Claas-Mühlhäuser
After a coffee, we descended the stairs and just 50 yards away, met at the security point at the stairs of the gallery offices. We climbed the stairs to the three-story gallery offices above the Claas exhibit and Lexion 8900 Terra Trac. We arrived at the private office with time to set up the cameras and recording equipment and review Schofield's Prezi presentation on North American operations before Claas-Mühlhäuser and Wolfram Eberhardt (head of corporate communications), arrived.;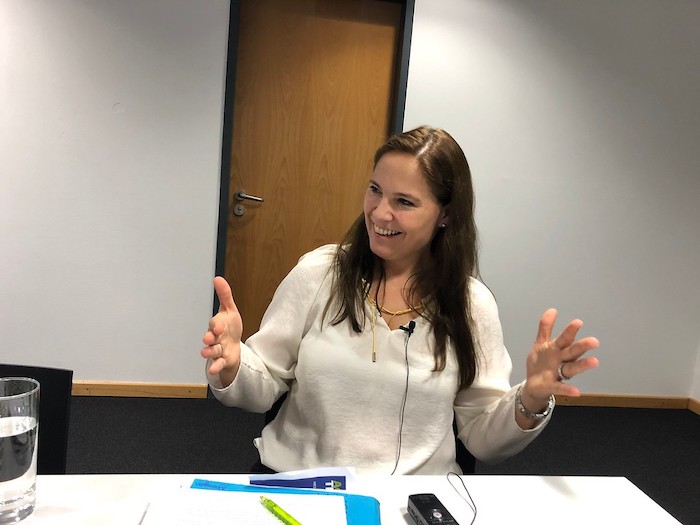 A driver behind Farm Equipment being "embedded" into the Claas delegation of North American staff, farmers and dealers was the opportunity to personally interview Claas Chairperson Cathrina Claas-Mühlhäuser for Farm Equipment's special podcast series, "How We Did It Podcast: Conversations with Ag Equipment's Entrepreneurs."
As highly structured as the arrangements and correspondence was for the meeting had been over the prior months, I found Claas-Mühlhäuser, 44, to be personable and interested in the questions, evident when the meeting went over the allotted time. I'd heard this about her, that she'd be seen walking the tables of farmers at the Farm Progress Show and other special events (as opposed to disappearing back to office or room).
As personable and connecting as she was, it also didn't surprise me to hear that she has been known to "get after" staff when witnessing a subpar result. Instead of internalizing her disappointment and allowing it to become a bigger problem later (or someone else's problem to deal with), I was told that she'll let her reaction be known and then able to move everyone beyond it.
You'll hear our full interview in an upcoming "How We Did It Podcast: Conversations with Ag Equipment's Entrepreneurs." But here are a few initial things I learned from our 1-on-1:
Claas-Mühlhäuser literally grew up on the Harsewinkel factory site (her father Helmut walked to work) so the machines awaiting delivery became part of her and her friend's private playground. In the summers, she was on the farm every day and participated in combining herself.
As Helmut's only child, her father had big plans for Claas-Mühlhäuser, which initially looked like engineering and then law but eventually moved into commerce. Following her apprenticeship and university studies, she chose to work at an industrial company (ABB in Zurich) before answering a call from her father (then 78) in 2004 to follow him on the shareholder's committee.
Claas-Mühlhäuser's first major project upon joining Claas full-time: "I had the task of reorganizing the group and we changed from the functional organization to a business-oriented organization. We kept this organization to this day, though last year we took a big step in developing it further around the biggest business units."
On the November 3 announcement of Data Connect that involves Class, John Deere and CNH: "My father says to always to think in open systems because you cannot hold your customer hostage. In the digital world, our objective was to get a standard between as many companies as we could. That's a standard that's not only imminent to Europe; it's worldwide. We must give our customers a choice. We cannot prevent anybody from going to the competition by making them closed, that's what I strongly believe. And I'm very, very happy that it's worked out."
Claas-Mühlhäuser's Plans for the U.S. Market
In response to questions about the size of Claas ($5 billion U.S. equivalent, 11,000 employees) and expansion into the important North American market, Claas-Mühlhäuser indicated that the time is right for Claas to be recognized for its technology expertise in harvesting grain as well as forages. And, to paraphrase, to stand on its own without the brand confusion that still hangs over the combine's joint-venture entrance into North America (with Caterpillar), even long after its conclusion.
"We took 3 enormous steps forward this year. Step 1 is the new combine, which is the biggest innovation in CLAAS in the last 25 years. I think I can say that."
The second step, equally important, Claas-Mühlhäuser says, is the color change associated with combines in the U.S., which had remained yellow even following the conclusion of the joint venture with Caterpillar (1997-2002). "It was important to make sure our brand is the differentiator it really is. We perceive ourselves as a technological leader in grain harvest and we want to show it. The green is something my grandfather defined back in the 60s and said 'this is a fresh color; it reflects growths and fresh starts' and I like the color very much.
The third -- and very important -- step is the introduction of the tractors, she says. "The tractor is the anchor product for dealers. If we want to go down that road, we need to develop our own dealers and we must interest them with more products. The tractor is a very big thing and yes, I think we can better help our distribution partners build their business. I see a good chance once we can build on more inclusive dealers than we have today."
Claas-Mühlhäuser adds: "We have a product portfolio for our dealers to offer and we want to push that. I think great plans are justified."
In the upcoming podcast (complete your free registration here to get an alert as soon as it's posted), you'll hear more about the history of this 105-year-old company (and just 3 family members at the top) and resources that accompany a $5 billion company, its entrance into the North America in 1952, Helmut's and Claas-Mühlhäuser's styles, and how August Class (along with brothers Franz, Theo and Bernard) built the company from nothing after World War I (the fact that all survived the war was a near miracle itself.)
Impromptu Meeting at John Deere Exhibit
Schofield and I devoured a schnitzel sandwich before separating for the rest of the afternoon. Time would be tight as we were scheduled to be back up on the gallery level at the close of the show to host the first of two Facebook interviews.
I was only 200 yards into exploring the aisles when I spotted some dealer friends from home in the John Deere exhibit -- RDO Equipment's Mark Kreps (Vice President of Sales) and Olga Hall (Director of International Sales). I'd been watching posts from Kreps from RDO's Australian operations just the day before, so I was surprised to bump into the pair there.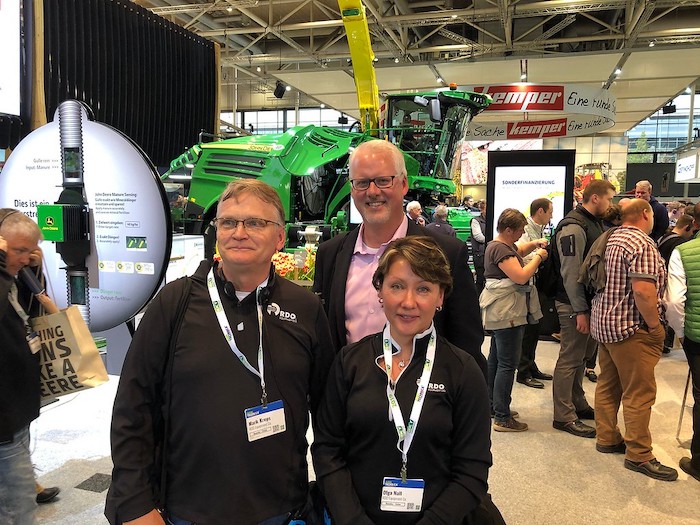 Stop #2 ... Impromptu meet up with RDO Equipment's sales executives Mark Kreps and Olga Hall, who took a "roundabout way" (through Australia) from North Dakota to attend the Agritechnica show.
I learned that they were on 3-time zone trip day but were clearly energized by what they and their group had seen in Deere's "farming of the future" exhibit (see below). And it was a meaningful meeting for us, as I "closed" Olga on Executive Editor Kim Schmidt's repeated calls into her about presenting at the 2020 Dealership Minds Summit in Omaha. (Hall may have been too weary to decline or ask too many questions on the subject matter, but we call that an assumptive close, right?)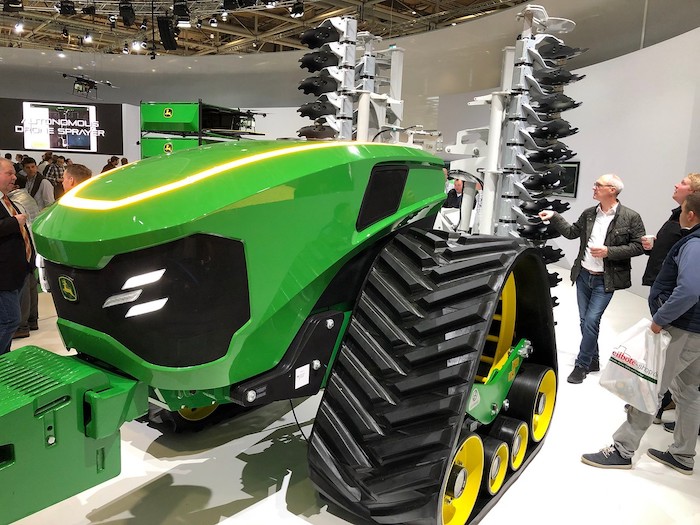 John Deere's autonomous tractor concept — an ultra-compact power unit (500 kW) that is pure electric drive for zero emissions. It offers 5 to 15-ton variable ballast and is reported to be highly maneuverable with full integration between tractor and implements.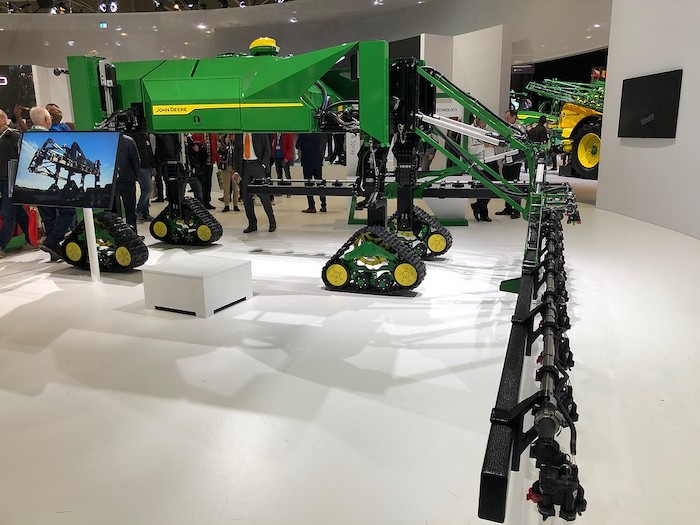 John Deere's 4-wheel steering autonomous sprayer — 560 L tank, gas powered, variable axle height and clearance. It is reported to dramatically reduce compaction and extend spraying windows.
After deciding I needed to buy the 698-page Exhibitor Catalogue (and even parted with $9 U.S. to obtain it -- you don't see that at American shows), I didn't get much farther than the giant Horsch exhibit, which included my first glimpse of the firm's self-propelled sprayer.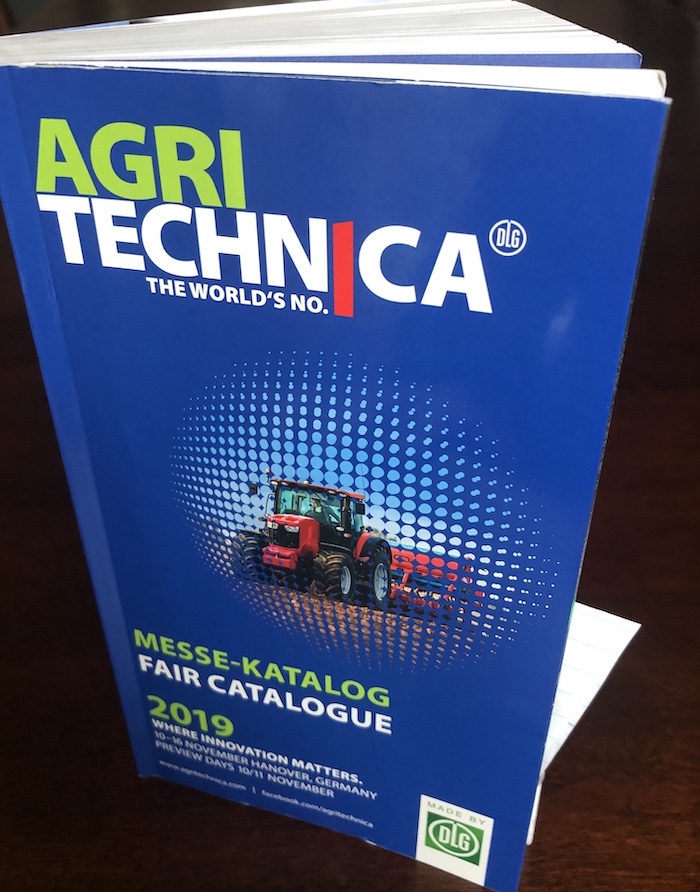 A 3-time Agritechnica reporter has learned that plunking down the $9 (U.S.) in a show guide (yes, attendees pay additional money to find the exhibitors) is a wise investment when time is limited and there are 2,820 exhibitors and 23 buildings to navigate.
I headed back to Claas to make sure I was on time for the interview with Eric Raby, President and General Manager – Sales for CLAAS of America. I'm glad I left when I did because I'd forgotten a rule from two previous Agritechnica shows -- plan on twice the time to navigate the crowds and mileage to cover. I had to high-step it at times and thankfully had enough "cool-down time" before the camera crew showed up.
The 8-minute interview was broadcast live to worldwide viewers under the hashtag #Claaslive. You can watch the unedited interview here, which includes plans to double its business in North America in next 5 years.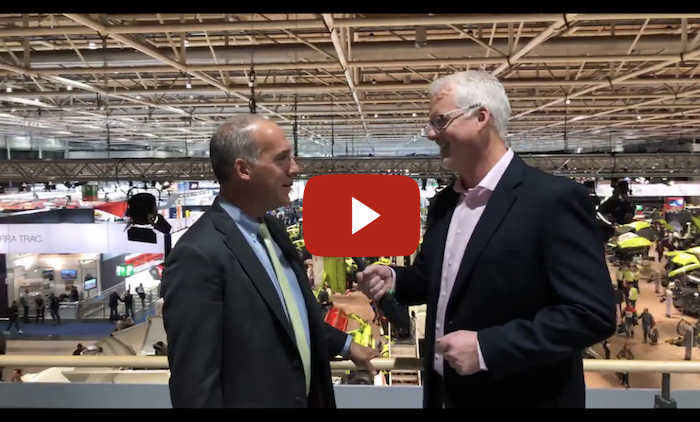 Farm Equipment's Mike Lessiter interviews Eric Raby (l), President and General Manager -- Sales, Claas America in an 8-minute live interview.
Following the interview with Raby, Schofield and I packed up and started the long trek to the rental car, though we sat in traffic for an hour or more as most of the estimated 65,000 attendees for the day departed at the same time.
Schofield had expressed that one of the unfortunate things about the Facebook Live video at the show close was that we wouldn't return in time to join the group for the dinner at Potts Braueri (Brewery). No complaints from me, but Schofield was determined to make it up
We got back to Bielefeld hotel at about 9:30 p.m. to dumped our bags. Schofield knew of one place (Le Feu) within walking distance that should still be open at that hour -- and that would serve the famous flammkuchen, something between a crepe and pizza, but unlike either.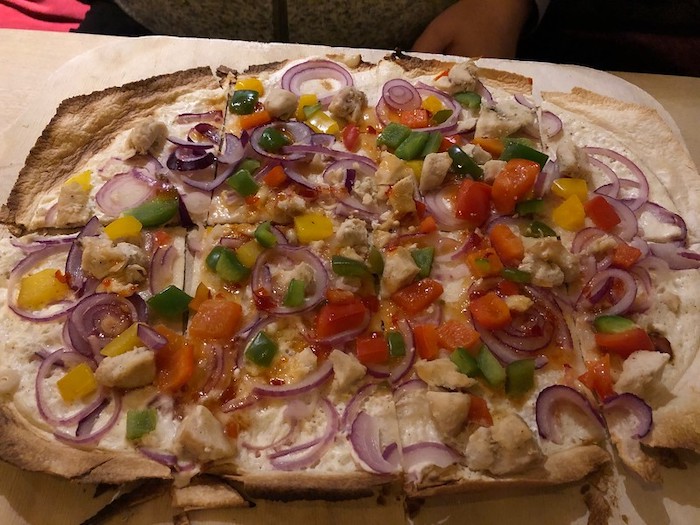 First Time Dining: Flammkuchen
We walked in the door about the time they were closing, but Schofield charmed the only two employees we saw (bartender and waitress) into a couple of flammkuchens and biers. Schofield's hype did not disappoint, and we even sensed some envy from other Claas travelers the following day. And as an extra plus, I got to share knowledge of a dish that even my German immigrant in-laws had never heard of.
With a bus departure with the full group the following day, I skipped the hotel bar when we returned at 11:30 p.m. (there were a couple of tables of tour folks making the most of the experience) and headed up to my room. We'd have another packed day with several special project interviews for Farm Equipment, along with another Facebook live interview and group dinner at Agritechnica.
Covering Global Ag Show -- Staff Takes to Social Networks
For the third time at Agritechnica, Lessiter Media staff managed programs designed to elevate the presence of sponsors and to highlight their presence with their OEM partners at the 2019 event. With over 40 tweets, 70 Facebook Posts, 4 Facebook Live events, and 10 plus videos currently in post-production, Walterscheid Powertrain Group was the exclusive sponsor of social media through Farm Equipment's social media channels. Meanwhile, NovAtel Inc. was the sponsor of Precision Farming Dealer's social media coverage.
Walterscheid, an industry-leading supplier of powertrain solutions, recently broke away from ownership under GKN, and with their 100th anniversary in 2019, was exhibiting for the first time as the newly formed Walterscheid Powertrain Group.
NovAtel is a world leader in GPS positioning and Correction Services, whose technology contributed to many of the positioning solutions seen at the show, including the full and partial autonomous solutions.
For more information, visit
Overseas Journal #4. Day Two at Agritechnica, Comparison/Contrast Interviews with European Dealer Associations, Interviews with Tour Group
Editor's Note: Farm Equipment Editor/Publisher Mike Lessiter was part of a 120-person tour arranged by German equipment manufacturer Claas to tour various European operations and visit the Agritechnica 2019 trade fair in Hanover, Germany. This is part of an ongoing "Journal Series" of that trip, which spanned 11,653 miles in 7 days from November 10-17, 2019.
Bielefeld, Germany, Wednesday — I woke up to the mandatory 6 a.m. wakeup call from the hotel. A smart move by Claas Marketing Coordinator and Tour Guru Erin Atkins as a means to get 120 farmers, dealers and staff on-schedule the morning after a brewery tour. I got down to the hotel dining room with plenty of time to review my interview questions over that German-style breakfast I love so much (particularly the breads, cheese and meats — carbs don't count in Germany, right?). Little did I know, however, that it would be my last German breakfast of the trip. (If I'd known that, I would've gone back for thirds.)
'Conversations' Interview — European vs. North American Markets
Claas Marketing Coordinator John Schofield and I finished our last bites together and then joined the group for the bus ride into Hanover for Day 2 of the Agritechnica show. The group was starting their day at the show at the Claas exhibit, to check in and get the evening's wristbands for the VIP affair and also to pick up their lunches. Unfortunately for me (and Schofield), my early morning interview was set up for Hall 9, about as far away as possible on the other side of the fair grounds. We were to meet equipment dealer Erik Hogervorst, President of CLIMMAR (European dealer association) at the Mazotti stand and Eric Raby, President/GM of Sales, Claas North America for our "Conversations in Ag" series. This would be an hour-long meeting in which the two executives compared and contrasted topics impacting farm equipment distribution from different sides of the Atlantic. (NOTE: Make sure you've qualified your record HERE to see this article when it appears in the January 2020 Farm Equipment SHOWCASE).
As a result of the remote drop off, Schofield and I were at a virtual sprint to get to Hall 9, opting for the cold yet traffic-free path outside of the exhibit halls. As for the drop-off location, Schofield says nothing was said that offended the German bus driver, nor had his marketing team been aware of our meeting location to purposely inflict pain. (We'll call that "training and conditioning" … stay tuned.) My pull-behind Samsonite briefcase's wheels crackled over the bricks as I turned and twisted every 10 yards to recalibrate (no implement guidance here). I'm sure we unprepared Americans provided some comic relief to other showgoers that cold morning.
In a display of what Alan Stenum of our staff dubbed "Agritechnica Time," (it's hard to get virtually anywhere on time if there's not Chicago-traffic type accounting for your time) we arrived about in Hall 9 20 minutes late. Raby was on time, of course, while Hogervorst was quickly summoned. After a quick set up of the audio-visual equipment, we all got right to work at the table in the middle of the Mazotti stand.
In his role as president of CLIMMAR, Hogervorst leads 19,000 dealers across Europe, who in turn serve 3.4 million farmers. He is the co-owner of Wout Hogervorst (dealership of Kubota, Mazotti, Kverneland, Yale and other brands).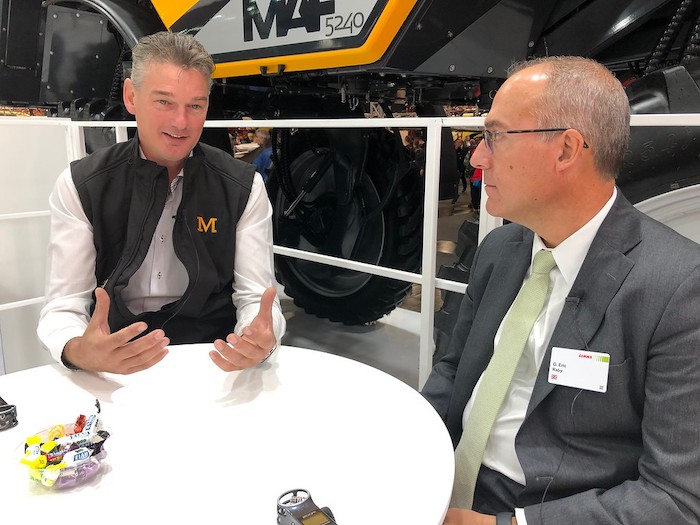 Erik Hogervorst, CLIMMAR president, and Claas of America's Eric Raby, in special interview that will be detailed in the January 2020 Farm Equipment SHOWCASE's special report, "Conversations in Ag."
Hogervorst and Raby, who had never met before, covered a great deal of ground in their conversation. This "Conversation" worked as it should, with me stepping out of the way, recording the interview and managing the clock. Here's a few things Raby and I learned from Hogervorst:
Many Dealers, Low Transaction Volumes. "Our members sell about 10 tractors per year," Hogervorst says. "In Germany (largest of the dealer economies in Europe, a nation the size of Wisconsin), we have 4,300 dealers that may average 5-6 tractor sales a year. Here, farmers drive their tractors to the dealer, so they need to be within a certain range of distance to do that."
Specialization Assists Survival. Hogervorst said that European dealers expected that the total number of outlets would dramatically fall through consolidation. The result, however, was different. "Dealers are specializing; spraying and technology adoptions and/or special machines. Or they can specialize in sectors," he says, citing horticulture in the case of the Netherlands, where he's from. "If a customer wants a more specialized machine, they can go to another dealer."
Deere's Consolidation Efforts, Years Later. One of the things Hogervorst explained in detail were the changes John Deere had brought to Europe from the U.S. I'd heard about this last year with a several hours long interview with Horsch's Michael Horsch. "When they started to change the way they're working with the dealerships in Europe, they put in a strategy almost the same as they were doing in the U.S. You saw a lot of dealers who were very unsatisfied. They didn't understand; they didn't see it could at all work in Europe. Some stopped being a John Deere dealer or were shut off from the John Deere program. Deere took the number of dealer-owners in the Netherlands from 57 to 6." The total number of outlets remained about the same; though Deere now has just 6 big dealers to work with now. He said that the situation changed in 2014 when Deere came out with a dealer improvement program. Since then, dealers' satisfaction with John Deere has begun rising again.
Used Machinery, Reversal of Trends. Hogervorst and Raby discussed the used machinery in Eastern Europe, which had been a strong opportunity for all dealers in Western Europe. "There had been a good market for used machinery in Eastern Europe and Africa a few years ago," he says, and I recalled how big of an attraction the used business had been for Eastern European farmers at prior Agritechnica shows. "But now you see a rapid change in demand there as they're buying new and bigger machines. Maybe in a few years, it'll be the other way around. Western Europe will start buying used machines from the east that have 2,000 or 3,000 hours on them and come back this way. The average hours on a tractor in Western Europe is around 500 per year."
Off to the Races — 20 Buildings in 1 Day
Following the interview with Hogervorst and Raby, it was an all-out sprint. Stenum and I compared notes briefly in one of the far-reaching halls (he was fulfilling two highly focused assignments for our Farm Equipment and Precision Farming Dealer titles. I needed to be back at the close of the show to host another Facebook Live back in Hall 13. No pressure for the day, just a couple of commitments and mere 20 buildings I hadn't yet set foot in yet. Oh yes, and a personal promise not to be sweating through my sport coat for the broadcast.
The rest of the day was a blur, but I do believe I made it to every hall, although a couple were essentially eyes-wide-open jogs. I did stop at CNH Industrial's giant exhibit in Hall 3, which encompassed nearly the entire building. Unique from what I remembered was that seeing all the CNH brands (Case IH, Steyr, New Holland, Iveco, Heuliez Bus. Magirus, and FPT) showcased together in one enormous exhibit. I also stopped to watch reactions to the Case IH Magnum autonomous concept tractor, which we'd all seen years ago at the Farm Progress Show.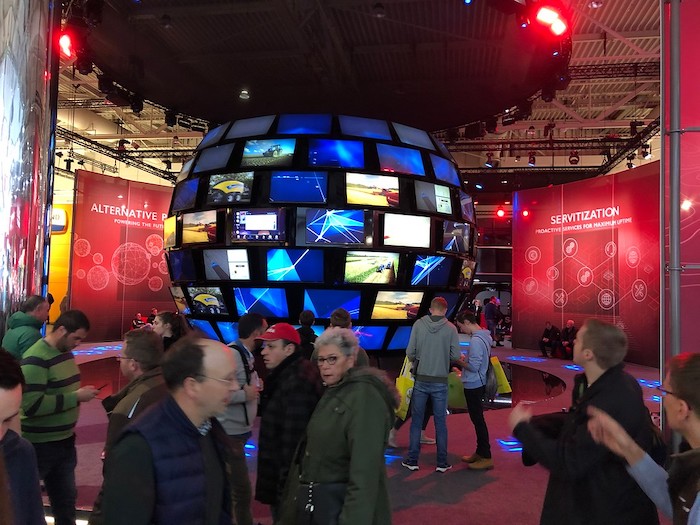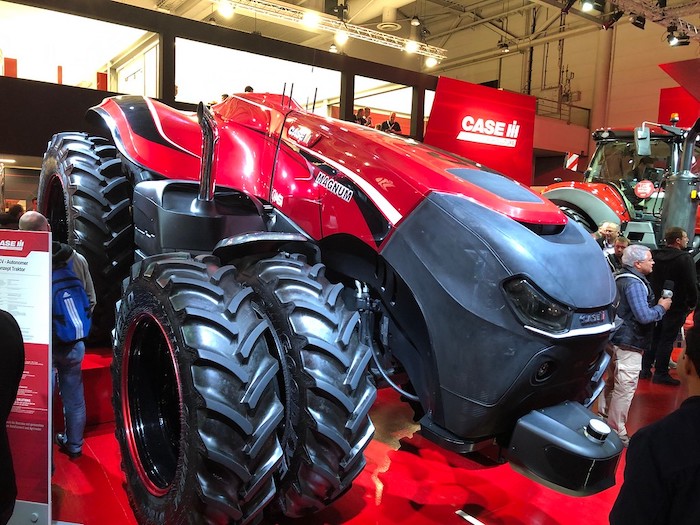 CNH Industrial drew attention with their giant all-brands exhibit (first time) and brining the autonomous Magnum Tractor that Americans had seen at Farm Progress several years ago to the other side of the Atlantic Ocean.
Agritechnica Tradition — German Dealers Update
From CNH, I went to the German dealer association, now known as LandBauTechnik, to keep alive a longstanding Agritechnica tradition. At each of my previous visits in 2005 and 2007, I interviewed Ulrich Beckschulte (see hotlinked articles). I hadn't arranged an interview this time around (and after 12 years wrongly assumed, he'd retired by now) because of my short time at this year's show. Just a few steps into the exhibit, I saw Beckschulte and pulled out our previous interviews to refresh his memory of our last Agritechnica meeting 12 years ago. We had coffee and caught up, including my learning that John Deere has set up a separate association within the dealer associations -- and with separate staff. He also introduced me Dr. Michael Oelck, his director, which led to a video interview.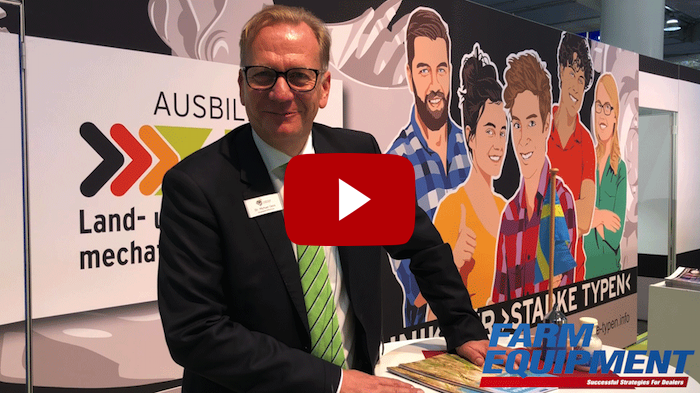 LandBauTechnik's Dr. Michael Oelck shared an overview of the German farm equipment industry, including how the European industry is working together — and taking their message directly to the students — to address their worries over technician shortage, which appears to be more dire than that in North America.
There were conversations and quick waves along the way. I saw Rick Carr, Superior Gearbox, and Jeff Daniels, Yetter Manufacturing, at the small USA Pavilion, Hal Carnago at Schulte and quick hellos to Hubert Defrancq at Laforge, Scott Sloan of Titan Tire, Johnny Mills Bondioli & Pavesi, and Giovanni Signorelli, Sitrex. I made a point to visit the onsite offices of the VDMA, or the Mechanical Engineering Industry Association, to pick up their latest German manufacturer report (another regular stop of mine on each trip). It was there I distinctly heard some good 'ol Milwaukee accents ahead of me and said hello to AEM's Anita Sennett and Ben Duyck, senior director of ag services and director of market intelligence, respectively. 
And again, more "Agritechnica Time" challenges. I was unable to make my meet-up with Howard Dahl of Amity, but I did stop by and talk to Casey Bryl, export sales manager, and saw the return of the Concord logo on their trade show stand for the first time, following this year's announcement about the brand returning to the market.
Intent on making my way back to my broadcast appointment, I had a quick meeting with at the Enorossi exhibit with Michele Giovannini (who still hadn't been home from the FEMA-EMDA meeting in St. Louis earlier in the month) and then crossed paths with Roger Murdock of Agrisolutions, who filled me in on what I'd see later that evening in the special Claas VIP Experience.
Facebook Live Broadcast with Ty Rankin, Dealer
Finally back in Hall 13, I pulled an apple from camera bag and unabashedly scarfed it down out of others' view behind a Claas 5000 Xerion Tractor before the Facebook live broadcast. Tonight's broadcast would feature a dealer's perspective, with a 1-on-1 with dealer Ty Rankin, one of 4 dealerships on the Claas' trip. Rankin hails from Lonestar Equipment, a 2-store dealership in Texas who had a large contingent of farmers and custom harvesters on the trip. Despite my best efforts to better control my perspiration after the walk back, I decided on the steps up to the mezzanine level that I'd overheated once again and should go sportcoat-free. 
Here's the unedited broadcast with Rankin, providing a dealer's perspective.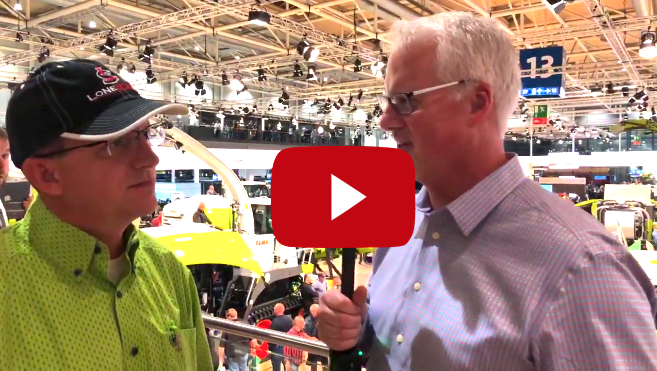 'Conversations' Interview: Farmer vs. Dealer Expectations
Immediately following the filming, Schofield and I descended the mezzanine stairs, stopping because, after a brief moment of panic, I'd realized the notebook had fallen out of my coat pocket upstairs. I should have taken that as a sign to chain that "Reporter's Notebook" to my belt. I then climbed back up the gallery-level stairs on the end of the Claas exhibit space to do another "Conversations in Ag" style interview, this time with Colorado farmer (and malting business owner) Todd Olander and Kendall Havran, a sales rep for Altorfer Ag in Iowa.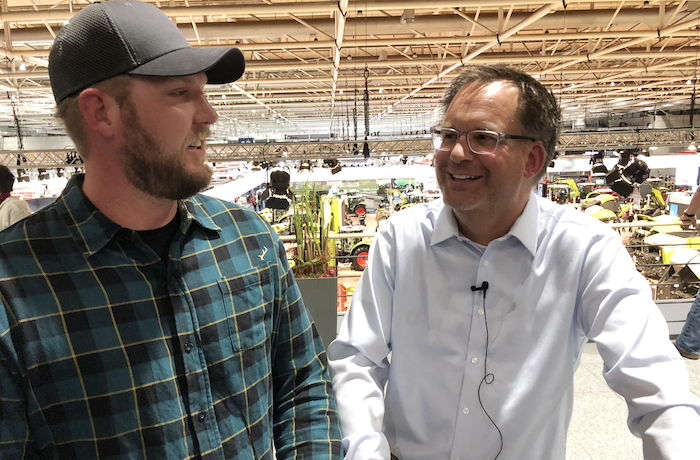 Colorado Farmer Todd Olander (l) and Iowa dealer sales rep Kendall Havran (Altorfer Ag) talk each other's world, and what the two parties should expect from one another to achieve optimal, mutual goals.
Just as with the morning's interview, the pair was meeting for the first time. Much of this conversation was understanding other's roles and responsibilities, and more important, the expectations of one another to find the optimum farmer-dealer partnership. Havran shared a number of insights, including a story of a recent customer who switched colors on his combine. That customer, he says, knows his cost per hours (including cost of laborers and every other cost imaginable on the farm) so well that he later admitted that trade-in value on his combine in 2 years would be a non-issue. The efficiency gain, he told Havran, would have paid for the investment in the meantime.
Olander, whose operation can handle a lot of service themselves, shared his thoughts on what a machinery dealer can to do keep, and to lose, him as a customer. To no surprise, it comes down to service, and communication.
"Being able to speak to someone when you call goes a long way," Olander says. "Some don't even answer the phone, even for parts, which is crazy. Are those dealers really there for us and can we believe they'll help us get the job done? On the other end, we've got dealers who bring parts right out to us on their drive home. Not having to drive a half-hour to get a part and come back again saves us a ton of time." 
While Olander says he isn't necessarily counting on his dealer to be seek out and share the latest technology or best practices (they do that on their own), he did say dealers will make sales by knocking on doors, even with the skepticism he and his dad often project on new product introductions. "We didn't have any intentions of buying a new forage harvester 2 years ago when we were using 2 machines. Our dealer sales rep brought a larger one out to the farm so we could try it and we bought." NOTE: Keep an eye out for the full article in the January 2020 Farm Equipment SHOWCASE.
Claas Puts on a Show
Moments later, the entire Claas North American tour crew walked over to a VIP Claas Experience gala event in a stand-alone building on the Hanover grounds. I'd not been aware of the separate building, nor that the building is rented out for special events. I learned that Claas had been entertaining staff, dealers and customers in this way all week. 
There was a long line entering the building (and a coat-check no less) with what could best be described as an "ode to the Lexion Combine." The evening's affairs were unlike any farm machinery event I'd ever seen, with dramatic lighting, music and video. It felt like what I imagine the old-school auto shows and dealer meetings might have been like in Detroit's heyday. A picture (and a video) says 1,000 words.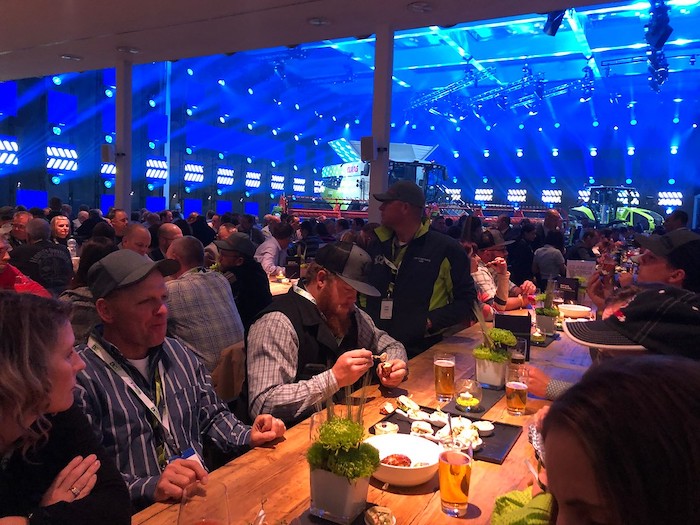 Inside the Claas' VIP Experience to close the night at Agritechnica.
With the lights dimmed and playing of bass-pumping music, the event opened with remarks from the Claas family and also Thomas Bock, Claas' new CEO, who announced that Lexion and Jaguar had earned awarded "machines of the year" with additional recognition for the DataConnect program collaboration between Claas, John Deere and CNH. Guests were arranged at the high-top bier-hall style tables by continent, and the North Americans received the evening's first shout-out to applause. Attendees were treated to impressive array of appetizers, bier and cocktails and an elaborate buffet. I sat with Rankin and his wife, Courtney, along with Schofield, Claas Head of Marketing Daryl Theis and an Alberta farmer.
Following the gala-style event, the bus ride home included Claas-branded schnapps and chocolates handed out by the Claas staff.
It was another long day, but very productive one. I headed right to the room at midnight before repacking my bags, recharging the batteries for the equipment, and getting a last night's sleep in Bielefeld's Legere Hotel. Apparently, I'd needed the rest.
The rest of the trip would take us to 3 more Claas factories, one more European flight, a gubernatorial delegation and one Keystone Cops moment, with Paris serving as home base for the next 3 nights.
Overseas Journal #5. Visit to Claas Headquarters & Harvester Works (Harsewinkel, Germany)
Editor's Note: Farm Equipment Editor/Publisher Mike Lessiter was part of a 120-person tour arranged by German equipment manufacturer Claas to tour various European operations and visit the Agritechnica 2019 trade fair in Hanover, Germany. This is part of an ongoing "Journal Series" of that trip, which spanned 11,653 miles in 7 days from November 10-17, 2019.
Bielefeld, Germany, Thursday — On this morning, I apparently hit snooze on my 6 a.m. iPhone alarm. Thankfully, Claas' hotel-ordered wake-up (thank you Erin Atkins!) call a half-hour later gave me "just" enough time to shave and shower, throw in the last items into my bags and hustle right out in the rental car of Claas Marketing Coordinator John Schofield. No time for breakfast today. But I figured I could afford to go without based on my previous overindulgences. Plus, Schofield said something about a roundtable lunch at the Harsewinkel, Germany, headquarters.
The rest of the Claas North American group was taking a charter flight to Paris, where all of us would stay for the remainder of the trip. Schofield and I, meanwhile, were heading to the nearby village of Harsewinkel and would reconnect with the group later that evening. Our schedules were reconfigured to 1) accommodate the availability of Company Chair Cathrina Claas-Mühlhäuser earlier in the week and 2) attend functions that accompanied some special guests, with Claas executives and retired executives.
After visiting Agritechnica and some other operations in Europe, Nebraska Governor Pete Ricketts was visiting Claas headquarters for a day that included special presentations and videos, a detailed plant tour of the Harvester Works Assembly and roundtable luncheon. Afterward, the plan called for Schofield and I to drive to the Claas Parts Distribution Centre in Hamm, Germany (17 miles away). Following that tour, we'd drive 70 miles back to Dusseldorf airport to make a 7:10 p.m. flight to Paris.
It promised to be an eventful and productive day. But first, we had to exit the parking lot. We (Schofield actually; I had my nose buried in my iPhone -- sorry John) struggled with the automated parking lot kiosk again. Eventually, after multiple attempts, he pulled to the gate, pressed the button and had an entertaining exchange with the intercom operator, both attempting to speak in each other's broken language. At some point, we'd heard "OK -- will open." After a few more minutes, we recognized, through the rear-view mirror, that the gate was being raised electronically at the other end of the lot. By the time Schofield got the car into reverse and made it over to the other exit, the gate was closed, and he had to go through it all again. But that would not be the end of the stoogery for the day (stay tuned.)
Arriving at Harsewinkel
While August Claas founded the company in 1913 in Clarholz, Germany, he transferred the business to Harsewinkel in 1919 to focus on straw binders and reapers. Within 2 years, Claas unveiled an improved knotter design (the product is the size of a beer bottle opener and significantly enhanced baling with the poor-quality twine of the era). By 1929, Claas had produced 3,960 knotters and the success put the company on a path that soon included pickup balers, mower-thresher-binders and Europe's domestically produced combine in 1936. And of course, expansion into giant, fully integrated and self-propelled forage harvesters, combines and tractors that we know today.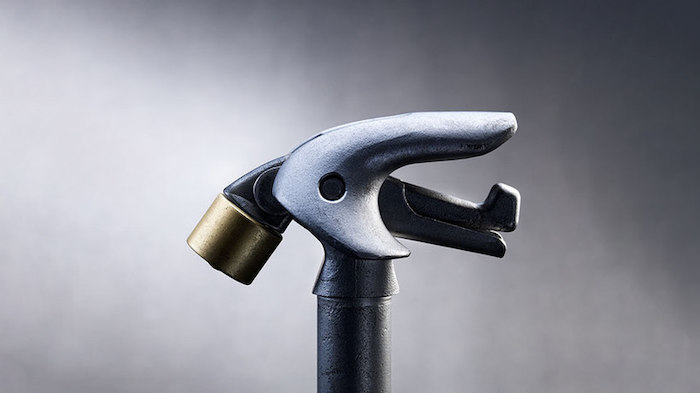 Claas' first big success was the improved knotter design. The size of a beer bottle opener, it significantly enhanced baling with the poor-quality twine of the era.
Harsewinkel is an unlikely berg for the world's fifth largest farm equipment manufacturer. Its population (on the River Ems) is a mere 24,000, and Claas is at the heart of it all. While the drive from Bielefeld to the Harsewinkel was quaint and relaxing, the rest of the day was one of sensory overload. The size of the campus is immense and home to a workforce of 1,800. The plant also produces forage harvesters and some of the tractor line.
Pictured below: The immense Claas headquarters and Harvesting Works in Harsewinkel, population 24,000.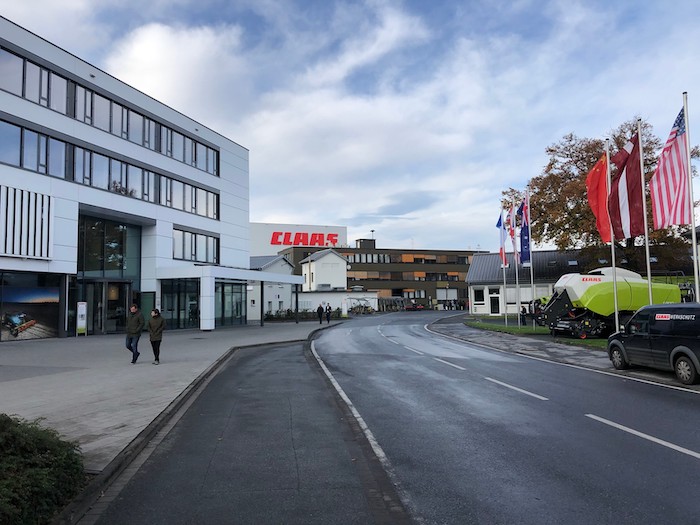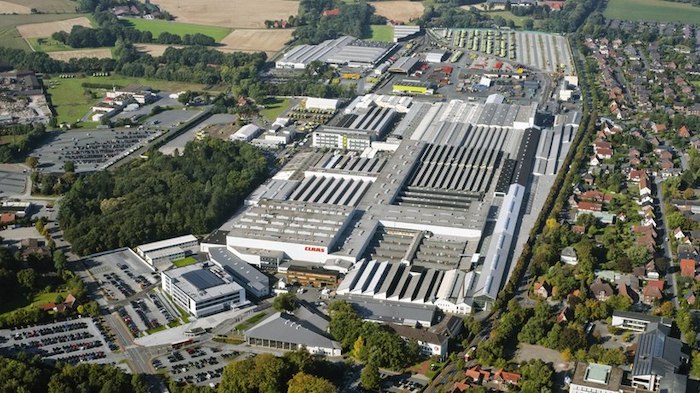 When we arrived, Gov. Ricketts and his delegation was starting to gather for photos with the 93-year-old Helmut Claas in the company's Technoparc, a 2,900-square yard customer center and expo that draws 30,000 visitors annually.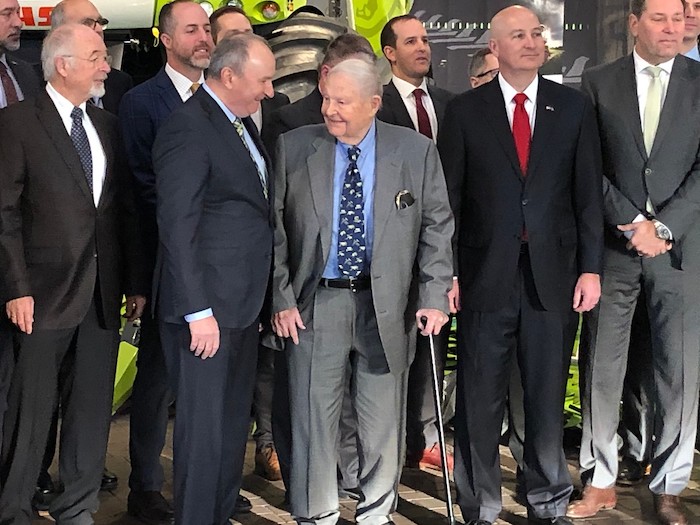 We arrived just as the Nebraska Governor Ricketts and his delegation was posing with second-generation ag entrepreneur Helmut Claas. From l is Theo Freye, retired CEO; Leif Magnusson, President of Claas Corporate Americas; Helmut Claas and Nebraska Governor Pete Ricketts.
Following the photos, we moved upstairs into the theatre for a special presentation to the Nebraska delegation by Jan-Hendrik Mohr, head of Claas' Grain Harvest Division. Mohr has held various R&D and manufacturing positions with Claas since joining the firm 1984, including manufacturing manager of the former Caterpillar Claas American joint venture in Omaha.
Mohr's presentation provided an overview of the 100% family-owned company, including the following:
35 locations in 19 countries
11,132 employees
$4.3 billion (U.S. dollars) in global sales in 2018, making it the fifth largest farm equipment manufacturer worldwide.
10% of the business is derived from North America ($400 million)
$250 million (U.S. dollars) of net income before taxes for the global Claas enterprise (a 41% increase over prior year).
Research & Development in 2018 was 7% of total sales.
Share of export sales (outside Germany) is 78.5%, with emphasis in the Northern Hemisphere, where 70% of the global grain commodities are produced.
North American history

Entered North America via a sale to a Swiss immigrant in Canada in 1952, who imported a "Super" combine
Became an OEM supplier to Ford in North America in 1960s through 1970s.
Constructed the Omaha Nebraska facility as part of the joint venture with Caterpillar to produce the Lexion combine and sold through Cat dealers and relocate the Columbus, Ind., headquarters (established 1979) to Omaha in 2003. Columbus would remain the North American parts distribution hub.
North America was joint venture, decided to make it 100% Claas owned in 2002.
Below are additional nuggets I filled my notebook with from Mohr's presentation:
Products & Product Enhancements. "One big step we took with tractors was acquiring the Renault Tractor business (2003). We've been in tractors for 15-16 years in Europe ... We're offering other products as you saw at Agritechnica, wheel loaders, in collaboration with Liebherr, and telehandlers. So, there is more portfolio around."
New Lexion Combine. "Not only did we put out new features on the 2019 combine, but the entire machine is new," Mohr says.  Earlier that same week, Claas-Mühlhäuser said the new combine was the firm's biggest engineering achievement of the last 25 years. ldquo;Manufacturing-wise, there is no time gap between the production and releases in the U.S. and Germany -- both are occurring at the same time. Omaha has value-added content of 40-50% That is a lot of local content and no more or less than here in Harsewinkel."
The Cornhusker State. For his Nebraskan guests, Mohr pointed out that combine's separation system is made in Nebraska, as well as the grain tanks and grain handling systems. "Quite an exercise to design an entirely new product starting in different parts of the world, but it shows how our teams work collaboratively. And use the same systems, methods and processes around the world."
Combine Color Change in the U.S. Pointing to a slide that showed the final yellow-branded combine in North America, Mohr took up the long-awaited change from Caterpillar colors carried over from the old joint venture. He says, "We took the decision to introduce tractors in North America and turn all the machines seed green -- it's all Claas, one brand. We think it'll gain franchise value at our dealers in North America."
Used Equipment, International Business "Our used machinery business is important. When we finance a machine, we know exactly when it's coming back; so, we can find the next customer 3 months ahead. We could move one from Germany, for example, into Romania," he says pointing on the advantages of organizing in this manner globally.  He also talked about 365FarmNet and then Data Connect, the just-announced partnership Claas created with John Deere and CNH. On the latter, "Exchanging data is important, so the customer, who might not have just one brand on his farm, can manage all kinds of brands."
Mohr also detailed the company's international investing activity, including the $180-million investment in Russia and its 500-emplye operation. And finally, of course, the $4.8 million training facility going into Nebraska in the summer of 2020.
Following Mohr and some brief remarks by Ricketts, the plant tour commenced. Overwhelming is the word that comes to mind.
Claas maintains that the operation is one of the most high-tech plants of combines and choppers in the world. (I was at John Deere's Harvester Works in East Moline last week and would have to say that Deere's would be hard to beat, but Claas also has far more varied product going through -- and with older buildings.)
The operation has nearly 500,000 square yards of floor space and the length of the main building is more than 7 football fields long. It has produced more than 400,000 combines since the first one came off the line 1936, and pump out as many as 40 combines daily in heavy demand times. Up to 300 different configurations of combines may be in production at any given time, and can be head to any one of 150 nations.
The tour, which must have been 2 hours or more, was a blur, with in-depth walkthroughs of welding, painting assembly lines and, finally, the technical training center. I wasn't permitted to take photos in the plant, but the tour served as background for several good conversations and observations, from Leif Magnusson, President, Claas Corporate Americas; Theo Freye, retired CEO of Claas and John Buse, Claas America Executive Vice President-Retail. And Ricketts, with his own 2-guard security detail, was a most interested participant in the tour.  Ricketts asked a lot of questions, and clearly knew his way around a modern manufacturing facility.
Technical Centre -- Next Stop ... Omaha
The next part of the tour was showcasing Harsewinkel's technical center. I had learned of the commitment being made by Claas in the next generation while at the German dealer association's stand and exhibition for students and teachers during Agritechnica the day before.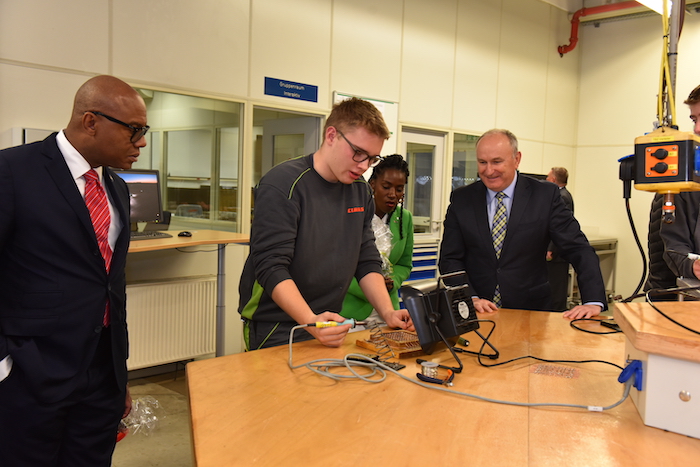 Leif Magnusson (r), President of Claas Corporate Americas observes an apprentice in the Harsewinkel training academy.
Alex Pompa, production trainer at CLAAS Omaha, who'd been stationed at Harsewinkel for weeks, took over the presentation of the training academy center, that will be duplicated in Omaha in 2020 with a 20,000 square foot facility and $4.8 million investment. In describing the current operation in Germany, Pompa cited 220 apprentices, 10 trainers, 8 vocational trainers and 7 for dual study commercial training. Claas has 745 apprentices worldwide with 280 who've completed the program to date. Claas has made a $17.8 million investment in training and education, he says.
"The German model, we believe, is the gold standard apprenticeship model and this is why we are looking to enable our global workforce through a strategic implementation of the dual study program to ensure we are ready for the future of agriculture and the future of manufacturing," Pompa says. "This is true at our locations around the world, including our Omaha location where it is understood that today's employees entering the manufacturing space rely on us as manufacturers to grow their skills and prepare them to be successful."
Apprenticeships are key to helping connect the next generation of Nebraskans to great opportunities," said Gov. Ricketts in his remarks.  "The German-style apprenticeship program launched by Claas takes apprenticeship programming in Nebraska to the next level.  We look forward to seeing this program flourish and hope to expand it in the coming years with additional companies."
He also cited how Claas is one the first two companies to launch Nebraska's first Industry Consortium for Advanced Technical Training (ICATT) Apprenticeship Program, designed for high-tech manufacturers and companies with complex technologies or logistics. The ICATT Apprenticeship Program is  embedded in the U.S. Department of Labor's Registered Apprenticeship system and is certified to the standards of the German Dual Education System.  ICATT was established by the German American Chamber of Commerce of the Midwest, Inc.
Governor Ricketts & Attracting Business for Nebraska
As the formal presentations concluded, I found myself talking with Ricketts. Ricketts, I've been told, has been talked about as capable of greater national roles in elected office or cabinet positions, particularly on trade. Last March, Corey Lewandowski, political and campaign consultant, said that Ricketts "could have any political future he desired." (Per Nebraska term limits, he will not be eligible for a third term, which will expire in 2022.)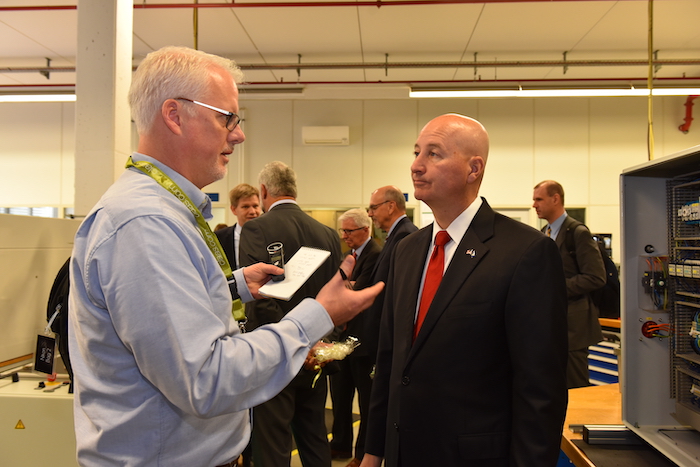 Governor Ricketts answers questions about the programs they've observed from European-based manufacturers, and the efforts being made to leverage that knowledge back in states.
On Claas' experience in Nebraska, he says: "What the Claas and Graepel relationships do is give use credibility to talk to other companies interested in relocating to the United States. For example, folks at Claas or Graepel sit down with other companies and can give personal testimony that we're easy to work with and will be successful."
In Nebraska, Ricketts says, "Ag is number one, and #2 is manufacturing, so the confluence of those two is really a sweet spot for us. We have second best regulatory environment. We're proceeding with our workforce-expanding registered apprenticeship training like you hear here today.  It's a state of Nebraska and U.S. Dept of Labor program that we've increased 44% since 2016. Now we have more than 4,700 participating in that program and then we just launched the ICATT program, that's the 3-year program that Claas and Graepel that those two companies are doing along with the German-American Chamber of Commerce. And now we're looking to expand that to other American companies in our state as well.
He reiterated how "where to find the workforce" is the greatest concerns of all employers. "We've got best people in the world, and we talk about how we're developing them. We look at other programs too, like developing new talent initiatives, which is a grant program that gets companies to work with schools in the 7th and 8th grade. So, it's starting with 12- and 13-year-olds; exposing them to careers available in manufacturing.  And then they can follow through with a career academy in high school, get the dual education community college and then they can take that on to ICATT, an apprenticeship program, maybe a certification program for welding or, maybe 2-year degree at community college. They can start earning that credit in high school and post-secondary education so they can take those great jobs we'll have available."
I reminded the governor that I'd been in the audience when he addressed the Farm Equipment Manufacturers Meeting in Omaha, in 2013 and noted that the industry appreciated his understanding of the workforce issues as it relates to agriculture and, particularly, dealers' service techs. "You're seeing more of that. If you look at a lot of my colleagues in other states, especially Midwestern states, you'll see similar types of programs. The governors are getting involved to make sure their people are prepared to take the jobs that they've got available, and to get that right trained skilled workforce for hire. It's a key competitive advantage."
Time was getting tight and I could see Schofield and the Claas staff tasked with "managing the clock" were trying to get moving again. So, I passed on my final line of questioning for the governor. If you weren't aware, Ricketts and his siblings are co-owners of the Chicago Cubs. I'm from Wisconsin, and a Brewer fan, so it took restraint not to ask for a quote about how things shook out in the NL Central last season...
Schofield suggested we skip the lunch and roundtable discussion and get right to the car to make our appointment at parts distribution center in Hamm. I agreed, while also dropping in there that my oversleeping and missing breakfast could become costly today (more to come).
Overseas Journal #6. Claas Parts Distribution (CPD) Parts Logistics Centre Parts Distribution Center (Hamm- Uentrop) and Flight to Paris to Reconnect with Group
Editor's Note: Farm Equipment Editor/Publisher Mike Lessiter was part of a 120-person tour arranged by German equipment manufacturer Claas to tour various European operations and visit the Agritechnica 2019 trade fair in Hanover, Germany. This is part of an ongoing "Journal Series" of that trip, which spanned 11,653 miles in 7 days from November 10-17, 2019.
Harsewinkel, Germany, Thursday (Part 2) ... As described in Journal # 5, oversleeping at my Bielefeld hotel room meant I had to skip the German-style breakfast as I checked out of the Hotel Legere. I hadn't worried much about it (I'd been "over-served" all week), especially since we were invited to a roundtable luncheon at Claas' headquarters in Harsewinkel following the tour of Nebraska Governor Pete Ricketts and his delegation.
But because the Harsewinkel events got off schedule (a great plant tour and an interested governor, as well as an informative discussion and observation of the German dual apprenticeship program that Claas is bringing into North America), we would to pass on the luncheon to make our appointment in Hamm (parts distribution and logistics center). Despite being behind schedule before we left the parking lot, I sheepishly told Claas Marketing Coordinator John Schofield that I wouldn't be able to function in the afternoon without taking on nourishment. (Hey, it's hard to maintain an extra 50 pounds without working at it.). He managed my expectations with talk of German gas station meals. No worries; I told him how we didn't allow newbies at Farm Equipment to be considered "legit" until they've eaten all their day's meals at Casey General Store gas stations.
We spotted the Golden Arches and Schofield's alert maneuvering made the turn on short notice. "You're about to have your worst meal of the trip, Mike," he said. But even with some language difficulties, we secured a Drive-Thru order for 4 cheeseburgers and 2 Cola Lights. The wait time spurred an intelligent conversation about our experiences in ISO 9000 quality systems from the 1990s and how and why a cheeseburger can taste the same in Germany as it does in the U.S. and everywhere else on the planet.
The rest of the day looked straightforward. Despite getting off-schedule in Harsewinkel and an impromptu McDonald's run, the schedule permitted ample time for a tour in Hamm, return to Dusseldorf to get the rental car gassed up and returned to the airport before our flight to Paris to rejoin the 120-person group. I even planned to buy Schofield an alt bier or two (which Dusseldorf is world-renowned for, which I'd experienced on two previous trips to the city) at the airport.
Schofield had arranged for the personal tour of the Claas Parts Distribution (CPD) in Hamm by Stefan Woerdehoff, head of parts marketing. We checked in at the security gate and were directed to a staging building (what looked to be a former trailer that was now a series of conference rooms) to await pickup. We'd been there for 20 minutes when we heard a knock on the door and there stood a group of service managers from Omaha, which drew a chuckle both out of Schofield and his Nebraska colleagues. Schofield says it happens all the time. That is, when visiting one of European facilities, you can run into someone he'd been sharing a coffee with back at Omaha just days earlier.
We eventually discovered the reason for our wait. Our delay in arrival had thrown off the front security guard, who assumed we were part of a larger group tour and with another tour guide named Stefan. After a few minutes and a call, Woerdehoff collected Schofield and I we started walking the giant operation.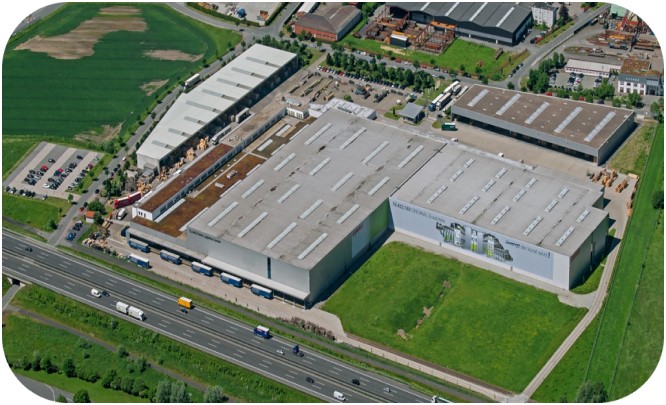 Eyes Opened at Hamm
I'll admit by the time we arrived in Hamm, I'd guessed that meaningful part of the day (Harsewinkel headquarters presentation/plant tour and interview with Gov. Ricketts) was already in the books. I had been to parts logistics centers before (most recently at MacDon's 110,000 square-foot Parts Distribution Centre, which opened near its Winnipeg factory in 2015). Of course, I understand how important it is for a dealer to understand how they and their customers will be supported. Parts center tours are fascinating in the same way I imagine touring Amazon would be -- applications of high logistical technology and efficiency abound, but hardly recognizable as a farm equipment facility.
But Woerdehoff's tour provide a new appreciation for what it takes to supply 150 countries with 3 million order items, including more than 16,000 items picked per day during peak times. If you have a chance to get a Hamm facility tour led by Woerdehoff, take it. He possessed an encyclopedic type knowledge of the facility, which was built in 1999 when parts were moved out of Harsewinkel and into the better located Hamm area on the Autobahn, and where parts could be swiftly transported by road, rail or air.
Here are some additional facts and figures about the facility, which hold 195,000 different parts numbers in stock:
Real estate: 1,539,239 square feet; 1,087,154 square feet in use; 452,084 square feet available for expansion.
Total building surface area: 538,195 square feet
Warehouse building: 296,007 square feet
Extensions: 139,930 square feet (2009); 53,819 square feet (2012); 53,819 square feet (2020).
Extension 2020: 53,819 square feet
Support facilities: A 39,8264 square foot warehouse for slow-moving parts next door and 269,097 square foot replenishment warehouse 18 miles away in Enningerloh, Germany.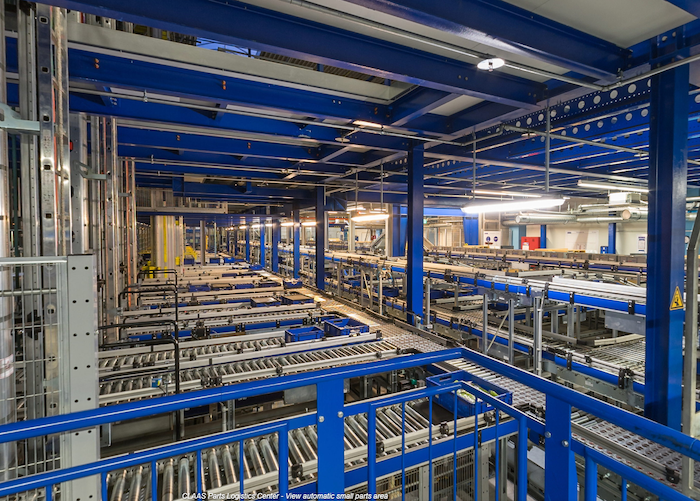 At the time of its opening, Claas' needed parts inventories were in the 60,000 range. In 20 years, the company's parts volumes have more than tripled, with only 2 years in the last 20 that hadn't set prior year records. In total, 98% of Claas' global parts needs pass through Hamm.
The Hamm facility is a joint venture with Stute Logistics GmbH (Kühne & Nagel-Gruppe), logistics company. Claas' competency and expertise are innovation and machine manufacturing, says Woerdehoff, not in warehousing as to the reason for the joint venture. He added that the partnership allowed world-class warehousing and logistics, 365 days a year and around the clock. The facility and the entire quality control concept rely on an intelligent network that records each item as it arrives at the facility as a goods receipt and recognizes it at every location in the facility.
The facility is a challenge to describe in a blog, with robots, pallets and intricate paths of rollers to move parts around a carefully design industrial warehouse flow. It reminds me of co-mailing operation seen at Quad/Graphics, which prints our magazines. Once in the co-mailing and palletization facility, they can sort and package numerous unrelated magazines and other mail pieces per the individual address-by-address route for delivery.
Woerdehoff describes the concept as a "chaotic storage" system (incoming products placed randomly in available shelving), as opposed to "fixed storage" that may sort by common or related locations. The systems retrieve the parts but also manages inventories and turns and placements. Thus, it can place incoming high turn parts in the most convenient and accessible locations depending on the need and time of year.
He also pointed out that high-use parts have two sets of storage for parts, just in case a robot is ever blocked from accessing one of the locations.
The automated small components center can process up to 78 job orders simultaneously, with a speed of 3.3 m/sec.45 packing lanes and another 15 packing benches are combined with a semi-automatic packing lane. The nearly 200,000 in parts are organized via 58,000 meters of pallet racking to. Priority express orders can be dispatched within 30 minutes, and specialty orders, including parts for the oldest still in use machines (Columbus, Matador, SF and Europa combines from the l950s and 1960s) can also be found in the facility.
The three of us stopped to watch boxing process at a workstation, in which several boxes were being presented to a worker by rollers from different directions TV screens provided a visual indicator of which part would go into the box and how it was to be oriented. Boxes are weighed as they escalated down through the facility, providing another important quality control check to ensuring that orders filled properly.
Claas' has big plans for its spare parts and logistics. Part numbers have been growing at high rates with dynamic growth rates annually of 6% per year and up 101% from 2015-2029. Claas' believes there's even greater room for improvement as external storage space is reduced, a long-term reorganization of the facility is commenced, and processes can be optimized in the warehouse. That outlook is evident in the $25 million (U.S. dollars) investment the company is making in a new high rack warehouse.
Click Here for a Virtual Tour 360-degree tour of the Parts Logistics Center in Hamm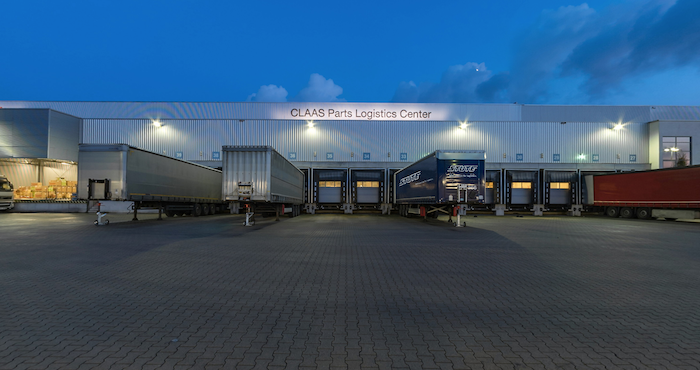 Paris Or Bust!
Ever mindful of the clock, Woerdehoff wrapped up 60-minute tour and suggested we get onto the road right away to avoid stressing ourselves out in rush hour traffic. It would be about a 90-minute drive, and we left believing we'd have ample time to settle in before our 7:11 p.m. flight to the Paris Charles de Gaulle Airport.
I had barely noticed a couple turnarounds on the expressway as we were approaching Dusseldorf. Again, I'd fallen into trying to get my social media working on the iPhone (I know, a cardinal sin of a "shotgun-rider" when in a foreign land). It was only after a couple of re-routes (and when we got stuck in commercial area nearby the airport) that Schofield showed any sign of angst about making our flight.
It was not until we pulled into the parking lot that either of us believed we'd make our scheduled flight. NOTE: The vehicle was returned without the fill-up, though definitely the right decision given what we'd faced in the 30 minutes leading up to drop off. (To any Claas accounting people reading this, that one is "on me" for abandoning my post as navigator).
Thankfully, the rental car return was located at the terminal. We quickly hopped out of the car and repacked and consolidated our bags. We gave it a full 60 seconds wait for an agency employee to appear and check us out before high stepping it to the elevator (bit of a wait), exiting the structure and walked outside to get to the main terminal. The check-in at the Eurowings counter was quick, although both of us had to pull items from our luggage after exceeding the weight limits (I'd picked up some weight in materials at Agritechnica). I didn't see Schofield's solution, but my reduction mainly came by pulling a stack of Farm Equipment magazines, hoping to gain a moment at the gate to back in tuck them into my briefcase after I could transfer some other items into the my camera bag.
After going through a boarding pass scan, we climbed aboard a series of escalators and then stairs up to security. Virtually no line there (good news).
As a counter alongside of the security area, I set my Farm Equipment issues and the glossy covers caused them to scatter on the stainless-steel counter. (Dr. Jim Weber's angry face staring back at me.)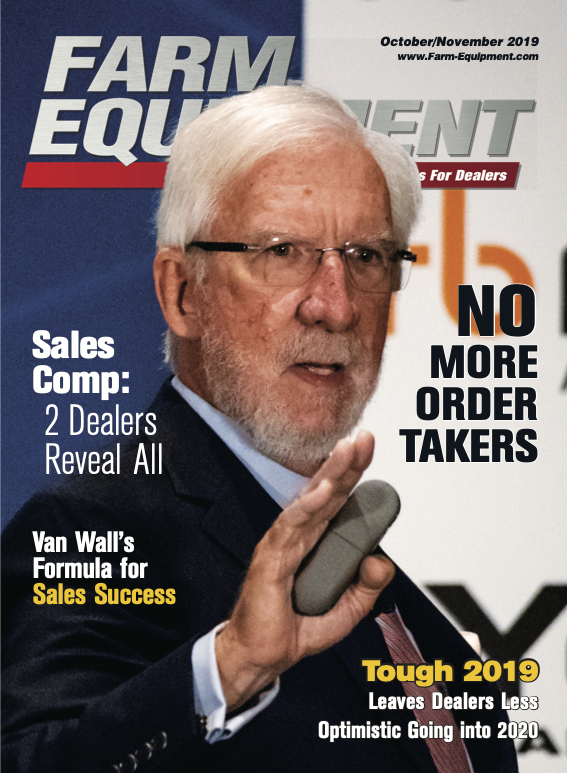 Farm Equipment Magazines Left at Security Station. No International Incidents That We're Aware of ...
About to go through the normal security routine, there was no iPhone. Searched the pockets, sport coat breast coat pocket, winter coat--zilch. I emptied out the briefcase. I asked Schofield to call my phone. Nothing. Panic set in.
By that point in the week, I had already taken 230-plus photos and videos and had also been entering observations into the "Notes" function, including planning for interviews that were still to come.
"Oh @#$@%. John, I've lost my phone. John, I've gotta go back and TRY to find it, you go ahead, and I'll figure out how to find you later in Paris."
Schofield had a solemn look in his face but was as calm as could be. "No, we're staying together," and he too, just one step from having gone through security, picked up his things and motioned toward the stairs. Naturally, this part of the airport was not to designed for opposite-flowing traffic.
With as much speed as the old knees could muster, I got to the check-in counter to see if I'd left the phone when dealing with the weight limits on the bag. Nope. I gave Schofield another chance to bail out on his knuckleheaded guest. But again, he insisted we stick together, even if meant missing the flight. One more place to look -- the rental car -- and we took off in a sprint, with few words spoken.
Schofield remained collected. I was at a "seeing red" stage and in fact was sprinting into the wrong building when he called it out to me. The elevator cooperated this and we ran toward we'd dropped the car. As we turned the corner, my heart sank as I'd seen a rental agency employee driving off with a just-returned car. I didn't even remember make/model of the rental, only that it was a black. Racing toward a stretch of black cars, I noticed a McDonald's logo in the cupholder. Scanning the seat from the window, I didn't see what I was hoping to find, but then noticed something atop the car on the passenger side -- a reporter's notebook and iPhone. Hadn't realized the notebook was missing, but yelled out "John, it's here!" and we about-faced and sprinted back toward the airport.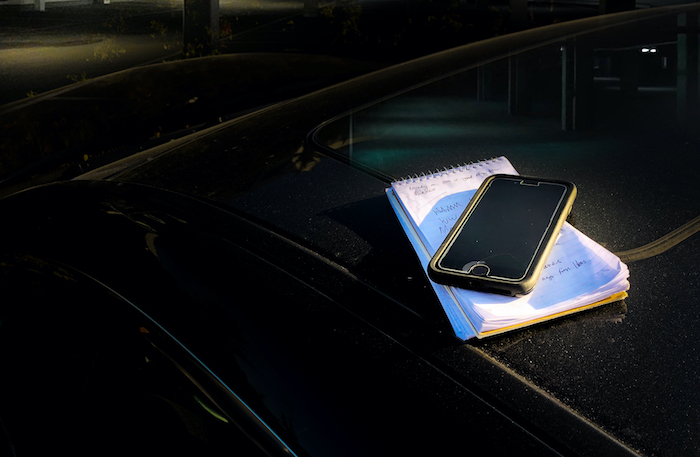 A Scene Recreation: Week's Work Saved!
I didn't think we'd have any chance of making the flight, but I was so relieved not to have lost nearly a full week of work I didn't care. But we were going to try.
We "talked our way" past the initial security check (or the woman remembered the two hurried Americans), and we sprinted up the escalator to find that the Security line had tripled since our time there 15 minutes earlier. The Farm Equipment magazines still sitting near Security a high-profile position. Schofield asked if I was going to pick them up and I shook my head, pointing out to Schofield that this special edition of Farm Equipment now included airport distribution. Incidentally, Dr. Jim's face and the headline "No More Order Takers!" hadn't yet spurred a lot of to pickups yet.
There's more (or maybe that was too much already) to be shared of the Lessiter-Schofield show, but the last amusing piece of came after we were required to remove our outer layers of clothing off for security. Our light blue dress shirts were, let's say, a lot "darker" than just 15 minutes earlier. While in line, I'd watched a security official checking 100% of the passengers with a hand pat-down of the shoulders, back and wrists. When he turned and saw Schofield, he simply gestured him on through, untouched.
And we made the flight with time to spare, even to buy a couple of Cokes and a banana before boarding, and trading of travel stories. This experience went into the top 3 most stressful flying experiences ever (and the second involving an Agritechnica trip), though Schofield bested my scariest story bested (his emergency landing involved a fuel dump).
The flight to Paris was on time and we hailed an Uber to the Le Meridien Etoile in downtown Paris. Claas Marketing Head Daryl Theis met us to hand over the key cards he'd picked up for us, and we learned the Class group was still hanging around the restaurant after their dinner. Schofield and I got a chance to sample an impressive buffet of French cuisine and a timely and most appreciated bottle of wine.
It was then that the experience started becoming amusing to us and the most important, to Schofield's colleagues. They especially enjoyed his descriptions of the "two fat red-faced Americans running scared through the airport soaked with sweat."
Hamm Feeds Columbus, Indiana
Claas' Parts Distribution Center in Hamm, Germany, feeds the Columbus, Indiana, Parts Center. Air is an area that has steadily emerged. "Customs are handled on flight and because of us being ahead of the U.S., we can fly into the time zone," says, Stefan Woerdehoff, head of parts marketing.
Originally serving as headquarters for Claas of America, the location (visible from I-65) now serves as the company's North American distribution Center. A 2015 expansion project increased the footprint of the U.S. parts distribution center by 75% to 175,000 square feet and added 18 shipping and receiving docks. The Columbus operation is located close to the U.S. distribution hubs for FedEx, UPS and DHL to maximize their logistical efficiency.
Overseas Journal #7. Bus Trip from Paris to Le Mans, France, for Tractor Factory Presentations & Plant Tours
Editor's Note: Farm Equipment Editor/Publisher Mike Lessiter was part of a 120-person tour arranged by German equipment manufacturer Claas to tour various European operations and visit the Agritechnica 2019 trade fair in Hanover, Germany. This is part of an ongoing "Journal Series" of that trip, which spanned 11,653 miles in 7 days from November 10-17, 2019.
Paris, France. Friday ... I awoke early at the Meridien Etoile and was downstairs for breakfast. After sitting with a Canadian farmer I'd met moments earlier in the breakfast line, our group was on the buses early headed toward Le Mans, for a full day at the Tractor factory. If Le Mans sounds familiar to you, it's likely because of the "24 Hours of Le Mans" endurance race, which was the climatic auto race in Ford v. Ferrari film released this fall. As we'd learn in the opening comments of Claas factory presentations, Le Mans racers cover 3,300 miles in 24 hours (or the distance from New York to Denver and back). Claas cleverly worked in words about the city that produced both the "endurance race" and the "endurance tractor."
Aware that we would have a 2.5-hour bus ride, I had arranged -- weeks earlier -- for a "Conversations in Ag" dealer-to-dealer interview on the outgoing bus ride. But with the late night before, I'd thought better of that schedule. I received no dissenting votes from my subjects when I texted them the change of plans, "Let's do this on the bus ride back."
The bus ride to Le Mans was quiet, and as anticipated, most of the group was using it to catch up on some shut eye. I was pleased when we hit a rest stop (I learned Starbucks is indeed a global company, even in the French countryside) and I was able to pick up additional chargers (what worked in Germany, I learned, did not in France) at the convenience store.
We made what seemed to be good time to Le Mans. The facility produces Claas' Axos, Arion and Axion tractors, covering 72 to 410 hp. The operation is currently building 35 tractors per day but is built for future growth capacities of 47 per day. The Le Mans factory sits on 51 acres, of which 33% is under roof.
We received a detailed tour of the facility, but no cameras were allowed. But I wouldn't be able to do justice to describing the process flow of the giant operation (which I surmise would hit any industrial engineer's list of "state of the art") in a blog format like this.
The size and scope were something to marvel at, as was the automated guided vehicles, endless examples of lean/flexible manufacturing, ergonomics (and worker-friendly aerial assembly), visual instructions via screens and spacious, well-lit facilities. The single-flow assembly line advances every 12.5 minutes, requiring efficiency and accuracy in all cogs in the machine.
So, the best description of the operation I can deliver are the words of Alister Lamb, who is responsible for the Worldwide Sales and Marketing activities at Claas Tractor and the OEM business segment. Presenting to the North Americans was a homecoming speech of sorts for Lamb, who served Claas of America in a variety of roles from 2005 through 2012.
Renault-Claas History
"In 1918, during the first World War, a lot of horses went to battle, so the farmers had a shortage of pulling power," says Lamb. "So, what did they do? From the tank factory that was owned by Renault in Paris, they decided to adapt tanks to agriculture production after the war. So, Renault's first track machines for farming came out of the factory after the war in 1918."
In 1938, Renault decided to build gas-fired tractors in 1938, though the factory was bombed out in 1944 (which Lamb noted was a good thing as Le Mans was in occupied territory). The facility was entirely rebuilt after the war.
The showroom in Le Mans includes a nod to the past with the display of the Renault D22, which was produced from 1956-1960.
In terms of the connection to the U.S., Lamb notes Renault's tractor technology originated in the U.S. with Allis Chalmers, followed by the OEM relationships with John Deere and later a joint venture with AGCO (including GIMA in 1994, which remains today). In 2003, Claas, who had aims of becoming more of a full-line supplier, purchased 51% of Renault Agriculture, increased it to 80% in 2005 and took over complete control in 2008.
After the summary of other nearby facilities and, particularly, the Trange testing center (see "Trange: Putting Tractors Through the Test" sidebar), Lamb provided some high-point context on the tractor assembly factory, including many changes in recent years.
Since the Acquisition
At the time of Claas' acquisition in Le Mans, 75% of the tractors were sold in France. That, and a whole lot of other things, would change almost immediately. Among the first changes, Lamb says, was the installation of the semi knockdown workshop in 2003 to advance exporting. Today, under Claas' ownership, 75% of the Le Mans tractors are shipped overseas.
"We had 2019 in mind as far back as 2008," Lamb says of the complex re-orientation of production that would take time to make possible. "In 2008, we installed our new factory assembly line. That was $5 million euros but at the time and we already had the layout planned then for what you see today. The paint shop was completed in 2010 in a separate, modern, state-of-the-art building. In 2012, we did the test and validation center in two phases, including a $3.5 million euros of investment in that facility.
The drive-line test benches were installed at the Trange facility (see "Trange: Putting Tractors Through the Test") in 2014 and 2015, which represented a $6.5 million euro investment.
Lamb notes that Claas has grown from 40 to 110 models of tractors, for both high regulated emission countries, such as North America and Europe, as well as the non-regulated countries in Africa and Asia that don't require stringent emission norms.
Lamb notes that while the firm's core market is Western Europe, a significant presence is also seen in Russia. Claas' facility in Krasnodar (southern Russia) produces combines as well as semi knockdown products that are shipped from Le Mans and finished in Russia.
"The North American market is main priority for the group, which is under development," he says. "We also have projects in China and other countries around the world."
Lamb shared the following figures about the Le Mans operation in 2019:
Tractor Sales: 10,000 annually, 75% shipped overseas
Employment: 1,000 in Claas Tractor, 650 in Le Mans. 54 apprentices
Plant Investment: $50 million in last 15 years
R&D Investment: averaging 8-10% of total sales since 2003
Tractor Assembly
Lamb noted that the wide choices of tractors Claas offers requires a lot of flexibility in production. For instance, the medium tractors alone have 2,409 parts to assemble. The working time varies as well, from 1,304 minutes to produce a small tractor to 1,914 on the medium to 2,420 minutes on the large tractors.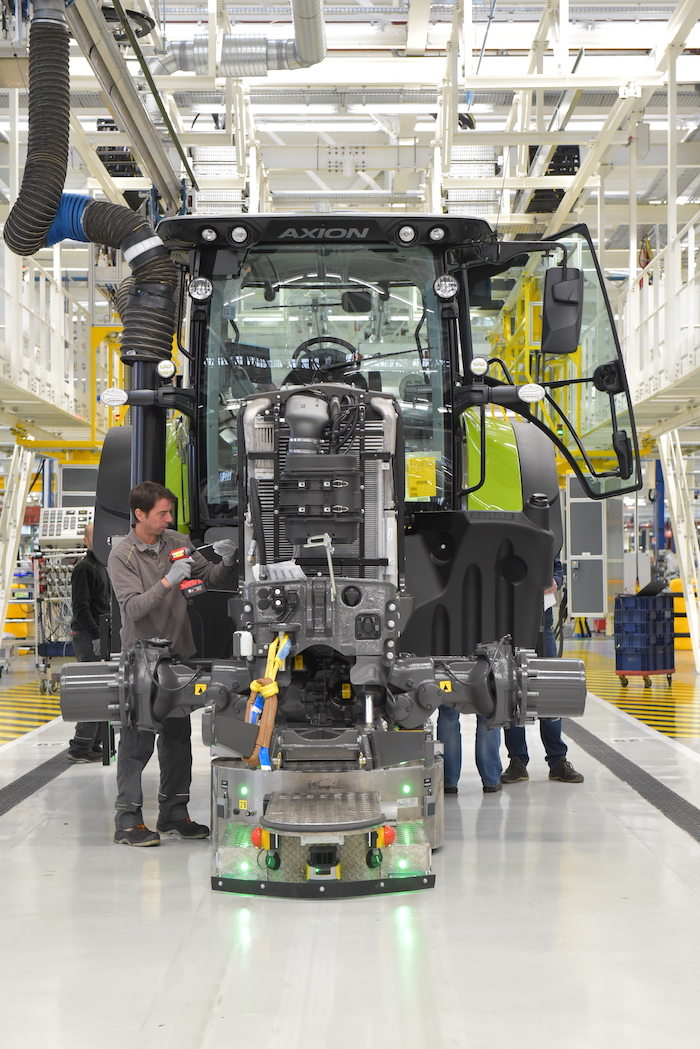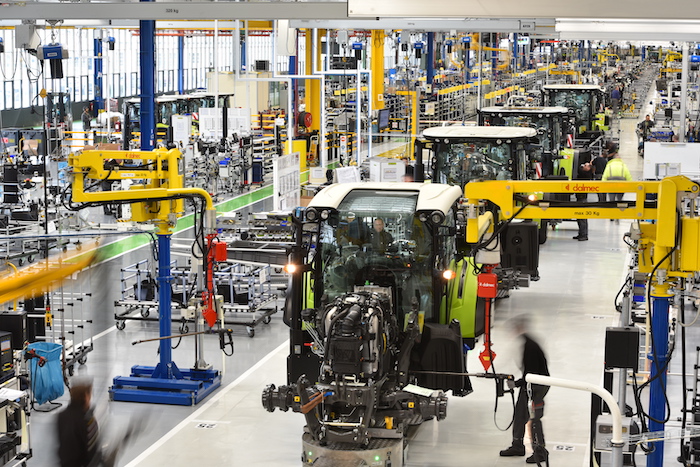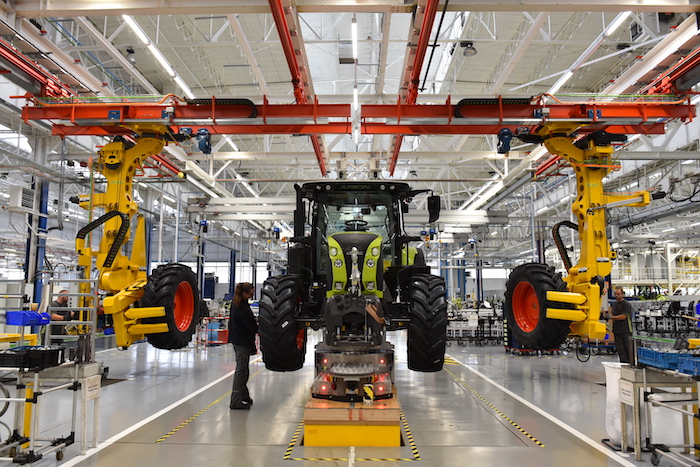 "No one tractor is alike on the line," says Lamb. "We don't produce batches; we produce a completely different array of tractors all the time. So, it's a very complex way of calculating which tractors to produce, so that we get the maximum productivity out of the factory.
"The facilities we have now make it a lot easier. We have a customized production system for the millions of different paths and options a customer can choose from."
Modernization: Equipped for the Future
Lamb talked a great deal about the Claas Forth Project, a $13 million-euro modernization initiative. Drivers of this initiative, he says, are quality, operational performance, service and the ability to be attractive and competitive as employer. This includes ergonomics and the brightness of the factory.
"The workers have everything tailored for them now. Before, they had to go and choose different parts. Now the parts are prepared for them. Excellent use of ergonomics eliminates the need to bend down or be in awkward positions to assemble the tractors."
He also alerted the group that they won't see a chain on the production floor anymore. "Before, we had a chain that pulled the tractor along. Now we have automated vehicles. We have digital assistants. Parts picking is done via lighting systems that indicate which part, how many and record the counts. So, employees don't have to think and possibly make errors in choosing the parts.
 "Everything is accentuated on 'right the first time,'' says Lamb. "Every time you touch your tractor after it's been produced, there's a chance of something happening. So, there's lots of quality gates built in."
Lamb notes that the AGVs and RFID technology allows much greater flexibility, autonomy and productivity. "It also means that in the future, if we want to change the production line, it will be easy to do so because we don't have to dig up a chain. It gives complete flexibility to the factory, and to the factory of the future."
For instance, prior to the recent modernization, the assembly of the cabs was inefficient because of the distances they were being moved around the factory. They now come on AGVs and it's a straight line all the way to assembly.
One of the things I noticed was the two-way transportation on the rare occasion I did see a forklift. Work was engineered so that if a lift was dropping something off at one location, it was returning with dunnage or some other part 100% of the time. Not once did I see an empty fork.
The plant also employs state-of-the-art instructions in real time, says Lamb. He showed examples of screens that show the operators what they must do for the specific vehicle that they are to assemble.
Lamb points out that in addition to the factory updates, Claas also updated its complete R&D IT system. "We can do a lot of validation digitally before we actually assemble the tractor. We can see much better whether all the parts fit when we're designing the parts, which shortens design time and speeds up quality.
"We're equipped for the future," says Lamb. "Modern tooling, guiding activities and excellent training."
Back to Paris
Following a presentation by Drew Fletcher, Product Manager-Tractors, we boarded the bus about 4 p.m.. This bus ride was my last chance to do the final "Conversations in Ag" dealer-to-dealer interview of the trip. To my surprise, it required a last-second switch when Jason Connelly (Butler Machinery) and I realized that Ty Rankin (Lonestar Ag) and his wife, Courtney, were on a different bus. Jason and I ran out and jumped aboard the other bus virtually as the vehicle started to move. (Jason's wife, Kelli, got a break from her husband for the first leg of the trip... they'd be reunited at the driver-mandated rest stop).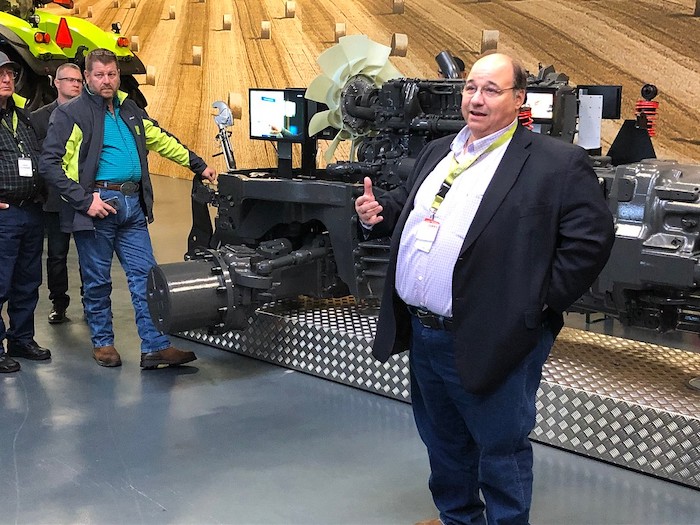 Tractor Product Manager Drew Fletcher provides high-level view of the tractor features and selling points most applicable to the North American market.
Thanks to the willingness of one of the New Mexico custom cutters to switch seats, I was able to position Rankin and Connelly in the row behind the bus bathroom stairwell, which allowed me to stand during the recorded interview. Thankfully the driver didn't notice or didn't care, and equally important, no one needed to use the "water closet" during the first 90 minutes of the trip. You can read a portion of the "Conversation article" here, as it relates to their dealerships' experience as early importers of European technology.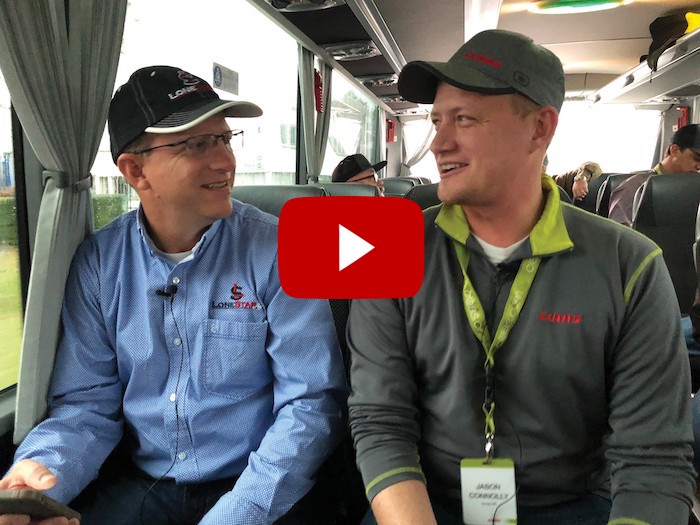 Ty Rankin, Lonestar Ag (l) with Jason Connelly, Butler Machinery, "conversation" interview on bus ride from Le Mans to Paris.
Traffic was terrible getting back into Paris and would rival anything I've seen in Chicago, Atlanta or LA. We arrived so late that some of the group's plans that night for tourist stops (Eiffel Tour, Moulin Rouge) needed to be altered.
Not sure if it was due to the rainy weather or just plain Paris rush-hour, but I was glad not to be the one driving that bus, particularly when we entered the city and were dealing with, let's say "French" drivers and motorcyclists.
But hours on a bus in bumper to bumper traffic is good for the networking. I passed the time with the recently engaged Lauren Riensche and Luke Gosse from Iowa. We talked about the Riensche farm operation in Iowa, her career that had taken her from Milwaukee's Bader Rutter agency to Boston (Indigo Ag), and to Gosse entering his future father-in-law's farming operation. And, of course, college athletics -- with both Gosse and I telling each other more than either needed to know about the Univ. of Wisconsin and Iowa State Univ. Gosse was as happy as anyone I've ever seen to get off a bus and into the fresh air (his fiancé and I joked that he could have been mistaken for George Constanza in that moment).
For dinner that night, I tagged along with Claas' Marketing Team of Daryl Theis, Alan Osterhaus and John Schofield. We walked just a couple of blocks from the hotel, where we recapped the day with a bottle of wine and French-style pizza. We also planned our day for the following morning.
Our day would include a date with Mona Lisa at The Louvre, a steak and wine lunch at a French bistro and another stop for a rooftop view of the city and what was left of Notre Dame Cathedral. Protestors thwarted our plans to go up into the Arc de Triomphe (closed) so we walked the Champs-Elysées where Schofield and Osterhaus did some souvenir hunting. We returned to the hotel with plenty of time to pack our bags before the trip's final event, a dinner cruise on the Seine River with an up-close night-time view of the Eiffel Tower.
Trange: Putting Tractors Through the Tests
In his address to the group, Alister Lamb, Sales, Marketing & OEM Director, Claas Tractor SAS, also covered the nearby facilities that supported the Le Mans facility -- including Velizy, Trange and GIMA (joint venture with AGCO) operations.
The Claas Tractor R&D facility is in Velizy (southwest of Paris), where design, concept and building of prototypes occurs, he says. Once the prototypes are made, they go to the Trange (near Le Mans) tractor testing and trial center for validation. "Claas invested $10 million euros in an ultra-modern, 15 hectares test center and a 3-kilometer test track. A team of 50 tests the prototypes under extreme condition," he says.
Lamb is part of the team responsible for coordinating the endurance trials and performance tests. For the tests, the tractors are fitted with dozens of sensors. The data collected, he says, is used to optimize tractor comfort, performance and handling.
"These are some of the most modern, high-performance facilities in Europe," he says. "On the first test rig, we assess and measure tractor performance. The wheels and PTO are separately connected to generators with an output of 500 kilowatts each. Each testing station can simulate extreme load peaks, including situations in which the engine output is delivered via a single wheel for a short period.
"This automated facility can simulate 50 operating hours under real field conditions within 1 hour. Engine, transmission and PTO management can also be optimized by repeating the operating cycles. The structure of the tractors is tested on the 4-section test rig. With a lifting capacity of 25 tons each and a stroke of 40 centimeters per hydraulic cylinder, this rig is capable of testing even the heaviest of Claas machines."
The hydraulic cylinder movements simulate tractor movements recorded under normal operating conditions in the field, Lamb explains. "These sequences reflect operating situations in many different parts of the world, enabling us to simulate operating conditions in Russia, the U.S. and Africa."
But because test rig trials cannot completely replace field trials and customer opinions, Claas has 100 partner farms to tested products in over 50,000-hour operating settings under real world conditions.
For example, a tractor's ability to withstand extremely low temperatures can be tested in Sweden, while Africa can test for extreme heat and dust. German farms are used to fine-tune the continuously variable transmissions. "Our visits also help us to enter into dialogue with farmers who report their impressions. This information is extremely useful for optimization of the product," Lamb says.
---
For More Information ... Other Recent Claas North American content from the editors of Farm Equipment