Last week, both publicly traded Canadian farm equipment dealership groups issued their second quarter 2017 earnings reports. Both Cervus Equipment and Rocky Mountain dealerships posted solid revenue gains for the 3 month period ended June 30, 2017.
Cervus Reports Record 2Q17 Revenues
Cervus Equipment Corp., John Deere's largest Canadian dealer of farm machinery announced its financial results for the second quarter 2017, which ended June 30, 2017. 
"Cervus reported record second quarter revenue on strong equipment sales along with accelerated parts and service activity across all divisions, resulting in a $57.4 million, or 26%, increase in sales," said Graham Drake, president and CEO of the dealership group. Our ongoing focus on service optimization increased overall service gross profit margin by 1.8% compared to the second quarter of 2016."
Cervus revenue increased $62.6 million, 21%, in the quarter compared to the same period of 2016. Income for the quarter increased $5.9 million, or 237%, to $8.4 million, compared to $2.5 million in the second quarter of last year.
The agriculture segment achieved record second quarter equipment sales of $200 million. According to the company, service department process improvement initiatives contributed to an increase in overall service gross profit margin of 1.8% quarter over quarter.
Income before tax for the 3 month period increased $7.9 million while EBITDA increased $6.5 million compared to the second quarter of 2016. Agriculture income before tax increased $4.4 million for the quarter, while EBITDA increased $3.5 million. A 25% increase in revenue generated a 23% increase in gross profit dollars, partially offset by a 13% increase in SG&A primarily related to increased commissions on record second quarter sales.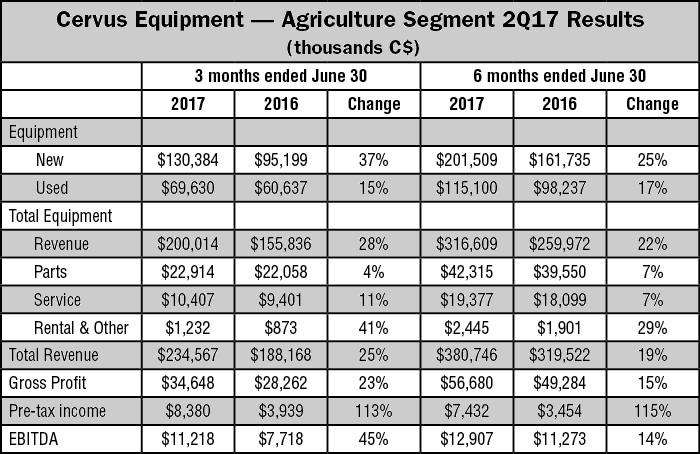 Rocky Mountain Posts 2% Sales Gain in 2Q17
Rocky Mountain Dealerships, the largest Canadian Case IH dealer group, reported its second quarter 2017 total sales increased $4.6 million, or 2%, to $237.2 million compared with the same period in 2016 due to a $4.5 million increase in equipment sales.
Gross profit for the 3 months ended June 30 increased by $1.5 million, or 4.3%, to $35.6 million compared with the same period in 2016. According to Rocky, as a percentage of sales, gross margin for the quarter experienced a modest year-over-year increase of 0.3% to 15% as a result of strong product support margins.
On a year-to-date basis the dealership group recognized a $0.7 million decrease in manufacturer incentives which it says is reflective of a change in the incentive programs from the company's primary manufacturer and is expected to increase reported cost of sales during 2017 as compared to last year. On an annualized basis, gross margin is expected to be more reflective of the margin for the 6 months ended June 30, 2017.
For the first 6 months of the year, Rocky's sales were $447.1 million, an increase of $25 million, or 5.9%, vs. the first half of 2016.
The company reported, "The year-to-date growth in new equipment sales is largely the result of 2016 sales activity carried forward to the first quarter of 2017. Excluding this activity, new equipment sales are relatively flat for the first half 2017 as compared to the same period a year ago. Our equipment sales growth during both the 3 and 6 months ended June 30, 2017 was driven by incremental used equipment sales activity."