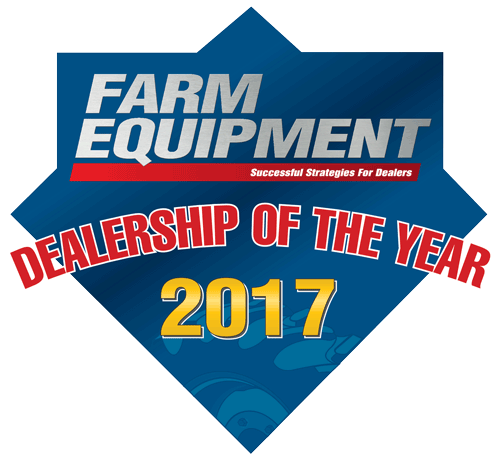 Now in its fourth year, the downturn in the ag economy has presented farm equipment dealers with numerous challenges. But, the best of the best have risen to the occasion and found ways to face those challenges head on.
After comparing all of the nominees, the judges made their decision and the 2017 Farm Equipment Dealerships of the Year are: Valley Truck & Tractor, a 9-store group based in Yuba City, Calif., in the over $75 million in revenues category; and Ellens Equipment, a single store in McBain, Mich., in the under $75 million revenues category.
The winners were chosen from a pool of 75 North American dealers. Nominations were submitted by dealers, employees, customers, Dealership of the Year alumni and equipment suppliers. In addition, the judges also named 21st Century Equipment of Scottsbluff, Neb., a "Best-in-Class" dealer for 2017.
By the Numbers
Combined, these four dealers accounted for $424,155,212 in total revenue in 2016. Revenues per employee for the group came in just over $765,620 for the group. Together, they also produced an average parts and service absorption rate of 86.63% for the year. The return on assets for these top dealers averaged 8.97%.
As for the 2017 Dealerships of the Year, Valley Truck & Tractor produced a ROA of 12.4% and an absorption rate of 105.9%, both the highest of all nominated dealers. Ellens Equipment had an ROA of 7.5%, the second highest of all the nominees, and an absorption rate of 66%.
The Tradition Continues
Dealership of the Year Judging Panel
The challenging task of choosing Farm Equipment's annual Dealerships of the Year falls on three highly experienced and qualified individuals who comprise the Dealership of the Year independent judging panel. Not only do these experts take on the responsibility of choosing the top dealers each year, but they also advise and give guidance to Farm Equipment's editors on criteria for the program.
Farm Equipment's Dealership of the Year program was established in 2005 "to elevate farm equipment dealerships that are leading in best practices, operations management and customer care."
Since that time, 26 dealerships from the U.S. and Canada have been honored as the Dealerships of the Year. They are joined by 38 dealers who have been recognized as Best-in-Class dealerships. Together, these dealerships make up Farm Equipment's Dealership of the Year alumni group and are instrumental in nominating their fellow dealers for recognition.
Words from Past Winners
"First, let me say that the experience of being Dealership of the Year has been very positive and rewarding. It challenged us, humbled us and gave us new determination to get even better. It also had a significant impact on how people viewed us through the hiring and recruiting process. It gave folks outside our industry a much better understanding of what we really do, including our financial partners. And finally it allowed us to share many ideas with our other dealer contacts as they reached out and asked questions relative to reading the article and viewing the videos. Bottom line, this was a big deal for the Van Wall Team!"
— Don Van Houweling, owner/CEO, Van Wall Equipment, Perry, Iowa (2016 Dealership of the Year)
READ ABOUT VALLEY TRUCK & TRACTOR 
DEALERSHIP OF THE YEAR ALUMNI GROUP
Nominate a dealer for The 2018 Dealership of the Year
July/August 2017 Issue Contents