If your strategy for selling parts is relying on walk-in traffic or the service department, you're missing out on opportunities. "Dealers who are relying on walk-in traffic are the dealers who are complaining about their parts business. The dealers who are taking the sales to the field, who are being very proactive with their customers — those dealers are seeing good parts activity," says Craig Harthoorn, president and CEO of H&S Manufacturing. "The dealers that complain to me about how their parts business has dropped off are the dealers that just rely on walk-in traffic."
Harthoorn, who also spent part of his career with aftermarket parts supplier Herschel, adds the dealers who are doing the best with their parts sales are those who put an emphasis on total customer support and have a grasp on absorption rate.
"They are doing just fine in this down market. They understand there are opportunities out there and are actively promoting [their parts business] with the customers," he says.
Working with manufacturers and taking advantage of special parts programs is one opportunity for dealers to make their parts business more profitable.
Seasonal Programs
Manufacturers and aftermarket parts suppliers alike have programs set up to help dealers prepare for the upcoming season's parts rush. Jamie Meier, Landoll Corp. sales manager, says they design parts programs to encourage dealers to stock parts ahead of the season of use.
"We have two different preseason ordering programs — fall and spring — where dealers can really take advantage of good discounts," he says. Landoll's discount structure is based on the size of the order. In addition, some of the higher levels include freight incentives (free or half off). To help dealers save on freight costs, Landoll will also ship larger orders with a wholegoods unit. "Even if it's an in-season peak time and we don't have a preseason program going on, they could certainly tell us to ship it with their wholegoods items if they have something coming. That would save freight … and is an opportunity for them to improve their margin," Meier explains.
---
We do our best to offer these programs when our customers need them most — right before season of use…"
— Luke Gazaway, SMA
---
Aftermarket parts supplier SMA also offers seasonal parts programs for dealers, says Luke Gazaway, national sales manager. In the spring, the program focuses around planter parts and spring tillage. In July, they'll switch gears and will feature specials for harvest related parts.
"We like for our preseason programs to provide value to our customers. We generally provide tiered volume discounts so our customers receive the best price in the market and can make their purchasing decisions early.
"Along with tiered discounts, we offer competitive pricing and extended dating on preseason orders. The extended dating program of up to 90 days is one we encourage dealers to take advantage of. It allows our customer to have inventory on the shelf for their customer when they walk in the door."
The dating programs are designed to help balance dealers' cashflow. For example, at the beginning of March, SMA started a hay program. "It's focused around all the hay specific items — so baler parts, disc mower parts, bale spears, etc. We do a net 90-day term, meaning we carry the invoice for 90 days on orders placed within a certain timeframe," Gazaway says. "We do our best to offer these programs when our customers need them most — right before season of use"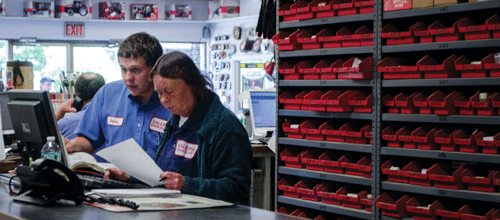 Some manufacturers, such as Landoll, encourage dealers to take parts with wholegoods items in order to save on freight. "It's an opportunity for them to improve their margins," says Jamie Meier, sales manager for Landoll.
Meier says Landoll has similar dating programs. Typically, payment is due in 30 days, but with some higher order levels that can be pushed out to 90 or even 120 days. "That helps so they don't have to outlay the cash upfront. Instead they can sell the parts along the way and spread the payments out as well," he says.
No-Risk Stocking
One option some aftermarket manufacturers offer is a no-risk stocking program. Under a program like this, a dealer places an order for X amount, and if there's a particular item that does not sell, it can be returned without any restocking fee as long as the dealer replaces it with something of equal or higher value, explains Harthoorn.
Working Together
At the end of the day, Meier says, it's best for the dealer and manufacturer alike when a producer walks into the dealership and wants a part that the dealership has it on hand. "We want to put that dealer in position to take care of the producer. There are a lot of dealerships today who battle with managing inventory levels and maybe at times too tight. That's always a constant battle of too much inventory vs. not enough," he says.
"We want to give them incentives to order early and have parts on their shelves. It's a win-win for the dealer and customer to have the parts on hand, the producer will be happy and the dealer will make a better margin. We're happy to do our part with extra incentives. "
Meier says they get a decent amount of participation with their early order programs from dealers, but it's not as high as it should be. "We need to do a better job of staying in contact with the dealer parts managers throughout the sales process. It's important that our territory managers make time to discuss the program and then follow up to get the order. Everybody is busy, so it's easy to miss the opportunities if we don't manage the process effectively.
Gazaway agrees he'd like to see dealers take better advantage of some of their programs, but he recognizes that managing inventory can be a constant struggle.
"Dealers always have to juggle how much cash they tie up in inventory vs. what they need available on the shelf to sell today. We'd love for them to take advantage of all our seasonal programs, to have product available the day the customer walks in the front of their store.
---
"Dealers who are taking the sales to the field, who are being very proactive with their customers with tele-sales activities and so on, those dealers are seeing good parts activity…"
— Craig Harthoorn, H&S Manufacturing
---
"At the same time it comes back to our warehouse; our warehouse is their warehouse, so certainly shipment timing and availability is important to us."
Making parts more profitable is a 2-way street, says Meier, the dealer and manufacturer both need to do their part. "One of the things I'd recommend is that dealer parts managers get to know the territory managers for the companies they represent. The relationship will help improve communication of programs and changing parts demands.
"Taking advantage of discounts, free freight and extended terms is an easy thing to see on the bottom line, but having what the customer needs will keep them coming back," Meier says.
In addition to taking advantage of the programs available from the manufacturers to help improve parts profitably, Harthoorn reiterates dealers need to be proactive about their parts business. Relying on walk-in traffic isn't going to grow your parts business, he says.
"The dealers who are taking the parts sales to the field, who are being very proactive with their customers with tele-sales activities and so on, those dealers are seeing good parts activity," he says. "Again, the dealers whose parts business has dropped off are the ones who rely on walk-in traffic."
The changing conditions in the ag economy have meant dealers needed to change their approach to the business. "Proactive dealers are doing the forecasting and are the ones coming up with new strategies. They're the ones who realized the market is changing and they will change with the market," Harthoorn says.
Unfortunately, he adds, there are too few of those dealers.
The dealers and manufacturers need to work together, but "There's only so much a manufacturer can do," Harthoorn says. "If the dealer doesn't have the attitude of, 'We're going to make sure we have the parts, that we stay in contact with our customers, and that the customers want to come to us, they may simply lose out."
Additional Coverage