Day 3: Technology Rules the Day 
While it didn't take up my full day, I spent a lot of my day in Hall 8, which laregely focused on precision ag. Trimble had Billberry on display at its booth for the first time since acquiring the  French technology company that specializes in selective spraying systems for sustainable farming, Dave Britton, vice president of product management for Trimble Ag, says the company will be focusing on the North American and Latin American markets for the technology. He also said that when it comes to its cloud, Trimble is focused on improving data management while also making sure the cloud and field experiences are more integrated. 
As is the case with a number of companies I met with, Britton says that while talking to customers the team is focused on the entire production cycle and covering the full portfolio. 
Over at the AEF booth, Andrew Olive, AEF chairman, about the organizations new AgIN initiative. 
AgIN will enable peer-to-peer cloud connections, creating  an industry-wide data-sharing solution for those who agree to interoperability. AgIN is a network and not a new platform. AEF members may join the AgIN network with their existing cloud platforms and access each other's services, ensuring data flows securely through the entire network.
Each participant will continue to host its own platform and service and will gain access to connect with other AgIN participants. AgIN joins the European dataspace initiatives [DSI] to collaborate with other DSIs.
AEF member companies have committed to the AgIN initiative, including: Actia Italia, the Association of Equipment Manufacturers (AEM), AGCO, AgGateway, Argo Tractors, Amazone, Bosch Rexroth, CLAAS, CNHi, dev4Agriculture, Dinamica Generale, DKE-Data, Horsch, John Deere, Krone, Kubota / Kverneland, Kuhn, SDF, NEXT Farming, OSB connagtiv, Pöttinger, Rauch, Trimble, VDMA Agricultural Machinery, Walvoil and xFarm.
He says AEF is applying what it learned from its work on ISOBUS to making it easier for farmers to access all their data from various sources in one place. He expects the prototype to be up and running by this time next year. 
Of course, there were more robots to see today as well.  This one is from Agrointelli from Denmark.
The Robotti uses dual RTK-GPS positioning systems that give it +/- 2 cm accuracy. It has a standard 3-pt hitch, making it universally compatible and easy to customize to standard implements. Distribution is already set up in Canada and sales manager Jess Pedersen says there are plans for the U.S, possibly in the next 2-3 years.
KUHN also gets in on the autonomous robot scene with its Karl prototype. Kuhn's vision is that the implement drives the power unit. According to Kuhn, the Karl is a "one size fits all" model, and larger operations can use multiple units working together in one field. Each vehicle can be managed simultaenously by one centralized supervising system. 
---
Day 2: All About the Dealers
Day 2 at Agritechnica stated off all about the dealer! While walking around the New Holland booth to check out the new Gold Innovation Award winning CR11 combine, a group wearing Rocky Mountain Equipment jackets caught my eye. It wasn't long before I found Jim Wood, RME chief sales and operations office. Wood and RME arranged to bring over 80 customers to visit the show and also go to the New Holland combine plant.
While looking at the new combine, a couple Canadian no-tillers who were checking it out noted it could help reduce labor needs because they could get by with fewer combines with the CR11's higher productivity. The new combine has close to zero grain loss, higher throughputs and more automation that cuts down in the total cost of harvesting. 
Some specs: 775 ho C16 engin, 2x24 inch rotors, 567-bushel grain tank and a 6 bushel per second unload rate.
While walking through the Deere booth I also into Josh Waggener, CEO of Hutosn Inc. the 2023 Dealership of the Year. Hutson also brought a large group of customers over. Something unique that I've seen Deere do at international shows before, and they are doing again at Agritechnica this year, is having dedicated spaces for its dealers, connecting customers directly the dealer in their area. 
I also made a stop in Hall 2 which featured shop equipment and aftermarket parts, along with the International Dealer and Service Center. Something especially neat that caught my eye was the "Workshop Live" event that features daily demonstrations of machinery repairs.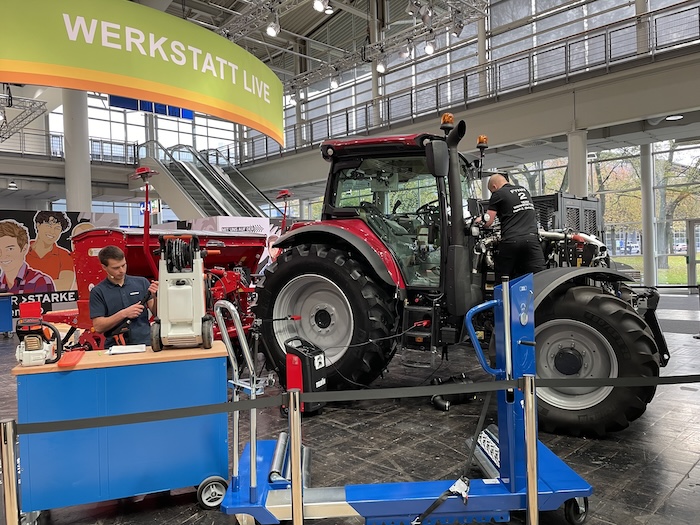 The International Dealer and Service Center at Agritechnica featured daily demonstrations of equipment repairs. 
More Partnerships
Today I also checked out AgXeed, an autonomy and agbot manufacturer. The company has teamed up with Amazone and Claas to create autonomous solutions for implements. "If you want to get into autonomy, you have to work together and build an open system," says Leonie Geurts with AgXeed. She stressed the importance of having an open system in the work the companies did. 
---
Day 1: Manufacturers Partner on Solutions 
Hallo aus Deutschland! The little bit of high school German I retained is only slightly helpful, but as far as Agritechnica goes, that is no problem. Because of Covid, it's been 4 years since the biennial show takes place.
Having come to the show before, I knew I need to head in with a plan to be efficient with my time. For those who haven't been to Agritechnica, there are 27 halls. It's not for the faint of heart and you'd better have comfortable shoes on! My step count for the day: 31,913. 
One common theme in my visits today was partnerships among specialty equipment brands. First among them is a partnership between Great Plains Manufacturing and Montag Manufacturing. A project that was borne out of a meeting at a past Farm Progress Show, Tom Bryan, president of Great Plains International, says the two companies realized they could work together with some of their technologies. He says that while liquid fertilizer is dominant in the U.S., about 80% of fertilizer around the world is dry. By working with Montag, now Great Plains can offer a dry fertilizer solution behind a Great Plains planter. He explains the background and features in the video below. 
Another interesting partnership I came across is an autonomy project between Krone and Lemken. 
The 'Combined Powers' concept vehicle, which was developed by Krone and Lemken, is an autonomous drive unit that acts as a smart system that can plow, cultivate, sow, mow, turn and swath. Charlotte Peters, Lemken product manager, says they approached the project thinking about what the implements needs were vs. the engine's needs. The autonomous unit was developed to optimize the implement's process. No word yet on when the technology will be available, but field testing is underway, Peters says. Combined Powers received a Silver Inmovation Award.
Eva Schroeer-Merker, product manager with Krone, runs through the features of the new technology in the video below. 

This is just a small look at what I saw at the show today, but it's time for this editor to get some shut eye.