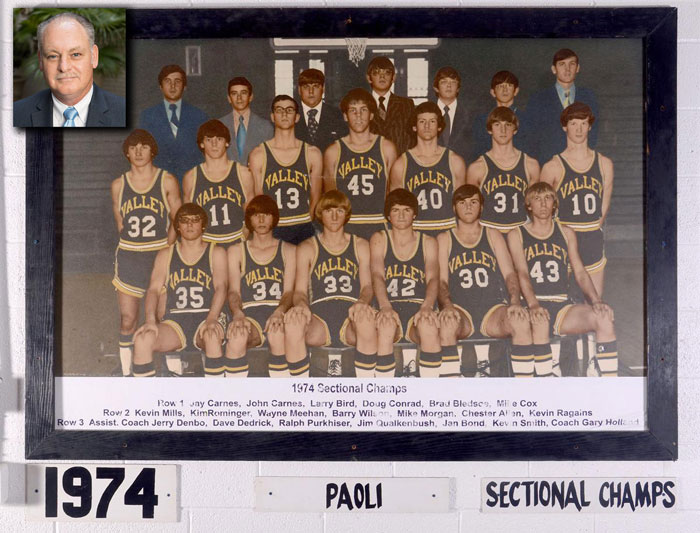 French Lick Springs Valley High School, 1974 Sectional Champs ... While Larry Bird (#33 in front row) would rise to fame and fortune in the NBA, point guard Kim Rominger (#11 in second row) would instead hang up his Converse high-tops in favor of an equipment dealer association career.
Last Friday's "On the Record" broadcast from Ag Equipment Intelligence (AEI) featured an interview with Kim Rominger, president/CEO of the "new" North American Dealers Assn. (NAEDA) formed on July 1. A view of Rominger's office recalled a late-night conversation Rominger shared with me 15 years or so ago (and perhaps now wishes he hadn't).
But before I go there, here are a few words about Rominger. He was the second dealer association exec I picked up the phone with in 2004, on the recommendation of the first, David Kahler of then Ohio-Michigan Dealers Assn.(OMEDA). 
My first official Farm Equipment trip after we acquired 3 Farm Equipment publications in 2004 included a stop to see OMEDA's Kahler and Bill Garling in Columbus, Ohio. Just 1 week into our ownership of the title (and another 3 weeks to the first issue deadline), Kahler and Garling were exceptionally helpful in understanding what made this audience tick. As a result of that meeting, two of the dealer profiles in our premier issue hailed from Ohio, whom I visited that same week.
Kahler told me that we'd find Rominger just as helpful, even though, as I would learn, some dealer associations would view us competitively. I got it; I'd spent 12 years with a trade association in Chicago. Plus, back then, NAEDA published Equipment Dealer and surely saw us as competing for the same advertising dollars that funded their programs, salaries and overhead.
Kahler proved right about Rominger, who at the time was directing the dealer associations in Indiana and Kentucky (Mid-America Equipment Dealers Assn, or MAERA). Rominger was willing to help us at Farm Equipment and Ag Industry Watch (as AEI was then known), if doing so helped the larger dealer industry, too. I sensed no turf protection with him, and our staff was welcomed from the very first encounter in 2004 and with every magazine edition and conference since. Rominger, I believe, had the vision to see that a strong independent media could help the entire industry, and he gave us the chance to prove our mettle rather than dismiss us as the next "new kid on the block."
Entry into Ag Equipment Industry ... Since 1981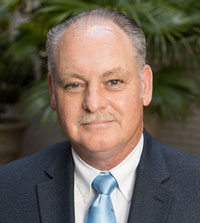 Kim Rominger
The son of a rural mail carrier and part-time farmer, Kim Rominger grew up on a 300-acre farm of which about 10% was tillable acres and was used corn, soybeans and the occasional hay. Rominger also found gainful summer employment on his uncle's farm, cleaning barns, milking and putting up hay for him and others in the area.
"When I graduated college, I was hired by Federated Insurance. I went through their training program and then became a marketing representative in 1981. In 1983 they moved me to the association side of the business, and I called on associations -- setting up and managing association programs for Michigan and Ohio."
Rominger eventually left the insurance business about the time Indiana Implement Dealers Assn. was looking for a field representative in 1983. "The farm equipment associations I had worked with were full of great members and I really liked how honest and accepting they were. It was a great fit for me."
Rominger worked for Dave Lucy until he retired in 2000 and then was named Executive Vice President of Mid-America Equipment Retailers Association (Indiana and Kentucky).
That's not to say there was never a bumping of the heads. A few direct conversations came after Rominger took the top Equipment Dealers Assn. (EDA) post and after we'd launched the annual Dealership Minds Summits to fill a void in bringing dealers of all brands and sizes together in a unique format. Agreeing to disagree was OK with Rominger, and even that could be quickly set aside. He was always professional yet could "scrap," as I'd put it now. And you'll soon learn where that trait may have originated.
Initial Claim to Fame
So back to the trivia. To close his annual February conferences in Louisville (always the night before the National Farm Machinery Show), Rominger would host everyone in the presidential suite at the Crowne Plaza where he'd serve as bartender. (I can't recall how well he mixed a Brandy Old Fashioned or a Pink Lady, but he deliberately volunteered for that post because it ensures he "personally speaks with every attendee at the meeting." Did I mention he was smart, too?)
Well, I must have spent a lot of time at the "bar" that night, because Rominger and I dove into a discussion about our pasts, and that's when I learned of his high school basketball career back in French Lick, Ind. If you know the "Legend of French Lick," you've likely already guessed the trivia item. 
Rominger was a 3-year varsity player at French Lick's Springs Valley High School in 1972-75. And while he was starting point guard and co-captain and led his squad in steals and assists as a senior, his basketball career is better remembered for being a teammate of Larry Bird. Bird graduated in 1974; Rominger in 1975.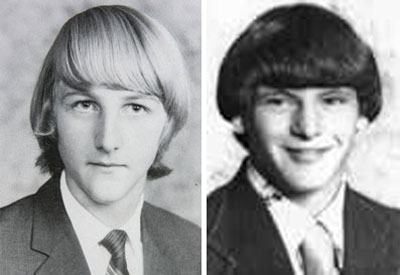 Larry Joe Bird, Class of 1974 ... Kim Rominger, Class of 1975
"Larry was good during his entire high school career but simply outstanding his senior year," Rominger says. "In addition to a Sectional Championship, Larry had back-to-back 55-point games in one weekend. During a regular season game with perennial powerhouse Loogootee (click to see the video clip), the gym was packed and people climbed up railings outside to watch the game through the windows."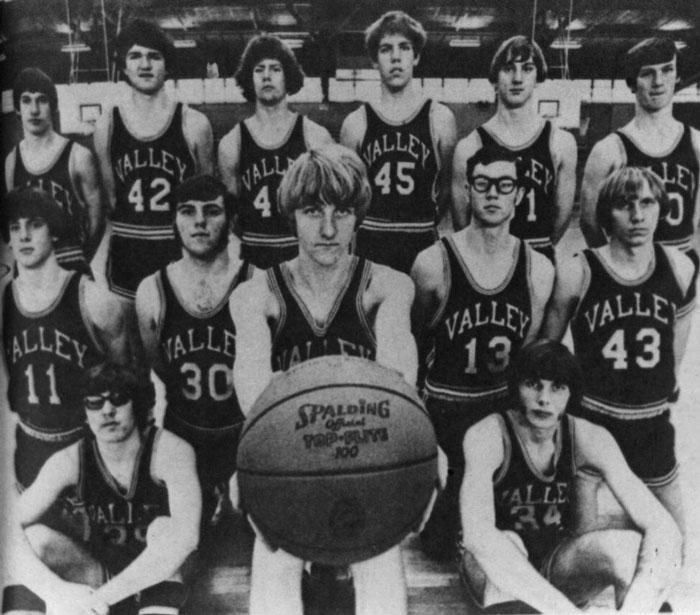 Springs Valley senior forward Larry Bird with junior point guard Kim Rominger (#11) at far left.
Bird led the team in almost every category, including scoring, rebounds and assists. "We made it to the final game of the regional in Washington, Ind., but were defeated in the last seconds by Bedford-North Lawrence. Remember, Indiana was single-class basketball then. Springs Valley was one of the smallest schools in the state and we nearly always played larger schools."
Rominger recalls a lot of bloody noses in practice. "You had to be alert when Larry had the ball. He was an outstanding passer his entire career and when you were playing with him, you always had to be alert – regardless of where you were on the floor."
Bird had a hard upbringing and lost his newly-divorced dad to suicide during his final high school season. His full-ride scholarship to play for Bobby Knight at Indiana University abruptly ended after just one month in Bloomington. For a while, Bird considered work in construction, but after a community college stint, he landed at Indiana State University (ISU) in Terre Haute the same year that Rominger and several other teammates arrived as freshmen.
"Due to leaving Indiana University, Larry had to sit out one year once he went to ISU," recalled Rominger. "We had another schoolmate, Danny King, who played with Larry for his first 2 years there and I believe he was one of the reasons Larry was comfortable at ISU. We had a number of schoolmates in Terre Haute as well. During high school we were all close being from a town where everybody knew everyone. Larry had a tough upbringing and we all wanted to see him do well."
The "Hick from French Lick" accomplished the remarkable at every level. He single-handedly took tiny ISU to the NCAA championship game in 1979 (famous Bird vs. Magic) before heading to the NBA (12-time all-star, 3-time MVP, 3-time world champion), Olympics (Gold Medal) and then to the front office. He's the only person ever to be bestowed with NBA Rookie of the Year, MVP, Finals MPV, All-Star MVP and Executive of the Year.
Scrappiness
Rominger admits that his on-court skills were mainly about defense (he led the team in steals). But according to last week's On The Record video clip, you can expect the new NAEDA to take an offensive position when needed to champion and protect dealers' interests. And because more consolidation of the association business appears likely, it will take leadership to continue to move in that direction.
I've mentioned to Rominger that high school sports are serious business and a great apprenticeship to career success. I've never officially polled our industry's leaders on their athletic careers but have no doubt that many of industry leaders experienced the same set of experiences Rominger and I've discussed — things like work ethic; diligence/perseverance from setbacks, injuries and losses; self-awareness of strengths/weaknesses; strategic analysis and decision-making; teamwork and loyalty; and playing by the rules.
Dealer Association Consolidation & Mergers
Nothing New for Rominger
Kim Rominger has seen his share of changes in dealer, and dealer association, consolidation. Here's a timeline of what he he's been working on in the association world, starting in 1983, the same year when his former teammate, Larry Bird, would begin his run of 3 straight league MVPs.
1983 – Rominger Joins Indiana Implement Dealers Assn., under chief executive David Lucy.
1992 – The Indiana Implement Dealers Assn. (IIDA) merges with the Kentucky Farm & Power Equipment Dealers Assn. (KFPEDA) to form the Mid-America Equipment Retailers Assn. (MAERA). 
2000 – Rominger succeeds Lucy as Executive Vice President/CEO of MAERA.
2007 – Rominger engages with Ohio-Michigan Equipment Retailers Assn. (OMEDA) to form the Association Management Group LLC (AMGLLC) a jointly owned management company. The staffs of both MAERA and OMEDA and are combined to manage both associations with separate boards as well as separate conventions and meetings.
2016 – MAERA and OMEDA merge to form the United Equipment Dealers Assn. (UEDA). AMG also manages the Kentucky-Indiana Automotive Wholesalers Assn. and Ohio Equipment Distributors Assn. separately using UEDA staff.
2017 – The recently rebranded Equipment Dealers Assn. (EDA), previously known as NAEDA, names Rominger as its new President/CEO.
2022 – UEDA members voted to merge with Equipment Dealers Assn., along with the Western Equipment Dealers Association WEDA and Midwest-SouthEastern Equipment Dealers Assn. (MSEDA) to form NAEDA. Rominger is named President/CEO of the new association.
In total, Rominger has been involved in three dealer association mergers – to date.
Yes, there's a lot of "glory-daying" for those of my age group, but these experiences were also instrumental in forming a lot of great leaders along the way.
P.S.  It's a column for another day, but sometime I'll share the hot water I got myself in with Titan Machinery's David Meyer and his prep basketball-playing career. After a day of pheasant hunting at Meyer's lodge in North Dakota, Arnold Machinery's John Arnold told me how he squared off against the younger Meyer during their high school days in Minnesota. I followed Arnold's disclosure by stirring the pot with Meyer. Now Dave's as nice and a level-headed as an any executive comes, but he'll sharply rebuff any criticism of his post play – even if was almost 50 years later.