In 2009, Doug Griffin, vice president marketing – North America at AGCO, referred to Fendt as a "niche brand in North America," essentially grouping it in with Valtra in terms of its North American presence, which wasn't much. Fast forward to 2020, and then-chairman, president and CEO at AGCO, Martin Richenhagen is pointing out that AGCO invested around $1 billion in Fendt facilities and products during his 16-year tenure, including a new 30,000-unit capacity tractor factory in 2012.
"With production approaching 20,000 units this year and the expectation of the figure being well above that in 2021, there is space to grow without a lot of further investment," he pointed out.
Fendt's official arrival here in the states was the result of many years of planning and investing from AGCO. From AGCO's $300 million German facility investment in 2012 to its doubling of its North American Fendt dealerships between 2018 and 2019, there have been little to no signs of AGCO slowing down in pushing Fendt to North American growers. 
AGCO has even moved Challenger to a "retail-only" model, meaning, eventually, AGCO dealers won't have Challenger-branded equipment on their lots, with all sales coming directly from the factory. And with Challenger out of the way, the runway is even more suited for Fendt to take off in the U.S.
With all these steps taken, it should come as no surprise that there are some in the industry now considering Fendt a formidable player in the market. 
In fact, John Deere itself has shown signs of feeling threatened by Fendt's progress and has reportedly been giving dealers "bounties" to disrupt Fendt's progress.
According to a May 28, 2021, report from Ag Equipment Intelligence, over roughly the last 6 months, John Deere has been giving some Deere dealers "unpublished financial incentives" to acquire Fendt tractors specifically on trade-in. The source, an industry expert who agreed to speak under condition of anonymity, stated they had been told by several Deere dealers in the Corn Belt that the funds were being delivered in order to make up the difference on trade-ins for Fendt tractors, sometimes up to $25,000.
John Deere Marketing Manager Kevin Juhl gave the following statement to AEI in response:
"Manufacturer-to-dealer incentives are common in many industries, including agriculture. At times, John Deere pays dealers incentives based on the dealer's sale of new equipment. John Deere dealers are independent businesses, and these incentives are paid directly to them. Dealers price their own used equipment as dictated by market pricing without John Deere's involvement."
This anonymous industry source, however, seemed to think the bounties were a direct result of the growing threat Fendt poses to Deere in the North America market. AEI's anonymous source said:
"The new Fendt tractor has shown sufficient market uptake, and customer interest has gotten under John Deere's skin enough that they have been providing these incentives to dealers in order to thwart Fendt's sales progress."
Through calling around to a few dealers, it quickly became clear to me that, while unpublished incentives are hardly new, Deere honing in on the Fendt brand was itself unique, where most manufacturers will simply give incentives based on taking any rival brand on trade, not one brand in particular. Most dealers I spoke with, however, were not surprised at Deere's usage of these bounties against Fendt, with one dealer even stating that, in years past, Deere had done the same with Kubota in his area, based on Kubota's relative success in that region.
Fendt has even seen success in the resale market relative to Deere, according to commentary from Iron Comps Marketing Director Andy Campbell, who analyzed auction data to find Fendt has had success when compared to Deere's prices.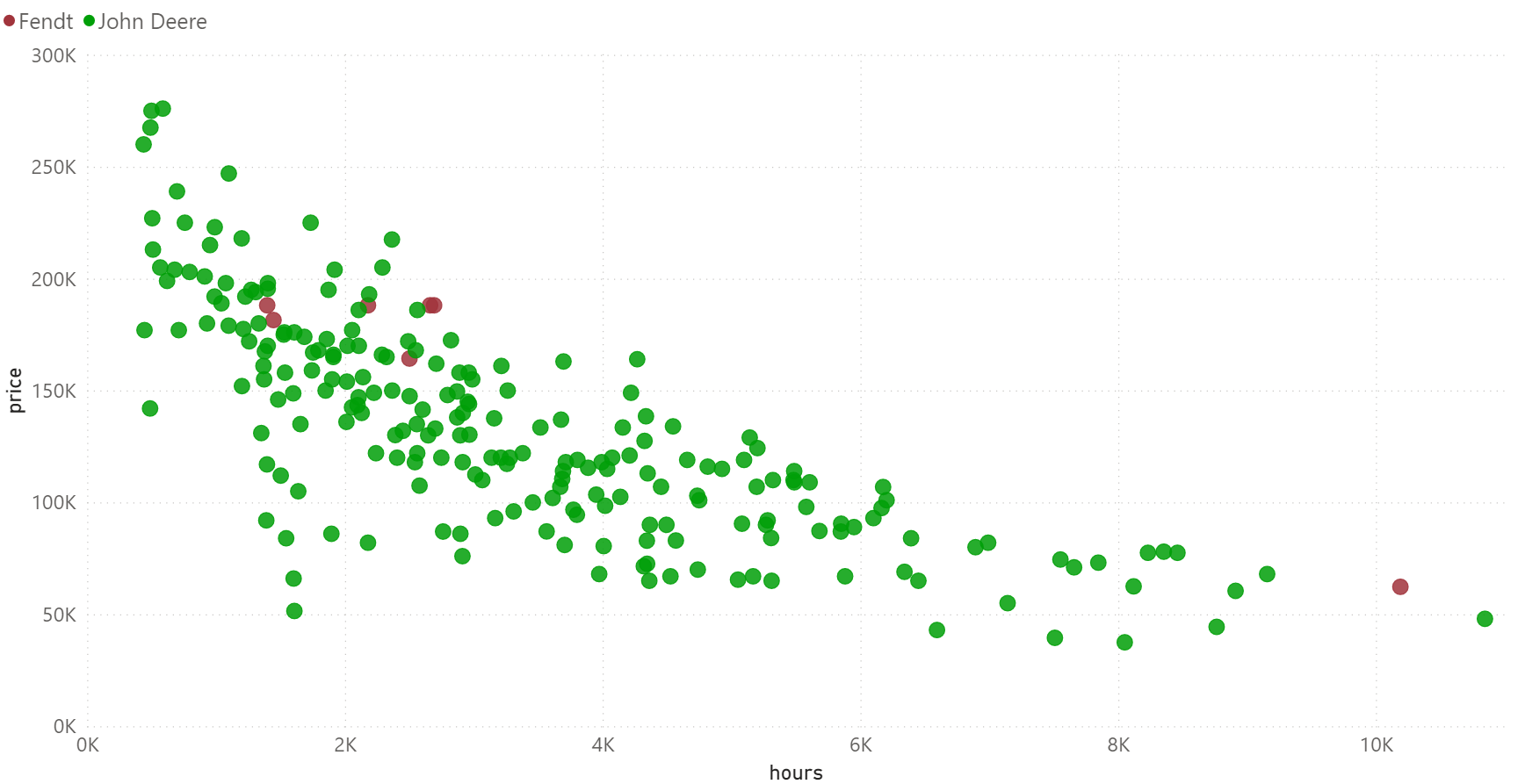 Data generated on May 26, 2021, via Iron Comps, powered by Tractorzoom. Click to enlarge
"With these open auction prices, even though Fendt has much lower volume at auction than Deere, I would say they're equally if not a little higher valued on average when you compare hours and horsepower," he says. "I was surprised, considering Fendt is a much smaller player in the row-crop market, that their resale value was so competitive with Deere, and Deere has one of the strongest resale values out there."
Though it would take quite some time before Fendt is ready to go toe-to-toe with Deere, it is notable that, with such a small portion of the market relative to Deere, Fendt has performed well enough to capture Deere's attention, or rather, their competitive spirit. Only time will tell if Fendt has the chops to grab enough market share to seriously threaten Deere's throne.