It was only a few months after I joined Farm Equipment magazine that Mike Lessiter gave me an assignment to visit a dealership that was doing some interesting things in Fargo, N.D. The article that resulted appeared in our Oct./Nov. 2005 issue. It was entitled, "Is Titan Machinery Reshaping the Future of Ag Dealerships?"
What brought this to mind was last week Mike and I had the unique opportunity of attending Titan's Investors Day celebration at NASDAQ headquarters in New York that marked its 10th anniversary as a public company. When I wrote that original story more than 12 years ago, we talked about the dealership's expansion and industry consolidation, but the subject of becoming a public company was not mentioned. Maybe that was because it had only been tried once before in the U.S. by RDO Equipment in 1997. That didn't work out as well as Ron Offutt had hoped and he took the company back private in 2003.
In that 2005 story, David Meyer explained how and why he and his partner Peter Christianson were planning to grow their business. He could see how things were changing in the ag equipment business; rapidly emerging technology, farms and farmers expanding their operations, and the growing demands these changes were and would continue placing on dealers. At that point, the dealership was operating 18 Case IH and Case Construction locations.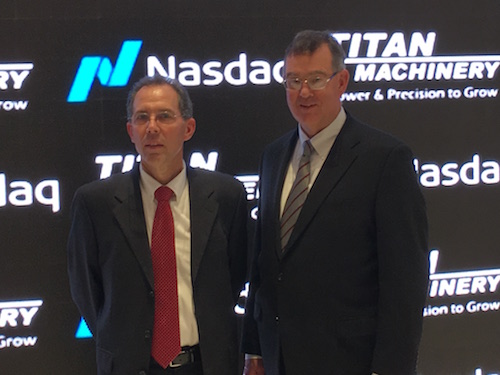 Peter Christianson and David Meyer
One thing was crystal clear to Meyer, the industry had to consolidate. "In the last 10 years or so, I don't think this industry, as a whole, has had a bottom line we can brag about. If we are going to remain a healthy, viable industry, it's clear there will have to be fewer dealers with bigger markets."
Asked how big a dealership had to be to thrive, at the time Meyer said: "It seems that a dealership has to have revenues between $10-$20 million in order to service the larger operations. That's where it seems your operating metrics produce the best returns."
In 2006, Titan Machinery was selected as Farm Equipment's Dealership of the Year. At that point, Titan owned and operated 29 dealer locations. During the time of its rapid expansion, starting on Jan. 1, 2003, Titan completed 52 acquisitions that included 110 stores operating in 11 states and 3 in European countries. Since becoming a publicly held company on Dec. 11, 2007, Titan Machinery has made 37 acquisitions consisting of 79 stores. Following the downturn, Titan did some significant restructuring the past few years, and today the company operates a network of 95 stores in the U.S. and Europe.
A little over a year after being selected as the Dealership of the Year, on Dec. 11, 2007, Titan Machinery "went public," offering shares in the company that would eventually grow to more than 100 dealership locations throughout one of the most productive farming regions in the U.S. Like most other farm equipment dealers, Titan took full advantage of the ag boom that started in 2007 and, with the exception of a lull in 2009, ran into early 2014 fueled by the ethanol mandate, a major drought, Section 179 and Bonus Depreciation. One of dealers' biggest complaints during that period was not being able to get enough new equipment to meet farmers' appetite for new machines and technology.
In 2005, Titan's sales mix was 85% ag and 15% construction. In Fiscal 2017, ag equipment sales made up 66% of the company's total revenues, with construction equipment sales accounting for 27% and International sales 12%. By 2013, the company exceeded $2 billion in revenue.
Since the downturn started in 2014, I don't know of any North American equipment dealership that hasn't felt its effects, some more than others. But unlike any other U.S. dealership, Titan Machinery's story has been laid out for all the world to judge with the issue of each quarter's earnings report. It is now making its way back to the positive side of the ledger.
In a Nov. 30, 2017, Seeking Alpha post following Titan's most recent earnings report, Spencer Ross said, the company is "emerging as a much leaner and profitable company. As the agriculture equipment cycle continues to break out of its multi-year down-turn, Titan will be a clear winner with its corporate restructuring largely behind it.
"Agriculture, the company's largest segment, although still experiencing sales declines, the sales declines are beginning to moderate and even more importantly the business is now benefitting from better margins and corporate restructuring as it registered a huge pre-tax income of $5.5 million vs. losses of $2.3 a year ago and $1.7 in the second quarter," said Ross. "With a leaner corporate structure, any incremental bump in sales is going to make an even bigger impact on earnings."
To repeat something else that Meyer said during that 2005 interview, "Regardless of your size, you still need to execute the basics. It still gets down to blocking and tackling."
What I found most encouraging during the New York event was the young management team that Meyer is assembling. As I've watched Titan morph into one of the most dynamic farm equipment dealerships in the world, one thing has concerned me. This was the company's reliance on Meyer and Christianson, especially when Christianson retired a few years ago. They have been the heart and soul of Titan Machinery since its inception.
David Meyer, BJ Knutson, Jeff Bowman and Mark Kalvoda
Much of that concern disappeared as we got to meet the young managers who will lead Titan into the future: BJ Knutson, chief operating officer, Jeff Bowman, chief experience officer, and Mark Kalvoda, chief financial officer. My impression is that they're a talented and caring team of young professionals who will represent Titan and the industry well.
Regarding succession planning, Christianson says the structure that Titan Machinery put in placed allowed for a seamless transition of top managers to the next generation, that had no financial pressures stemming from a partner retiring. "You aren't a good steward of your company if problems arise after you leave it," he says.
All of us at Farm Equipment congratulate Titan Machinery on its 10 year anniversary of its listing on the NASDAQ stock exchange and look forward to celebrating with the dealership in another 10 years.
We also wish our readers a Blessed Christmas & Prosperous 2018!