Editor's Note: B.J. Knutson, Titan Machinery's Chief Operating Officer, explained the firm's new "Expert Team" operating structure during the Titan Machinery Investor Day in New York's NASDAQ building on Dec. 12, 2017. Following is the that portion of his presentation, in his own words, detailing the reasons behind the change and the synergies he anticipates bringing to the dealership group.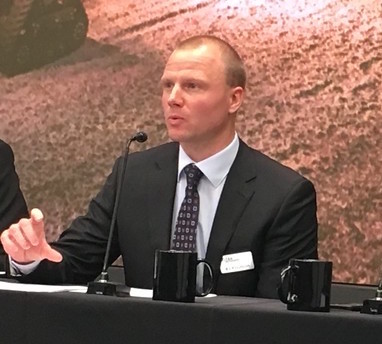 B.J. Knutson
"To support our large customers and more sophisticated equipment, we must have larger facilities, higher skilled technicians, increased parts availability, expanded hours, specialized equipment, and increased field service coverage. All of these are achieved through consolidating multiple smaller locations into larger consolidated locations, while at the same time lowering the company's operating cost structure.
"Based on this strategy, earlier this year, we consolidated a number of our smaller stores into adjacent stores. Although, a store consolidation is not new to our industry, it still was a difficult decision for us. However, our customers and company are benefiting from this strategic decision. Growers and contractors continue to consolidate and get larger every day. And our dealer network must respond accordingly.
"Along with the store consolidations, we also restructured our company and our operating structure for the first time in 15 years.
"With the scale we achieved in our company over that timeframe, we are able to gain visibility in our existing operating structure. We're able to identify areas to improve our customer experience, increase our synergies across our network and reduce our operating cost structure.
"This led to an evolution of our operating structure. Previously, when I was a regional manager, each store operated independently. It appeared that we could leverage the strengths of our network by combining adjacent store management in a common market geography.
"Earlier this year, we restructured our organization to put this new Expert Team Operating Structure into place. With the new structure, we're now able to offer a larger, more specialized team to support our customers within the same geography.
"This restructure involved eliminating store managers at each location, with multiple responsibilities for sales, parts and service, and implementing our Expert Team model with a leader for sales and a leader for after-sales product support in a geographic area with multiple locations.
"We used to ask our store managers to be jacks-of-all-trades; they had to know the parts, service and sales. We asked a lot of them in that way. Moving to the new structure was a recognition of the specialization of this equipment and the expertise required in the specific areas. Doing so allows us to take the best of the best we had for product support managers and the best sales managers and put each of them specifically into the roles where they're best suited, and then leverage those strengths over multiple stores. On average, about 3 stores per one of those area managers.
"This Expert Team model allows us to increase our focus on the more stable and higher margin after-sales portion of our business, while at the same time, reducing our overall operating structure.
"Going from having one of those jack-of-all-trades store managers at every location to these specific expert area managers significantly reduced our overall number of managers at that level. This also allowed us to add more on the product support side of the business. We continue to focus more on that higher margin side of the business.
"An additional component of our operating restructure was the centralizing of key support functions including, parts ordering, warranty administration, and used equipment valuations. These support functions are now all done by employees who specialize in those roles to drive increased efficiency, accuracy and consistency.
"One of the things I've really liked about working for Dave (Meyer) and Peter (Christianson) over the years was the focus on the customer, boots on the ground, front-facing to the customer. One of the foundations of our company is built on the scale of the back office and being able to scale up those back-office activities. This is just taking it to another level. We've added more functions so it's not just the accounting, the IT and the marketing anymore.
"We're noticing the parts ordering efficiencies gained by having people who just specialize and do that for a living and see a greater number of orders coming through. Used evaluations from people who do that do that for a living. It creates more consistency, which our customers expect from us in their used pricing from one location to another. This is also driving higher margins from us with that consistent pricing."