For the past 27 years, members of the American Society of Agricultural and Biological Engineers (ASABE) have sought out and recognized the most innovative advancements in engineering in the areas of agricultural, food and biological systems with the AE50 Award. The products selected save producers time, reduce costs and labor, while improving user safety.
To be eligible for the award, each development — which could be a component, machine, structure, system, end product or procedure — must embody the application of new technology or the innovative application of an older technology. The technology must be new to the whole industry, not just to an individual company. In addition, for the 2014 awards the development must have been first offered for sale between January 1-December 31, 2013.
Each year an international panel of industry experts in technology, design and product development evaluate the entries and select up to 50 products for recognition.
Below you will find the winners of this year's AE50 Award. 
---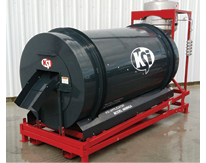 KSi Conveyors 4808NGA Seed Applicator
The patent-pending 4808NGA seed applicator features numerous technological advances in chemical delivery, application efficiency and accuracy, as well as significantly improved installation and cleanout benefits. A seed flow distribution device manages a wide range of incoming seed flow rates and distributes the flow into a uniform "seed curtain" at the point of chemical application. The internal applicator head atomizes and applies a radial chemical stream onto the external seed curtain, thus coating the seed evenly and allowing the drum to advance the conditioning process forward. An 8-foot long x 4-foot (2.4 x 1.2 meter) diameter three-section drum mixes and conditions the treated seed and uses engineered placement of mixing paddles and distribution baffles to control the flow of seed for maximum plantability. The discharge process dynamically lifts the conditioned and polished seed out of the drum for quick and complete clean out from the drum's low-profile configuration.
KSi Conveyors Inc., Cissna Park, Ill.
---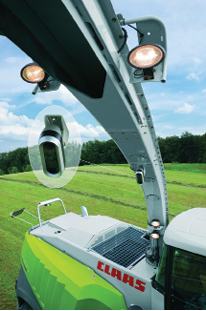 Claas Auto Fill for Jaguar 900 Series
Auto Fill is a system that operates automatically to fill trucks from the Jaguar 900 Series forage harvesters. Operating a forage harvester requires much concentration from the driver throughout the day — navigating the machine, observing the crop flow, checking machine settings and giving direction to the truck driver — all while adjusting the discharge spout to fill the wagon properly. Maintaining this level of concentration creates stress for the driver. Based on 3-D image analysis, the Auto Fill system recognizes the boundaries of the forage box and the fill value of every point within the vehicle next to the harvester. With this input, the Auto Fill system can automatically adjust the spout without requiring action from the operator. This enables the operator to fill the truck evenly and properly, and it gives the operator more time to focus on crop flow and safe driving in the field.
Claas of North America Inc., Omaha, Neb.
---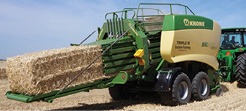 Krone BiG Pack 1290 HDP II
The BiG Pack 1290 HDP II is a unique large square baler that offers fast baling speeds and dense bales. A new active pickup was designed to feed the variable filling system at field speeds up to 20 mph (21 kph). The newly designed variable filling system, with a 39% increase in capacity over previous models, has been designed with three lifters and one stuffer tine. A new slim-design double knotter system was created for the HDP II and is equipped with eight double knotters to provide additional holding strength for the increased bale density. The Krone BiG Pack 1290 HDP II has several standard features as well, including integrated bale scales and a steerable 16-ton axle as well as optional features like bale moisture sensors and more.
Krone North America Inc., Memphis, Tenn.
---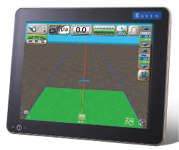 Raven Industries Viper 4 Field Computer
The rugged, sleek Viper 4 field computer with ROS (Raven Operating Software) provides a modular, flexible application-based approach to efficiently manage farming operations with many customization opportunities. The Viper 4 uses advanced product profiles that incorporate agX reference databases, which provides extraordinary data management. Additional capabilities include automated machine configuration, rapid job start, customizable run-screen design, automated bin chaining, Wi-Fi and advanced wireless Slingshot integration assist to provide increased efficiency, productivity and profitability for farming operations. Viper 4 is fully customizable, including portrait or landscape display orientation in the cab.
Raven Industries Inc., Sioux Falls, S.D.
---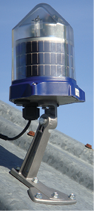 OPI Systems Blue Wireless Advanced Grain Management
OPI-Blue Wireless Advanced Grain Management is an innovative way of measuring and controlling the environment inside a grain bin. The product uses OPI-Integris temperature and moisture cables but relays information from the cable products via wireless technology, right from the cable head. The wireless cable node can read up to eight temperature or moisture cables and relay that information on an hourly basis to a wireless gateway device. The node contains a long-life rechargeable and replaceable battery with an integrated cylindrical solar panel for operation even through cold, dark winter months. The gateway is continuously powered and connects to a custom iPad application directly via Wi-Fi or through an Internet connection, including cellular. The app includes 3-D visualization of temperature and moisture in tabular and historical line graphs. Due to the modularity and scalability of the system, the user can set up an entire job from off-the-shelf components without custom site engineering.
OPI Systems Inc., Calgary, Alberta
---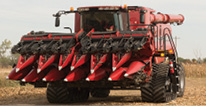 Case IH 4412F Folding Corn Head
The 4412F folding corn head joins the stable of combine headers for Case IH Axial-Flow combines. This 12-row folding header with 30-inch (76-centimeter) spacing includes a grain-saving hood with CornLouvers, which direct the grain back toward the auger to reduce loss. It also features a simplified folding system for faster transition between harvesting and road modes without having to leave the cab. Additional features to improve productivity are improved row units with increased capacity, a reconfigured gathering chain and divider interface to improve performance in downed corn, replaceable wear strips that protect the plastic hoods and dividers for reduced long-term operating costs, easy-raise dividers and hoods to improve service access, and optional spiral end augers that reduce ear loss in downed corn. The 4412F is available in chopping or non-chopping configurations to meet the needs of every harvester.
Case IH Agriculture, Racine, Wis.
---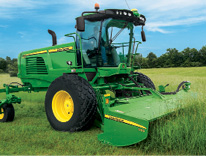 John Deere W235 Self-Propelled Windrower
The W235 self-propelled windrower features an all-new cab, a new system for maintaining constant header speed, and 235 rated horsepower with 255 maximum horsepower. The all-new cab enables long hours and increased operator productivity. The new constant header speed system allows up to a 900 rpm drop in loaded engine speed while maintaining the same header speed and functionality. The 22% increase in horsepower delivers power to the head through a newly designed hydraulic system. The most significant feature of this product is the integrated AutoTrac, which allows field operating speeds of up to 28 kph while maintaining a line acquisition accuracy of ±10 centimeters. This product is a major modification of the previous R450 and D450 self-propelled windrower models, a modification driven by emission regulations.
John Deere, Moline, Ill.
---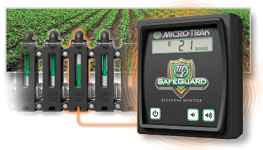 Micro-Trak Systems SafeGuard Liquid Blockage Monitor
SafeGuard is an electronic liquid blockage monitoring system that instantly detects liquid blockages and alerts the operator with an audible alarm and a visual display of the blocked row's number. Traditional visual ball monitors are difficult to see because they are typically mounted behind the operator, are hard to see at night or in dusty conditions, and cannot be seen when using cloudy or dark liquids. SafeGuard brings real-time blockage monitoring into the Individual sensors monitor each row and are mounted to suit the needs of the operator as the rows are being monitored, without the need to be seen. The agricultural industry has determined that row blockage monitor systems are a requirement for starter fertilizer applications, and the operator must be able to know that there is liquid flowing to each row to achieve the top return. SafeGuard provides this instant blockage notification.
Micro-Trak Systems Inc., Eagle Lake, Minn.
---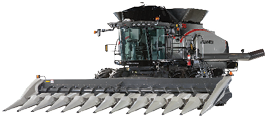 AGCO Gleaner S88 Class 8 Transverse Rotary Combine
Farmers have come to accept increased weight and complexity, and the accompanying challenges, as a requirement for increased capacity. At 32,200 pounds (14,600 kilograms), the Gleaner S88 transverse rotary combine is the industry's lightest Class 8 platform. With a fully welded mainframe, the Gleaner S88 is also the first Class 8 combine with a transverse rotor design. Rated at 430 horsepower, the 9.8 liter twin-turbocharged seven-cylinder engine with SCR and cEGR delivers greater sustainable horsepower and torque with the lowest fuel and DEF consumption of any Class 8 combine. The Gleaner S88 needs 32 horsepower less than competitive machines to move through the field, and it substantially reduces compaction, which can affect yield. Despite its smaller size, the Gleaner S88 has more threshing and separating area than other combines. It unloads faster and it delivers Class 8 grain capacity.
AGCO Corp., Duluth, Ga
---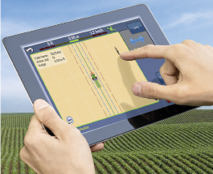 Novariant SimpleSteer Tablet-Based Auto-Steering Solution
SimpleSteer is a high-precision auto-steering display solution for precision agriculture that runs on a consumer tablet device. The SimpleSteer software and Wi-Fi solution from Novariant converts a consumer tablet into a wireless command post for advanced auto-steering operation of tractors, combines and other farm vehicles. SimpleSteer is compatible with a wide range of tablets based on several operating systems, including Apple's iOS and Google's Android. This makes it possible for farmers to use their own tablets for hands-free steering with high accuracy and repeatability. Novariant offers SimpleSteer as an affordable easy-to-use auto-steer display alternative to complement its current display options. SimpleSteer allows farmers and applicators to choose a display solution that best meets their needs. SimpleSteer is compatible with a full range of auto-steering applications from tillage to planting, crop spraying and harvesting.
Novariant Inc., Fremont, Calif.
---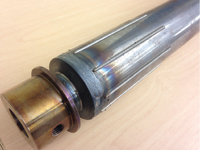 MacDon & Kondex Draper Drive 
Roller with Tungsten Carbide Ribs
This innovation in drive roller technology comes out of a collaborative effort by MacDon Industries Ltd. and OEM supplier, Kondex Corp. It consists of a series of ribs built up on the roller to act as an effective traction mechanism and it is extremely wear resistant. Typical standard drive rollers are constructed of metal tubing with rubber vulcanized to the surface. This design has some disadvantages. When the rubber becomes wet and sometimes oily (from canola), the drive rollers may lose traction, which results in draper slippage. This new design is constructed of a metal tube, and the traction mechanism is a laser-clad series of ribs affixed to the tube surface. The laser-clad rib material consists of tungsten carbide particles embedded in the matrix, which adheres to the metal tube with a metallurgical bond. These drive roller ribs have a higher degree of traction potential and are extremely wear resistant in all conditions.
MacDon Industries, Winnipeg, Manitoba & Kondex Corp., Lomira, Wis.
---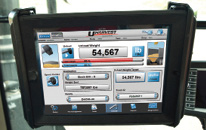 Unverferth UHarvest Data Management Solution
The UHarvest data management system is an ISOBUS-compatible system that can work with existing virtual terminals or tablet devices that provide a touch-screen interface to display and manage grain cart and harvest data. The system includes a Wi-Fi connection point for sharing information with multiple tablets and smartphones within a 400 foot (122 meter) range. In addition to the total load weight, the system also displays the hitch weight to allow level loading of the grain cart. For enhanced record keeping, an optional moisture sensor mounted on the grain cart detects grain moisture for automatic conversion of wet to equivalent dry bushels. The level of harvest data management can be further increased by uploading data to a Raven Slingshot account from the field via a tablet on a data plan, which can then be accessed online by owners and managers with an Internet connection.
Unverferth Mfg. Co. in partnership with Raven Industries, Kalida, Ohio
---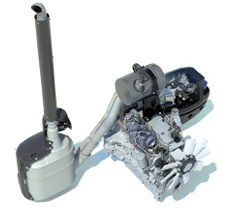 New Holland ECOBlue HI-eSCR 
Exhaust Gas After-Treatment System
The ECOBlue HI-eSCR exhaust gas after-treatment system ensures that the high-horsepower New Holland T7, T8 and T9 tractors are Tier 4 Final compliant while maintaining their efficiency and productivity. The ECOBlue HI-eSCR system is an evolution of the existing ECOBlue SCR system and is protected by eight patents. This system has the highest NOx conversion efficiency in the industry — above 95% — while maintaining or improving the productivity of the machine. The new engine control unit manages both the engine and the HI-eSCR after-treatment system by predicting the DEF/AdBlue injection rate for the dosing module. A dedicated closed-loop system continuously monitors NOx levels in the exhaust gases, ensuring the precise amount of DEF/AdBlue is injected during every cycle.
New Holland Agriculture, New Holland, Pa.
---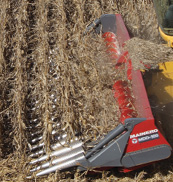 Carlos Mainero y Cia MDD-100 Row-Independent Corn Head
The MDD-100 is a 525 millimeter (21 inch) row-spacing corn head that harvests every row spacing in every direction without adjustment or modification in a wide range of crop conditions — even downed crops — keeping loss levels to a minimum without ground speed restrictions. The side-empty snouts design combined with the double-sprocket gathering chain tensor arm, which provides a V-shaped row unit front end, allows unrestricted and smooth entry of the row unit even when mismatched with the centerline. Working at 525 millimeter (21 inch) row spacing solves the problem of misaligned rows when the planter width doesn't match the head width. At narrower row spacings, it allows an increase in the working width at the same header weight. It also reduces harvest losses on overlapped headlines, improves performance in downed crops and harvests in every direction to maximize productivity.
Carlos Mainero y Cia S.A.I.C.F.I, Bell Ville, Cordoba, Argentina
---

NORAC Hybrid Mode Crop Sensing System
NORAC Hybrid Mode is an advanced crop-sensing feature for in-crop spraying with NORAC Spray Height Control systems. Hybrid Mode reduces the need for the operator to take manual control of the boom while spraying row crops or in adverse situations such as lodged, thin and uneven crop. The patent-pending technology in the ultrasonic height sensors uses the soil and the top of the crop to calculate an average crop height using readings from multiple sensors. A virtual top of crop is generated based on the average crop height and used when the distance to the crop can't be obtained. Hybrid Mode is available on NORAC UC5 and UC4.5 Spray Height Control systems.
NORAC Systems International Inc., Saskatoon, Saskatchewan
---