AE50 Awards Recognize Farm Machinery Advancements...Part 2
---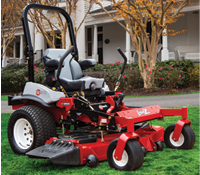 Exmark Lazer Z X-Series Zero-Turn Mowers
Exmark introduces RED on-board intelligence technology on its Lazer Z X-Series riding mowers with Kohler electronic fuel injection. RED technology uses an electronic governor and operator-defined performance modes to deliver improved engine response and performance combined with reduced fuel consumption of up to 41% compared to equivalent carbureted models. RED includes a clutch-saver feature, and the system monitors vital engine components in real-time to prevent damage if critical thresholds are exceeded. The Lazer Z X-Series is available with 52, 60 or 72 inch (132, 152, or 183 centimeter) full-floating UltraCut Series 6 mower decks.
Exmark Manufacturing Co. Inc., Beatrice, Neb.
---
CDS-John Blue Electronic Liquid Blockage Monitor
The Electronic Liquid Blockage Monitor is an automatic warning system that alerts an operator when the ball (and therefore flow) in a row of a Visagage II flow monitor has dropped below the user-selected level. When a low-ball position has been detected, visual and audible alarms alert the user. Each row with a low ball is highlighted by an LED located in the sensor assembly for locating and troubleshooting the blockage. The system uses a sensor assembly mounted behind the Visagage II flow monitor to track where the magnetic balls are floating in each row during liquid application. The premium system has one sensor assembly with a wireless radio that communicates with an iPad in the cab using the manufacturer's free app, while the standard system uses a wired control panel.
CDS-John Blue Co., Huntsville, Ala.
---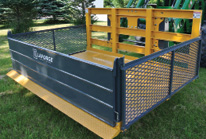 Laforge VersaDeck Multi-Use Platform
VersaDeck is a 96 x 72 inch (244 x 183 centimeter) flat deck multi-use platform with 3,300 pounds of carrying capacity, designed to be attached to a tractor's 3-point hitch, a front-end loader or a skid steer loader. The design of the back plate provides multiple mounting points for accessories, numerous tie-down points, as well as compatibility with Cat. 2, Cat. 3N, Cat. 3 and Cat. 4N 3-point hitches, Euro and John Deere quick-connect interfaces and skid steers — while still providing the necessary strength to support the rated load capability. The design allows five complete units to be stacked on a pallet.
Laforge Systems Inc., Concord, Calif.
---

Valley Irrigation SoilPro 100 Soil Moisture Monitor
Valley SoilPro 100 is a soil moisture monitor designed for mechanical center pivot control panels. It is an early warning system that alerts growers when soil conditions are either too wet or too dry. SoilPro 100 does not require Internet services or subscriptions to receive SMS messages about soil conditions. A computerized control panel is also unnecessary. This product addresses the most common issue with mechanized irrigation: over-watering. Most growers can use this basic, low-cost option to receive soil condition notifications, which can be customized to the specific needs of a market group. Valley SoilPro 100 also can benefit growers using drip or flood irrigation by providing a simple, low-cost option for monitoring soil conditions. SoilPro 100 sends growers an SMS message notifying them of a condition that needs attention.
Valley Irrigation, Valley, Neb.
---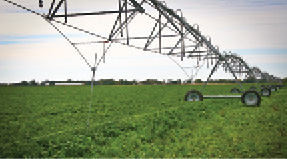 High Plains Solutions Pivot Fence
The Pivot Fence is a commercial, portable fencing device that attaches to any irrigation center-pivot and turns it into a mechanized electric cross fence for livestock grazing systems. It attaches to any make and model of center-pivot or lateral irrigation system — without any alterations to the pivot — to suspend an electrified wire to a desired height. Using the center-pivot as a moveable cross fence reduces the labor component of grazing livestock from manually moving posts and wire to simply moving the center-pivot with the push of a button. Larger-scale forage-based or crop-residue grazing operations can be achieved with minimal labor.
High Plains Solutions LLC, Litchfield, Neb.
---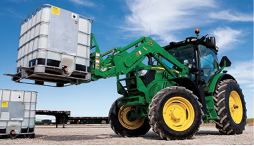 John Deere H380, H360 & H340 Loaders with RTP and ESL
The Return-to-Position (RTP) option for 6R tractors and H340, H360 and H380 loaders provides superior productivity and repeatability during material handling operations. RTP allows the operator to store two boom positions and two bucket positions through the use of sensors, the tractor's CommandCenter and a controller. With simple activation of the momentary detents on the electronic joystick, the loader will return to the preset positions. A complete loading cycle can then be accomplished with four detent clicks of the joystick, significantly improving productivity. Operator stress is reduced as the automated motion the joystick can be kept in neutral, and there is no need to constantly check the loader height and attachment angle during the operation. The RTP option incorporates the electronic self-leveling (ESL) feature, which provides self-leveling capability without the use of mechanical linkages or complex hydraulics.
John Deere, Moline, Ill.
---
Digi-Star Moisture Tracker for Animal Feeds
The Moisture Tracker is a hand-held, near-infrared scanning device that rapidly measures the dry matter and moisture content of animal feeds. It provides livestock producers with nearly instantaneous, accurate dry matter and moisture readings, which enables them to quickly react to changes in dry matter, ensuring that the ration delivered matches the ration calculated. The Moisture Tracker provides livestock producers and nutritionists with an affordable on-farm solution to quickly and accurately measure the dry matter and moisture content of both inbound and stored feed. Livestock producers and nutritionists can use the information to provide more consistent rations.
Digi-Star LLC, Fort Atkinson, Wis.
---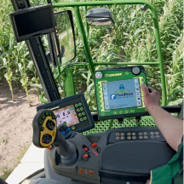 Krone iGreen System
The iCan iGreen system controls the internal electronic architecture of Krone BiG X machines. The system comprises innovative electronic systems that were developed in close cooperation with the iGreen Project. The iGreen project is a non-commercial communications platform, agricultural database that includes field and GPS data, and a knowledge base that is supplied with information from contractors, farmers and consultants. The idea is to set up a useful database for the farming world, which grows as ideas are exchanged and information is shared. Using Krone's ISOBUS capabilities, the iCan iGreen system allows information to be collected, recorded and shared regardless of make and manufacturer. This system also includes many useful options, such as AutoScan, ConstantPower, RockProtect, CropControl, ForageCam and FieldNav, among others. The iCan iGreen system allows farmers to control their operations and know what is going on with their equipment at all times, allowing all operations to be more productive and efficient.
Krone North America Inc., Memphis, Tenn.
---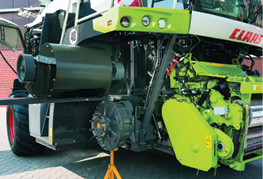 Claas Modular Accelerator for Claas Jaguar 800 Series
The Modular Accelerator is designed for simple and quick maintenance work on Jaguar 800 Series forage harvesters. To minimize loss of harvesting time and money, the market demands short downtimes for machinery — especially forage harvesters. Unexpected downtime means a full stop of the entire harvesting chain, which includes the trucks used for transportation as well as the machines used for compacting the crop on the pile. The accelerator needs to be replaced when it is worn out or after foreign objects have gone through the machine and caused damage. In the past, replacing the accelerator meant removing either the tower with the spout or the cutting drum. Either way, this process took at least 12 hours. With the new Modular Accelerator concept, the accelerator can be replaced simply, safely and comfortably in less than one hour.
Class of America Inc., Omaha, Neb.
---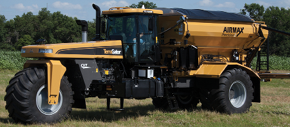 AGCO TerraGator TG9300B Self-Propelled Floater
The TG9300B is AGCO's largest self-propelled three-wheel flotation TerraGator model. Designed for use in production agriculture for pre-emergence, pre-plant and post-harvest applications of a wide range of crop inputs in liquid and dry form, the TG9300B includes a combination of engine technologies to meet Tier 4 Final requirements. These technologies include dual turbochargers, cooled exhaust gas recirculation (cEGR), selective catalytic reduction (SCR), and diesel oxidation catalysts (DOC) to clean emissions in the exhaust system without interfering with engine performance. Coupled with a continuously variable transmission (CVT), the TG9300B has the potential to increase productivity while using 5-8% less fuel compared to the previous TG9300 model. New system hydraulics provide maximum hydraulic capacity at a lower engine speed, also contributing to fuel savings, along with an 8 dB noise reduction in the cab.
AGCO Corp., Duluth, Ga.
---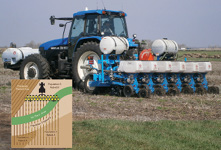 Raven Industries OmniRow Multi-Hybrid Planter Control System
The Raven OmniRow multi-hybrid planter control system is the first commercially available planter technology capable of dynamically changing the seed hybrid during planting. The system integrates all planter monitoring and control, secondary product control and tractor guidance functions into a single control platform. The initial market segment targeted is twin-row and inter-plant toolbar configurations. However, the system is designed to support future multi-hybrid meter technologies. Another major benefit of this technology is that, with twin-row and inter-plant toolbar configurations, the tractor or implement guidance line is automatically shifted to keep rows straight.
Raven Industries Inc., Sioux Falls, S.D.
---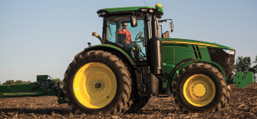 John Deere 7R Series Tractors
The new 7R Series tractors offer increased power with improved productivity and improved fluid economy. The new e23 PowerShift transmission with Efficiency Manager offers wide gear selection, which enables automation capabilities with the benefits of smooth shifting and simple operation. The new PowerTech PSS 6.8 liter and 9.0 liter engines embrace Tier 4 Final requirements while providing improved fluid economy and uncompromised performance, with a new five-model lineup of 210-290 engine horsepower offered worldwide. The new Command View III cab offers improved sound levels, comfort, and functionality. With 40 degrees of right-hand seat swivel, a new CommandARM featuring the new 10 inch (25 centimeter) CommandCenter display, laminated front glass, and an optional actively cooled refrigerator, the operator will experience less fatigue and greater performance. Other improvements include LED lights, which give 40% more coverage with 45% less current, and a new cooling system that leads to improved fluid economy, lower sound levels, and improved performance in harsh conditions.
John Deere, Moline, Ill.
---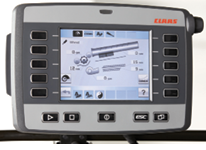 Claas Cemos Automatic Machine Optimization System
Cemos Automatic is an automatic machine optimization system designed to maximize Lexion combine efficiency using intelligent onboard sensors. It continuously monitors and adjusts the combine's separation and cleaning systems by optimizing each system's settings for real-time conditions during harvest. As a result, the combine is able to automatically deliver maximum throughput while maximizing grain retention and minimizing fuel consumption. All the operator has to do is activate the automatic functions using the multifunction control lever, and Cemos Automatic will adjust the following settings: rotor speed (residual grain separation), rotor flap position (residual grain separation), fan speed (cleaning system), upper sieve opening (cleaning system), and lower sieve opening (cleaning system). The operator has a choice of four combine optimization strategies: maximum throughput, minimal fuel consumption, high grain quality and optimum balance. By selecting one of these strategies, the operator specifies the result that Cemos Automatic will attain.
Claas of America Inc., Omaha, Neb.
---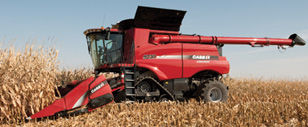 Case IH Grain Handling Improvements for Axial-Flow 230 Series Combines
Case IH has modified the grain handling systems of Axial-Flow 230 Series combines to give producers and custom harvesters up to an 8% gain in overall cleaning system productivity, depending on local crop conditions, when harvesting corn. Case IH engineers modified three grain cleaning and handling subsystems to improve grain flow while adding minimally, if at all, to the size, weight or cost of the combine. Ducts that narrow the stream coming from the fan outlet increase airflow to the pre-sieve and improve air cross-distribution for better chaff separation and grain flow. A steeper angle of the clean-grain sheet moves more grain in high-yielding and high-volume crop conditions. The clean-grain cross auger has been revised to have a larger diameter near the clean-grain elevator inlet for increased grain transport capacity, and the inlet to the clean-grain elevator has a new, larger design to let more grain through in less time.
Case IH Agriculture, Racine, Wis.
---

New Holland Discbine Center-Pivot Disc Mower-Conditioners
Discbine center-pivot disc mower-conditioners introduce a high ratio of cut width to conditioning width. WideDry conditioners provide a full 125-inch (318-centimeter) conditioning system with a choice of rubber or steel intermeshing rolls or LeaningEdge flails. A wider conditioner allows a thinner mat of crop without higher density at each end, where the crop must be converged from the cutterbar to be within the width of the conditioner. The result is more uniform conditioning and faster drydown. The WideDry system also allows delivery of a 10-foot (3-meter) wide swath. A kit specifically for biomass harvesting allows the unit to easily harvest biomass crops such as Miscanthus and switchgrass at a desired stubble height of 5-8 inches (13-20 centimeters). Extra-high stubble skid shoes are included. Using high-skid shoes without other modifications to the unit decreases the effective range of the header flotation system. Therefore, the kit includes patent-pending mid-height lift-cylinder stops, which hold the trail frame of the unit higher to maintain up-float range.
New Holland Agriculture, New Holland, Pa.
---