AE50 Awards Recognize Farm Machinery Advancements...Part 3
---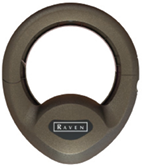 Raven Industries SmarTrax MD Assisted Steering System
The patent-pending SmarTrax MD mechanical assisted steering system is an easily transferrable system capable of up to RTK-level accuracy with 3-D terrain compensation. The system incorporates a simple latch mechanism that allows the operator to easily transfer SmarTrax MD between multiple tractors, combines and windrowers, and offers more leveraging of a single investment across the fleet without sacrificing performance. Using advanced motor technology, with added torque for faster operating speed and better line acquisition, the SmarTrax MD is a combination of high performance, thoughtful design and quiet operation.
Raven Industries, Sioux Falls, S.D.
---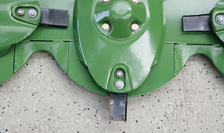 Krone SmartCut Cutterbar
Every producer is familiar with mowers struggling to produce a clean cut in light crops without streaking. The response to such conditions is Krone's intelligent SmartCut system, which has been proven in initial runs by delivering outstanding results. SmartCut means the discs are strategically, unevenly spaced: the pairs turning outward are set closer together to increase blade overlap for superb cut quality without streaking. In dense crops, the machine benefits from a larger gap between the discs turning toward each other to deliver a constant and smooth flow of crop to the rear without blockage and with cleaner cuts at higher work rates. In addition, all new mowers offer comfort features, including an enclosed and fully welded cutterbar, standard quick-change blades, and the SafeCut system. The new SmartCut cutterbar is used on nearly all new-generation EasyCut mowers.
Krone North America Inc., Memphis, Tenn.
---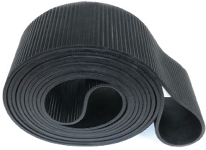 AG Belt Spliceless Baler Belt
The AG Belt Spliceless Baler Belt is the only belt for large round balers that does not have a splice, eliminating the primary cause of failure in baler belts today. The patented design combines technology from multiple industries in innovative ways to create a solution to the most vexing problem with baler belts. Market-leading round baler manufacturers, such as New Holland, are now offering this premium belt as a factory option worldwide. The Spliceless baler belt design is more resistant to punctures and tears, and it is stronger than other belts. Its unique construction also offers the ideal combination of longitudinal flexibility and transverse stiffness for optimal belt tracking.
AG Belt, Des Moines, Iowa
---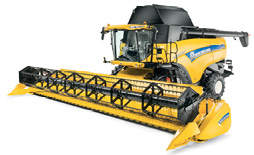 New Holland Opti-Speed Variable Straw-Walker
Speed Technology for CX Combines
Opti-Speed variable straw-walker speed technology for New Holland CX combines represents a harvesting advance that delivers productivity improvements of up to 10% in corn and up to 25% in wheat by automatically matching the straw-walker speed to the crop type and harvesting conditions on flat or hilly ground. The operator selects the crop to be harvested on the in-cab IntelliView IV display, and Opti-Speed constantly regulates the straw-walker speed for that crop by reading the slope. Going uphill, straw-walker speed is reduced to minimize grain loss from material moving too quickly. On downhill grades, the speed is increased to prevent clogging and inefficient separation. All of this happens automatically, without the operator having to adjust the forward speed of the combine. Opti-Speed straw-walker technology is offered as an option on all New Holland CX flagship combines, including models CX7080, CX7090, CX8070, CX8080 and CX8090.
New Holland Agriculture, New Holland, Pa.
---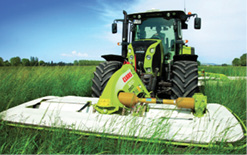 Claas Disco 3200 Front Mower
The Disco 3200 is a 9.8 foot (3 meter) wide front mower unit that features the Claas P-Cut mowing cutterbar, Active Float hydro pneumatic suspension, Profil three-dimensional ground-contour tracking and V-shaped tine or roller conditioners. The P-Cut mowing bars save on fuel consumption by reducing the PTO shaft speed to 850 rpm with no impairment of mowing quality. The Active Float hydro pneumatic suspension system transfers the weight of the mower unit from the ground to the tractor. This effectively converts the frictional resistance encountered during the mowing process into rolling resistance. The Profil linkage geometry enables 3-D ground contour tracking independent of the movement of the tractor. With a near-to-ground pivot point for lengthwise adjustment, the mower bar follows the ground contour effortlessly. The combination of these features on the Disco 3200 results in an appreciable decrease in fuel consumption and increase in forage quality and driving comfort.
Claas of America Inc., Omaha, Neb.
---

John Deere 4 Series Sprayer and Dry Nutrient Applicator
The John Deere 4 Series self-propelled sprayer/spreader is a redesign of the mid-size models of the John Deere sprayer line. The 4 Series Sprayers provide customer value by increasing productivity and uptime with features like faster spray speeds, improved weight distribution, larger booms, faster tank fill times and reduced daily maintenance —all while reducing the overall cost of operation. The R4030 model replaces the 4730 sprayer, and the R4038 model replaces the 4830 sprayer. Features include an optional 120-foot (36-meter) boom, which provides 20% greater spraying width when compared to the 100-foot (30-meter) boom on the previous model. The spray solution delivery system also has efficiency improvements, which provide as much as 66% higher flow output and up to 25% faster loading with an on-board solution pump. The optional dry spinner spreader enhances machine versatility. Field and road transport speeds are improved by as much as 25% and 17%, respectively. A larger, quieter cab with control ergonomics heightens operator comfort.
John Deere, Moline, Ill.
---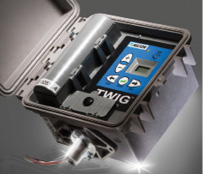 Nelson Irrigation TWIG Wireless Valve Control System
The TWIG is a reliable automation solution for irrigated agriculture. Installation is quick and easy: mount the TWIG to a Nelson control valve, and then program the TD200 to create a schedule for automatic valve sequencing. The simple interface of the TWIG and TD200 controller make it easy to automate an entire irrigation system, regardless of the system type or the size of the operation. Whether managing a large Big Gun dust suppression system, an apple orchard, multiple zones of a drip system or miles of sprinklers on row crops, the TWIG can tie the components together without the expense of trenching and wires. The controller contains watering schedules that operate each valve. After it automatically discovers all valve modules, the controller is programmed at one location. All valves are synchronized. Program setup consists of simply grouping all valves that irrigate at the same time. Programs are easily named by the user to indicate the purpose of valve arrangements and the function of irrigation schedules.
Nelson Irrigation Corp., Walla Walla, Wash.
---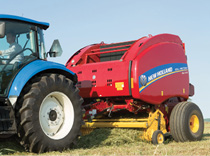 New Holland Roll-Belt 560 Round Baler
The Roll-Belt 560 round baler lets operators increase their productivity with a new higher-capacity pickup and new features for overall improved ease of use. The entire feeding system, from the pickup reel to the rotary action feeder in the new ActiveSweep pickup, improves crop flow for faster core starts and more positive feeding in the most demanding crop conditions. The new Bale Command II Plus control system features easy-to-understand icons and simple menu setups, while an optional ISOBUS system provides expanded information with touch-screen convenience. The updated net wrap system requires fewer adjustments and net rolls are easier to load. The twine wrapping system uses a dual-twine arm with a center pivot for more consistent twine placement. Both laced and endless belts are stronger and more durable due to new construction methods and designs. Top-hinged side shields open wide for easy access for service and maintenance.
New Holland Agriculture, New Holland, Pa.
---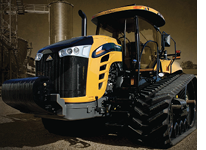 AGCO Challenger MT700E Series Tractors
AGCO expands its track tractor offerings with the Challenger MT700E Series track tractors designed to meet the demanding, high-productivity needs of today's progressive growers. By combining the AGCO Power diesel engine, Mobil-trac undercarriage system, increased hydraulic capacity and rugged drawbar and three-point hitch, the MT700E Series delivers greater performance. Topped with a Pinnacle View cab, the new tractors put operators in the best position for longer, more productive workdays. Specifically designed for agricultural applications, the 9.8 liter, seven-cylinder diesel engine brings on power with a long torque curve and high torque rise at low engine speeds. By eliminating the need to downshift, operators work more efficiently with less fuel consumption.
AGCO Corp., Duluth, Ga.
---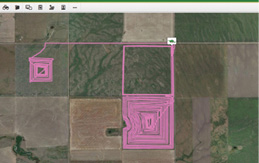 MyJohnDeere Operations Center with Location History
MyJohnDeere.com is the online portal of the John Deere FarmSight strategy. Users can log in to their accounts to access operational and machine data in a centralized location. This includes single sign-on access to current applications such as JDLink with remote display access, AgLogic, JDParts, John Deere Financial, StellarSupport and the Operations Center. The Operations Center offers a suite of tools to help producers plan, run and manage their operation through the entire farming cycle, along with products and services that improve machine uptime, logistics management and agronomic decision-making. Location History from JDLink provides information to boost machine productivity, uptime and reduce the cost of ownership, including a rolling 24-hour path traveled by machines enabled with JDLink (subscription required), remote monitoring of machine activity, identification of misuse or theft, and access to machine information, such as current machine state, fuel level, heading and ground speed. Location History is available for sprayers, tractors, combines, self-propelled forage harvesters and cotton harvesters.
John Deere, Moline, Ill.
---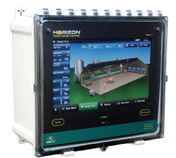 Valco Horizon Whole-House Controller
The Horizon whole-house controller is an environmental controller that combines a user-friendly interface with advances in logic and information accessibility for poultry producers. The large 15-inch (38-centimeter) color touch-screen display allows users to easily see barn performance at a glance, while algorithms automatically adjust ventilation in response to bird activity, inside and outside conditions and user preferences. Horizon combines a large, simple graphical interface with intuitive touch-based navigation to minimize the learning curve for users. Easy remote connectivity allows users to see and influence production conditions from office, home or smartphone, and data on any flock can be exported for further analysis through the built-in USB port. Users can use the built-in recommendations and configurable software to fine tune the ventilation to their unique environment and animals, and the controller will automatically provide the best ventilation to minimize costs while maximizing productivity.
Valco Companies Inc., New Holland, Pa.
---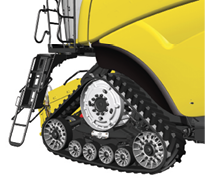 New Holland SmartTrax System with Terraglide Suspension for CR Combines
The SmartTrax system with Terraglide suspension for New Holland CR combines is a track system that follows the contour of fields or roads using rollers that adjust side to side as well as up and down for maximum traction, less soil compaction and greater driver comfort. The triangular structure of SmartTrax is designed to reduce ground pressure by up to 60%, when compared to wheeled machines, and to improve stability while maintaining the maneuverability of traction-tired combines. SmartTrax features positive lug drive, which ensures that maximum tractive force is transferred to the ground. When traveling on roads, the Terraglide suspension system minimizes vibration and improves driver comfort. The SmartTrax system with Terraglide suspension is available in 24 and 28.5 inch (61 and 72 centimeter) widths and is an option on all New Holland CR flagship combines, including models CR8080, CR9070, CR9080, CR9090 and CR10090.
New Holland Agriculture, New Holland, Pa.
---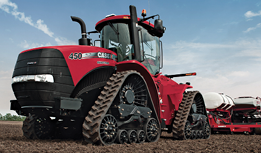 Case IH Steiger Rowtrac Tractor
The Case IH Steiger Rowtrac tractor is a four-track articulated agricultural tractor designed specifically for use in row-crop applications in a wide range of working conditions. It offers less soil compaction and better ride characteristics. The Steiger Rowtrac is available with three track widths, 16, 18 and 24 inches (41, 46 and 61 centimeters), three tread settings, 80, 88 and 120 inches (203, 223 and 305 centimeters), and three engine horsepower ratings, 350, 400 and 450 horsepower, to address many applications. The tractor includes modified frames for improved steering angle, new axles designed to carry increased loads at all tread settings, and new undercarriages and track systems to accommodate narrow tracks and follow the contour of the ground and road. Extensive development resulted in a narrow track-and-roller system with a patented pivoting undercarriage that can carry the same loads as a wide-track machine while delivering more flexibility, efficiency and productivity.
Case IH Agriculture, Racine, Wis.
---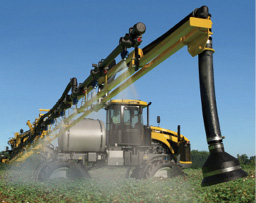 AGCO RG700 Self-Propelled Sprayer
The RG700 is a self-propelled sprayer for use in production agriculture for the application of a wide-range of crop nutrients and crop protection products. With a 700 gallon (2,650 liter) tank, it is designed primarily for the grower market but also provides versatility for use by professional applicators on smaller fields. The RG700 features the all-wheel drive Smart Drive System, even weight distribution and a parallel C-channel flex frame to provide consistent field speed without shifting and excellent traction with all four wheels remaining in constant contact with the ground. The result is a smoother ride and precise product application, even under varying field conditions. Other features include a powerful, fuel-efficient, high-torque engine to provide consistent power to pull through hills, rough terrain, and soft, wet ground; adjustable track widths to operate quickly and easily through a wide variety of crops, crop heights and field conditions; and new cab comfort and safety features.
AGCO Corp., Duluth, Ga.
---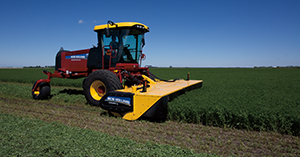 New Holland Speedrower Self-Propelled Windrowers
A high-speed transport option, improved hydro-mechanical steering and integrated IntelliSteer auto-guidance make the Speedrower more productive, getting an operator into the field more quickly and allowing faster field speeds with a full header on every pass. Transport speeds up to 24 mph (38 kph) are beneficial to customers with widespread haying operations and custom operators. IntelliSteer auto-guidance provides the ability to operate within 6 inches (15 centimeters) of pass-to-pass accuracy at speeds up to 16 mph (25 kph), even with a WAAS guidance signal. An added benefit: guidance information is provided on the existing Intelliview IV touch-screen monitor. Precise in-field steering comes with a new hydro-mechanical steering system and through elimination of several mechanical components and tighter machining tolerances on components still used. Incorporation of a steering motor, as used on conventional steering systems, facilitates the addition of integrated auto-guidance. No separate electric motors need be mounted on the steering column.
New Holland Agriculture, New Holland, Pa.
---