For the past 28 years, members of the American Society of Agricultural and Biological Engineers (ASABE) have recognized the most innovative advancements in engineering in the areas of agricultural, food and biological systems with the AE50 Award. The products selected save producers time, reduce costs and labor, while improving user safety.
To be eligible for the award, each development — which could be a component, machine, structure, system, end product or procedure — must embody the application of new technology or the innovative application of an older technology. The technology must be new to the whole industry, not just to an individual company. In addition, for the 2015 awards the development must have been first offered for sale between Jan. 1-Dec. 31, 2014.
Each year an international panel of industry experts in technology, design and product development evaluate the entries and select up to 50 products for recognition. This year, given the strength of the nominated products, the judges awarded 56 products.
Below you will find the winners of this year's AE50 Award.
---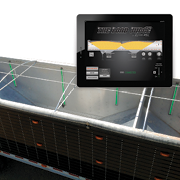 Leading Edge Industries Load Judge
The Load Judge from Leading Edge Industries uses patent-pending, high-tech sensors and a user-friendly smartphone or tablet app to load hopper-bottom grain trailers with a high degree of accuracy. This new technology captures and transmits real-time data for consistent, repeatable results regardless of grain type or operating conditions. Data are adjustable based on different trailer makes and models, and the app displays specific commodity configuration graphics for the exact trailer being loaded. The proximity sensors self-calibrate every second to continuously deliver data in real time. A bushel estimator provides estimated bushel quantities throughout the loading process, while a pile peak adjustment feature accounts for differences in piling wet or dry commodities to allow the user to customize accordingly. Furthermore, desired load levels can be set and saved for every condition.
Leading Edge Industries, Groton, S.D.
---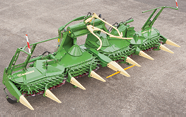 Krone North America EasyCollect 603 Row-Independent Corn Head
The new Krone EasyCollect 603 corn head can harvest eight rows of corn at a 20-foot working width and then tri-fold flat for narrow transport. Split into three sections, the header folds quickly and easily into transport position at the touch of a button for a low transport height and a narrow 7-foot, 10-inch transport width that provides an unobstructed view when transporting the machine. The corn head utilizes the Krone Collector. Its modular, endless collector design leads to a reduction in the number of components and drive systems, thus reducing weight and power requirements. The collector feeds the crop to the middle of the machine, and the crop passes smoothly through the header and into the machine without ever changing direction. This system keeps the stalks perpendicular to the chopping assembly, which results in exceptional chop quality.
Krone North America Inc., Memphis, Tenn.
---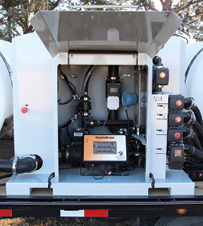 SureFire Ag Systems QuickDraw Spray Tender
QuickDraw is the first fully automatic spray tender, filling the sprayer with a completely mixed batch in less than 10 minutes. It starts with the chemical rates per acre and then calculates the volume of carrier and each chemical necessary based on field or sprayer tank size and total spray rate. Its controller mixes the batch by reading carrier and chemical flowmeters and then controlling independent valves for each material. The chemicals are drawn from their bulk containers by generating suction with a venturi. For 2015, a new Micro-Motion mass flowmeter will accurately measure all liquids regardless of viscosity, conductivity and other characteristics, removing the need to determine calibration numbers for the large variety of chemicals that sprayer operators use. The QuickDraw controller also calculates the required amounts of small volumes and dry chemicals and instructs the operator when to add them manually in the mix sequence. The QuickDraw iPad app communicates wirelessly with the main controller, allowing easy recipe creation and downloads of batch history.
SureFire Ag Systems, Atwood, Kan.
---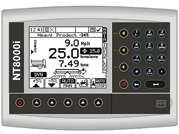 Digi-Star NT8000i Nutrient Tracker Rate Control System
The NT8000i is a closed-loop rate control system for hydraulically driven apron and floor systems on manure, lime and fertilizer spreaders. It provides precision guidance and prescription-based control of the spreading rate. It has a weight-based self-calibration and calibration-check system that continuously monitors and readjusts the calibration factor based on the actual weight of the material spread. The system provides enhanced spreading rate accuracy when working with challenging materials of varying density, such as manure, litter and compost. It can be fitted on any spreader equipped with load cells and a hydraulically driven apron floor chain system.
Digi-Star LLC, Fort Atkinson, Wis.
---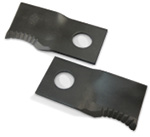 Kondex Corp. Disc Mower Knife with Improved Crop Shark Cutting Edge
Kondex is now offering a disc mower knife with an improved Crop Shark cutting edge that is designed to grab the crop and hold it while it is being cut. This design uses a concave cutting edge and an aggressive serration pattern instead of the standard straight cutting edge. This new design provides a cleaner, more efficient cut and installs the same as traditional blades. The new blades are made in accordance with ISO 5718.
Kondex Corp., Lomira, Wis.
---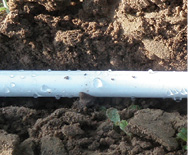 Root Demand Irrigation RDI 73B40
Root Demand Irrigation is a form of subsurface irrigation interacting with the plants' roots to release water needed to meet the crop's requirements. Water is released from the RDI tube when naturally occurring chemicals from the roots are released and come in contact with the RDI tube. This is combined with PVC pipe, connections and monitoring and controls to form a complete system. Root Demand Irrigation is easy to install in irregularly shaped fields, has minimal filtration requirements for ground or surface water, has low energy requirements and requires minimal labor during the growing season.
Root Demand Irrigation, Omaha, Neb.
---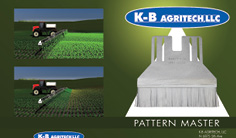 K-B Agritech Pattern Master
The Pattern Master is a simple, common sense approach to reducing spray drift. Made of laser-cut aluminum and a polyethylene brush designed so the brush hangs below the boom, the Pattern Master prevents wind shear from destroying a developing spray pattern. The results are more usable product on target, less spray drift and a better job of spraying. Installing the Pattern Master in front of any nozzle tip will enhance the spray job because it controls ambient wind as well as the wind created by the sprayer ground speed.
K-B Agritech LLC, Plainfield, Wis.
---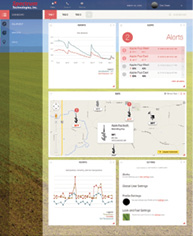 Spectrum Technologies SpecConnect
SpecConnect is a cloud-based data analysis tool that provides growers and researchers the ability to view and analyze real-time crop data instantly on the Internet via a computer or mobile device. More than a website, the SpecConnect system includes DataScout modems to obtain data from remote weather stations or loggers. The FieldScout Bluetooth accessory and FieldScout mobile app communicate data from portable devices through a smartphone. Numerous reporting capabilities exist, such as maps, graphs and tables, in addition to alerts that notify users via text or phone call when user-defined sensor thresholds have been breached. It has the ability to tie into other systems to export, view and run additional calculations on the acquired data using open API protocols. The system offers flexibility for growers and researchers by providing one central point for multiple users to view various reports on different devices.
Spectrum Technologies Inc., Aurora, Ill.
---

Hagie Mfg. CCI Cover Crop Interseeder
The CCI is a new cover crop interseeder that boosts the versatility of Hagie STS sprayers. It incorporates boom hosing and a Gandy dry box for below-canopy broadcast seeding of cover crops. It increases return on investment, protects soil health, maximizes seedling stands and protects inputs by performing timely and precise seeding applications.
Hagie Mfg., Clarion, Iowa
---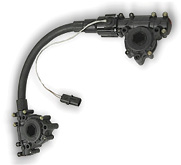 Elliott Mfg. EGO FlexSeeder
The EGO FlexSeeder from Elliott Mfg. transfers rotary power through gearboxes to sequence seed delivery in one application, replacing chain-and-sprocket drives. The fully sealed flexible shaft requires no servicing and gives machine designers an economical and reliable solution capable of a long service life without replacement. Designed with the option of individual on/off row control for precision farming and maintenance-free operations, users will realize substantial seed savings and increased yields. It has been designed to fit a variety of seeder platforms and allows OEMs, aftermarket professionals and farmers the ability to economically upgrade their planting systems with state-of-the-art drive technology.
Elliott Mfg., Binghamton, N.Y.
---
John Deere Commercial Products Quick-Connect Backhoe Installation System
This quick-connect system for installing a subframe-mounted backhoe on a compact utility tractor reduces the time and skill required for backhoe installation.
John Deere Commercial Products,Grovetown, Ga.
---
Seed Hawk Precision Seed Meter
The Seed Hawk Precision Seed Meter is a seed and granular fertilizer metering device that uses a modular design containing multiple electric drives to independently supply granular products to finite sections of the air seeder toolbar. The electric drives greatly reduce the reaction time of the meter during sectional control and enables compensation for variable section size. By independently controlling product flow to each section of the toolbar, the metering accuracy is increased and each product's airstream is completely isolated. It also is now possible to practice variable-rate seeding with different application rates across the toolbar. Due to the modular design, the meter is scalable to match different toolbar sizes, with each electric drive feeding approximately 10 feet of toolbar. Therefore, at a given motor speed, the application rate is constant across all toolbar sizes, and possible application rates do not change depending on toolbar width.
Seed Hawk Inc., Langbank, Saskatchewan
---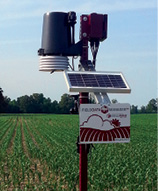 IntelliFarms FieldDataManager
IntelliFarms' newest hardware and software solution for the agriculture market is FieldDataManager. This is a comprehensive sensor-driven field monitoring system that provides real-time data about the below and aboveground soil conditions and atmospheric conditions that impact planting, irrigation and harvesting decisions. It gathers real-time data from up to 100 soil probe sensors using a self-configuring wireless network. The wireless network is custom-designed for a wide RF range, yet is extremely energy efficient. The result is a battery-powered wireless soil probe operating at the highest legal RF power that can be placed close to the ground, under the crop canopy. Each device contains a GPS receiver to time-synchronize the entire network, which then follows a strict transmission schedule to eliminate any wasted energy. All data are compiled into one user-friendly interface accessible via any Web-enabled device. The interface offers customizable data tables and charts that make data interpretation easy and actionable.
IntelliFarms LLC, Archie, Mo.
---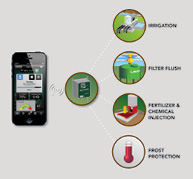 Lindsay Corp. Multi-Control for Irrigation
Multi-Control is an easy-to-use wireless control system for low-volume irrigation systems, such as drip systems (with below-ground or above-ground tubing), emitters, micro sprays and sprinklers. The user interface is based on smartphone and tablet apps or an Internet browser and can be controlled from anywhere using the software available in app stores or directly through a secure Internet connection. The expandable wireless controls adapt to latching DC solenoid valves for easy retrofit of existing manually controlled irrigation systems.
Lindsay Corp., Omaha, Neb.
---

Great Plains Mfg. SD3000 Short Disk
The Great Plains Short Disk features individual disc mounts, which allows the blades to be angled while the frame remains straight for better ground-engaging and contour-following capabilities. The Short Disk gives producers the best of both worlds: run it shallow to manage residue, or run it up to 7-inches deep as a primary tillage implement in preparation for the next crop. It incorporates hydraulic weight transfer and maintenance-free tapered disc bearings with 6-lip
cassette seals.
Great Plains Mfg., Salina, Kan..
---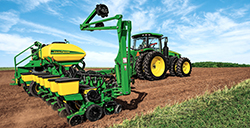 John Deere MaxEmerge5 Row Unit
The MaxEmerge5 row unit has a new seed meter and hopper design that allow for easy adjustments of the double eliminator with an external dial to achieve 100% seed population. The new row unit structure also provides access to the meters for seed changeovers and serviceability. Large seed hoppers have a seed shutoff gate into the meter to hold seed in the hopper, so the hopper no longer needs to be removed to access and open the meter. The row unit structure has also been improved. The ductile cast iron shank is strengthened to handle tough no-till and rocky conditions. The gauge wheel pivot bearings have also been strengthened and have three times the wear life of previous models.
John Deere, Moline, Ill.
---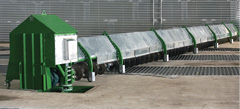 Sukup Mfg. Zero-Entry Commercial Sweep
The Zero-Entry Commercial Sweep is an unloading system that is operated entirely from outside of the bin, thus providing safer operation. Concrete floors in bins of 90-156-feet in diameter can vary from level by 2-inches or more, resulting in uneven weight distribution as the sweep circles the bin. Previous drive systems for large bin sweeps have not provided for up-and-down movement or they included U-joints that permitted up-and-down movement but were difficult and expensive to replace. The Zero-Entry Commercial Sweep uses a unique floating pivot system with direct connection of the drive unit to the sweep auger. This design allows the sweep to move around the grain bin with its weight evenly distributed on the bin floor, thus preventing wear and damage to
expensive components.
Sukup Mfg., Sheffield, Iowa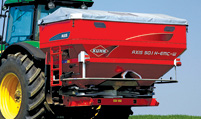 Kuhn North America Axis 50.1 H-EMC-W Precision Fertilizer Spreader
The Axis 50.1 H-EMC-W precision fertilizer spreader provides precise application rate control and spread pattern. Precise application rate control through EMC (electronic mass flow control) technology continually measures the hydraulic backpressure and automatically corrects, every second, the application rate on each disc. The results have a variance of less than 1% when comparing desired application to the actual application. Advanced spreading characteristics provide the ability to spread granular fertilizer, with precision, up to 164 feet. ISOBUS compatibility and variable-rate capability are standard. Section control, controlled automatically via a GPS input, allows spreading of up to eight sections, four per side, to reduce overlap and over-application. To reduce downtime, two high-capacity weigh cells verify how much material is left before needing to reload.
Kuhn North America, Brodhead, Wis.
---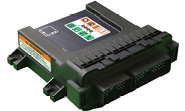 Novariant ECU-S1 AutoSteering Controller
The ECU-S1 is a high-precision autosteering controller that can be interfaced with any certified partner GNSS receiver and display to build a complete autosteering solution for precision agriculture applications. It is the first hands-free autosteering system that functions with virtually any certified GNSS source and/or partner display using standard API messaging. The ECU-S1 features an open API protocol using standardized messaging, which makes integration with different displays, GNSS receivers and vehicle interfaces easy and seamless. The ECU-S1 offers industry-leading performance in terms of line acquisition and steering accuracy.
Novariant Inc., Fremont, Calif.
---

McLanahan Corp. Nutrient Separation System
The Nutrient Separation System was developed to improve the social and environmental sustainability of the dairy industry while reducing the cost and liability associated with manure management. In general, nutrients are separated and concentrated from manure, allowing for application where and when they are needed. The system is comprised of four unit processes: pretreatment under anaerobic conditions, ultrafiltration, air stripping and absorption and reverse osmosis. These unit processes are combined and operated in a unique way that addresses the challenging consistency and composition of animal manure. The system outputs include concentrated organic nitrogen and phosphorus (slurry), ammonium sulfate (liquid) concentrated potassium (liquid) and clean water. The output water can be applied as irrigation, re-used in the process or discharged.
McLanahan Corp., Hollidaysburg, Pa.
---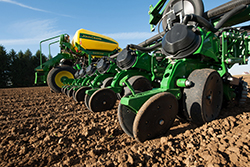 John Deere ExactEmerge Row Unit
The ExactEmerge row unit has an exclusive seed delivery system that plants at speeds up to 10 mph. The seed meter and delivery system have a crisp seed handoff and control the seed through the delivery process from the meter to the ground. The seed releases from the delivery cartridge at a rearward speed that matches the forward speed of the planter, resulting in a dead drop of the seed into the trench. The ExactEmerge row unit is fully controlled by two electric motors and has a new reflective seed sensor in the delivery cartridge to monitor the system performance. The result is superior seed placement, allowing the seed to get to the bottom of the trench for excellent depth control and seed spacing at higher planting speeds.
John Deere, Moline, Ill.
---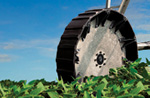 Lindsay Corp. NFTrax Airless Wheel Assembly
The new patent-pending NFTrax is an airless wheel design for center-pivot systems that will never go flat and keeps wheel ruts to a minimum, thereby saving time, labor and replacement costs. Compared to pneumatic and solid tires, NFTrax helps growers avoid tread damage, punctures and air pressure checks. In addition, it reduces wheel rut depth, lessens wheel rut runoff and reduces erosion, allowing trouble-free operation throughout the growing season.
Lindsay Corp., Omaha, Neb.
---
Wandering Shepherd Wireless Rumen Bolus for Smart Herd Management
The Smart Herd Management System (SHMS) takes real-time measurement of rumenent animals' core body temperature with a device called a wireless rumen bolus. Monitoring of temperature in ruminants can aid in heat stress, monitoring and detection of mastitis, estrus, metritis, pneumonia/respiratory disease, pregnancy and overall animal well-being. Each wireless rumen bolus transmits data to a central location through a relay system among the herd. Ranchers can then access up-to-date information on their own ruminant animals' temperature, movement and location. This allows ranchers to identify early warning signs of sickness and calving. This SHMS reduces labor cost, overall treatment cost and overall ruminant animals cost. This SHMS is perfect for optimizing dairy cattle milk production as affected by heat stresses. The wireless rumen bolus features extremely long battery life and can communicate with any mobile or desktop device running Wandering Shepherd software to remotely change bolus settings, perform temperature monitoring and motion detection and other features.
Wandering Shepherd Ltd., Sherwood Park, Alberta
---

Safety Psychographics Tri-Color Triangle
The Tri-Color Triangle is proposed as a major modification of the ASABE Standard SMV emblem. According to the designer, it represents a significant improvement in the practical application of the SMV emblem through greater visibility in both daytime and nighttime conditions. The new emblem may be proposed to the responsible ASABE Standards committees for consideration as a second type of SMV emblem or as a possible replacement for the current SMV emblem. (Editor's note: At press time, no formal standards proposal has been submitted for ASABE committee consideration.)
Safety Psychographics, Notre Dame, Ind.
---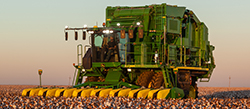 John Deere CS690 Cotton Stripper
The CS690 Cotton Stripper combines the productivity of the non-stop harvesting and on-board round module building technology originally made available by the 7760 Cotton Picker with the performance of the John Deere cotton stripper header and field cleaner in a simplified harvesting solution that eliminates the need for multiple tractors, boll buggies, module builders and all of the associated cost, labor and management. The CS690 showcases Anti-Slip Regulation traction control, next-generation ProDrive transmission, new CommandCenter touchscreen display and 500 horsepower from a new Tier 4 Final 13.5-liter engine, as well as enhanced hydraulic oil service intervals and a dedicated auxiliary fan. In addition, the CS690 is armed with integrated technologies in support of John Deere FarmSight, including RowSense, Autotrac, AutoTrac RowSense, JDLink (with wireless data transfer, remote display access, and ServiceADVISOR Remote), Harvest Identification, Cotton, Harvest Doc and a video camera observation system with new programmable triggers.
John Deere Des Moines Works, Ankeny, Iowa
---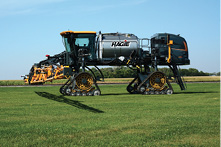 Hagie Mfg. Tracks System
A Hagie STS sprayer equipped with the new tracks system is a full-season application solution for a superior combination of traction and comfort with minimal soil disturbance and reduced compaction. The tracks impact the field with a footprint close to that of the human foot, applying less than 0.05 MPa (8.5 psi) to the ground. This technology allows the operator to extend the application window while minimizing the impact to the field.