For the past 28 years, members of the American Society of Agricultural and Biological Engineers (ASABE) have recognized the most innovative advancements in engineering in the areas of agricultural, food and biological systems with the AE50 Award. The products selected save producers time, reduce costs and labor, while improving user safety.
To be eligible for the award, each development — which could be a component, machine, structure, system, end product or procedure — must embody the application of new technology or the innovative application of an older technology. The technology must be new to the whole industry, not just to an individual company. In addition, for the 2015 awards the development must have been first offered for sale between Jan. 1-Dec. 31, 2014.
Each year an international panel of industry experts in technology, design and product development evaluate the entries and select up to 50 products for recognition. This year, given the strength of the nominated products, the judges awarded 56 products.
Below you will find the winners of this year's AE50 Award.
---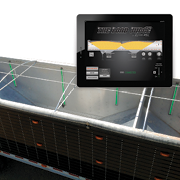 Leading Edge Industries Load Judge
The Load Judge from Leading Edge Industries uses patent-pending, high-tech sensors and a user-friendly smartphone or tablet app to load hopper-bottom grain trailers with a high degree of accuracy. This new technology captures and transmits real-time data for consistent, repeatable results regardless of grain type or operating conditions. Data are adjustable based on different trailer makes and models, and the app displays specific commodity configuration graphics for the exact trailer being loaded. The proximity sensors self-calibrate every second to continuously deliver data in real time. A bushel estimator provides estimated bushel quantities throughout the loading process, while a pile peak adjustment feature accounts for differences in piling wet or dry commodities to allow the user to customize accordingly. Furthermore, desired load levels can be set and saved for every condition.
Leading Edge Industries, Groton, S.D.
---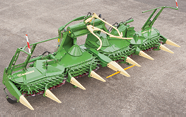 Krone North America EasyCollect 603 Row-Independent Corn Head
The new Krone EasyCollect 603 corn head can harvest eight rows of corn at a 20-foot working width and then tri-fold flat for narrow transport. Split into three sections, the header folds quickly and easily into transport position at the touch of a button for a low transport height and a narrow 7-foot, 10-inch transport width that provides an unobstructed view when transporting the machine. The corn head utilizes the Krone Collector. Its modular, endless collector design leads to a reduction in the number of components and drive systems, thus reducing weight and power requirements. The collector feeds the crop to the middle of the machine, and the crop passes smoothly through the header and into the machine without ever changing direction. This system keeps the stalks perpendicular to the chopping assembly, which results in exceptional chop quality.
Krone North America Inc., Memphis, Tenn.
---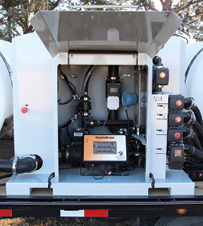 SureFire Ag Systems QuickDraw Spray Tender
QuickDraw is the first fully automatic spray tender, filling the sprayer with a completely mixed batch in less than 10 minutes. It starts with the chemical rates per acre and then calculates the volume of carrier and each chemical necessary based on field or sprayer tank size and total spray rate. Its controller mixes the batch by reading carrier and chemical flowmeters and then controlling independent valves for each material. The chemicals are drawn from their bulk containers by generating suction with a venturi. For 2015, a new Micro-Motion mass flowmeter will accurately measure all liquids regardless of viscosity, conductivity and other characteristics, removing the need to determine calibration numbers for the large variety of chemicals that sprayer operators use. The QuickDraw controller also calculates the required amounts of small volumes and dry chemicals and instructs the operator when to add them manually in the mix sequence. The QuickDraw iPad app communicates wirelessly with the main controller, allowing easy recipe creation and downloads of batch history.
SureFire Ag Systems, Atwood, Kan.
---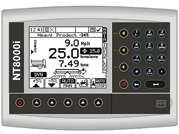 Digi-Star NT8000i Nutrient Tracker Rate Control System
The NT8000i is a closed-loop rate control system for hydraulically driven apron and floor systems on manure, lime and fertilizer spreaders. It provides precision guidance and prescription-based control of the spreading rate. It has a weight-based self-calibration and calibration-check system that continuously monitors and readjusts the calibration factor based on the actual weight of the material spread. The system provides enhanced spreading rate accuracy when working with challenging materials of varying density, such as manure, litter and compost. It can be fitted on any spreader equipped with load cells and a hydraulically driven apron floor chain system.
Digi-Star LLC, Fort Atkinson, Wis.
---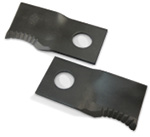 Kondex Corp. Disc Mower Knife with Improved Crop Shark Cutting Edge
Kondex is now offering a disc mower knife with an improved Crop Shark cutting edge that is designed to grab the crop and hold it while it is being cut. This design uses a concave cutting edge and an aggressive serration pattern instead of the standard straight cutting edge. This new design provides a cleaner, more efficient cut and installs the same as traditional blades. The new blades are made in accordance with ISO 5718.
Kondex Corp., Lomira, Wis.
---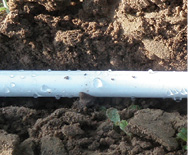 Root Demand Irrigation RDI 73B40
Root Demand Irrigation is a form of subsurface irrigation interacting with the plants' roots to release water needed to meet the crop's requirements. Water is released from the RDI tube when naturally occurring chemicals from the roots are released and come in contact with the RDI tube. This is combined with PVC pipe, connections and monitoring and controls to form a complete system. Root Demand Irrigation is easy to install in irregularly shaped fields, has minimal filtration requirements for ground or surface water, has low energy requirements and requires minimal labor during the growing season.
Root Demand Irrigation, Omaha, Neb.
---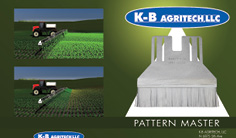 K-B Agritech Pattern Master
The Pattern Master is a simple, common sense approach to reducing spray drift. Made of laser-cut aluminum and a polyethylene brush designed so the brush hangs below the boom, the Pattern Master prevents wind shear from destroying a developing spray pattern. The results are more usable product on target, less spray drift and a better job of spraying. Installing the Pattern Master in front of any nozzle tip will enhance the spray job because it controls ambient wind as well as the wind created by the sprayer ground speed.
K-B Agritech LLC, Plainfield, Wis.
---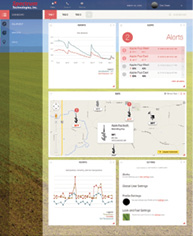 Spectrum Technologies SpecConnect
SpecConnect is a cloud-based data analysis tool that provides growers and researchers the ability to view and analyze real-time crop data instantly on the Internet via a computer or mobile device. More than a website, the SpecConnect system includes DataScout modems to obtain data from remote weather stations or loggers. The FieldScout Bluetooth accessory and FieldScout mobile app communicate data from portable devices through a smartphone. Numerous reporting capabilities exist, such as maps, graphs and tables, in addition to alerts that notify users via text or phone call when user-defined sensor thresholds have been breached. It has the ability to tie into other systems to export, view and run additional calculations on the acquired data using open API protocols. The system offers flexibility for growers and researchers by providing one central point for multiple users to view various reports on different devices.
Spectrum Technologies Inc., Aurora, Ill.
---

Hagie Mfg. CCI Cover Crop Interseeder
The CCI is a new cover crop interseeder that boosts the versatility of Hagie STS sprayers. It incorporates boom hosing and a Gandy dry box for below-canopy broadcast seeding of cover crops. It increases return on investment, protects soil health, maximizes seedling stands and protects inputs by performing timely and precise seeding applications.
Hagie Mfg., Clarion, Iowa
---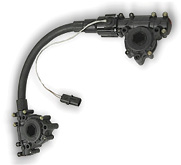 Elliott Mfg. EGO FlexSeeder
The EGO FlexSeeder from Elliott Mfg. transfers rotary power through gearboxes to sequence seed delivery in one application, replacing chain-and-sprocket drives. The fully sealed flexible shaft requires no servicing and gives machine designers an economical and reliable solution capable of a long service life without replacement. Designed with the option of individual on/off row control for precision farming and maintenance-free operations, users will realize substantial seed savings and increased yields. It has been designed to fit a variety of seeder platforms and allows OEMs, aftermarket professionals and farmers the ability to economically upgrade their planting systems with state-of-the-art drive technology.
Elliott Mfg., Binghamton, N.Y.
---
John Deere Commercial Products Quick-Connect Backhoe Installation System
This quick-connect system for installing a subframe-mounted backhoe on a compact utility tractor reduces the time and skill required for backhoe installation.
John Deere Commercial Products,Grovetown, Ga.
---
Seed Hawk Precision Seed Meter
The Seed Hawk Precision Seed Meter is a seed and granular fertilizer metering device that uses a modular design containing multiple electric drives to independently supply granular products to finite sections of the air seeder toolbar. The electric drives greatly reduce the reaction time of the meter during sectional control and enables compensation for variable section size. By independently controlling product flow to each section of the toolbar, the metering accuracy is increased and each product's airstream is completely isolated. It also is now possible to practice variable-rate seeding with different application rates across the toolbar. Due to the modular design, the meter is scalable to match different toolbar sizes, with each electric drive feeding approximately 10 feet of toolbar. Therefore, at a given motor speed, the application rate is constant across all toolbar sizes, and possible application rates do not change depending on toolbar width.
Seed Hawk Inc., Langbank, Saskatchewan
---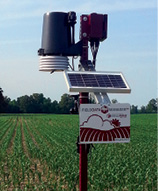 IntelliFarms FieldDataManager
IntelliFarms' newest hardware and software solution for the agriculture market is FieldDataManager. This is a comprehensive sensor-driven field monitoring system that provides real-time data about the below and aboveground soil conditions and atmospheric conditions that impact planting, irrigation and harvesting decisions. It gathers real-time data from up to 100 soil probe sensors using a self-configuring wireless network. The wireless network is custom-designed for a wide RF range, yet is extremely energy efficient. The result is a battery-powered wireless soil probe operating at the highest legal RF power that can be placed close to the ground, under the crop canopy. Each device contains a GPS receiver to time-synchronize the entire network, which then follows a strict transmission schedule to eliminate any wasted energy. All data are compiled into one user-friendly interface accessible via any Web-enabled device. The interface offers customizable data tables and charts that make data interpretation easy and actionable.
IntelliFarms LLC, Archie, Mo.
---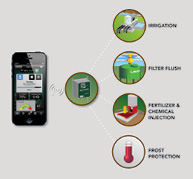 Lindsay Corp. Multi-Control for Irrigation
Multi-Control is an easy-to-use wireless control system for low-volume irrigation systems, such as drip systems (with below-ground or above-ground tubing), emitters, micro sprays and sprinklers. The user interface is based on smartphone and tablet apps or an Internet browser and can be controlled from anywhere using the software available in app stores or directly through a secure Internet connection. The expandable wireless controls adapt to latching DC solenoid valves for easy retrofit of existing manually controlled irrigation systems.
Lindsay Corp., Omaha, Neb.
---

Great Plains Mfg. SD3000 Short Disk
The Great Plains Short Disk features individual disc mounts, which allows the blades to be angled while the frame remains straight for better ground-engaging and contour-following capabilities. The Short Disk gives producers the best of both worlds: run it shallow to manage residue, or run it up to 7-inches deep as a primary tillage implement in preparation for the next crop. It incorporates hydraulic weight transfer and maintenance-free tapered disc bearings with 6-lip
cassette seals.
Great Plains Mfg., Salina, Kan..
---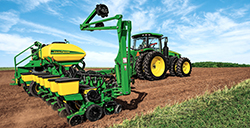 John Deere MaxEmerge5 Row Unit
The MaxEmerge5 row unit has a new seed meter and hopper design that allow for easy adjustments of the double eliminator with an external dial to achieve 100% seed population. The new row unit structure also provides access to the meters for seed changeovers and serviceability. Large seed hoppers have a seed shutoff gate into the meter to hold seed in the hopper, so the hopper no longer needs to be removed to access and open the meter. The row unit structure has also been improved. The ductile cast iron shank is strengthened to handle tough no-till and rocky conditions. The gauge wheel pivot bearings have also been strengthened and have three times the wear life of previous models.
John Deere, Moline, Ill.
---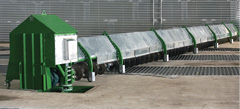 Sukup Mfg. Zero-Entry Commercial Sweep
The Zero-Entry Commercial Sweep is an unloading system that is operated entirely from outside of the bin, thus providing safer operation. Concrete floors in bins of 90-156-feet in diameter can vary from level by 2-inches or more, resulting in uneven weight distribution as the sweep circles the bin. Previous drive systems for large bin sweeps have not provided for up-and-down movement or they included U-joints that permitted up-and-down movement but were difficult and expensive to replace. The Zero-Entry Commercial Sweep uses a unique floating pivot system with direct connection of the drive unit to the sweep auger. This design allows the sweep to move around the grain bin with its weight evenly distributed on the bin floor, thus preventing wear and damage to
expensive components.
Sukup Mfg., Sheffield, Iowa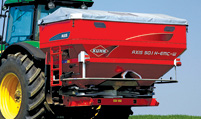 Kuhn North America Axis 50.1 H-EMC-W Precision Fertilizer Spreader
The Axis 50.1 H-EMC-W precision fertilizer spreader provides precise application rate control and spread pattern. Precise application rate control through EMC (electronic mass flow control) technology continually measures the hydraulic backpressure and automatically corrects, every second, the application rate on each disc. The results have a variance of less than 1% when comparing desired application to the actual application. Advanced spreading characteristics provide the ability to spread granular fertilizer, with precision, up to 164 feet. ISOBUS compatibility and variable-rate capability are standard. Section control, controlled automatically via a GPS input, allows spreading of up to eight sections, four per side, to reduce overlap and over-application. To reduce downtime, two high-capacity weigh cells verify how much material is left before needing to reload.
Kuhn North America, Brodhead, Wis.
---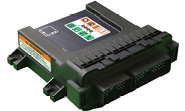 Novariant ECU-S1 AutoSteering Controller
The ECU-S1 is a high-precision autosteering controller that can be interfaced with any certified partner GNSS receiver and display to build a complete autosteering solution for precision agriculture applications. It is the first hands-free autosteering system that functions with virtually any certified GNSS source and/or partner display using standard API messaging. The ECU-S1 features an open API protocol using standardized messaging, which makes integration with different displays, GNSS receivers and vehicle interfaces easy and seamless. The ECU-S1 offers industry-leading performance in terms of line acquisition and steering accuracy.
Novariant Inc., Fremont, Calif.
---

McLanahan Corp. Nutrient Separation System
The Nutrient Separation System was developed to improve the social and environmental sustainability of the dairy industry while reducing the cost and liability associated with manure management. In general, nutrients are separated and concentrated from manure, allowing for application where and when they are needed. The system is comprised of four unit processes: pretreatment under anaerobic conditions, ultrafiltration, air stripping and absorption and reverse osmosis. These unit processes are combined and operated in a unique way that addresses the challenging consistency and composition of animal manure. The system outputs include concentrated organic nitrogen and phosphorus (slurry), ammonium sulfate (liquid) concentrated potassium (liquid) and clean water. The output water can be applied as irrigation, re-used in the process or discharged.
McLanahan Corp., Hollidaysburg, Pa.
---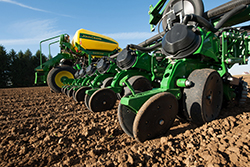 John Deere ExactEmerge Row Unit
The ExactEmerge row unit has an exclusive seed delivery system that plants at speeds up to 10 mph. The seed meter and delivery system have a crisp seed handoff and control the seed through the delivery process from the meter to the ground. The seed releases from the delivery cartridge at a rearward speed that matches the forward speed of the planter, resulting in a dead drop of the seed into the trench. The ExactEmerge row unit is fully controlled by two electric motors and has a new reflective seed sensor in the delivery cartridge to monitor the system performance. The result is superior seed placement, allowing the seed to get to the bottom of the trench for excellent depth control and seed spacing at higher planting speeds.
John Deere, Moline, Ill.
---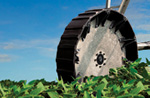 Lindsay Corp. NFTrax Airless Wheel Assembly
The new patent-pending NFTrax is an airless wheel design for center-pivot systems that will never go flat and keeps wheel ruts to a minimum, thereby saving time, labor and replacement costs. Compared to pneumatic and solid tires, NFTrax helps growers avoid tread damage, punctures and air pressure checks. In addition, it reduces wheel rut depth, lessens wheel rut runoff and reduces erosion, allowing trouble-free operation throughout the growing season.
Lindsay Corp., Omaha, Neb.
---
Wandering Shepherd Wireless Rumen Bolus for Smart Herd Management
The Smart Herd Management System (SHMS) takes real-time measurement of rumenent animals' core body temperature with a device called a wireless rumen bolus. Monitoring of temperature in ruminants can aid in heat stress, monitoring and detection of mastitis, estrus, metritis, pneumonia/respiratory disease, pregnancy and overall animal well-being. Each wireless rumen bolus transmits data to a central location through a relay system among the herd. Ranchers can then access up-to-date information on their own ruminant animals' temperature, movement and location. This allows ranchers to identify early warning signs of sickness and calving. This SHMS reduces labor cost, overall treatment cost and overall ruminant animals cost. This SHMS is perfect for optimizing dairy cattle milk production as affected by heat stresses. The wireless rumen bolus features extremely long battery life and can communicate with any mobile or desktop device running Wandering Shepherd software to remotely change bolus settings, perform temperature monitoring and motion detection and other features.
Wandering Shepherd Ltd., Sherwood Park, Alberta
---

Safety Psychographics Tri-Color Triangle
The Tri-Color Triangle is proposed as a major modification of the ASABE Standard SMV emblem. According to the designer, it represents a significant improvement in the practical application of the SMV emblem through greater visibility in both daytime and nighttime conditions. The new emblem may be proposed to the responsible ASABE Standards committees for consideration as a second type of SMV emblem or as a possible replacement for the current SMV emblem. (Editor's note: At press time, no formal standards proposal has been submitted for ASABE committee consideration.)
Safety Psychographics, Notre Dame, Ind.
---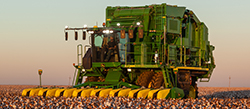 John Deere CS690 Cotton Stripper
The CS690 Cotton Stripper combines the productivity of the non-stop harvesting and on-board round module building technology originally made available by the 7760 Cotton Picker with the performance of the John Deere cotton stripper header and field cleaner in a simplified harvesting solution that eliminates the need for multiple tractors, boll buggies, module builders and all of the associated cost, labor and management. The CS690 showcases Anti-Slip Regulation traction control, next-generation ProDrive transmission, new CommandCenter touchscreen display and 500 horsepower from a new Tier 4 Final 13.5-liter engine, as well as enhanced hydraulic oil service intervals and a dedicated auxiliary fan. In addition, the CS690 is armed with integrated technologies in support of John Deere FarmSight, including RowSense, Autotrac, AutoTrac RowSense, JDLink (with wireless data transfer, remote display access, and ServiceADVISOR Remote), Harvest Identification, Cotton, Harvest Doc and a video camera observation system with new programmable triggers.
John Deere Des Moines Works, Ankeny, Iowa
---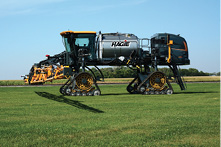 Hagie Mfg. Tracks System
A Hagie STS sprayer equipped with the new tracks system is a full-season application solution for a superior combination of traction and comfort with minimal soil disturbance and reduced compaction. The tracks impact the field with a footprint close to that of the human foot, applying less than 0.05 MPa (8.5 psi) to the ground. This technology allows the operator to extend the application window while minimizing the impact to the field.

Hagie Mfg. HsTB High-Speed Toolbar
With narrowing application windows, performing split nitrogen applications on broad acres can present challenges during the application season. Hagie's new High-Speed Toolbar (HsTB) is a low-draft front toolbar that offers a solution for efficiently applying nitrogen at a higher application speed during early growth stages.
Hagie Mfg., Clarion, Iowa
---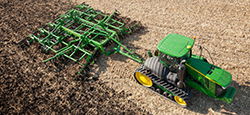 John Deere 2730 Combination Ripper
The 2730 Combination Ripper has been designed to meet tillage needs by incorporating four operational systems into one machine, with adjustments to optimize residue management and leave a customizable field finish. Maintenance-free bearings and minimized grease points across the machine provide the customer with more uptime. The frame size of the 2730 allows for greater performance and reliability. The 2730 delivers improved residue flow by increasing the overall frame length, under-frame clearance and fore-aft spacing of the ripper shanks. An innovative closing system provides uniform performance across a field and in all working conditions, while allowing a user-defined field finish with hydraulic adjustments. The 2730 is available in working widths of 14-, 18-, 22- and 26-feet, delivering a 44% increase in productivity over the previous John Deere 2700.
John Deere, Moline, Ill.
---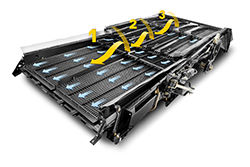 New Holland Triple-Clean Cleaning Shoe Technology
for CX5000 and CX6000 Elevation Combines
The new Triple-Clean cleaning shoe increases the cleaning capacity by as much as 15% on New Holland CX5000 and CX6000 elevation combines. Through the extra cascade in the center of the grain pan, an additional air blast from the new Triple-Clean cleaning fan removes large volumes of chaff and short straw before final cleaning even starts on the main sieves. This means the grain is almost completely cleaned in the first 50 centimeters of the cleaning shoe, resulting in excellent grain quality. This triple cascade approach maintains the highest quality of cleaning even when the machine is working at its highest capacity. The Triple-Clean cleaning technology is offered as standard equipment on all New Holland CX midrange combines, including models CX5080, CX5090, CX6080 and CX6090.
New Holland, Turin, Italy
---
Danfoss Power Solutions Reverse Displacement Motor
The Reverse Displacement Motor (RDM) is a two-position reversing motor designed for use in mobile open-circuit applications. The primary application target is fan drive cooling systems. The RDM offers reverse functionality without the need for a directional control valve anywhere in the system, as the motor swashplate reverses angle to give reversed rotation. The RDM also includes an integrated electric shift valve that uses system pressure for shifting, eliminating the need for an external pressure supply to shift the motor. Eliminating the need for a directional control valve, and the associated fittings and hoses, greatly simplifies reversing circuit system architecture. Additionally, the RDM is available with an integrated anti-cavitation and shock valve for system protection, as well as robust fan drive application options.
Danfoss Power Solutions, Ames, Iowa
---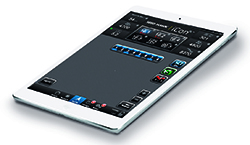 Seed Hawk iCon Wireless Control System
The iCon Wireless Control System controls and monitors the new line of Seed Hawk air carts and toolbars. The iCon Control System uses an iPad as the display and features a downloadable Seed Hawk specific app that allows for wireless communication with the Gateway located on the air cart. The system uses new technology to control individual electric drive meter motors and read individual load cells, enabling iCon to give on-the-go product weights and be used for calibration. The iCon has many unique features, such as Sectional Control Technology (SCT), integrated run blockage, field boundary and obstacle creation, on-the-go calibration, Fit to Field rate adjustment and the ability to control up to six products (four granular and two liquid/NH3), all combined in an intuitive user interface. Full wireless control of a towed seeding implement by Seed Hawk is a first in seeding technology.
Seed Hawk Inc., Langbank, Saskatchewan
---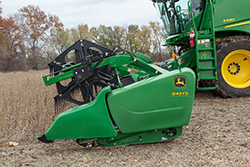 John Deere Harvester Works Platform Tilt Feederhouse
The model year 2015 S-Series Combines provide an optional Platform Tilt Feederhouse. The Platform Tilt Feederhouse allows the operator to adapt to changing soil and ground conditions and extend the harvesting day in any crop by hydraulically changing the header cutting angle 17 degrees from the cab. This feature also improves feeding the combine in field conditions where the crop could be down or lodged.
John Deere Harvester Works, East Moline, Ill.
---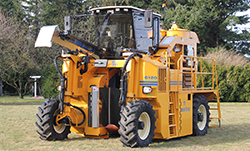 Oxbo International 6120 Grape Harvester
The 6120 is Oxbo's first grape harvester with a modular design specifically for ease of manufacturing. The conveyors, frame, operator station and cleaning systems are built as smaller subassemblies that are bolted together after painting in order to increase manufacturing throughput. The harvester can be broken down to be driven into a 40-foot container for overseas shipping. The four-wheeled drive chassis is highly maneuverable to increase uptime, while the operator station is placed directly above the row that is being harvested for optimum visibility. The harvester was designed with a low center of gravity for easy maintenance and stability in hilly terrain; the 6120 has side-slope capability of up to 25% and an optional road speed of 20 mph. Integrating feedback from growers before, during and after the design process, the 6120 was designed from the ground up to meet and surpass customer needs and expectations.
Oxbo International Corp., Lynden, Wash.
---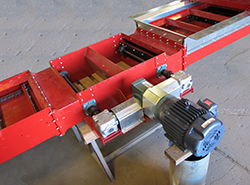 Hutchinson/Mayrath Dual Hopper Chain Conveyor
The Hutchinson/Mayrath Dual Hopper Chain Conveyor (DHCC) is a stationary, high-efficiency receiving conveyor that allows multi-hopper semi-trucks to discharge an entire load without repositioning over a receiving pit during operation. The modular design can be configured for site-specific layouts and has a capacity of 10,000- 20,000 bushels per hour. The DHCC requires as little as 42 inches of depth, compared to depths of 12 feet or more for conventional receiving pits, eliminating the risk of groundwater infiltration that often occurs with deep pits. The DHCC has been designed for safety, ease of service and longevity with features such as OSHA 1910.272 removable grating, spring-loaded chain tensioners, a beltless C-face drive motor, accessible bearings and commercial-grade gearboxes. The DHCC removes a hazardous confined space by eliminating the need for deep receiving pits, underground conveyors and associated maintenance activities.
Hutchinson/Mayrath, a Division of Global Industries Inc., Clay Center, Kan.
---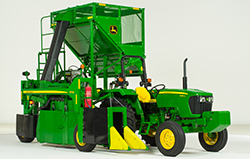 John Deere CP20 Cotton Picker
The CP20 Cotton Picker is a one-row, low-cost mechanical cotton harvesting solution designed for smaller growers and contractors in emerging markets. Capable of harvesting as much cotton in one hour as 250 labor hours with hand picking, the CP20 significantly increases productivity and lowers the cost of harvest. It's the industry's first semi-integral, tractor-hitched design delivering high maneuverability in small fields and easy attachment with tractors commonly used in the target markets. Integrating current proven cotton picker technology in a minimum-cost, market-appropriate solution, the key features include a John Deere Pro-Series picking unit, a 94-liter spindle cleaning solution tank, a high-capacity cotton delivery air system and a 4.5-meter-cubed basket. A manual lever basket unloading system is standard, with an optional hydraulic basket opener for fast unloading with cab tractors.
John Deere Des Moines Works, Ankeny, Iowa
---

New Holland Agriculture QuickMax Disc Cutterbar Quick-Change Knife System
The optional QuickMax quick-change knife system provides a method to quickly and easily flip or replace the cutterbar knives on Durabine disc headers and Discbine 313 and 316 disc mower-conditioners. Knife replacement can be accomplished in about a third of the time required to change knives on the standard, bolted retention system. This feature is an industry exclusive on disc headers for self-propelled windrowers. The system uses a spring plate under each of the knives to hold them on their anchor points. The New Holland system has a patent-pending knife anchor nut that includes an asymmetric step at the bottom of the knife-bearing surface on the nut. During operation, centrifugal force prevents the knife from disengaging from the nut, even if the spring plate should be forced downward by contact with a foreign object. When stationary, the spring plate is pried downward with a special tool, and the operator can easily push the knife toward the center of the arc to disengage the step on the knife anchor to change or flip the knife.
New Holland Agriculture, New Holland, Pa.
---
Forest Concepts Crumbles Precision Feedstocks
Understanding the structural biology and mechanics of natural failure within plants, Forest Concepts devised a novel method to produce uniform precision feedstocks at minimal energy consumption. Supported by the U.S. Department of Energy, Forest Concepts invented a proprietary machine that shears high-moisture feedstocks into Crumbles, which are uniform particles as small as 1/16-inch, for conversion to biofuels and biochemicals. The particles are flowable using standard grain handling equipment without the need to pre-dry. The technology has been successfully used on wood chips, corn stover, switchgrass, bamboo, sage and other biofuel feedstocks with moisture levels ranging from less than 10% to more than 80%. If drying is necessary, as with pyrolysis or gasification, drying small Crumbles particles requires significantly less energy than pre-drying chips.
Forest Concepts LLC, Auburn, Wash
---
John Deere L300 Series Large Square Baler
The L300 Series Large Square Baler offers the John Deere exclusive Double Tie Knotter and Knotter Blower System, which allow for greater performance, fewer missed knots and higher blower speed. The Double Tie Knotter System enables customers to achieve bales with optimal shape, consistent size and consistent density. The L300 Series also features functional styling with single-row twine boxes and open walk platforms, hydraulically controlled bale chamber and true look-ahead baling with electronic knotter flags and an integrated ISOBUS electrical system.
John Deere, Ottumwa, Iowa
---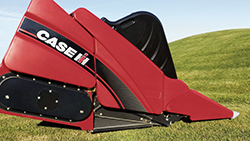 Case IH Flip-Up Tall Corn Attachment for 4400 Series Corn Heads
The Flip-Up Tall Corn Attachment is an all-new option available for Case IH 4400 Series corn heads. The function of this attachment is to prevent the loss of corn ears over the ends of the header when harvesting in tall stands of corn. This attachment is unique in that it is an integral part of the end divider and needs no tools to deploy. It incorporates the CIH CornLouvers, which ensure that any loose grain makes it into the combine, and it is made from rotationally molded plastic for light weight and superior structure. This option is available from the factory or can be installed by the dealer on both rigid and folding Case IH 4400 Series corn heads.
Case IH, Racine, Wis.
.
---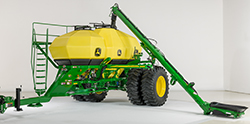 John Deere 1910 Commodity Cart
Hydraulically powered conveyance along with a flip-over hopper allows for easy loading and unloading of the 1910 Commodity Cart. Deployment of the conveyance system has been made easier with the addition of hydraulic cylinders to power the positioning of the conveyance. This feature reduces the effort required by the operator to manipulate the system as compared to the previous manually operated system. The control of the motion is further enhanced by the addition of a wireless transmitter. Pushbutton control of all conveyance functions gives the operator greater flexibility in loading. The new flip-over hopper allows for a compact package for transport and storage on the cart while providing the needed span to reach under semi-trailers for unloading.
John Deere, Moline, Ill.
---
DICKEY-john Hy Rate Plus LED Seed Sensor
The Hy Rate Plus LED seed sensor is an accurate and intelligent seed tube-mounted sensor for detecting row-crop planting populations at high rates on a wide variety of seeds. The sensor uses an advanced proprietary software algorithm and an improved light source to detect virtually every seed that passes through the sensing area. The intelligence of the sensor allows it to quickly learn the type of seed that is being planted in order to distinguish between multiple seeds as well as dirt, dust and other debris. Additionally, a uniform light field is created through the use of two to three times more light-emitting diodes than in other sensors on the market. This addition nearly eliminates the gaps that allow small seeds to pass by other sensors undetected.
DICKEY-john Corp., Auburn, Ill
---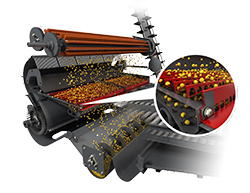 AGCO Perforated Cascade Pan on 2015 Gleaner S8 Super Series Combines
The 2015 Gleaner combines have increased shoe capacity with a new perforated cascade pan in the front of the cleaning shoe that is slanted at a 6 degree angle, and an additional 992-inches-squared has been converted to pneumatic cleaning area. This provides additional cleaning capacity and allows high-moisture corn and other high-moisture crops to fall through sooner, after coming through the exclusive accelerator rolls, and reach the sieve and clean grain cross auger faster. This design increases the capacity by approximately 10% in high-moisture conditions. In addition, the air duct has been moved forward 1.5-inches to redirect air to the crop that is falling through this area to the sieve and clean grain cross auger. The entire cleaning shoe area is now pneumatic and provides a 12.8% increase in measurable shoe area to 8,721-inches-squared. This also improves hillside operation and capacity with high-moisture crops.
AGCO, Duluth, Ga.
---
John Deere W260 Self-Propelled Windrower and 500R Rotary Platform
The W260 Self-Propelled Windrower and 500R Rotary Platform are new additions to the John Deere windrower product line. These models bring new features such as Pivot Pro, independent float, an industry-leading 260 rated horsepower with 285 maximum horsepower, increased platform capacity and improved crop flow performance. The 500R Rotary Platform delivers uniform windrows, allowing John Deere's single-conditioner system to perform as well as dual-conditioner platforms available today. Pivot Pro brings the productivity of integrated AutoTrac, with field operating speeds up to 18 mph and a line acquisition consistency of plus or minus 4 inches, to customers with center-pivot irrigation. The ability to independently adjust float suspension results in less dirt in the windrow, delivering higher-quality hay and forage. These new products deliver a significant increase in productivity and were developed through close collaboration with a broad base of customers.
John Deere, Ottumwa, Iowa
---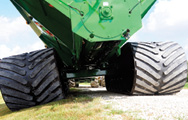 Unverferth Mfg. Equalizer Track Undercarriage
The Equalizer tracked undercarriage for grain carts offers a footprint of over 60 square feet for added flotation and trunion mounting of the track attachment for more consistent ground contact over uneven terrain. The 42-inch wide belt with shallow lug design provides a 15% greater footprint than any other agricultural grain cart track, yet retains a length of just 148-inches for easier turning around corners and minimized berming. The shallower tread design provides less rolling resistance for easier grain cart transport. Trunion mounting of the track assembly provides an additional point of oscillation of up to plus or minus 8 degrees for more even ground contact while decreasing high bearing loads. Carts equipped with the track include a standard auto-greaser for reducing maintenance of the system.
Unverferth Mfg., Kalida, Ohio
---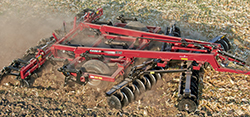 Case IH Ecolo-Tiger 875 Disk Ripper
With narrowing application windows, performing split nitrogen applications on broad acres can present challenges during the application season. Hagie's new High-Speed Toolbar (HsTB) is a low-draft front toolbar that offers a solution for efficiently applying nitrogen at a higher application speed during early growth stages.
Case IH, Goodfield, Ill.
---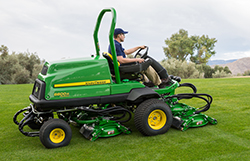 John Deere 7400A TerrainCut Mower & 8800A TerrainCut Rough Mower
The 7400A TerrainCut Trim and Surrounds Mower and 8800A TerrainCut Rough Mower are equipped with an electronic servo-controlled hydrostatic drive pump combined with large-displacement wheel motors and LoadMatch power regulating control systems for improved hill climbing and cut quality even in the most adverse conditions. The LoadMatch control system senses changing load conditions and automatically regulates the ground speed to maintain cut quality whether climbing a hill or cutting in tough turf conditions.
John Deere, Moline, Ill.
---
Great Plains Mfg. Anhydrous Ammonia Fertilizer Coulter
The Great Plains Anhydrous Ammonia Coulter promises to be a game changer in fertilizer application. In the past, most ammonia was applied with shanks in the fall, leaving the ground rough and then mellowing out over the winter. The new Anhydrous Ammonia Coulter allows the anhydrous ammonia to be applied pre-plant in the spring, with minimum ground disturbance, reducing nitrogen loss and allowing for RTK GPS precision placement. In addition, productivity is increased by using ground speeds of up to 8 mph, as compared to shank unit speeds of 5 mph. The double SPIDER closers have also proven to seal better than the disk sealers used behind shanks, further reducing ammonia loss to the atmosphere.
Great Plains Mfg., Salina, Kan.
---

Case IH Magnum Rowtrac Tractor
The Case IH Magnum Rowtrac tractor is the first high-horsepower tracked row-crop tractor with a steerable front wheel axle designed specifically for use in row-crop applications under a wide range of working conditions. This new tractor combines the low ground pressure of a tracked vehicle with the maneuverability and low soil disturbance of a wheeled tractor. The Magnum Rowtrac is available with four track widths (16, 18, 24 and 30 inches), seven tread settings (76, 80, 88, 120, 136, 144 and 152 inches), and two engine-horsepower models (340 and 380 horsepower) to meet a multitude of applications. The Model 380 has a peak horsepower of 435 horsepower using Case IH SCR-only Tier 4 Final technology to meet Tier 4 Final emissions requirements. The Case IH Magnum Rowtrac includes a new rear-axle system to accommodate either a narrow or optional wide undercarriage system that follows the contour of the ground and road.
Case IH, Racine, Wis.
---
John Deere Harvester Works 645FD HydraFlex Draper Platform
The 645FD HydraFlex Draper Platform provides increased combine productivity in soybeans and other small grains by providing an additional 5 feet of width over the 640FD HydraFlex, by increasing the capacity of the reel and center feed section and by improving the crop dividers at the ends of the platform. All of these features enable customers to harvest up to 10% more acres per harvest day. The high-speed, high-capacity center feed section optimizes crop handoff from the draper side belt, which provides improved material flow to the combine at high feed rates. A new reel design provides more available drive torque to enhance crop lifting, improved forward visibility through a sleeker reel finger design, more durable bat tube bearings and (in the optional flip kit) higher-strength arms. The profile and attachment method of the end crop dividers enhance crop dividing, reduce crop losses, improve ground-following capability and minimize conversion time for transport between fields. When paired with the Platform Tilt feederhouse, the operator can make fore/aft tilt adjustments from the cab, which ensures proper cutterbar position during challenging conditions and enables customers to operate an hour or more longer during the harvest day.
John Deere Harvester Works, East Moline, Ill.
---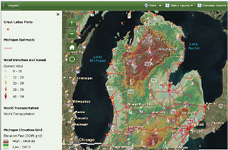 Michigan Agri-Business Assn. Michigan Agricultural Mapping Tool
This mapping tool provides access to key agricultural and geographical information in order to guide strategic agricultural production decisions. This online tool coalesces fragmented geographical information from various sources into an effective and simple format. Soils, topography, geographical features, weather, climate, infrastructure, land use, crop history and a plethora of geographically referenced data are brought together into an interactive and easy-to-use tool. Agricultural production systems are ever changing in order to meet the demands of consumers, the environment and the climate. Decision makers can use this tool to seize new opportunities for economic growth, increased efficiency and smaller environmental footprint.
Michigan Agri-Business Assn., Lansing, Mich.
---

New Holland Integration of LIN
Remote-Control Actuators on CR Flagship Combines
The integration of electrical LIN remote-control actuators as standard equipment in New Holland CR flagship combines enhances the accuracy and reliability of the CR8000 and CR9000 harvesters. In addition to automating the operation and diagnostics of functions such as threshing concave position, sieve opening, unloading tube pivot point position, unloading spout position, straw chopper deflector plate position, etc., using smart actuators eliminates 25% of the 4.5 km electronic harness that was used in the CR combines. A single data wire replaces heavy power cables, small electronic actuators replace hydraulic distributors, cylinders and hoses, and productive time in the field replaces downtime and increases efficiency. This technology is offered as standard equipment on all New Holland CR flagship combines and will be adapted to even more of the combine functions in the future.
New Holland, Turin, Italy
---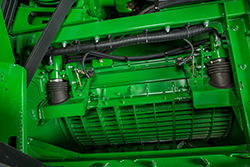 John Deere Harvester Works Active Concave Isolation
The Active Concave Isolation (ACI) system contains hydraulically supported combine concaves that yield more harvest capacity in tough separating and threshing conditions while maintaining desired loss level. When inclement weather is on the way and crops need to be harvested, the ACI system provides the capability to harvest at a faster rate. The ACI system maintains the threshing clearance to the rotor, which provides smooth material flow, reduces separator distress and improves in-field harvest time through the elimination of concave shear bolts.
John Deere Harvester Works, East Moline, Ill.
---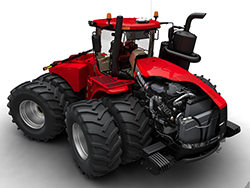 Case IH Indirect Engine Cooling System for Case IH Steiger 620 HD Tractor
The Indirect Engine Cooling System in the new Case IH Steiger 620 HD tractor delivers more effective horsepower for the same operating cost as a 600 horsepower model while improving the performance that producers have come to expect from Case IH. Each turbocharger stage of the Case IH FPT engine has its own optimally sized cooling system, giving the operator faster response under dynamic loads. Independent control of the low-temperature coolant flow allows the Case IH FPT engine to manage after-treatment conversion efficiency in low-load and low-temperature environments. Patented SCR technology allows for maximum horsepower without compromising efficiency, resulting in lower operating cost, lower operating temperatures and greater reliability and durability.
Case IH, Racine, Wis
---
New Holland 41-foot 760CG Varifeed Grain Header
The New Holland 41-foot 760CG Varifeed grain header is a major modification to the New Holland stable of combine headers. Its cutting width of 41-feet was developed specifically for operators who are using a controlled-traffic harvesting method to limit ground compaction to specific tracks in the field. This header enables this practice, which increases yields and reduces or eliminates the need for tillage to break up compacted soil. A 41-foot header is ideal to work in combination with a 120-foot sprayer, which is compatible with 40- or 60-foot seeders, ensuring that only three defined paths are needed to plant, care for and harvest the crop in a 120-foot swath.
New Holland, New Holland, Pa.
---
Spectrum Technologies WatchDog Retriever & Pups
The WatchDog Retriever & Pups wireless sensor network is a solution that gives growers the ability to affordably capture real-time, site-specific data in various microclimates. Retriever & Pups transmit field data via a wireless mesh network to one central location for logging and communication. Each network node (Pup) contains four sensor ports and is compatible with a diverse number of sensors, offering flexibility by allowing growers to monitor desired sensor inputs from the locations important to them. All data acquired by the Pups is communicated wirelessly back to the Retriever, which collects the data and communicates the information via numerous options, including cellular modem, Wi-Fi and USB drive. Growers can monitor their crops on their computer or smartphone and make real-time decisions to improve yield and quality, conserve resources and increase profits.
Spectrum Technologies Inc., Aurora, Ill.
---

Case IH Intermediate Wing Hinge for Precision Disk 500 Disk Drill
With the new Intermediate Wing Hinge on the 50- and 60-foot Case IH Precision Disk 500 disc drills, Case IH has optimized transport size, keeping the 50-foot unit under 14-feet tall and the 60-foot unit under 15-feet tall. This relatively compact size is important in order to move field equipment safely on narrow roads and bridges and in heavily traveled areas. The patented wing-fold technology lets the outer wings fold in tighter for transport, while the unique center-section frame design means that the front caster wheels are pulled in tighter for turning.
Case IH, Racine, Wis.