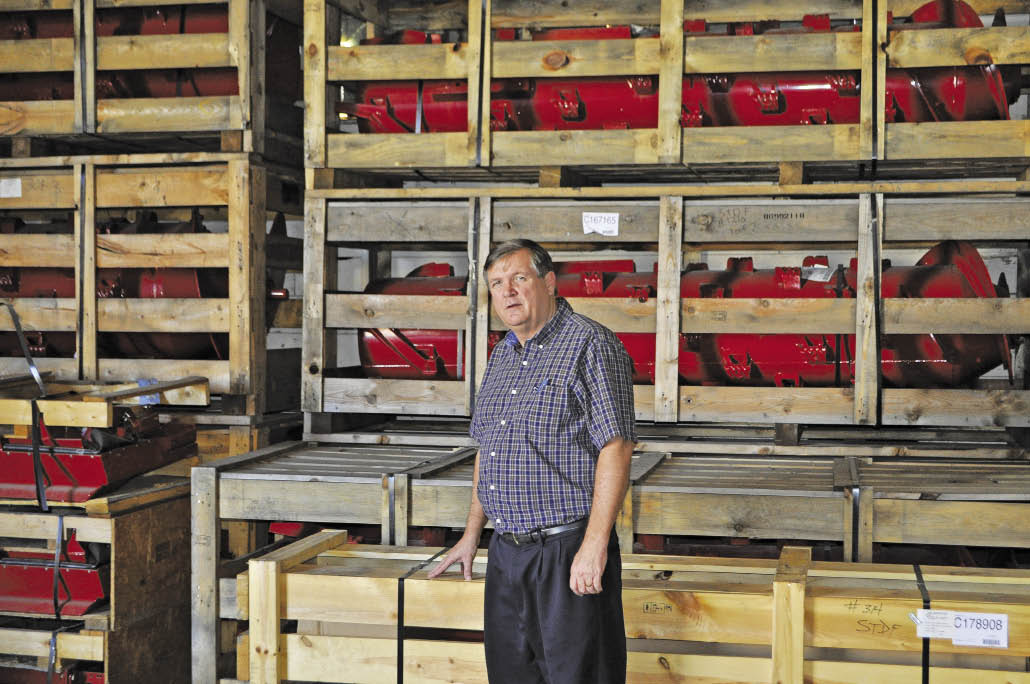 Mike Robling, Parts Assets Manager
Years with Birkey's: 22
Role: "I'm responsible for parts inventories at all our sites — both Case IH ag and Case construction equipment parts — and making sure that inventory is where it needs to be. I probably spend 90-95% of my time at this desk going over numbers, making decisions, transferring inventory and ordering parts."
---
Mike Robling's responsibilities as the company's parts assets manager appear straightforward enough: order the parts the stores need in a timely manner so they have 'em when they need 'em. Make sure they're not carrying too much in parts inventory, but enough so that Birkey's takes full advantage of the discounts and terms offered by Case IH.
Birkey's created his position nearly 20 years ago when the company consisted of 4 stores located in close proximity to its Rantoul, Ill., office. And if parts inventory control was important enough then to have a full-time person overseeing it, this role is critical today as the organization has grown to 14 ag and construction dealerships. It's no longer just a "service" for the stores, it's an organizational "asset" and corporate profit center that, managed properly, adds significantly to the bottom line.
When he says "in a timely manner," he's not only talking about getting things shipped to the stores quickly, but also prioritizing things so the company receives its orders on time as well. "I've got deadlines," he says.
For example, the Friday preceding our visit was his deadline for ordering spring tillage parts. "It won't be here for several months, but I ordered about $500,000 worth of tillage parts — 6 truckloads. If the order wasn't in by last Friday, we would've had to pay a lot more for it."
Robling reports directly to Phil Fayhee, the company's parts and service operations manager, and is the only one to ever hold his position. "The first thing I was told was, 'We don't care how many dollars are spent on orders as long as you can move them within the terms period of the orders," he says.
He's not only charged with the task of ordering all Case IH ag and Case construction stocking parts (dealerships order their own shortline parts), but he also transfers inventory between stores when the shelves become bare in one location by accessing surplus at another.
The logistics of keeping 14 stores happy and making money is a job and a half in itself. "In this job, you have to want to make people happy — that's what drives me," Robling says. "I want to make our customers and the people in the stores happy. It doesn't happen all of the time, but we keep trying."
A Question of Balance
Logistics is the "art of calculating," that is, balancing wants with needs and costs with timing. Until a customer or the service department purchases them, parts are nothing more than costs to an organization.
Maintaining equilibrium among these opposing forces is Robling's job and the sole aim of Birkey's Farm Stores' parts shuttle service. With 4 trucks constantly on the road between stores, parts managers often can get what they need from Rantoul or even another location. Parts unloaded in Rantoul on any given day are to be shipped to the stores the following day.
Three of the trucks meet at Rantoul at 11 a.m. every day to pick up and drop off parts, mail, some attachments and, on rare occasion, small equipment like lawn mowers for the 6 stores located on the eastern side of Illinois. Nearly all of the combined orders that Robling handles land at the Rantoul office where they're unloaded, sorted, accounted for, reloaded on the Birkey's trucks that head back to the location where they started.
The Bloomington truck then returns to Bloomington and then moves on to Galesburg to link up with the Macomb truck.
The fourth truck, which starts its run in Macomb, services 5 Birkey's stores in the western and northern part of the state. It also picks up parts needed in the eastern stores and delivers them to Galesburg where they're loaded on the truck that left Bloomington that morning.
An example of how the shuttle system pays for itself came last fall. With the ideal conditions in central Illinois, harvest was completed far earlier than normal, and weeks ahead of areas in the northern part of the state where the Polo store, Birkey's most northern site, is situated.
"They were still having $5,000-6,000 sales days up there. We were able to move parts from the southern stores where they were no longer needed north to Polo without purchasing additional inventory," says Robling.
Double Duty
Another unique offering of Birkey's Farm Stores, and one that takes advantage of its parts shuttle service, is delivering oil to the stores from its bulk oil facility in Rantoul.
Leaving his office to show us the additional warehousing facilities at the Rantoul parts distribution center, Robling pointed to 3 stand-alone tanks that hold the oil. He explains that Birkey's has been handling bulk oil deliveries for several years.
Three grades of oil are delivered by 6,500-gallon tankers and stored in Birkey's tanks. Robling's department then packages the oil in 5-gallon buckets, 55-gallon drums and bulk totes to be distributed on the shuttles.
"We fill the pails and drums and deliver directly to the stores. It's more cost-effective for our customers and we get a little better margin doing the packaging ourselves," he explains. The bulk oil truck then delivers to Birkey's customer's storage tanks at their farms or businesses.
Performance Measures
Robling's performance is measured by things such as parts turnover, discounts earned and the amount of parts inventory Birkey's owns at any one time.
He says Case IH also applies benchmarks for stock order efficiency that measures his effectiveness, which includes a dealership's percentage of stock orders vs. emergency orders. "They say that 70-75% stock orders is pretty good," Robling says.
"We're typically in the high 80% range and sometimes into the 90s. At times, they think we're too high, that we're ordering too much. That's something you don't hear often."
What Case IH is telling them, he says, is that they need to be careful of parts becoming obsolete and no longer returnable. "It's important that we keep on top of what will become nonreturnable parts and get those out of the system as quickly as possible. They charge a restock fee on the returned parts, but it's still better to return them at a loss than to retain parts that can't be sold or are replaced by newer components.
"As long as our obsolescence stays low and stock order efficiency stays up, we're fine. I'm measured on that," Robling says.
In addition, when it comes to discounts earned, Birkey's is usually "right at the top" of Case IH's North American dealers.
Making Connections
Starting with his first job at Birkey's Hoopeston location, all of Robling's 22 years with the dealer have been in parts, 20 of them in his current role. During those years, he's made the connections and developed the relationships that help him get the job done, "I'm not just ordering parts, but trying to fix problems and resolve issues." That's where the relationships established along the way come into play."
But even with his longevity, he says the job has become harder in recent years. "CNH is more corporate minded than it used to be. But I've got connections that help, and that's another byproduct of having one person in this position," he says.
If necessary, he'll ring up Case IH suppliers or CNH operational staff. "You try not to overplay those cards, but when you've got a customer down, you've got to do everything you can. It's a good situation to have, and conversely, the Case people call me when they need help. It's not unusual for them to call us first and say, 'Mike, we're thinking about running a new program, we'd like to meet with you.' Relationships are a two-way street."
A good day for Robling is when he gets all of the daily stock orders entered and all daily issues resolved. "When the stores are satisfied and know their stuff is coming, and the computer system is up and running, I can go home and feel good about it. On the other hand, when I get a call from a store manager and one of his customers is down and we can't get the problem resolved, that's what I call a 'bad day,'" he says.
Fine-Tuning the System
In the coming months, Birkey's plans to change its ordering system for parts, as well as its parts shuttle operations.
"We changed operating systems for ordering parts last year, but we're actually going to be doing that again here soon," Robling explains. "Case has a system called AMAX that we plan to implement soon."
This isn't the only change that's staring Robling square-on. Birkey's will also be moving its parts distribution center and shuttle hub to its newest store in Bloomington. Besides being more centralized, the newly renovated site has much more room to grow.
And while he'll continue to oversee the operation, Robling will not be making the move. "It'll be harder because I live 1.5 hours away from Bloomington. By staying in Rantoul, I'll still have contact with the accounting and IT departments while continuing to manage our parts asset operations."
Read more from the Dealership Minds Special Report:
Get inside access to Birkey's Farm Stores in our 15-part video series.