Subtlety can be overrated when it comes to managing used farm equipment inventory. Sometimes, bluntness is necessary to force dealerships into a defining decision that cuts used equipment levels in half and increases annual equipment turns by 1.5 in less than 3 years.
For Burnips Equipment Co., an 8-store New Holland dealership based in Michigan, this seminal moment came in 2017 when COO and Corporate Sales Manager Tom Healy, was participating in a 20 group meeting focused on used equipment  inventory management.
After a few rounds of idea-sharing, Healy wasn't sure he was any closer to a solution. Then, one somewhat crude line from a dealer in the room led to the epiphany Healy needed. 
"The exact phrase that he told me was, 'If you're going to eat a turd, don't nibble on it,'" Healy says. "Everybody in the room laughed, but as we sat back and thought about it and realized the position we were in, this phrase was the exact application we needed to take to manage our inventory and get it clean."
At that moment in time, Healy says he realized that instead of worrying about protecting their used equipment inventory, which included 46 choppers — and "keep nibbling" — they needed to figure out how to smartly and swiftly reduce that inventory.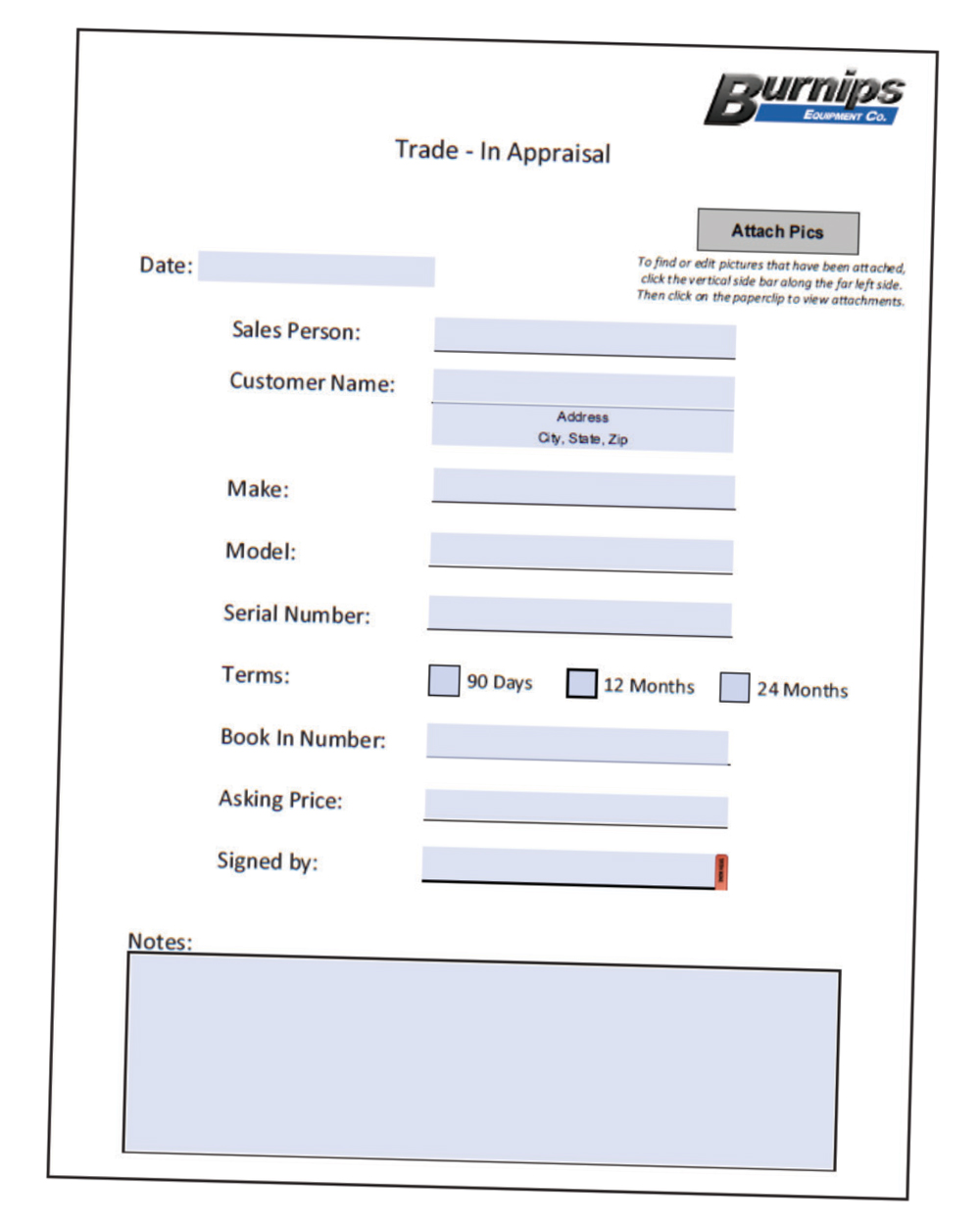 In conjunction with hiring a full-time internet sales manager to assist with new and used equipment inventory management, Burnips Equipment developed a standard equipment book-in procedure. The packet contains all of the information on the trade equipment that came from a particular sale including photos and condition reports. "The amount of used equipment we've had come in didn't change, but it's being managed in a way that it's coming in and it's moving through at a safe rate and we are really not seeing an impact from used equipment on our books anymore," says Tom Healy, COO and corporate sales manager.
The solution was holding a large auction in June 2018, which Healy credits as the most significant factor in reducing their used equipment inventory. The dealership moved 22 units during 3 separate auctions over the course of a month. 
They started with the moderately priced choppers, and then auctioned the most expensive units the closer they got to chopping season across the country. Healy acknowledges the economic hit the dealership took, auctioning a high volume of equipment in a relatively short period, but it allowed for the implementation of a more structured inventory management process.
"Once we got things down to a level we could control, we began monitoring the aged inventory of both new and used and using extreme caution with how we were buying equipment at that point," he says. "Now that we're monitoring an industry that's very volatile and has been changing as quickly as it has year after year, building up to an inventory level like that can never happen again." 
Loosen the Bottleneck
While the 2018 auction was the benchmark event in Burnips' used inventory management reform, Healy notes incremental changes to the sales process stabilized the dealership's process. 
Coming from a service background, Healy realized everything in that department was organized and managed by time in a way that could be tracked. Sales was not that way, and he says one of the first steps to improving accountability was to identify and fix "sales bottlenecks."
"We carry nearly 60 lines of equipment, and each manufacturer requires a different paperwork process to retail a piece of equipment through their warranty registrations or sales bonuses. Paperwork was overwhelming and confusing," Healy says. "So we started with the sales paperwork and then we worked through the book-in process and then also noticed that our online and phone sales were basically nonexistent."
---
"Equipment turns have gone from 0.5 to more than 2 turns per year in the last year-and-a-half…" 
---
Salespeople are trained to be on the road, covering their territories, and Healy found that when customers — especially those from out of state — called into the dealership about a piece of equipment, they rarely got the attention they needed to move a piece of used equipment.
Moving out of the "mom-and-pop" dealership mentality of holding out for margin and into the mindset of making online sales a part of used inventory management was key, says Healy. 
"In the last 10 years or so, internet sales and moving equipment out of your territory has become a major part of keeping equipment inventory under control," he says. "We needed to change. In 2018, we were at 6 stores and had 24 salespeople. We realized that margin wasn't what we needed to hold on to, it was the equipment turns that were more important."
The key part of pivoting into this mindset and cleaning up used inventory was the addition of a full-time internet sales manager, who oversees all of the dealership's online equipment sales and website management. 
The role includes listing equipment online for sale and auction, tracking used equipment terms and using the dealership's book-in packet (see Fig. 1) that provides trade-in appraisal, photos, make, model, serial number and notes from the sales rep on what both he and the customer thinks the value of the machine is. 
The position is paid a base salary with a tiered bonus structure based off of gross sales, anywhere between $1 million and $15 million dollars. 
"We're controlling what he sells the equipment at, so he's not selling it below cost or moving it because we're paying him off of a gross sale," Healy says. "Everything he does is approved and if we decide we're going to wholesale a piece of equipment, then so be it. But he's able to move inventory at a rapid pace out of our territory, getting into parts of the country where a piece of equipment is more desirable."  
Incentivized Sales: New & Used
Another piece of the puzzle is incentivizing the sales team and motivating them to get out of their comfort zone, especially when it comes to selling used equipment. 
Burnips implemented quarterly sales incentives that rotate the focus on specific equipment that needs to be moved. Healy meets with the sales managers and drafts the quarterly incentives that range from gift cards, vacations, chartered hunting trips and cash. 
"The incentives may actually drive store-to-store competition between locations or based on individual salespeople getting out and trying to compete among all of the stores," Healy says. "We've found one of the biggest motivators is getting the spouses of the salespeople aware of the incentives because that can involve trips or getaways."
Healy adds that the incentives have been valuable in promoting collaboration through friendly competition among the sales team, while also keeping them motivated and removing restrictions to sales goals.
"Equipment turns have gone from 0.5 to more than 2 turns per year in the last year-and-a-half," he says. "It's been insane the amount of equipment we've started moving and the motivation of the sales team to keep this momentum going."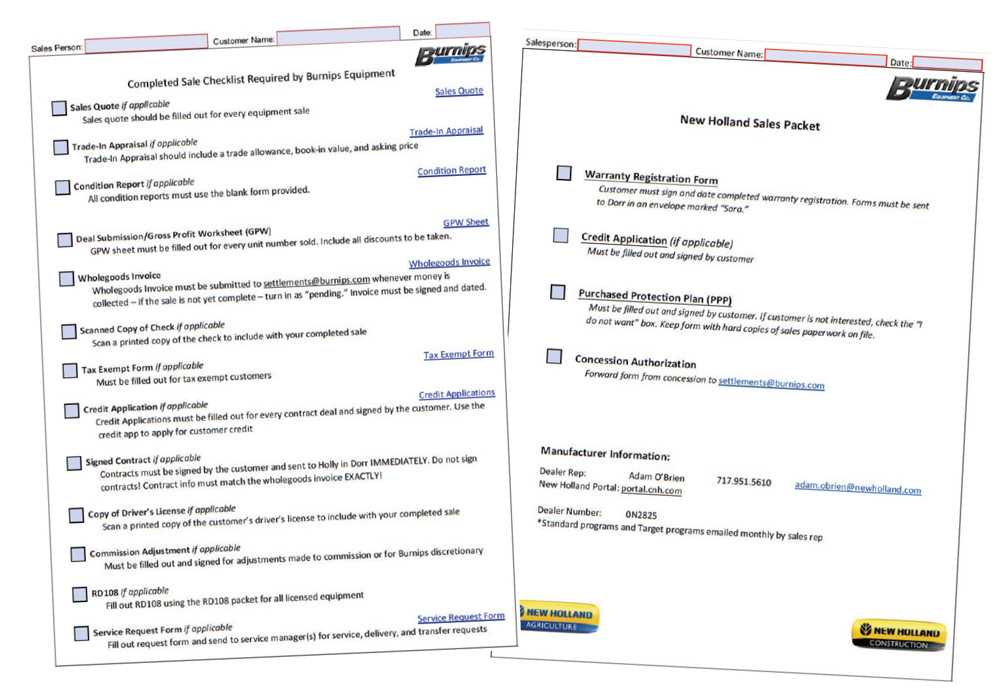 To streamline the paperwork process for salespeople and be more efficient with tuning used equipment, Burnips Equipment developed an interactive sales packet that salespeople can access and easily auto-populate. The dealership has packets created for every one of their 60 equipment lines, with a checklist of hyperlinked sheets for quick navigation. "By the time this packet is turned in it's 100% complete and we meet all of the OEM specifications and all of Burnips Equipment specifications of what we require to complete a sale," says Tom Healy, COO and corporate sales manager.
To help balance new equipment sales, Burnips created a store level equipment carrying sheet. With 8 locations and diverse geographic needs for each, Healy says it's difficult to order equipment to ensure they have the right machinery at each location.
"We can't sit down and do an annual order writing for 150 tractors in one shot and get them spec'ed right into the right locations," Healy says. "So we sit with each location and develop a spreadsheet for that specific store, for what they are going to be carrying to meet that salesperson's or that location's objectives."
As that equipment is retailed, the stores place a monthly order to replenish their inventory, which has now minimized the cost and time of transferring equipment from one store to the other. Healy says this has helped keep equipment fresh and turned at each location.
Salespeople also have more input in deciding what's being stocked at their location. If the dealership needs to change specs and go toward a different machine, salespeople are part of that process during weekly meetings to make sure everything that's replenished is something they're going to be able to sell in their area.
Burnips has also started putting more emphasis on preselling equipment, as "the biggest way to reduce our new inventory levels," according to Healy. 
"We all know, new equipment is spec'ed differently between a dairy customer, a row-crop customer or a small grain combine vs. a corn and bean machine," he says. "If we can go out and properly demo and start placing presales and preorders, we're bringing equipment in that's turning immediately and not having a chance to age on our lot."
The dealership is focusing on carrying demo equipment and equipment the salespeople are comfortable knowing they're going to retail. But when it gets to the higher end levels of combines, forage harvesters, planters and even some tillage equipment, it can't carry what every customer is going to want, Healy says.
"We have to get our mindset on pre-sale. With that happening here, we really brought our inventory levels down," he says. "But historically, we've also always been the carrying point for most of the neighborhood on inventory where other dealers would piggyback off of us and feel comfortable transferring our equipment out, so their inventory would be much lower.
"Now we've pulled back the reigns, and we are finding ourselves doing the same thing. We carry what we feel is on our salespeople's objective sheets and what they're capable of moving."
Any used equipment they find out of the area, individual stores research to make sure that they can find it, bring it in and transfer it to another dealer. With manufacturing slowing down during the pandemic, Healy says they've had success bringing equipment in from the Southeast and Northeast parts of the country, into their territory and retailing it, which has helped drive turns up again.
"As we keep doing that, we keep seeing our inventory come down to a level where we're very happy," he says. "Our interest rates are half of where they were 2 years ago and we're in a comfortable spot. 
"Changes we've seen in the last 3 years with a down economy, low milk prices, low commodity prices is that we know people are buying what they need and not what they want. It required us coming to the realization that we needed to stop nibbling around the problem and get it solved quickly."
More Dealership Minds Summit coverage
High Risk, High Reward — Dealers Tackle Used Business with Profit-Turning Trades
Keys to Keeping Used Equipment Inventory Clean and Moving
Process & Consistency Keep Used Equipment Business Moving
Optimizing Your Used Combine Business Through Data-Tracking
What Should Influence Your Used Valuations?
9 Tips for Successfully Selling Used Equipment Overseas
Working with Your OEM to Move Used Inventory
7 Tips for a Successful Dealer Auction