Through the second quarter of 2020, Rocky Mountain Equipment (RME), Canada's largest Case IH dealership group, has reduced its used equipment inventory by C$40 million since the fourth quarter of 2019. And, its target is to further reduce inventory levels to about $300 million over the next 18 months. How has the 36-store dealership done it? Dedicated, and required, processes and documentation along with putting their focus on selling used rather than new, says Jim Wood, chief sales and operations officer. 
The majority of RME's new equipment buyers are fleet customers, and Wood says that makes their new equipment business more predictable. "It definitely makes a huge amount of trades that we take in a little more predictable due to the manufacturer programming," he says. 
The OEM programming has made it more advantageous for fleet customers to buy new, but Wood says it's created a new market for 1-2 year old trades for buyers who maybe have previously been new buyers. "Because of the price gap, it's really enhanced their opportunity to buy the used because there's quite a bit of price disparity between a one off buyer vs. a fleet buyer," he says. 
The key to RME's success in reducing its used equipment inventory has been mastering what Wood says are the two key functions of their used equipment business  — Appraisal & Evaluation and Remarketing. Both of these functions need to be greatly supported by process, he says. 
Appraisal & Evaluation
The evaluation and appraisal process starts when a RME salesperson starts discussing the trade with the customer. RME has an internal trade guide that uses all the data available to the dealership to make the best decision on the value of the unit the customer wants to trade in. RME uses data from 5 sources: internal 12 month trailing retail values of like units, Iron Solutions' Western Canada trade guides and auction results, value of new unit and current inventory level of similar units. 
Data Sources for Valuing Trades
Internal trailing 12 month resale value of like units
Iron Solutions
Auction results
Value of new 
Levels of inventory 
"As far as the internal trailing 12 months of resale values what better information to use than the equipment you've sold in the last 12 months. With Iron Solutions, most of the manufacturers now are requiring dealers to send in their resale information on a quarterly basis," he says.
When it comes to auction, Wood says the ones in Western Canada this past spring were considerably stronger than what they'd seen in the past, which provides a better perspective on the equipment that isn't in the Iron Solutions guide. 
"If we're selling most of our new through these fleet channels then our used [pricing] needs to have a big enough depreciation or gap in order to make it desirable for that one or two year buyer," explains Wood. "One thing we look at is the depreciation gap between new and used. Does that 1-year-old machine match what our 12 month trailing is and what's happening in the industry?" he says. 
---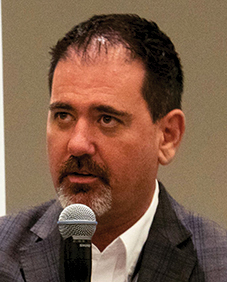 "I wouldn't say we're better than anybody else, but we definitely pride ourselves on the process…" 
---
If RME already has too many combines, sprayers, etc., in its used inventory that aren't moving that plays into how they value a trade, explains Wood. "It gives us an opportunity to either adjust the values to get more difference, or ask for more difference of course," he says. "Or, we will just shy away from doing some of that business until we can get our inventory levels right." 
RME has a detailed trade appraisal (see below) that every salesperson needs to fill out. In addition there are mandatory reconditioning minimums and mandatory service inspections. And for Case IH equipment that is eligible for certified pre-owned status, there's a separate mandatory process for those units. Any piece of equipment that is still on its base warranty is put through that process.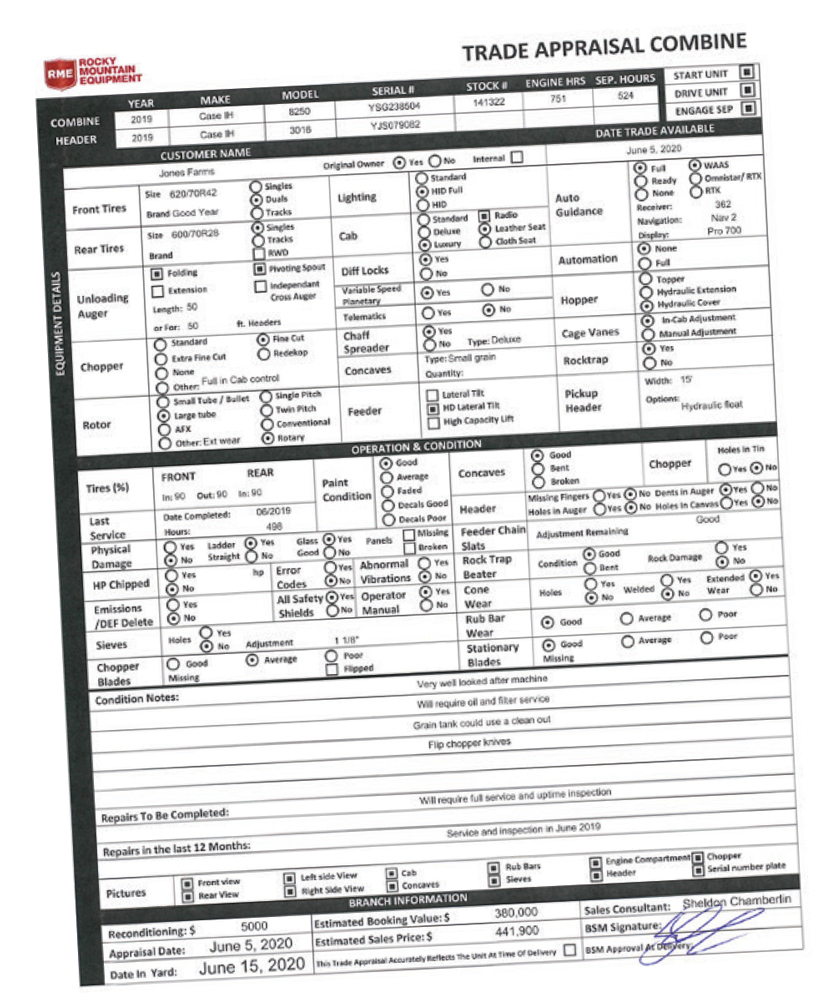 Rocky Mountain Equipment's trade appraisal form requires the salesperson to provide extensive details on the condition of the machine — type of chopper, condition, tire condition, etc. — to help ensure it is being valued properly. "The most important thing for me is there sign off for the sales consultants and also the sign off for the branch sales manager," says Jim Wood, RME's chief sales and operations officer.
"We also make sure that our option codes are all consistent in our businesses. When we are taking a combine in on trade, we'll check off the options that we use consistently. Through the organization, we match that up to what it looked like when the customer bought it the last time. Let's say it was a new combine we're taking on trade, we'll match up our trade options with the options on the invoice if the customer bought it from us," explains Wood. "It gives us the opportunity to make sure we're providing the most information we can to value that trade. Plus, it also starts that resale process as well to have the correct information."
At RME, everything has a process and taking photos during the appraisal process is no different. Having the right photos of a unit allows the sales manager to have consistent information if he's not present during the appraisal, says Wood. For a combine, the process requires 9 specific photos that show the condition and overall appearance of the machine. Those include the "hero shot," rear view, left side view, right side view, tires, cab, engine hours, header and the serial plate. 
While the unit might not be ready for resale yet, Wood says those initial 9 images are used so it can be listed on the website right away. He says it's also important that every used unit has the RME decal in the proper place for branding. 
A detailed 7-page inspection form must be filled out for every trade (see below), with each inspection point rated either green, yellow or red. "This was a request from the sales department. Let's get it through the shop and inspect it, but the big thing is if it's fine don't fix it. If it can last through a season, then let's tell the customer and if it needs immediate repair, then let's fix it.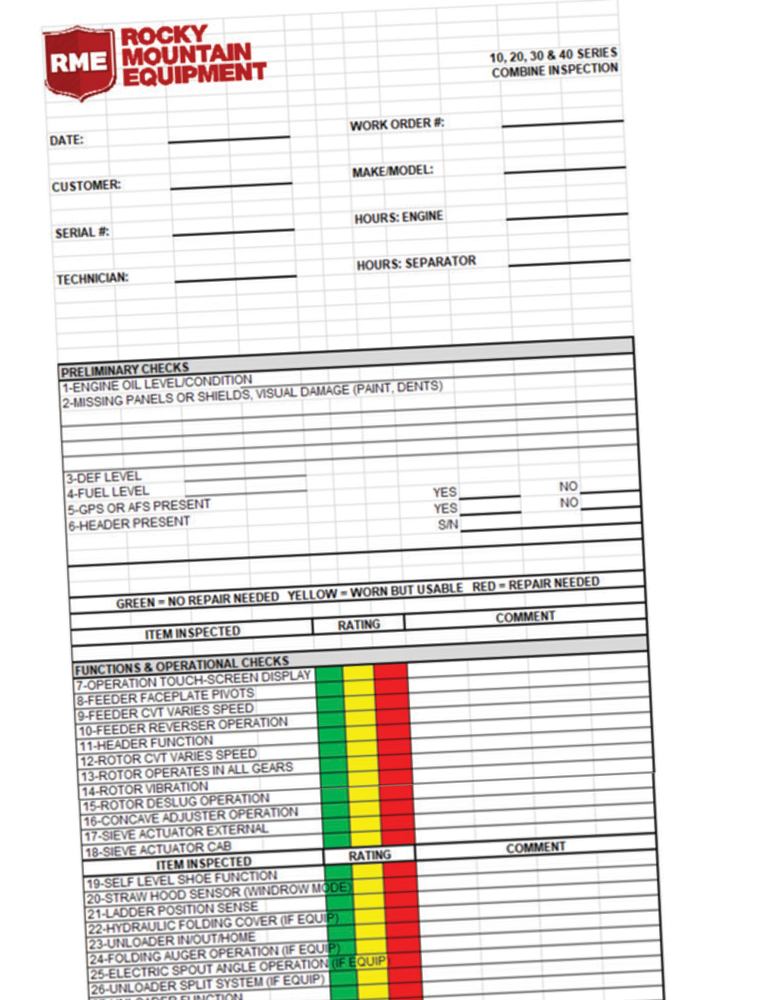 Rocky Mountain's inspection form is the result of a request by the sales team to help with the appraisal process. The 7 page inspection form is filled out for every trade. Green indicates no repair is needed, yellow indicates its worn but should last 250 hours and red means replacement is needed.
"Green basically means it's good to go. Yellow means that it would last approximately another 250 hours. And red means this item needs replacing," Wood says. A copy of the inspection is provided to the customer upon request, he says. 
Consistent Remarketing 
When a customer drives up to one of RME's 36 locations, the expectation is that they know exactly what is for sale, says Wood, which is why the dealership has consistent lot plans across all the stores. It should be clear what's for sale — cleaned, washed, detailed and inspected — and what is in for service. 
Once the used units are ready to sell, updated pictures are added to RME's website. The dealership created guidelines on what makes good equipment photos to help ensure consistency on its website, regardless of which of the 36 stores took the pictures. Those guidelines are part of RME's remarketing manual that each store has a copy of. 
Wood also says photos will be updated seasonally. For instance, a lot of trades will come in during the winter — and Western Canada gets a lot of snow — so those pictures will need to be refreshed come spring. (See p. 42 for RME's guidelines on the elements of good equipment photos.)
Wood says the majority of RME's used equipment is sold through its stores, but customers locally do a lot of research on availability and pricing via the web. He says this posed a problem for the dealership when it came to consistency in pricing throughout the organization. 
How do they discount one unit with the same hours and model year as other units in their inventory but has been on the books longer without creating the appearance of a disparity? Wood shares this example. The dealership has a 2013 Case IH 8230 combine at its Steinbach, Man., store and one at the Westlock, Alta., store with the same hours, same year and condition. 
But, one has been in RME's inventory for 2 years and the other is a fresh trade. "The issue for us was how do you discount the one in Steinbeck that's been an inventory a little bit longer without creating inconsistency with the pricing through our website," Wood says. 
Situations like this lead to RME's launch of Deal Zone in 2016, which is a website dedicated to marketing the dealership's used equipment at a discounted price. Wood says it allows them to discount certain units without compromising the rest of the used inventory. He stresses that it can't be just unsaleable equipment that ends up on Deal Zone. Each store is given a certain amount of slots on the website depending on their sales volume, he explains.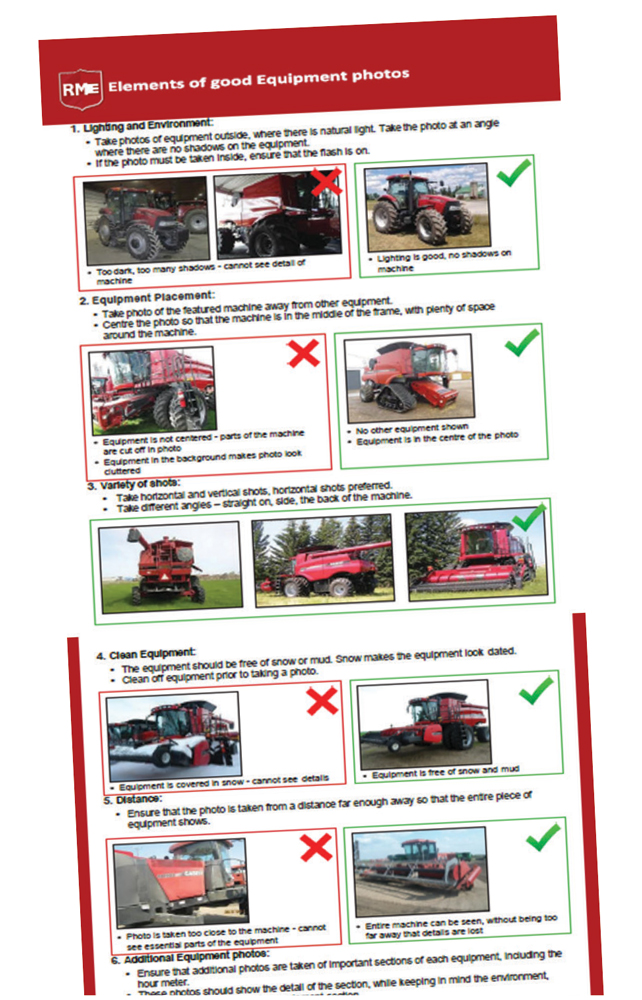 Most of Rocky Mountain's used equipment listings will have 9 pictures. In their remarketing manual, the above guidelines are included to help employees get the right pictures and to ensure consistency across all 36 stores.
And, each piece of equipment has to have been in inventory for a certain amount of time and have a considerable discount to what they would be selling a similar unit for on the other sites. 
In spring 2019, Deal Zone USA was launched with a brick and mortar location just outside of Kansas City. The store has 2 salespeople, and it is strictly used equipment sales — there's no parts and service. The U.S. location has opened up a new market for RME and allows the units to be priced in U.S. dollars and financed locally, rather than having to educate U.S. customers on how to buy Canadian, deal with exchange rates, etc., says Wood.
From the appraisal to photos and inspection down to what ends up on Deal Zone, everything RME does to manage its used equipment business starts with a process and following it to a T to ensure consistency across all 36 locations. "I wouldn't say we're better than anybody else, but we definitely pride ourselves on the process," Wood concludes. 
Understanding the Washout Cycle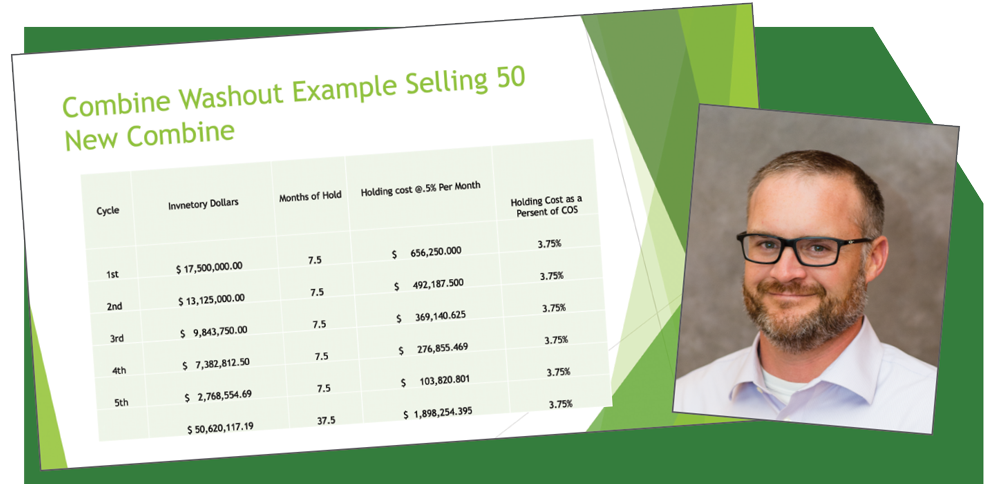 Watch Casey Seymour's kickoff presentation on "Using the Washout Cycle as a Leading Indicator" at www.Farm-Equipment.com/MasteringWashOut. During this 40-minute video presentation, Seymour explains how the washout cycle (defined as how many transactions it takes to get to a "cash no-trade" sale) guides the dealership through its new and used equipment processes by knowing the number of eventual buyers needed for each new combine sale.
More Dealership Minds Summit coverage
High Risk, High Reward — Dealers Tackle Used Business with Profit-Turning Trades
Keys to Keeping Used Equipment Inventory Clean and Moving
Process & Consistency Keep Used Equipment Business Moving
Optimizing Your Used Combine Business Through Data-Tracking
What Should Influence Your Used Valuations?
9 Tips for Successfully Selling Used Equipment Overseas
Working with Your OEM to Move Used Inventory
7 Tips for a Successful Dealer Auction