The following article is based on Ryan Polete's presentation at the 2019 Dealership Minds Summit. To watch the presentation, click here.
Ryan Polete, sales manager at H&R Agri-Power made a profound opening statement about sales compensation and motivations. "What I'm showing is really not a compensation plan that motivates people, but it will push their direction in the right way. That's about all we can hope for on that. Money," he says, "should motivate our sales force." 
For More Info
See this exclusive web-only content:
H&R's compensation program focuses on four objectives, that Polete says have served the organization through changing market conditions: 
used equipment turn 
margin dollar generation 
market share (unit goals set in salesperson's annual budget; not market share for a manufacturer)
CRM utilization
"Making the trading salesperson responsible for their individual trades and rewarding high turns has helped H&R maintain a used equipment inventory turn consistently over 3.0, and achieve $350 million in revenues in 2018," he says.
To watch Fred Titensor (Valley Implement) and Ryan Polete (H&R Agri-Power)'s presentation on this topic, visit www.Farm-Equipment.com/dms19-comp, courtesy of DeLaval.
Contribution Margin Sheet
Polete provides each salesperson a monthly report known as a "contribution margin sheet" to ensure all parties are looking at the same items at the same time. As seen in Fig. 1, this document shows several different metrics to help salespeople gauge performance and managers to best direct them.
He started the Fig. 1 walkthrough with inventory levels. "Each one of our salespeople is responsible for their own inventory that they've traded for, as well as the margin earned. Their monthly draw is included as well as commission earned and total expenses. At the bottom, you'll see that we also share their used equipment turn."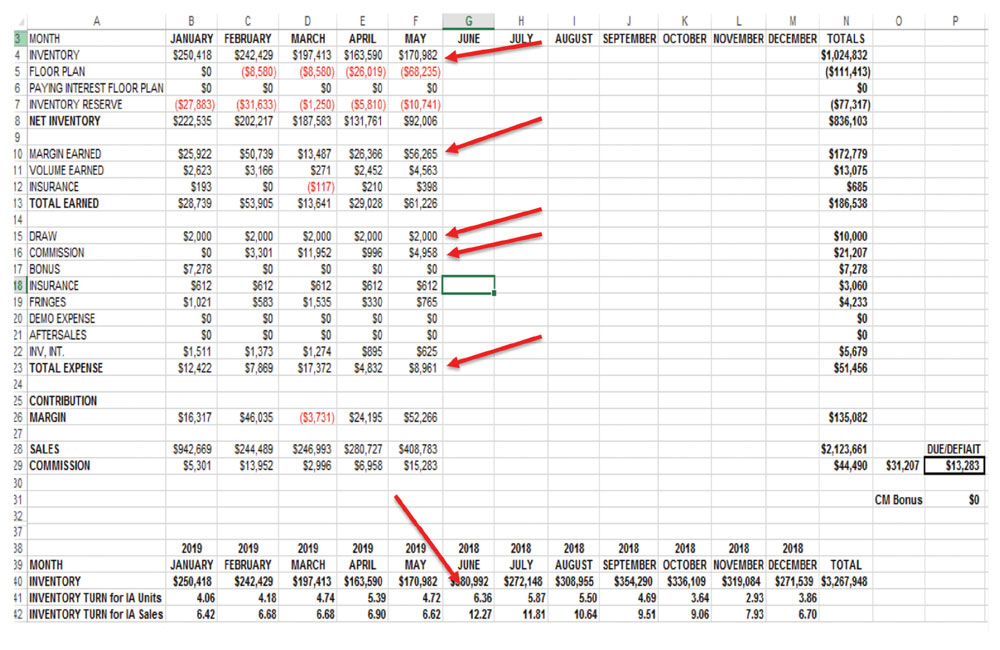 Fig. 1. H&R Agri-Power distributions a detailed Contribution Margin Sheet each month to ensure the salesperson and sales manager are looking and monitoring the same things, including inventory levels, margin earned, draw, commission, total expenses and inventory turn.
The commission is then earned after the draw. Polete shared how sale commissions are earned. "On used, there's a standard commission earned, which is varied but will averages about 25% at the end of the year. On the new with no trade, we pay 5% less than used. On new with a trade, we pay 15% less than that." 
He added that an additional percentage is also paid on sales margin of aged wholegoods sales margin. "We look at 'days on hand' in our quoting tool. If it gets over 180 days to 300 days, we'll pay an additional percentage. Over 300 days, we'll pay even an additional percentage, sometimes to the point of paying up to 45%. Because at that point, it's time to get it moved."
There's also a payout for the timely completion of paperwork — if the sales folders are turned in complete, accurate and all proceeds are collected within one week of the unit leaving the lot. "We look for items like warranty forms, signed credit applications, tax exemption certificates, physical damage and liability insurance binders, and of course, fully collected proceeds. If the reconciliation shows that the paperwork was not completely in a timely manner, this portion of the income is forfeited back to the company," he says.
The Most Important Tool
To ensure the proper purchase pricing and turn of used equipment inventory, H&R has an inventory reserve and escrow plan in the plan as well. "This portion of the plan, when fully utilized by the salesperson and his management, is the most effective tool we have," he says.
With each wholegoods unit retailed, both new and used, a charge (preset in H&R's quoting tool) is placed to the deal based on a percentage of new invoice or the booking amount of the used (Fig. 2). At reconciliation, accounting places these funds in designated accounts. "One-half will be placed in a reserve account for the salesperson, and the other half is placed in an escrow account which stays with the store."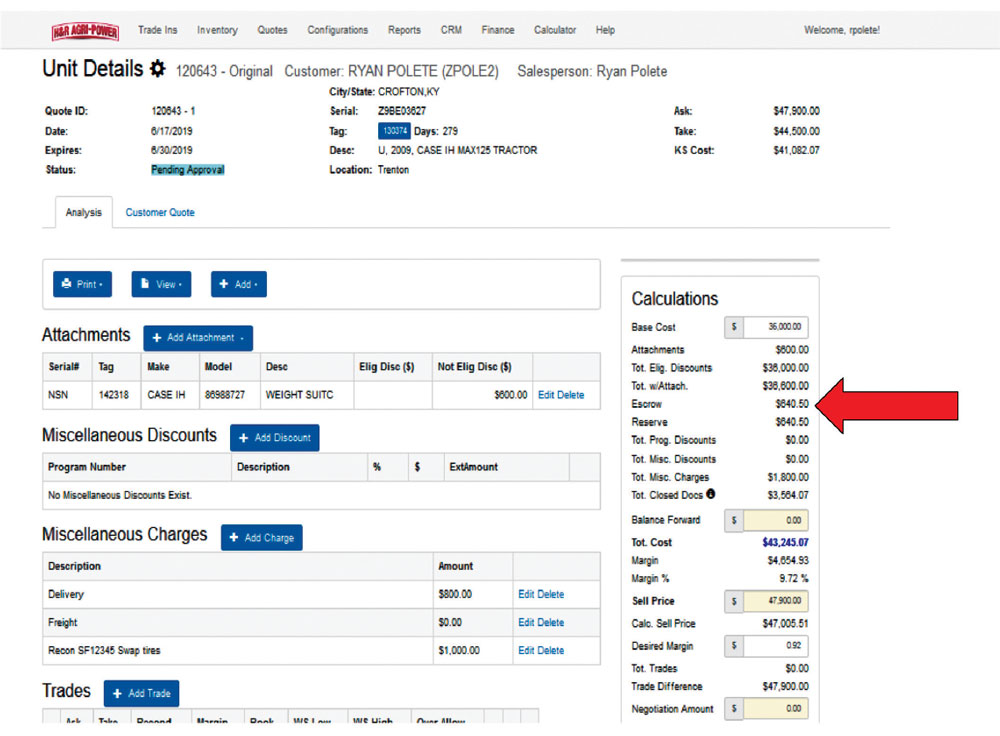 Fig. 2. H&R Agri-Power's inventory reserve and escrow plan calculations are built directly into the company's quoting tool. According to Ryan Polete, Sales Manager, it's the most important tool that the dealership has for wisest purchasing, and turn, of used equipment.
With each new or used retail, salespeople accrue dollars in their reserve accounts that they can track on their contribution margin sheet. "If salespeople find themselves with an overpriced piece of equipment, they can use these dollars to write that unit down," he says, adding that it must be approved at the corporate level.
Ideally, he says, these dollars are taken to the bottom line. "The only way that a salesperson or a store manager can take these to the bottom line of their store is to hit some metrics that are preset in their sales plan."
Each salesperson must meet these requirements in the used inventory reserve system:
Each must have an acceptable used inventory turn of 3.75 or greater. 
Each must have no units in inventory over 365 days old. 
Each unit in inventory must be fairly priced and booked. 
Each must be employed with the company for at least a year and still be employed with the company. 
If these goals are met, the salesperson is credited with margin dollars equal to that of their reserve account and commission will be paid accordingly on those dollars. If not, the funds remain in the account until the next evaluation, which is now done quarterly (instead of annually) to keep everyone engaged in the process. "Both the salesperson and the manager are consistently looking at their used equipment and they want to take those dollars to the bottom line."
Polete adds that the escrow portion of the funds may be used by corporate management for additional programming for new equipment, when necessary. If not, it's taken to the bottom line of the store and allocated to each store based on its new equipment volume.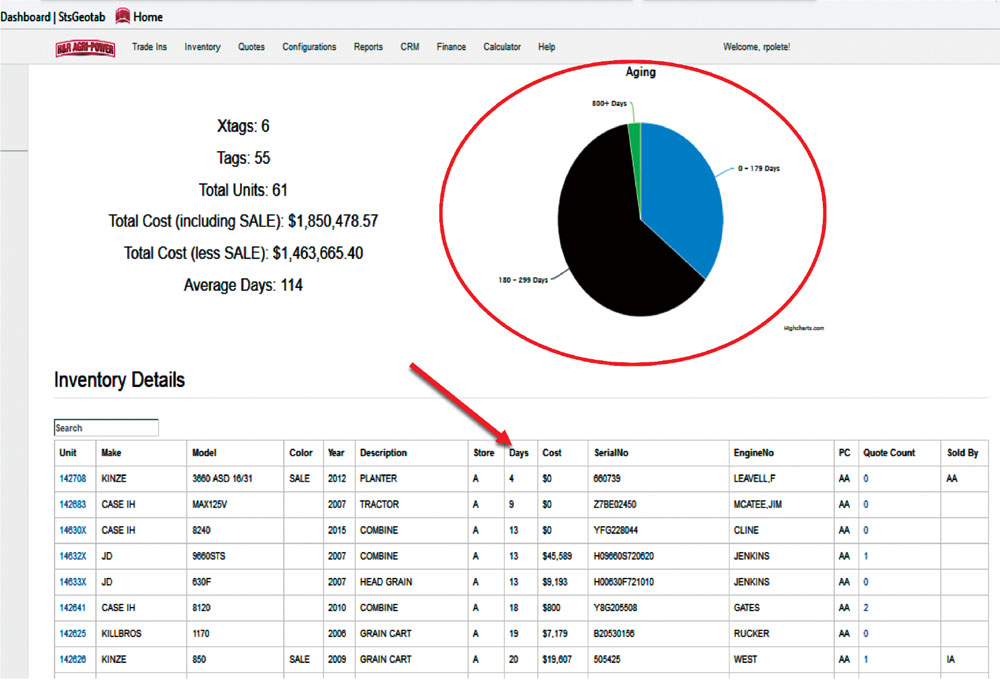 Each salesperson's total individual inventory is visible on the home page of H&R's quoting tool. It helps the salesperson and managers take direct action daily to move the used equipment.
Polete also shared how H&R implement of a margin guarantee program to continue the focus on distressed new and used equipment. This corporate-approval program guarantees a percent on any unit over 180 days in inventory. The funds for these adjustments come directly from the escrow or the reserve accounts that we've already established. 
"Also, from time to time, a unit will be traded for that needs major repairs and reconditioning that wasn't accounted for when it was originally assessed by the salesperson. An allowance of up to 110% of the original estimated reconditioning is permitted. Anything after that will be charged back to the original deal. Again, keeping our focus on used inventory."
---
"I remember when [the program] was implemented. It was not my plan, but I had to live off of it myself, so I understand it very well. Nobody's going to be happy when you do it, but it had great effects on both sides…" – Ryan Polete who experienced all angles of the program as a salesperson before becoming sales manager.
---
Year-End
At the end of the year, H&R's program allows a salesperson the ability to earn a bonus based on achieving goals laid out in his individual annual budget. The bonus is paid as a percentage of his contribution margin, again defined as income (gross margin on all sales, insurance, commissions and volume bonus) minus expenses (health insurance, inventory interest, demo expenses and wages earned).
The first opportunity for the contribution bonus payout is based on used equipment turn. Any salesperson with less than a 3.25 forfeits this portion of their bonus. A turn greater than 3.25 but less than 3.75 will receive a small percentage. Anyone with a turn of 3.75 or greater will receive the maximum payout. 
The next performance criteria is annual margin generation. A salesperson will be eligible for this portion by simply generating the margin dollars that were set in their annual budget. 
Market share is the third component. Again, this is not the OEM's idea of market share, but that preset by the salesman himself. The example Polete showed, illustrated the number of units for Case, Kubota and New Holland and the expected number of units projected and the total dollars of those sales for the individual salespeople.
The most recent addition to H&R's bonus structure was the CRM utilization. "It was our first attempt to tie that compensation plan to CRM use and we're struggling with it a little bit," he says. H&R asks for the following basic items in the CRM: 
Full name/business name
Mailing address
Business number/mobile number
Email address
Operation type/demographics
List of accounts (both parts and wholegoods)
Current equipment list
"Based on quarterly assessments of the information collected, we'll pay out a portion of that bonus if they achieve those goals," Polete says.
More Dealership Minds Summit coverage 
8 Factors for Cultivating & Promoting a Professional Culture of Excellence
Compensation Plans: A Tale of Two Dealerships
Van Wall Equipment's Formula for Clear Sales Strategy
No Sales Left Behind: Using Tech to Boost Your Sales Team
Ritchie: Create a Team of Solution Sellers
Feed Your Sales Team — A Presentation From Shawn Skaggs
The On-Farm Visit: How to Get the Most from Client Face Time
Adding Specialized Product Lines Can Expand Your Customer Base
Getting the Salesforce Out of the Dealership & In Front of the Customer
Purchase Projections: Look Beyond the Sale
3 Ways to Get Your Aftermarket Team to Adopt a Sales Mentality