The following article is based on Fred Titensor's presentation at the 2019 Dealership Minds Summit. To watch the presentation, click here.
Fred Titensor, COO, has 8 salespeople among his 4 stores, with average service of 15 years. "When I walk in the door, I see familiar faces," notes the fourth-generation dealer about what may perhaps be a unique situation, "and they know what the goals are and what we want to do."
For More Info
See this exclusive web-only content:
Titensor's sales program is based on his family's long-standing fundamentals toward compensation. Known fundamentals, he says, makes it easier to broach uneasy topics like compensation. They are:
1. Simplicity. A "confused mind says no," Titensor says, stressing the importance of simplicity and buy-in can only occur if concepts are understood.
2. Make the same decision once. "The right process and systems drive the decision rather than having to reinvent it every single time," he says.
3. 'Sell or Starve.' His dad ran a program called "Sell or Starve," he says. "We've had people that have done each," he says. 
A retired dealer exec helped Titensor arrive at some proposed changes to the comp system, and it was presented to the sales team. Titensor considered starting it with the new year. But following the presentation, VI's sales force wanted to start immediately. They lobbied to have it start in the 4th quarter and got Titensor's blessing. 
---
"A confused mind says 'No.' We keep it simple so everyone wants those trades gone as much as I do…" – Fred Titensor, COO, on the new commission plan at Valley Implement
---
"The system is so simple it's almost embarrassing," he says. "They're getting out there selling and it works well for them."
How it Works
An in-depth look at VI's plan is available in a checklist format at www.Farm-Equipment.com/dms19-titensor. In short, it's all based on dollars of gross margin. "I pay bills on dollars of gross margins, not percentages," he says. "I want them to go out and get me the gross margin dollars." The question was identifying the best way to divide up that margin in the sum of the deal.
First is the structure of the stair-stepped commissions on gross margin. The salesperson will get 24% of the gross margin up to $150,000. Beyond that, the individual can earn 26%, and then 28% if $250,000 or more in gross margin sales is achieved. 
To watch Fred Titensor (Valley Implement) and Ryan Polete (H&R Agri-Power)'s presentation on this topic, visit www.Farm-Equipment.com/dms19-comp, courtesy of DeLaval.
The key, says Titensor, is that they receive the higher commission on everything sale back to the first dollar. "When they get in the $250k gross margin dollar club (where he says most of his team resides), they're good to go," he says. "Toward the end of the year, they may realize that if they get out and work just a little harder, they can get more deals. That's the entire basis of our program, and it works for them and for me."
Titensor further explained the exhaustion and frustration in making the same decisions hundreds of times (Fundamental #2), particularly on trades. Previously, salespeople were always in their manager's office, posing all kinds of questions about what they could put into a trade on a combine or windrower. 
There was pressure to secure a deal. "If we could afford to put $80,000 in it, and the salesman could convince the sales manager to put $84,000, all the better." 
There had to be a better way, Titensor recalls. He sought a system that would encourage the salesman to put as little as possible into the trade. "When we got everyone thinking about that, these questions were turned on their head. Instead of the question of 'What are we giving them on trade?,' they were now asking 'What are we buying the trade for?'" 
That choice of words has impact, he says. In the new program, the sales team is motivated to buy the trade for as little as possible because they're going to share in the team's total effort. 
Real-World Examples
"We don't book any profit on the front-end of a deal," says Titensor, stressing this fact is the premise on which the system is based. "Our settlement clerk is told not to show any margin on the front-end."
Figures 1 and 2 explain how the system works, with real-life examples. Following is Titensor's walk through, in his own words, and how the final margin and commissions are calculated.
Titensor explains the scenario in Fig. 1. "We have a Case tractor here that we sold for $105,000, and which had costs of $104,000. This one happened to show 1.04% margin (more than Titensor desires), because maybe we had a set of duals or something that were still coming off or on or something." 
The next line shows that a salesman took a Case 140 Maxxum. "We brought it on the books for $79,000, and showed 0.06% margin. Then a salesperson took in a Case MXU-135, which at the end here, sold for a 25% margin. In the scope of things, and with three deals, we had $11,529 to share, in this case, among three different employees.

Fig. 1. This spreadsheet shows a three-tractor deal that provided each of the three salespeople a check for $1,076.
"So we had an $11,529 margin. Of that, total commissions are $3,228. Everyone got $1,076 for their commission on that deal." 
Titensor shared another walkthrough of a deal with a pending trade and the motivations that system brings (Fig. 2). This example starts with the sale of a Great Plains drill (the booking in this case shows a slight margin of 2.46%) and the sales that ensued.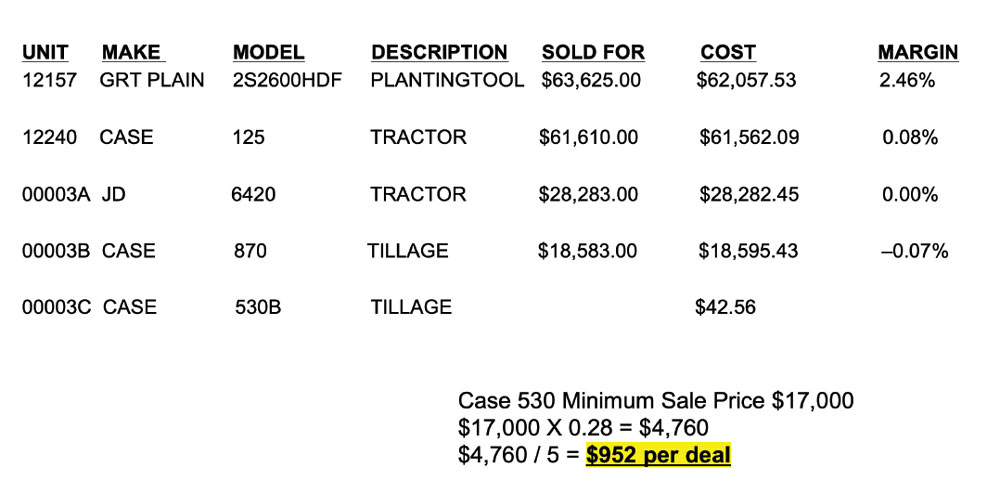 Fig. 2 This spreadsheet shows Valley Implement's model with the final trade pending. The final piece was given a book value of just $42, encouraging all of the salespeople to "get in on" the deal now to share in the 5-sale commission.
The last line in the spreadsheet shows a 530-B tillage unit and how VI gets action going on the end deal. "We think that unit will sell for about $17,000, but we brought it on the books for just $42," says Titensor. "I'll tell you, every single salesman in the building — in the company actually — wants to be in the club on this. They're looking at the price book and they're saying, 'I want to go move that thing because I'm going to get into this group where I can share almost $1,000.' They start calling their customers and going out and finding a place to get it sold."
Titensor explains the importance of the minimally accepted price. "Obviously we can't have anyone moving that piece for $2,000. Everyone knows they can't go under the minimum, which in this case was $17,000 reconditioned." The rules are well understood and followed, but the guys are circling around looking for a way into that pool, he says.
Titensor says the model has removed the challenges and gripes that used to exist. "You know, that 'So-and-so' made a killing on that front-end deal but we're buried in the bottom-end deal and now the sales manager is writing it down.' Instead, the reward is split by the salespeople involved," he says.
Homework: Can Your Salespeople Define Gross Margin vs. Markup?
Fred Titensor, COO of Valley Implement, challenged dealers to return to their stores with an exercise in mind. "Next time you see salesmen at their coffee break, ask, 'Hey, what's the difference between margin and markup?' I don't think they can give you that math. And also ask, "What kind of margin are you holding?" 
He wasn't alone in this thinking. A separate presentation by Kyle Schneider of Stotz Equipment, alerted dealers to the same concern. During a training session, Schneider noted how he asked the definition question of 4 salespeople and was shocked to hear three different answers. 
Stotz now uses a Gross Margin Exercise as part of its formal training, where the concept is explained — by Stotz's definition. All the salespeople, by the end of the exercise, are expected to arrive at the same number. This exercise at right ensures that salespeople are on the right track and that the business Stotz wants is being created.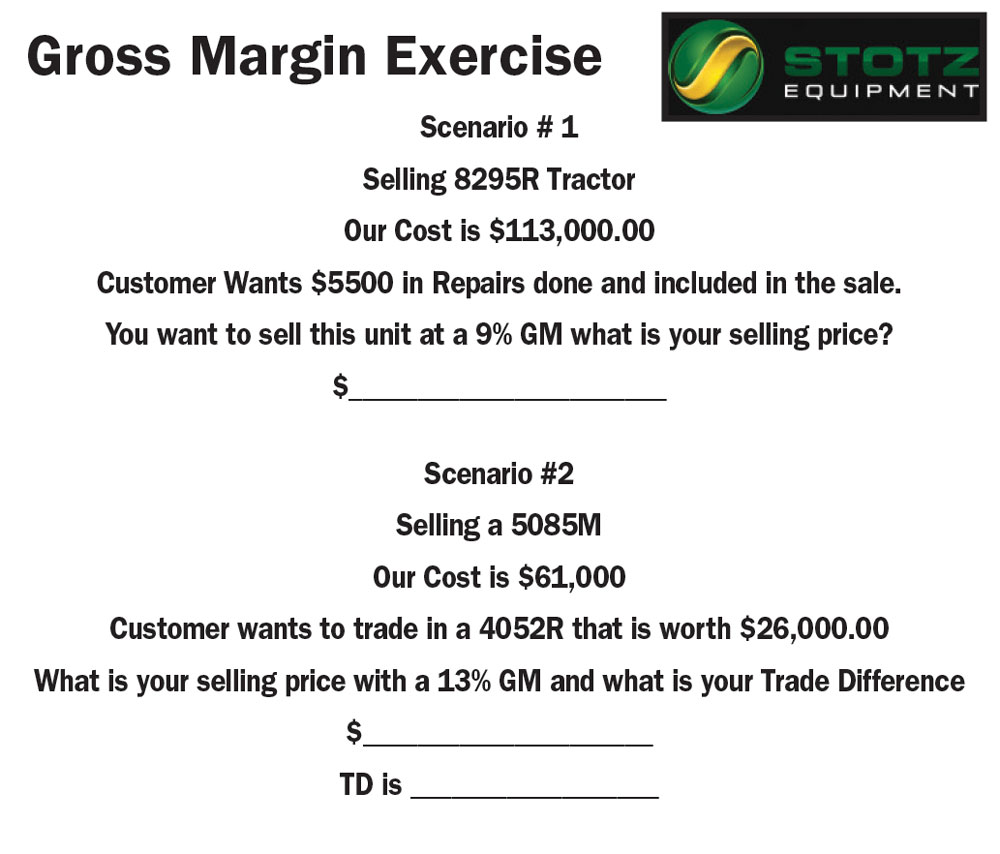 More Dealership Minds Summit coverage 
8 Factors for Cultivating & Promoting a Professional Culture of Excellence
Compensation Plans: A Tale of Two Dealerships
Van Wall Equipment's Formula for Clear Sales Strategy
No Sales Left Behind: Using Tech to Boost Your Sales Team
Ritchie: Create a Team of Solution Sellers
Feed Your Sales Team — A Presentation From Shawn Skaggs
The On-Farm Visit: How to Get the Most from Client Face Time
Adding Specialized Product Lines Can Expand Your Customer Base
Getting the Salesforce Out of the Dealership & In Front of the Customer
Purchase Projections: Look Beyond the Sale
3 Ways to Get Your Aftermarket Team to Adopt a Sales Mentality