The following article is based on Ron Ritchie's presentation at the 2019 Dealership Minds Summit. To watch the presentation, click here.
It's hard for one person to be a specialist in everything. Our customers are looking to work with market leaders who have knowledgeable teams. Since we are in a unique area, offering equipment to customers who sell a variety of products including corn, beans, dairy cattle, hogs, beef, and vegetables, we represent quite a few lines. That's why we call ourselves 'solution sellers'. Many operational problems that exist require a lot of technical solutions. Therefore, it is essential to differentiate your dealership team from OEM product offerings that have become somewhat similar in performance and quality. Your dealership is your leverage.
Solution selling is a methodology. Rather than just promoting an existing product, a salesperson focuses on the customer's problems and addresses them with the appropriate offerings and services. On the other hand, an order taker delivers little customer/product knowledge and, therefore, low repeat business. We don't want that. In order to ensure repeat business, it is important to understand the customer's goals, propose long term solutions with full operational benefits and always be thinking about the next problem that needs to be solved.
With solution selling we have a higher closing rate and more repeat business because people trust that our salespeople know what they're doing. We're always thinking about the next problem that needs to be solved.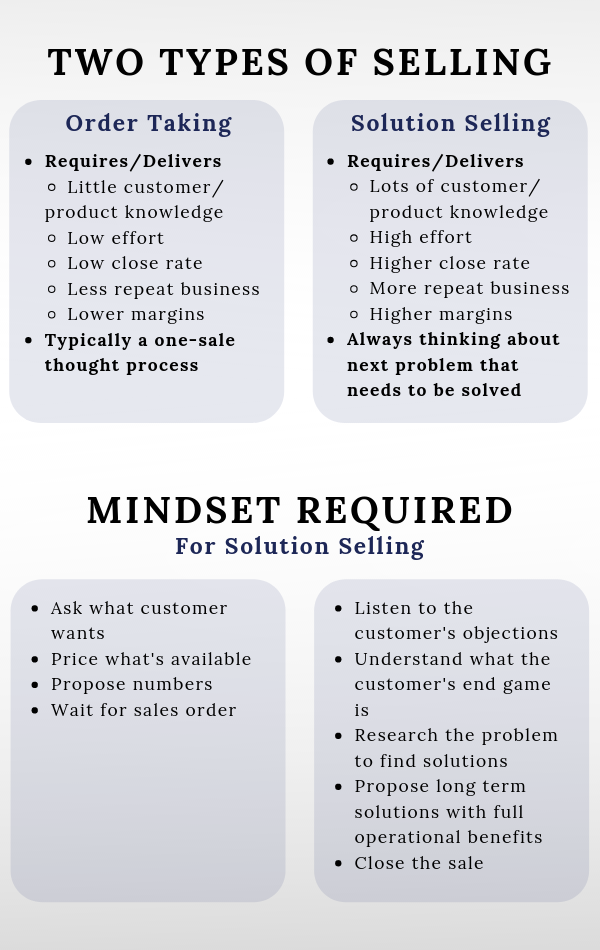 To be a solution seller, there are a few key components you will need:
A Different Sales Mindset: You must listen to the customer's objection, understand what their end game is, research the problem and propose a long-term solution with full operational benefits. Then go for the close.
Specialization: One person can't be an expert at everything, but you can provide comfort to the customer by making sure they receive the right recommendation through team selling. You'll need a central knowledge of product operations and a fundamental understanding of customer operations to see beyond the piece of equipment being sold. Achieving specialization of your sales staff takes teamwork, patience and years of training.
Create the Right Dealership Mentality: The whole team must be on the same page. Set the thought process internally and encourage your sales team to be in the field with their customers so they can learn about them and take care of them.
Empower with Knowledge: Engage your sales team by empowering them with as much knowledge as you can. knowledge comes from more than training and informational materials ­– it comes from real world experiences, being highly engaged in the field, and understanding what your customers need.
Break the mold and differentiate from your competition by creating a specialized team of individuals who ask the right questions and work to solve problems, not just products.
Watch the full presentation here.
More information on the 'Dealership Minds Summit 360-degree Sales: Actionable Strategies for the Farm Equipment Dealer' will be available in the October/November 2019 Farm Equipment magazine.
Related Content:
Dealership of the Year 2015: Ritchie Implement Inc. Cobb, Wis. – For Ritchie Implement, selling is about solutions, not products. A solutions-based sales approach has helped Ritchie and his team bring in revenues of more than $100 million for the Case IH dealership.
Meeting Customer Demands with a Diverse Product Lineup - Diversity is key for Ritchie Implement. The dealership's commitment to a variety of product lines, a broad customer base and the addition of third generation management have made the dealer a success.
Web Exclusive: Getting Outside Experience: Learning to Lead - Planning and preparing for the next generation of leadership is something many dealerships must consider in order to keep pushing forward into the future of the business. One roadblock many dealers cite is the need for the next generation to gain experience before taking on a management role within the dealership.
Global Insights on Problem Solving from Experienced Precision Farming Specialists - More than 9,000 miles separate Jason McNeice with Wideland Group in Queensland, Australia, and Kevin Depies with Ritchie's Implement in Cobb, Wis. While the physical distance between the two Case IH dealerships allows for some uniquely regional differences, the experienced precision farming specialists shared some common ground when it comes to getting into the business and billing out service.
More Dealership Minds Summit coverage 
8 Factors for Cultivating & Promoting a Professional Culture of Excellence
Compensation Plans: A Tale of Two Dealerships
Van Wall Equipment's Formula for Clear Sales Strategy
No Sales Left Behind: Using Tech to Boost Your Sales Team
Ritchie: Create a Team of Solution Sellers
Feed Your Sales Team — A Presentation From Shawn Skaggs
The On-Farm Visit: How to Get the Most from Client Face Time
Adding Specialized Product Lines Can Expand Your Customer Base
Getting the Salesforce Out of the Dealership & In Front of the Customer
Purchase Projections: Look Beyond the Sale
3 Ways to Get Your Aftermarket Team to Adopt a Sales Mentality