There's little doubt that 2015 will go down as a challenging year for farm equipment sales. Looking ahead to 2016, a recent survey of farm equipment dealers shows they are bit more hopeful than the major equipment manufacturers.
All three of the biggest ag equipment manufacturers experienced significant sales decline so far in the current year. On Oct. 28, AGCO reported net sales for the first 9 months of 2015 decreased by nearly 24% compared to the same period in 2014. In the third quarter, the company said sales fell about 19.4%. They are expecting an overall drop in sales of 10% for the year in North America, but more than 20% for high horsepower tractors.
CNHI reported on Oct. 29 that year-to-date net sales of farm equipment through the end of September were down nearly 32% and third-quarter sales declined by more than 33% vs. the same period a year ago. For the current year, CNHI is forecasting a decline of -0-5% for tractors and 30-35% for combines in the U.S. and Canada in 2015.
On November 25, Deere & Co. issued its fourth-quarter and full-year earnings and reported that worldwide net sales and revenues decreased 25%, to $6.715 billion, for the fourth quarter and were down 20%, to $28.863 billion, for the full year. Net sales of the equipment operations were $5.93 billion for the quarter and $25.78 billion for the year, compared with $8.04 billion and $32.96 billion for the same periods in 2014. Agriculture & Turf sales fell 25% percent for the quarter and full year due largely to lower shipment volumes and the unfavorable effects of currency translation.
2016 Outlook
Looking ahead to 2016, North American farm equipment dealers surveyed by Ag Equipment Intelligence and Cleveland Research Co. are somewhat more hopeful about prospects for the new year. With 126 dealers responding to the most recent Dealer Sentiments & Business Conditions Update survey, initial 2016 average dealer sales forecasts are for a 9% decline vs. down 6% in the previous month's poll. A net 28% of dealers are forecasting a sales decline for the year.
In its outlook for 2016, Deere forecast a drop of 8% for fiscal-year 2016, including a negative currency-translation effect of about 2%. Industry sales for agricultural equipment in the U.S. and Canada are forecast to be down 15-20% for 2016. According to Deere's press release, the decline, which reflects the impact of low commodity prices and stagnant farm incomes, is expected to be most pronounced in the sale of higher-horsepower models.
In a statement, Samuel R. Allen, Deere's chairman and CEO, said, "Although our forecast calls for lower results in the year ahead, the outlook represents a level of performance that is considerably better than we have experienced in previous downturns," Allen said. "This shows the continuing success of our efforts to establish a more durable business model and a wider range of revenue sources."
The following slides show Deere's outlook for U.S. farm cash receipts (trend chart, table), net farm cash income, farm commodity prices and crop yields.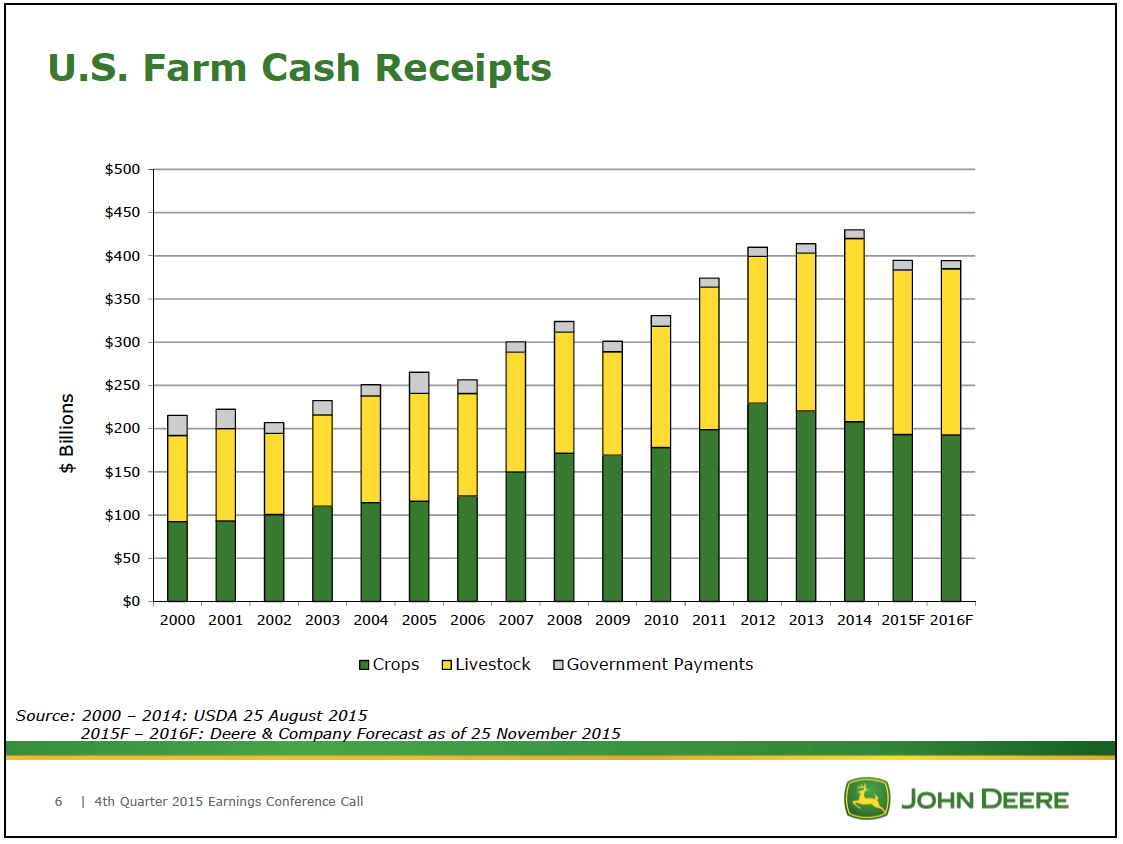 ---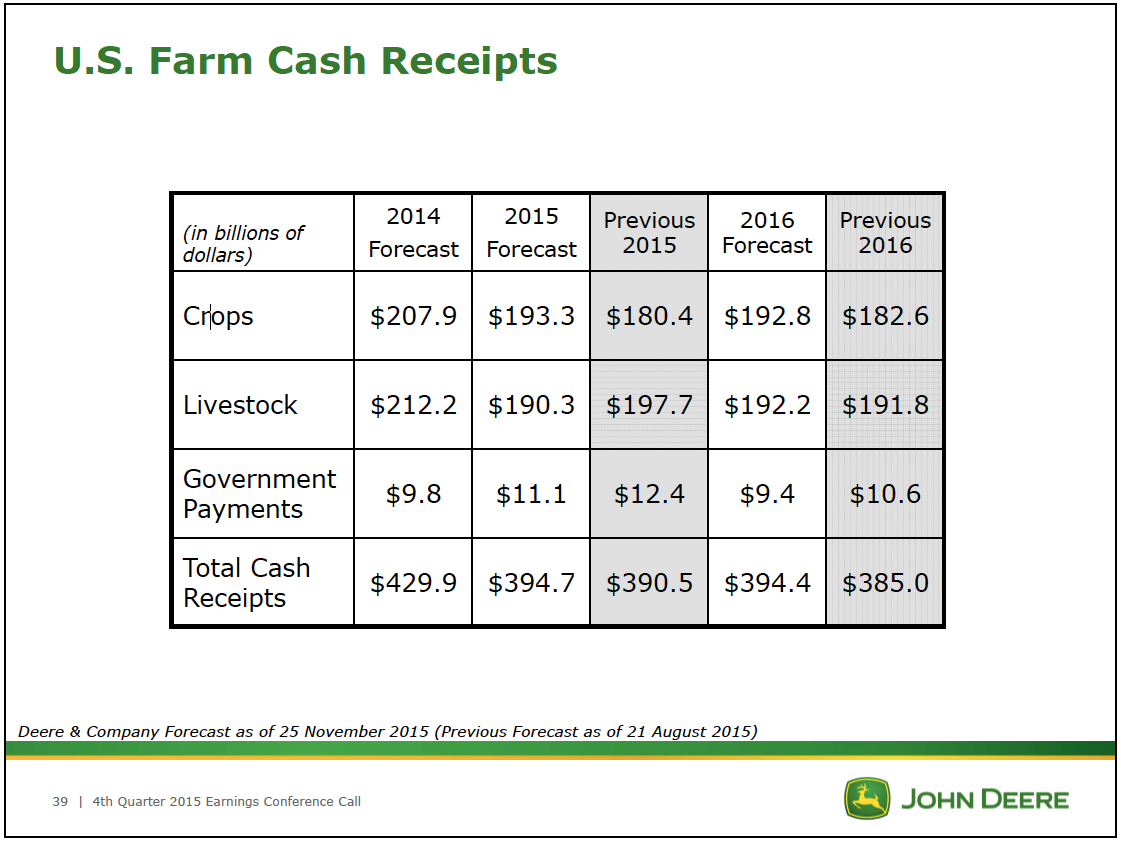 ---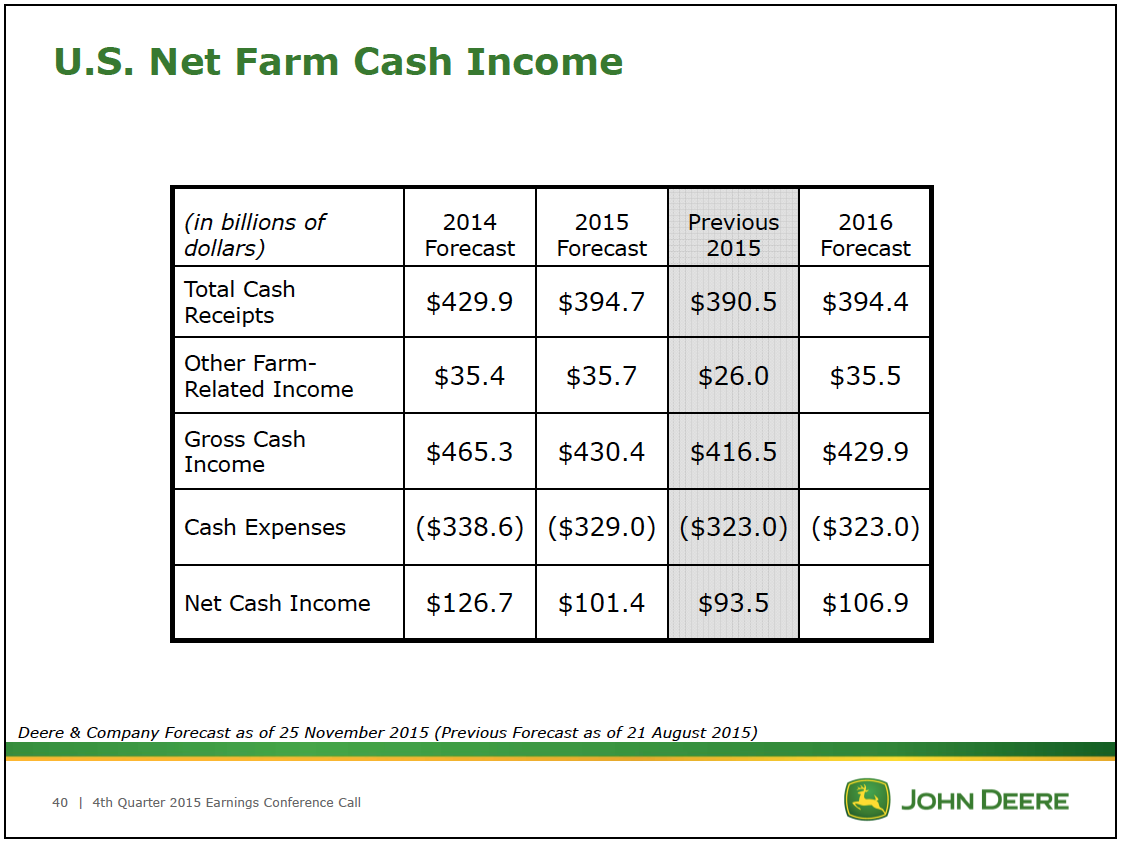 ---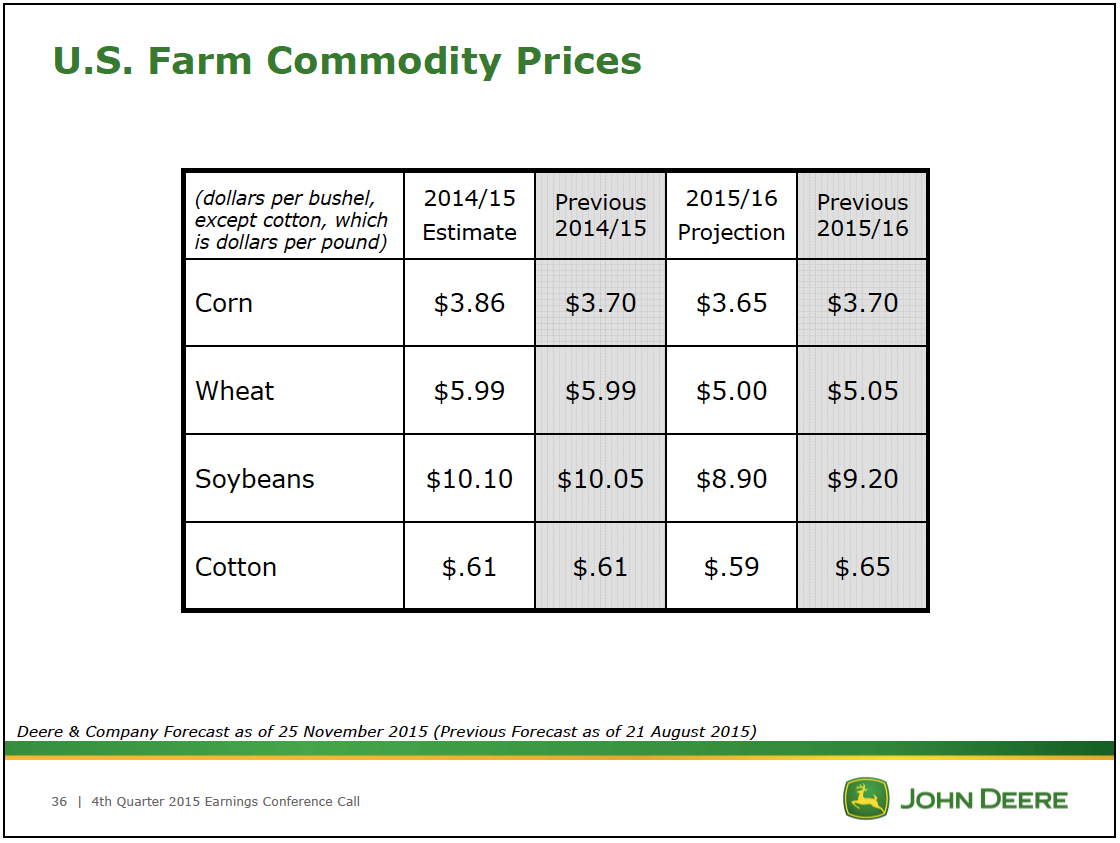 ---