Considering only the percentage of dealers who expect increased revenues from new equipment sales in 2016, more independent dealers, those not carrying one of the five major brands, expect growth than expect declining rev­enues in the year ahead.
This isn't the case for dealers who carry any of the major brands, as those anticipating that revenues will decrease for 2016 outweigh those expecting revenue growth in the coming year.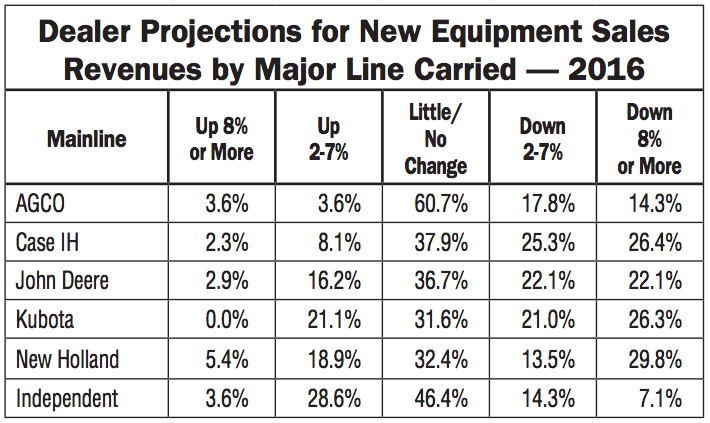 Even at that, slightly less than one-third of independent dealers (32.2%) are projecting a pick up in sales of new equipment in the coming year. Last year at this time, 52% of Kubota dealers were forecasting an increase in rev­enues, as were nearly 45% of independent dealers. This year, only 21% of Kubota dealers are forecasting a jump in new equipment revenues.
On the other hand, except for AGCO, dealers representing each of the other major brands are somewhat more optimistic than they were a year ago. Just about one-quarter (24.3%) of New Holland dealers see increased revenues in 2016, which is better than the 18% from last year.
Slightly over 19% of Deere's dealers are forecasting increased revenues vs. 14.6% last year. For Case IH dealers, only about 10% forecast increased revenues for 2016, but this is better than the 4.4% last year. Only 7.2% of AGCO dealers see a pick up in new equipment revenues, which is down from the 21% last year.
— Ag Equipment Intelligence 2016 Dealer Business Outlook & Trends