After a solid pick up in revenues in 2014, 47% of North American dealers see sales revenues from their rural lifestyle and large property owner segments increasing again in the year ahead.
Another 37% of dealers believe that their revenues from equipment sales will be at least as good in 2015 as they experienced in the past year.
All told, 84% of the equipment retailers polled by Rural Lifestyle Dealer magazine anticipate business levels to be as good or better this year as they were last year. Only 16% are projecting a drop-off in sales for 2015, according to the magazine's 2015 Dealer Business Trends & Outlook survey.
This is down somewhat from last year at this time when 91% of dealers forecasted that revenue from sales of equipment would be as good or better than the year earlier.
The number of dealers expecting growth of 8% or more, increased to 8.1% from last year's 7%. Dealers also say revenues from aftermarket sales should be strong in 2015, with 55.3% forecasting increases of 2% or more.
The rural lifestyle market continues to grow along side dealers' revenues. Slightly more than 13% of dealers say their market has grown by 20% or more in the last 5 years, which compares to about 7% last year.
Product Potential
The survey asked dealers to rank 26 product categories for their potential for growth. For the second year in a row, more than half of dealers, 55.9%, expect zero-turn mower sales to grow 2-8% or more. Last year, 64.9% of dealers forecasted similar growth.
Tractors under 40 horsepower, tractors in the 40-100 horsepower range, rotary cutters and utility vehicles rounded out the list of the top 5 products dealers expect to show the most growth in 2015, with tractors under 40 horsepower taking the number two spot and utility vehicles coming in at the number five for most potential product for 2015.
At the other end of the list, dealers see lower potential for growth of post-hole diggers, fencing, wood handling equipment, ATVs and animal feed.
Zero-turn mowers are also on the list of the top 5 products rural lifestyle dealers are planning to add in 2015, though the top position goes to compact tractors.  More than 33% of dealers plan to add compact tractors to their lineups in 2015.
Many dealers are also planning to add mid-range tractors (40-100 horsepower) and skid steer loaders, which tied for second on the list with 30.7% of dealers planning to add those categories to their lineups.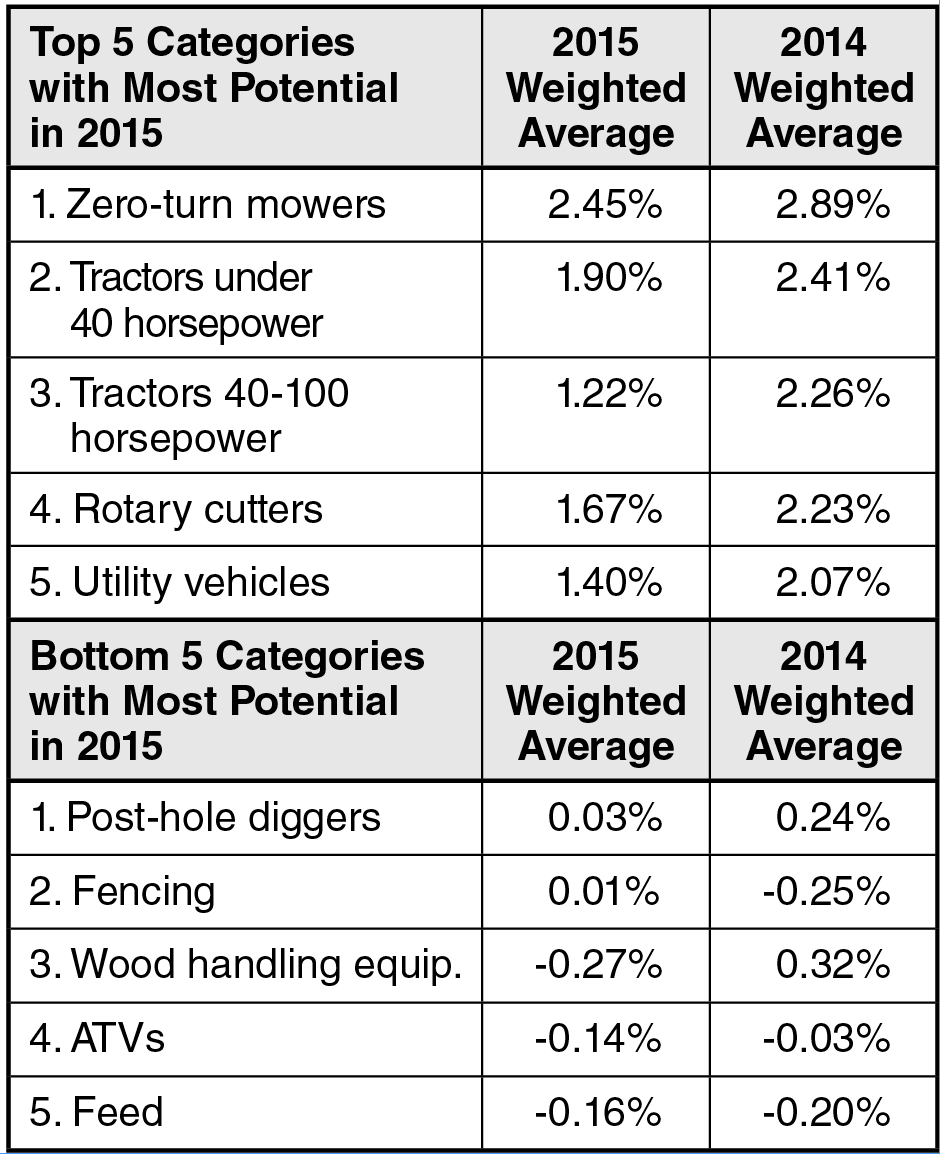 CapEx
With a solid level of optimism going into 2015, a majority of dealers surveyed, 70%, are planning capital expenditures to modernize the operations of their dealership. Nearly 46% are also planning to invest in upgrading their retail space, which is down from last year's 54%. More than one-third of dealers are planning to invest in their business information systems, which is also down from last year, when more than half of rural lifestyle dealers expected to invest in dealer software.
Dealer Concerns
At the top of the dealers' list of biggest concerns is finding good employees this year, as 56% of dealers ranked it as the issue they're "most concerned" about. This was also near the top of dealers' list last year, when it came in at the number two spot with 58% of dealers ranking it a major concern.
This year, low sales margins, healthcare programs and costs, equipment shortages from mainline suppliers and customer access to credit were dealers' biggest concerns for 2015.
The full outlook report appears in the Winter 2015 issue of Rural Lifestyle Dealer.