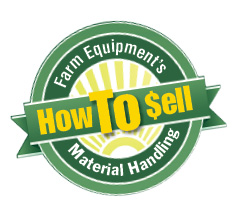 From skid loaders to telescopic handlers, farm material handling equipment has become a common sight on many farms today. The main selling point, dealers say, is this equipment's flexibility and ability to multi-task. With a skid loader, for example, a simple change of attachment and a sweeper becomes a snowplow or wood splitter.
Efficiency is the name of the game in farm material handling, explains Chuck Hoober, partner/owner at Hoober Inc. Based in Intercourse, Pa., Hoober Inc. has 9 retail locations in four Eastern states including Maryland, Pennsylvania, Virginia and Delaware. In addition to being a Case IH dealer, Hoober sells the JCB brand of telescopic handlers, skid loaders, wheel loaders and fast tracks.
"They're looking for efficiency," he says of Hoober's farmer clientele. "I think in the last decade there's been some extra money in ag, and they have spent money to be a little quicker and to have something nicer."
Defining the Customer Base
It's this customer base that ties dealerships and farmers together. Whatever size, whatever the need, comfort and efficiency are equal factors in a purchase of farm material handling equipment.
Glenn Schrage is the sales manager at Schrage Brothers Inc. in Mt. Calvary, Wis., and a fourth-generation member of the century-old family business. The small-town, local dealership celebrated 100 years in 2013 and can say on the record it is the oldest Gehl dealer in the world. In addition to the Gehl lines, Schrage says his team also sells Kioti tractors in the farm material handling arena.
He says the larger farms in the area believe equipment is cheaper than labor, and faster equipment is a must. However, Schrage's also sees its fair share of smaller farms as well as construction, landscape and excavation professionals using material handling equipment. Some are farmers using it for these multiple purposes in their own business. "For example, instead of having different machines, they like being able to attach a wood splitter to the skid loader," he explains.
---
You May Also Be Interested In...
How to Sell: Farm Material Handling Equipment
The flexibility and multi-tasking ability of farm material handling equipment gives your customers maximum versatility and increased efficiency. With the various tasks and challenges farmers face on a day-to-day basis, farmers need to understand why farm material handling equipment's flexibility and ability to multi-task makes the equipment so valuable. Not only will dealers share some of their best practices when it comes to defining the customer base and discussing sales and marketing strategies, but they will also explain the best ways to meet and overcome challenges. Download now »
---
Bryndon Meinhardt, regional manager for KanEquip, a New Holland and Case IH dealership group headquartered in Wamego, Kan., agrees. KanEquip has serviced 10 retail locations and a variety of customers throughout Kansas and Nebraska for more than 40 years.
"We have a lot of big farmers — cow/calf guys — and a few dairy farmers, then a lot of 'lifestyle farmers' who do a little business in town and then farm a lot," he says. "Our guys are feeding something every morning and our sales are involved in livestock every day."
Hoober sees the same thing, and says it's interesting that in addition to livestock and dairy farmers, grain farmers are using these products to unload seed, fertilizer, etc. Half of the Hoober stores are in livestock areas and the other half in grain-based markets, but material handling equipment sells out at all stores.
Meinhardt adds that today's customers are willing to spend the extra $10,000 to get tracks put on a loader to be more efficient, doing the same chores in less time. He also agrees that in addition to efficiency, diversity is a key in farm material handling equipment. The telescopic handlers, for example, are able to load materials, but also help build structures.
"This is one area I see farmers continuing to spend money," says Meinhardt. "A lot of guys are upgrading the skid steers they bought 5 years ago, and the nice thing for us is there's also the lifestyle or construction market that might be willing to buy the used piece. It allows us a bit more freedom too."
It's in the Details
The details on farm material handling equipment have become the main attraction. Meinhardt says much of the material handling equipment started out simply, designed to pick something up and load it. He notes he's old enough to remember when the first one was released to the market with air conditioning, and more recently, tracks. The tracks are a preferred element on the newer models. He says traction is the first benefit and the smooth ride, the second. In the last 4 years, nearly half the sales of track loaders included tracks.
Schrage agrees and says farmers are evolving, and the skid loaders are evolving with them. While a skid loader used to be mainly for bucket work, he says the silage rakes, concrete breakers, snow blowers, backhoes, grapples and many more universal quick attach products are the details farmers want and appreciate in material handling equipment. "Everyone uses it differently, and one might put 10 hours a week on the loader, while another might put 40 hours," he says. "You can sell the same thing to two different people and their uses will be completely different."
Hoober says that's what makes this market a niche and one that gets him onto new customers' farms. "A John Deere customer may not buy a Case IH tractor, but he might be comfortable buying a JCB loader or tractor," he says.
The detail he likes most about the JCB skid loader is the side-entry door, a particularly attractive feature for someone who has a hard time climbing over the bucket, Hoober explains.
Meinhardt says the top selling attachments at KanEquip are the pallet forks, followed quickly by the auger, trencher and concrete breaker. He says tree shears are still a popular item. Snow removal items are another hot-selling addition for farm material handling equipment.
He adds that the joystick controls in skid loaders have taken over the foot and hand controls in the last 5 years, a big change that actually came out of the construction market and offers better operational efficiency.
"It used to be only the livestock guys needed a skid steer," he says. "They are now on almost every farm, and the attachments are not expensive, but can help the customer do something much quicker. We rent a lot of those, and then we end up retailing them."
Sales & Marketing Strategies
These three seasoned dealers all agree word of mouth is the best marketing tool, as Meinhardt calls it: "farmer to farmer, coffee shop to coffee shop."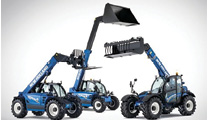 New Holland Large Frame & Compact LM series telehandler
Tier 4i-certified, 4-cylinder NEF engine with EcoBlue SCR system
On compact telehandler, 4-cylinder engine with cooled exhaust gas recirculation plus diesel particulate filter system
LM7.42 Elite version available with electronic, armrest-mounted joystick, 6 x 3 auto shift transmission, 129-hp engine and 44.9 gpm variable displacement pump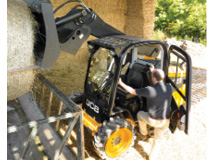 JCB Ag Skid Steers
Clear side door access to cab
PowerBoom loading arm
270 degree all-around visibility makes it easier to maneuver in tight spaces
Tilt forward design of cab allows for better service access
He says renting skid steers and attachments has been a great way to garner long-term interest in these farm material handling products. He doesn't do much of traditional newspaper advertising, but says county fairs and demonstrations have been a major promotional tool for KanEquip. If an existing customer wants to move from a wheeled machine to a tracked one, then he says the demonstration can be on-farm.
He also believes dealers should find a good brand to build around, then go out on a limb and bring some extra attachments on site for customers to peruse. "It's been amazing for me to watch the trencher, for example," he says. "I would've never thought so many people would use it, and we sell 2 or 3 of them a year. We just sold a sweeper the other day, and the guy who bought it I would never have guessed would do so. He wanted to keep the walk out in front of his shed clean."
Demonstrations are a key component to Hoober's business success in farm material handling equipment. He says the dealership has a presence at most of the area county fairs, but field days and other live demonstrations are ways to truly show the efficiency and other benefits of the pieces.
Hoober's marketing manager puts together print ads and the occasional billboard. Hoober says in those circumstances, customer testimonials are a good way to grow the business.
Schrage's advice to dealers is to just "stick your nose in and see what kind of reaction you get." He says to start offering products on a smaller scale, and then take it to the next level if customers are intrigued.
He recently took a gamble on the Gehl articulating loaders. The first one arrived this July and he's targeting bigger farms, construction sites and landscapers. Schrage says knowing the market, paying attention to what they will want and being ahead of the game has worked in the past. "The same situation happened with the compact tractors," he says. "We took on Kioti and that's been a great seller for us. We even sell a lot of those to the bigger dairies who used them for scraping. In certain instances, they are more economical to use than a skid loader."
While he says the farm material handling market is a roll of the dice each year, working with farmers to get a favorable payment plan or just the best product for their needs is what a good dealer does every time. Schrage says the rebates on skid loaders are very high vs. 2 years ago and financing programs also are more attractive and constantly changing with new options.
While the Internet helps customers prepare ahead of time, dealers still must confirm that what the customer thinks they want is what they actually need by stepping into that advisor role. "Find out what they want to use it for, and sometimes they can get by with something a little less expensive, and other times it would be beneficial to go a little higher and they'd save money in the long run on maintenance," Schrage explains.
Meeting the Challenges
As farm equipment dealers, these professionals are more than familiar with the ebb and tide of the market. They know when local farmers have a bit of extra money they'll invest in something that will save them time and money. They also know when the economy slows, the extra shop and repair work helps keep business flowing.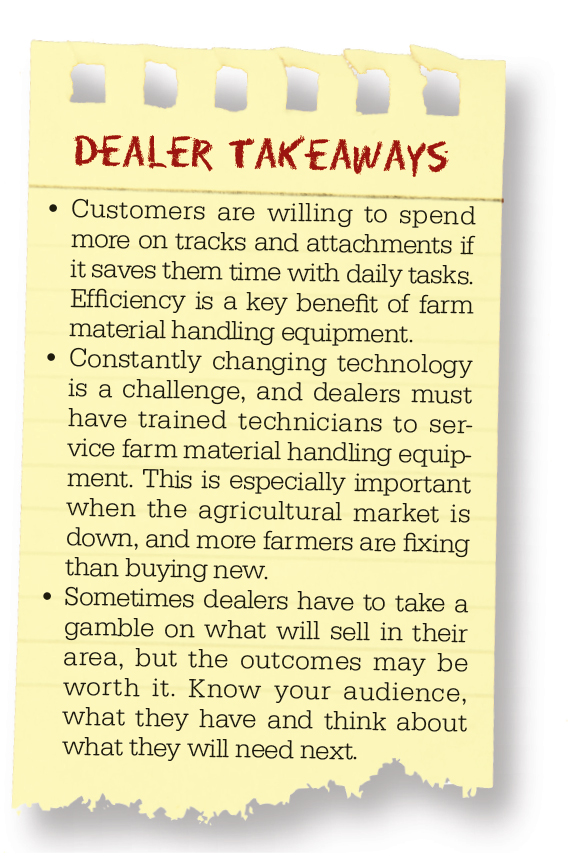 Meinhardt says a real challenge is technology and keeping technicians trained on maintaining and repairing this equipment. "They are very compact little units, so everything is very tight and working on them can be very difficult."
Hoober says his business spends a lot of time and money sending technicians to training specifically for JCB products. "We also rely on our salesmen to train customers," he adds, and says training on technology is important, but so is stepping alongside the customer during the first days on a new piece of material handling equipment. "You have to make sure the salesman is involved with getting a customer started. Get them started on the right foot, understand how to use it and everything goes better."
Along with the new technology is a new sticker price, and another challenge for dealers today. Meinhardt says farmers used to be able to buy any skid steer they wanted for $30,000 and now they can be priced up to $100,000. He says dealers are tasked with the difficult decisions of choosing which ones to order for the area they are in and keep stocked for the customers walking on the lot.
Meinhardt believes farm material handling equipment will continue to be a steady business for equipment dealers around the country. He notes the market may grow marginally every year as new farmers show interest in the products, but doesn't foresee a big bubble. "I think farmers will continue to find different ways to use the products," he adds, and says that each farm's financial position changes too. "At some point they kind of grow into an item they could use on the farm and will save them time and money. I kind of laugh because this is often something dads get when the kids go off to college and he doesn't have the extra sets of hands he used to."
Related Content:
JCB TM420 Articulated Telescopic Handler
New Holland Agriculture LM Series Large-Frame Telehandlers