Grain bagging equipment is nothing new to an equipment dealer's list of things to consider when stocking their lot. The rising interest in these products sure is, though. The 2014 harvest season gave dealers a new reason to look at bringing grain bagging equipment into their product offerings.
When harvest rolls around, it's no secret farmers want their combines to keep rolling. They also don't want to sit in long lines at elevators and necessarily accept the price available that day only. Grain bags have become a wise marketing strategy for farmers from the Southern states up to Canada, and this trend hit all states in between on the way. Grain baggers are here to stay, and dealers who want to meet customer demand should take notice, if they haven't already.
The Issues at Hand
The Wall Street Journal reported in November on what it calls "the worst rail delays in more than a decade." In fall 2014, grain storage facilities were filling up and the decline in crop prices didn't go unnoticed in the agricultural industry.
Increased grain production in the U.S. Farm Belt and Midwest is one of the main reasons the rail companies are seeing major congestion on the lines. Grain processors have searched for options to move grain, including more river barges, but transportation rates have increased more than 50% for that option. The elevators are buying crops at lower prices, and farmers frantically searched for other ways to store grain until the harvest pandemonium could settle.
More rented land, powerful Class 9 combines and record bushels add to the problem, and Alan Utterback, corporate sales manager at Sydenstricker Implement Co. in Mexico, Mo., says farmers can only stockpile so much. "So, they can either bag it on their own field, at their own pace, or stop harvesting and hope the weather holds," Utterback says. He sells Richiger grain bagging systems and in 2014, saw the biggest sales year to date.
Weather dilemmas are what caused grain bagging equipment sales to soar in 2014 for Kyle Gaikowski, owner of Westside Implement in Clark, S.D. He has been selling Loftness grain baggers and unloaders for the past 10 years at the shortline dealership.
"This year we sold a lot because the crop was coming out wet," Gaikowski explains. "We got early snow in mid-November, and the guys couldn't get into the fields with their trucks." Many were thankful to have grain baggers, and not leave the trucks out in the snow and mud, he adds.
"We're creatures of habit and tend not to change until we're forced to," says Steve Hood, a representative for Grain Bags Canada, the AKRON distributor in North America. "When you have a year like we had with so much extra grain, farmers were forced to look at alternatives."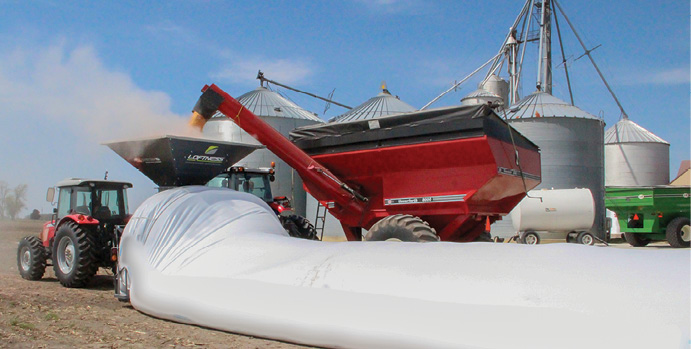 For Westside Implement in Clark, S.D., the Loftness 10-foot bagger is the most popular because the total investment is about $60,000, with a 7 cents/bushel rate on the bag, according to owner Kyle Gaikowski. Photo Courtesy of Loftness
Grain Bagging Basics
A grain bagging system is pretty simple. The first component is a grain bagger, the second, the bag itself and finally, the unloader.
Even though grain bagging hasn't hit the mainstream yet, Gaikowski says farmers are realizing it is a fairly inexpensive alternative to bins. The larger acreage farms are already on board, but he says some of the average-size operations are catching on, many times sharing the equipment with a neighbor. "A lot of times they'll own the bagger but share the unloader," he explains. "They're not necessarily opening bags at the same time, so that works well."
Hood has been selling grain bagging equipment since 2007, and today provides AKRON products to dealers and end users from his Hood & Co. Inc. office in Springfield, Mo.
He explains, in 2006 there was a movement in the southern part of the U.S. toward growing more corn and less cotton. "Southern farmers did not have any grain bins and needed a place to store corn," Hood says. "They jumped on quickly because they needed all the storage."
While the thought of storing grain outside didn't scare Southern farmers who were used to this with other crops, Hood says the Corn Belt farmers felt a bit different. "That was totally foreign to them to leave a harvested crop out in the field in just a plastic bag," he explains. The concept took off in the South first, but the Midwest now does more bagging than the Southern states ever have, Hood adds. The greatest need today, he believes, is on the High Plains and Canadian farms.
Some of his larger farm customers have been bagging for years, but he says they had a bigger need at the time. The sale of grain bagging equipment always ties to storage capacity and harvesting speed, says Hood, and that's the message he takes to market.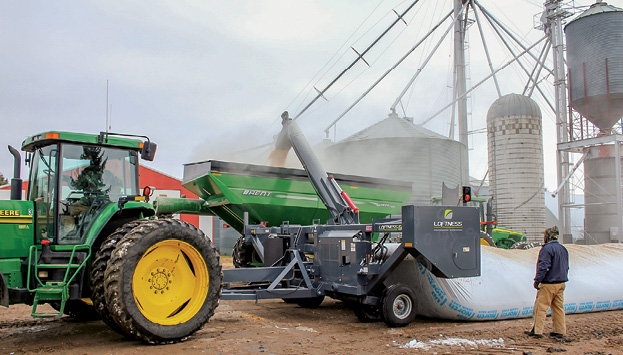 The sale of grain bagging equipment should always be tied to storage capacity and harvesting speed, says Steve Hood of Grain Bags Canada. Photo Courtesy of Loftness
The Grain Bagging Message
These three dealers all agree that benefits of grain bagging equipment have spread mainly through traditional means: neighbors telling neighbors.
That said, their dealerships have all spent dollars on advertising and also providing farmers educational opportunities. Utterback has done some advertising in local papers and hosted customer clinics. "We had good attendance at those," he says. "We'd go outside and actually bag grain, then unload it in front of them."
Gaikowski explains that print and online ads have been successful to explain grain bagging basics to potential customers. His dealership also stocks grain bags and he says farmers come from a good distance to buy them, another way it has attracted equipment business.
In Springfield, Hood says the first question he asks a potential customer is: "Do you need any extra storage?" When farmers are able to do the math on the acres planted and yield they could have possibly seen without any glitches, he says it opens their eyes. "Then they look at their grain bin storage capacity and say: 'Oh no, we're in trouble here.'"
"I don't really sell anything," he adds. "I just supply answers to problems."
A valuable promotion tool, Hood says, is looking for opportunities where farmers are lacking in storage and going from there. Temporary storage is a common term farmers are searching online these days, and bagging is one of those options dealers can offer.
"Once they realize how the system works, they start seeing other benefits they weren't looking for," he comments.
Wisconsin Farmer Finds Success in Grain Bagging
Creamery Creek Farm in Bangor, Wis., milks 700 cows and has been bagging haylage and corn silage for the past 5 years. In 2013, family member Mark Hansen says the farm put up high-moisture ground corn in 10-foot diameter tunnels and bags, but the feed grinder was too small for the high capacity of feed it needed to manage.
A year later, a large acreage of haylage, corn silage and high-moisture ground corn harvest were put through a self-propelled Versa Bagger. The shelled corn was processed in a high capacity tub grinder designed for handling stumps and wood waste, which improved the packability and eliminated the majority of the air pockets in the bags. (Any oxygen leads to a decrease in feed value.)
Hansen says the Versa Bagger stores the feed in 14-foot diameter tunnels in 300-500 foot-long bags. "With the higher capacity bagger, we can store a lot more forage and grain in the same amount of space," he adds.
The farm processed 35,000 bushels of ground high-moisture shelled corn in a 3-day period last fall. With the previous lower capacity bagger, Hansen says it took the farm crew many more days to do the same amount. "With the new setup, we figure we could grind and bag as much as 35,000 bushels of shelled corn per day if the corn fields were closer to the grinder and bagger," Hansen remarks.
During the 2014 harvest, a 12-row combine, four large trucks and three 36-foot semi-trailers that were hauling corn 3 miles could not keep the larger capacity tub grinder running at full capacity. Hansen says the crew even piled some corn on the ground for 2 days before grinding to keep it moving along.
"By investing in the new self-propelled bagger, we haven't saved dollars, but the unit allows us to handle material much more effectively and pack it much tighter," Hansen says, explaining this also leads to a considerable reduction in feed losses.
The new equipment also has changed the corn hybrids the farm has planted. In the past, the farm no-tilled several different maturity corn hybrids and varied the planting dates, to keep the moisture consistent over the processing period. "With the improved grinding and bagging capacity, we will no longer have to plant different hybrids or vary the dates as the corn crop is handled in a rapid and efficient manner," says Hansen.
Ranking the ROI
When it comes to defining the return on investment with grain bagging systems, the answer is not always black and white. In fact, it's more golden yellow. The number one sales pitch a dealer has with grain bagging equipment, Utterback says, is: "Keep your combine running." He says some farmers don't mind sharing how many bushels they are putting up while others find it too personal. Regardless of figures, if they are having trouble getting grain away from the combine, and don't have the money to buy more trucks, a bagger and unloader is cheaper than a new truck.
The second best sales pitch, he explains, is grain marketing. "If you want to market more grain on your own and do a better job at it, this is the way to buy yourself some time," Utterback adds.
Hood says the first thing he does is ask a farmer what their normal basis is on grain in season, and how it compares to the price three months later. Then, if they know the basis savings, "How many bushels would you want to store extra?" he asks. "A deluxe grain bagging system runs around $25,000-$30,000 and the unloader another $35,000-$40,000. The bag itself is approximately 6 cents/bushel."
It's challenging to rate a definite percentage of ROI for each customer, Hood says, as there are many factors that contribute to it. What he does hear regularly, however, is, "It's not hard for them to put an extra dollar per bushel in their pockets when selling offseason vs. selling at harvest."
Gaikowski says the Loftness 10-foot bagger is by far the most commonly purchased. Some larger farms, elevators and other commercial operations are investing in the 12-foot piece, but with a 10-footer the total investment is approximately $60,000 total, with a 7 cents/bushel rate on the bag.
He says the best way to convince a customer to buy a grain bagging system is to paint a mental picture. "And they've all been through it," he adds. "If it gets really wet, how are you going to get the crop out? If the crop is high moisture and harvest goes slow, and the weather turns against you, it's worth a lot to get the crop out in a timely manner."
Maintaining Moisture
Moisture is the number one concern farmers have when looking at grain bagging equipment, these three concur. "The fear of losing their grain and not knowing how it all works is the biggest thing," says Utterback.
This concern is one they also agree can be overcome fairly easily.
Gaikowksi says bags offer no loss and no shrinkage. "The grain comes out the same moisture and quality as you put in," he explains. "Then you can take it to the elevator when the crop prices are more favorable and capitalize on that."
Grain bagging is a dry grain storage system, Hood stresses to his customers. "That needs to be very clear," he says. "If you are putting it in at 19% moisture, it's coming out at 19%," Hood says. He doesn't recommend those high moisture levels, but says farmers do it.
This works if it's cool all winter long and the bag is emptied before it gets to be above 60 degrees outside. "It's a sealed bag," he says. "It doesn't lose any moisture, it doesn't gain any moisture."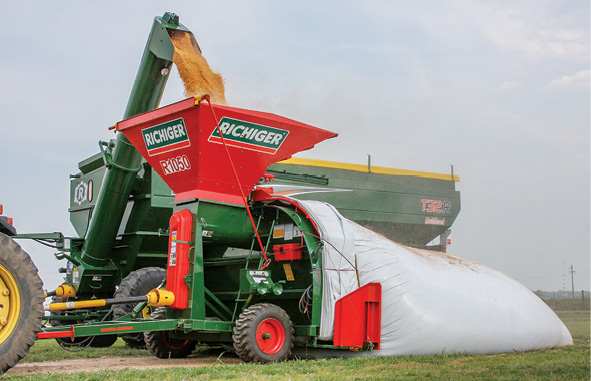 Alan Utterback, corporate sales manager at Sydenstricker Implement, stresses the importance of going on-site with farmers to train them on properly using grain bagging equipment to avoid potential problems. Photo Courtesy of Richiger
Stepping On-Site
Utterback says on-site training is mandatory for every unit the dealership sells. "We don't really give them a choice," he says. "We're there when they do their first bag."
This policy changed when a few farmers had not-so-successful installations. Either the bag tore or the ground wasn't just right and of course, this all happens at the most inconvenient time for farmers. "During harvest nobody has patience," Utterback says with a laugh. "Everybody's already in a bad mood because they're tired. This is one of the key things for keeping a customer. You need to go out there with them and make sure it works right."
Hood agrees: "I think it's crucial." He's heard the war stories of bagging set-ups gone wrong and says farmers understand after the mess is over why a tutorial is an important aspect.
To further help customers, he gathered local farmers and their grain bagging equipment in late August to shoot an instructional video. It walks the farmer through how to set up the system, bag, unload, etc., and has become something he gives each new customer.
"It gives them a lot more confidence in what they are signing up for," says Hood. "Either on video or in person, they have to see it work."
Gaikowski says Loftness also offers a step-by-step, 15-minute DVD for customers, and that after watching it, many will call with a question or two, but really have a handle on how to move forward. "Training is very important," he says. "All my salesmen and service guys are educated on how these pieces operate."
Talking to Dealers
Hood's advice to others? "Be open to new concepts," he says. "Do your research. Farmers have problems. The dealer has to be sharp enough to see the problem, try to help find a solution and that may be some equipment you can sell them."
Utterback says dealers should be patient. "We had a lot of people tell us we were stupid for keeping these in stock, that they weren't ever going to sell," he says. "Most of those guys bought one last year."
He adds that sometimes hearing positive feedback from another farmer is all it takes to build a customer's confidence. "A lot of guys around here just want to store the grain for 2-3 months," he notes. "They can keep their combines running, get all the grain off when the weather's right and into those bags."
While the 2014 season was an anomaly all its own, Gaikowski says the season's grain bagging equipment sales were too, but something that has definitely garnered the notice of farmers across the nation. "It's just one of those niche markets that sometimes explodes, but most of the time it's consistent," he explains.
His customers said that when the snow hit, they were glad for the grain baggers in the field. "It kept the combines rolling," he says.