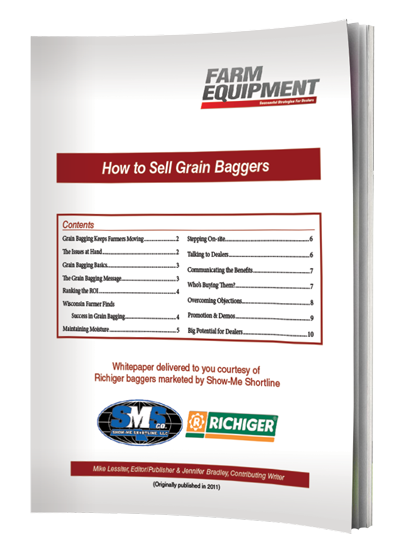 For this eGuide, Farm Equipment spoke with dealers and manufacturers to learn how they are communicating the benefits of grain bagging equipment to customers.
Grain bagging equipment is nothing new to an equipment dealer's list of things to consider when stocking their lot. The rising interest in these products sure is, though.
When harvest rolls around, it's no secret farmers want their combines to keep rolling. They also don't want to sit in long lines at elevators and necessarily accept the price available that day only. Grain bags have become a wise marketing strategy for farmers from the Southern states up to Canada, and this trend hit all states in between on the way.
Grain baggers are here to stay, and dealers who want to meet customer demand should take notice, if they haven't already.
Get your FREE copy of How To Sell: Grain Baggers now!
Or...
2.
Fill out the quick form on the next screen to access this complimentary download. And we'll also create your free Farm-Equipment.com account.
---

This whitepaper is delivered to you courtesy of Richiger baggers marketed by Show-Me Shortline. For more information, visit ShowMeShortline.com.